The Labour Heartlands New Year's Honours are awarded to the men and women that have throughout the year made a difference and worked tirelessly and unselfishly to bring about social justice and for the emancipation of the working class.
HONOURED, MAN OF THE YEAR 2022
Our first award for 'Man of the year' goes to Mick Lynch, RMT general secretary. Mick gets the award for being a true advocate of the working class, standing up for not only RMT members but all workers everywhere. His quick wit and ability to articulate and empathise with our common struggle have earned him accolades and praise, while his reputation for his no-nonsense negotiating skills has been equalled with his ability relentlessness in speaking truth to power while bringing wit and common sense in his responses to the establishment media. Mick Lynch has become a true tribune of the people who helped give the British working class their balls back, our man of the year, Mick Lynch.
HONOURED, WOMAN OF THE YEAR 2022
Our choice for 'Women of the year' goes to Sharon Graham, general secretary of Unite the Union. Sharon Graham has fought for her members to bring about some of the best-negotiated pay and conditions for workers seen for decades, she has used the power of the union to not only bring about better working conditions and take-home pay but has also used her and her union's influence to highlight the injustices being brought down on the working class by the Oligarchy and this Tory government. While still affiliated to the Labour Party Graham has given fair warning to Starmer and his centrist Party about their lack of support for workers. It seems clear to everyone but Starmer that if the Labour party won't back the unions then the unions will soon stop backing the Labour Party. Graham is one of the new breed of union leaders that sees the bigger picture and how the working class struggle is our common cause.
HONOURED, PEOPLE'S TRIBUNE AWARD
Eddie Dempsy wins our 'People's Tribune award for 2022 for his unapologetic fight for workers' rights and his pursuit in building a platform for social justice, Eddie worked alongside Mick Lynch and Zarah Sultana to raise the profile of the 'Enough is Enough' campaign. Not only is Eddie Dempsy a Working-class strike leader that brings inspiration to his members but is able to mix it with the best the government and their representatives can offer. Eddie articulates his member's cause with a clear understanding of the conditions surrounding the industry he works for. Eddies outstanding contribution to the working class movement has accelerated the modern Labour movement.
HONOURED, RISING STAR AWARD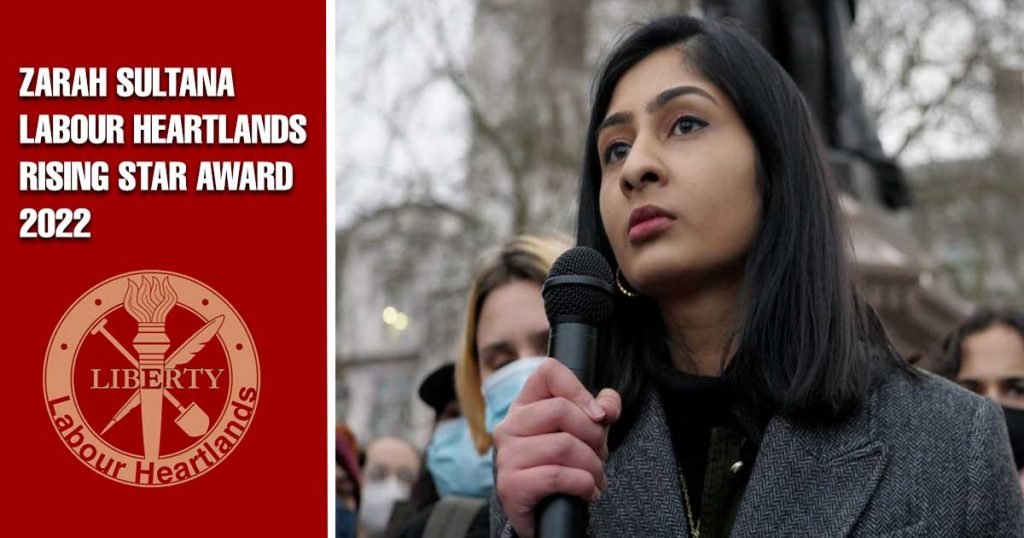 Zarah Sultana, since becoming a Labour MP in 2019 this young MP has brought fire back to the table, quickly identifying herself as a Left winger Zarah joined the Socialist Campaign Group she has become outspoken on all social issues showing herself to be passionate and courageous in fighting for the working class and their struggle, although she has faced attacks from within as well as outside her Party. In less than three years as a parliamentarian, Zarah Sultana has become a force for good continually highlighting scandal and corruption while refusing to back down from bullying. Zarah continues to make headway highlighting the struggles ordinary workers face every day and is a leading light in the #EnoughIsEnough campaign. Zarah Sultana is tipped to be a Labour leader one day if ever the Labour Party breaks free of the stranglehold the right wing has on it.
HONOURED, PEOPLE'S CHAMPION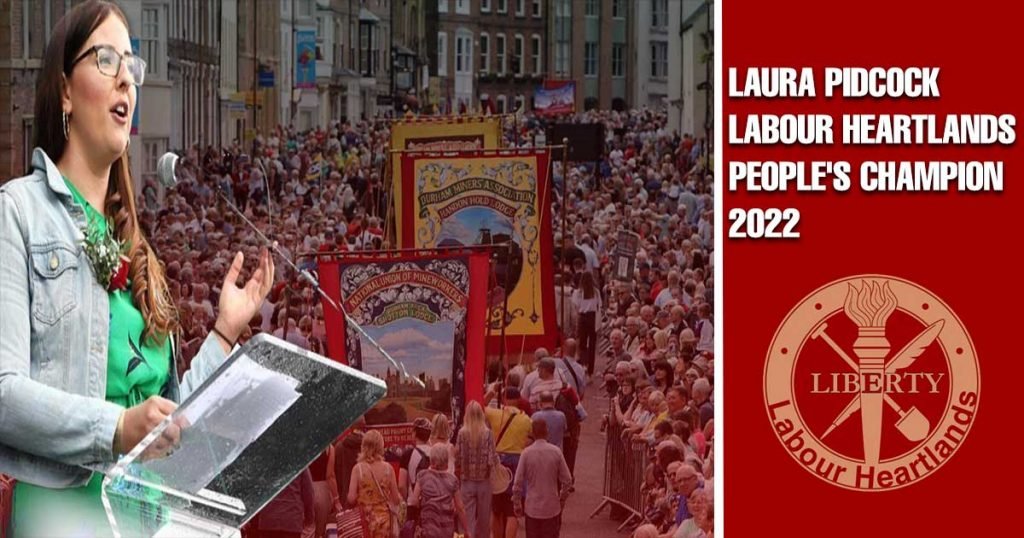 Laura Pidcock's Tenacity in fighting for our common cause is relentless, after losing her seat in 2019, a victim to Labour's poor policy of a second referendum. Laura didn't sit on her laurels, she came out fighting and has now become a familiar face campaigning for social issues relentlessly impacting workers' lives, her work in highlighting our common struggle and bringing about a little light can be seen in her work carried out in 'The People's Assembly Against Austerity' Laura has become an inspiration her involvement in supporting the working class can be seen from the stands of the Durham Miners Gala to the Peoples Assembly National Conference in London, and while she is not doing that she still finds time to compete in the great northern run a true champion in every sense.
HONOURED, EUROPEAN VOICE AWARD 2022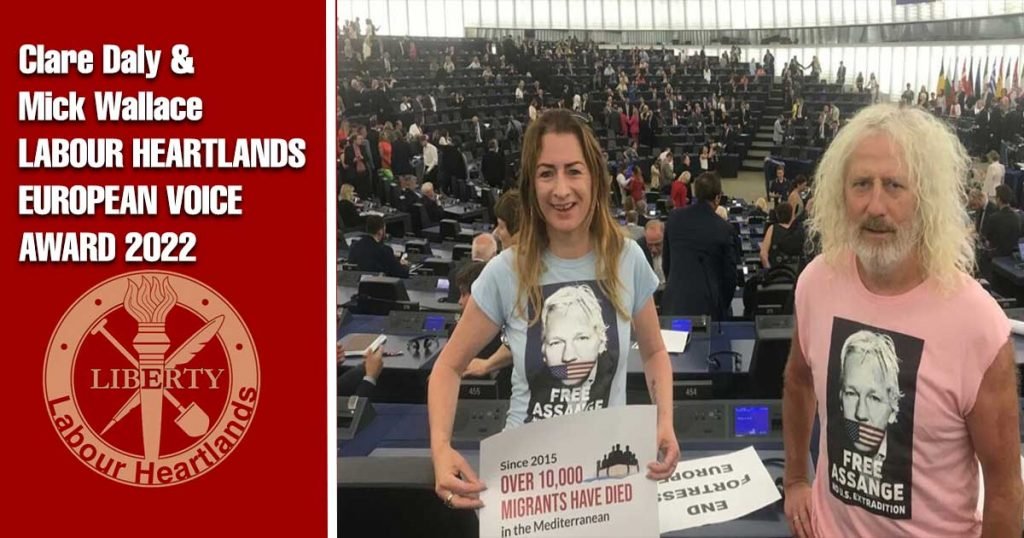 This award has to go to Clare Daly and Mick Wallace who have constantly used their position within the EU to call out corruption and injustices. They have been light in the dark. Their joint efforts have highlighted miscarriages of justice around the world while using their position within the EU to ask the hard questions that the establishment media shy away from. They constantly campaign for the release of Julian Assange, journalist and head of WikiLeaks, now a political prisoner being held by the British on behalf of the USA. Clare and Mick have been outspoken in their advection for peace in Ukraine while never shying away from pointing out the corruption and propaganda both the US and EU are fielding when it comes to this ongoing proxy war.
HONOURED, FIGHT FOR JUSTICE AND FREEDOM AWARD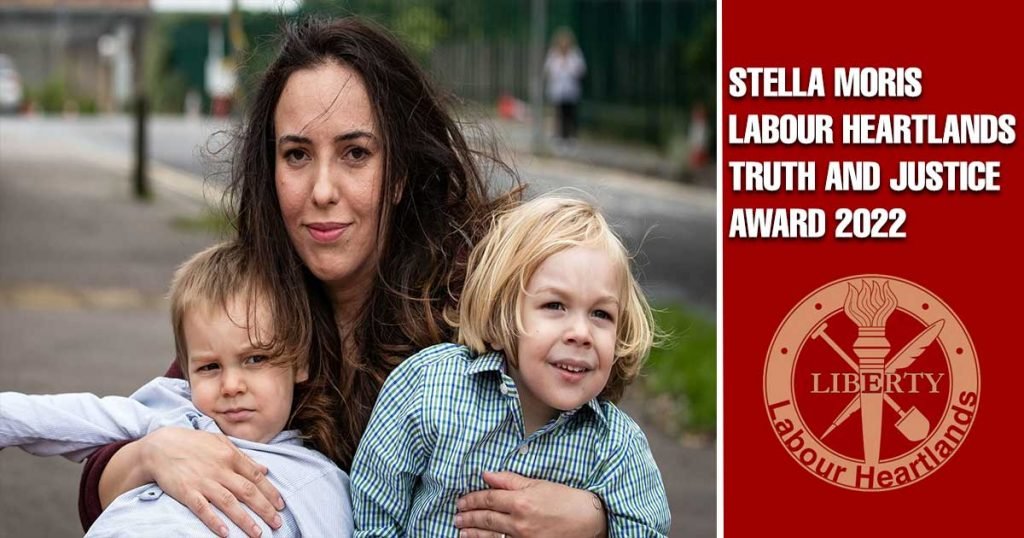 Stella Moris is not a typical campaigner or activist. Stella is a person that under normal circumstances would not seek the limelight, however, circumstances have forced her to be fearless in her pursuit to bring about freedom for Julian Assange a political prisoner been held at his majesty's pleasure and awaiting extradition to a vengeful United state. Julian Assange who acted as a real journalist brought to the surface corruption and war crimes committed in our name in wars that should never have been fought. Stella Moris is not only campaigning for the release of the journalist Julian Assange but for the release of her husband and the father of her children. Stella Moris now Stella Assange is the voice of freedom's last hope. Her campaign is a campaign for truth, freedom of the press and freedom of speech. If we allow those that shine a light on the truth to be silenced and incarcerated, then ultimately we must ask what is it we have become and what has happened to our liberties and freedoms.
HONOURED, LIFETIME ACHIEVEMENT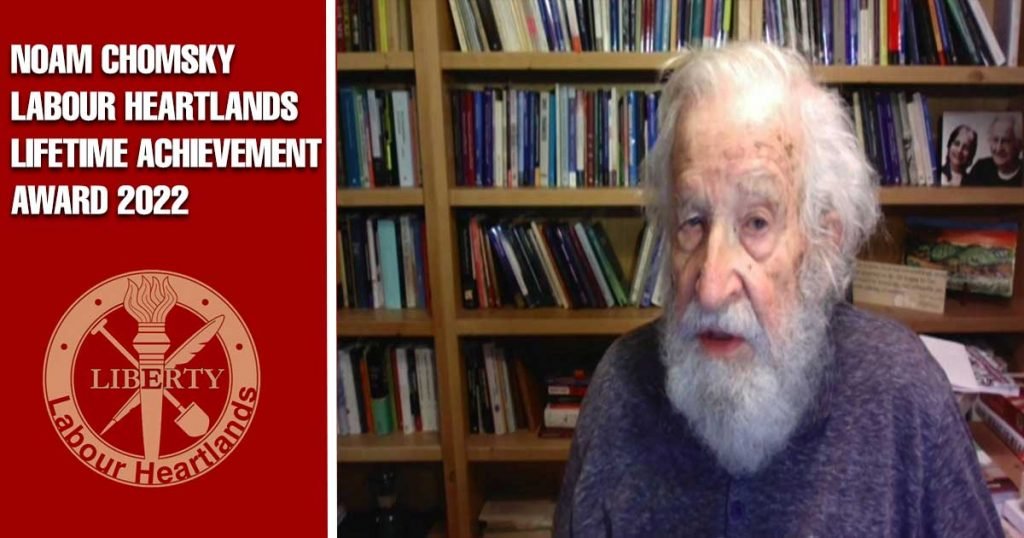 Noam Chomsky at 94 is still one of the leading intellectuals shining light into the darkness. Chomsky has helped educate the masses with his ability to articulate the circumstance of world events, his analysis and insights have been priceless in understanding the world of geopolitics, and his ability to join the dots and expose the establishment's attempts to use disinformation and propaganda have been priceless. Over the last year, Chomsky's brought valuable insights into the US and Russia's proxy war being fought in Ukraine helping to expose the players behind the war.
HONOURED, LIFETIME ACHIEVEMENT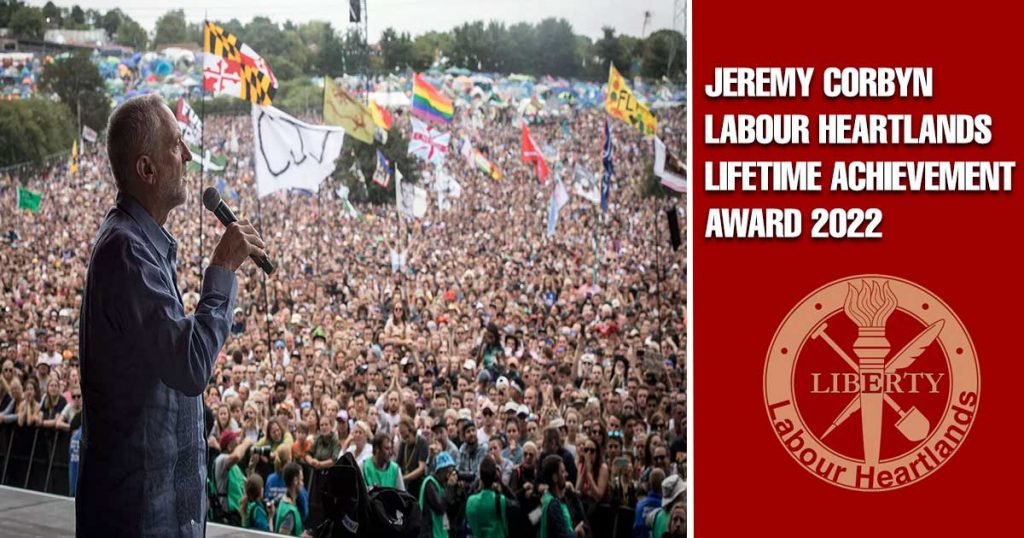 Jeremy Corbyn also gets our lifetime achievement award, His constant fight for social justice has been an inspiration to millions. His leadership of the Labour Party reinvigorated the masses, once again giving them hope, the hope of a better society based on socialism, not greed, he gave hope of a fairer equal society for the many, not the few. Jeremy Corbyn's courage has not waned over recent years and even though he is constantly attacked from every perceivable angle, especially those parliamentarians within the Labour Party, his energy and enthusiasm for a better world still echos in his every sinew.
HONOURED, LIFETIME ACHIEVEMENT
George Galloway gets a lifetime achievement award from Labour heartlands not only for his staunch commitment to democracy but for his achievements in building grassroots political organisations that have the ability to disrupt the status quo. The Worker's Party has become the most successful Left wing party in recent times. Throughout his life, George Galloway has fought for justice and equality from the campaign against Apartheid to Brexit, while continuing to advocate for the working class. He has built up a social media following where his live broadcast The Mother of All Talk Shows has informed hundreds of thousands, giving them an honest open view on current events from corruption in Westminster to the war in Ukraine.
HONOURED, LITERARY AWARD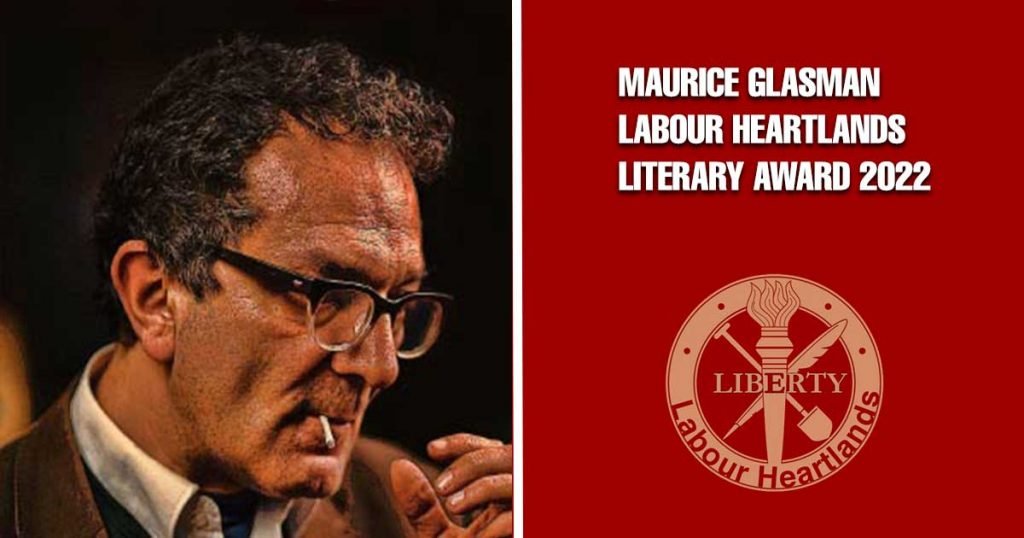 Our Literary award goes to the Labour Peer Maurice Glasman. His book The Politics of the Common Good is a fantastic insight into Labour's past present and future. Maurice Glasman takes the axe to the soulless utilitarianism and 'progressive' intolerance. Human beings, he contends, are not calculating machines, but faithful, relational beings who yearn for meaning and belonging. Rooted in their homes, families and traditions, they seek to resist the revolutionary upheaval of markets and states, which try to commodify and dominate their lives and homes. This is the true Labour tradition, which is paradoxically both radical and conservative. Glasman brings to life the traditional working class Labour movement and its ongoing fight against market forces that seek to dominate and alienate the masses.
HONOURED, PEOPLE'S CHAMPION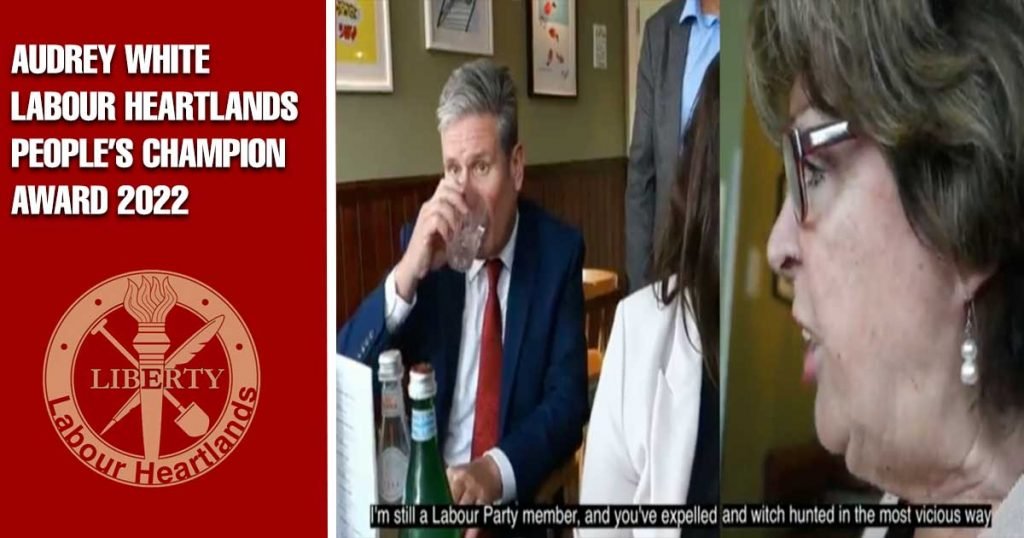 We are honouring Audrey White not only for her history of fighting for workers and speaking out against injustices. Her campaigning and determination put sexual harassment at work in the spotlight which led to a long hard-fought campaign that ultimately changed employment law in 2005. She has continued to advocate for the people and has been outspoken against the Right wing takeover of the Labour Party by Sir Keir Starmer. Her courage in confronting Starmer and publicly calling him out over his duplicity showed the world that speaking truth to power will always cower those that seek power for power's sake.
HONOURED, LIFETIME JOURNALISM AWARD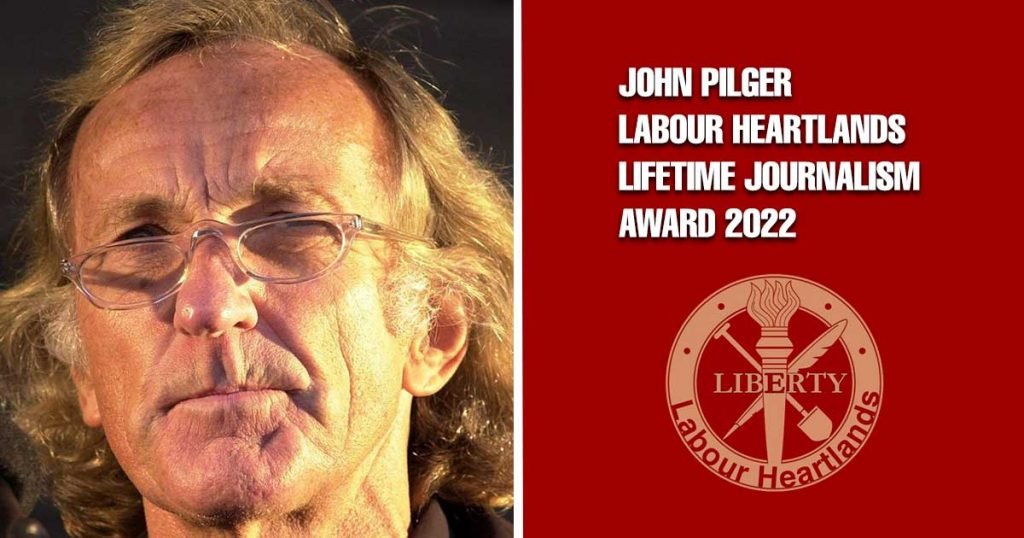 John Richard Pilger is an Australian journalist, writer, scholar, and documentary filmmaker. He has been mainly based in Britain since 1962, Pilger's decades-long work in print and television has transformed him into one of the most successful and awarded Australian journalists in the modern era, yet this has not brought him universal praise from his media colleagues or a profession that often prefers safe insiders and embedded "realities". Pilger is too confrontational towards state power and his industry to be widely adored and he embraces being the eternal dissident. John Pilger articulated a worldview that he has vociferously opposed during a career spanning more than 65 years. "Democracy has become a business plan," he said, "with a bottom line for every human activity, every dream, every decency, every hope. The main parliamentary parties are now devoted to the same economic policies – socialism for the rich, capitalism for the poor – and the same foreign policy of servility to endless war." His fight for justice continues as an outspoken critic of the Ukraine conflict and a leading voice for the release of Julian Assange.
HONOURED, PEOPLE'S CHAMPION and LIFETIME ACHIEVEMENT AWARD
Dennis Skinner has been one of the most influential working class advocates over the last 50 years. Skinner served as a Member of Parliament (MP) for Bolsover for 49 years, in his time he fought for the miners, nurses and every other worker' that felt the weight of the establishment's Iron Heel pressing down on them. Dennis Skinner otherwise known as the Beast of Bolsover has become a legend in his own lifetime for his quick wit and outspoken contributions to the working class cause. His ability to cut to the chase and say it how it is, not only amused but critically left the Tories flummoxed with no amount of spin to counter his remarks, Dennis Skinner, a true working class hero.
---
You don't have to agree with all we have honoured or the reasons why, however, these are the people that have fetched the most in our articles over the last year, people who through their actions have disrupted politics shaking the status quo. Of course, there are many many more deserving people, from NHS staff to lifeboat crew, however, the most deserving of any awards must go to the British people and their ability to continue in the constant face of adversity brought about by successive governments. Maybe one day we will be giving awards to those that bring about government for the people by the people.
Happy New year to you all…
Support Labour Heartlands
PLEASE HELP US KEEP GOING AD-FREE
This is a "Pay as You Feel" website.
Hey there! Thanks for stopping by. If you've enjoyed reading the articles on Labour Heartlands so far, We would be incredibly grateful if you could consider making a small donation. Labour Heathlands is not your typical news outlet. We are not here to simply regurgitate the daily news cycle, that's for the rest of them. Our focus is on delving deeper, uncovering the untold stories and shedding light on the issues that the mainstream media chooses to ignore.
Our unwavering commitment to journalistic integrity means that we are not influenced by any external forces. We are not beholden to PR companies, advertisers or press barons, and we refuse to let anyone dictate what we report on. Our editorial independence is sacrosanct, and our only allegiance is to the truth.
While we do not align ourselves with any particular political party, we stand firmly against corruption, injustice and the erosion of truth and the rule of law. We believe that accurate information is the lifeblood of a democracy and that facts are not up for debate.
Once again, thank you for your support – We truly couldn't do this without you!
PLEASE HELP US KEEP GOING AD-FREE