WikiLeaks founder Julian Assange will marry his fiancée Stella Moris in Belmarsh Prison today, just weeks before the third anniversary of his arrest.
Julian Assange will marry his long-term partner Stella Moris inside a high-security prison in southeast London on Wednesday at a small ceremony during visiting hours.
The wedding is due to be attended by four guests, two official witnesses and two security guards.
His fiancée Stella Moris spoke of her joy at being allowed to marry the WikiLeaks founder – despite restrictions being placed on their wedding.
Dame Vivienne Westwood, who formerly campaigned against his extradition, is designing Ms Moris' wedding dress and a kilt for Mr Assange, whose parents are of Scottish descent.
Ms Moris previously said: "Obviously we are very excited, even though the circumstances are very restrictive.
"There continues to be unjustified interference in our plans. Having a photographer for an hour is not an unreasonable request.
"Julian is looking forward to the wedding because it is finally happening, many months after we first made the request."
'Today I will marry the love of my life': Julian Assange's fiancée Stella Moris.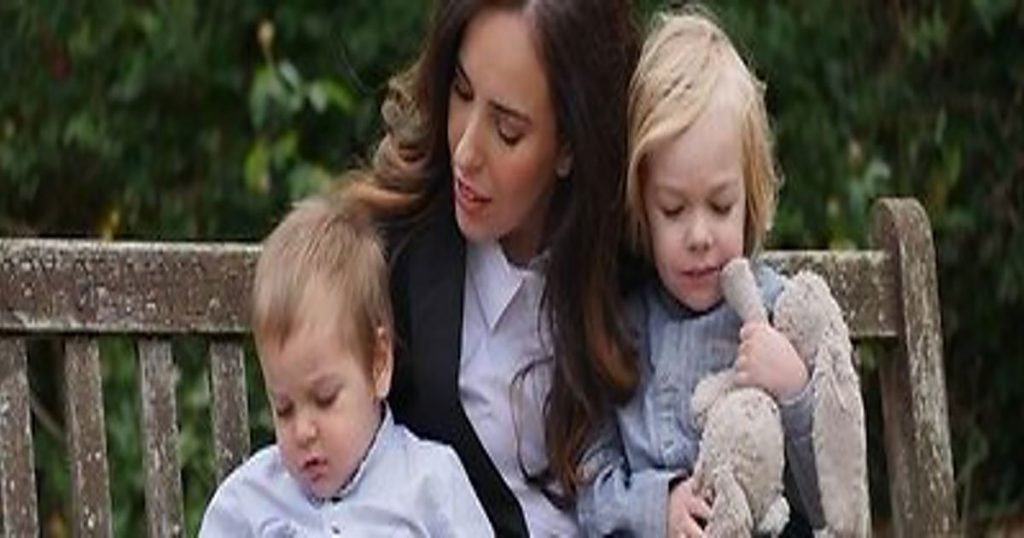 Our right to marry -Julian Assange
Today is my wedding day. I will marry the love of my life. My husband to be is the father of our two sons, he is a wonderful man, intelligent and funny, he has a deep-seated sense of right and wrong and he is known the world over for his work as a courageous publisher. At lunchtime today, I will go through the gates at the most oppressive high security prison in the country and be married to a political prisoner, WikiLeaks founder Julian Assange.
Of course, this is not the wedding we should be having. Julian has spent nearly three years unjustly detained on behalf of the foreign power that plotted to kill him in the streets of London.
Today will be a private moment in which we will affirm our love for each other. The dress is designed by Julian's friends, Dame Vivienne Westwood and Andreas Kronthaler. I am honoured to be wearing their beautiful creation. It is a symbol of our love and defiance in the face of this cruel situation.
This is not a prison wedding, it is a declaration of love and resilience in spite of the prison walls, in spite of the political persecution, in spite of the arbitrary detention, in spite of the harm and harassment inflicted on Julian and our family. Their torment only makes our love grow stronger.
Every part of this private event is being intensely policed, from our guest list to the wedding picture.
Behind the scenes we have been locked in a dispute with the Ministry of Justice and prison authorities, who have denied our proposed witnesses because they are journalists; and who have denied our proposed photographer because he also works as a press photographer, even though they would all attend in a private capacity.
The prison states that our wedding picture is a security risk because it could end up in social media or the press. How absurd. What kind of security threat could a wedding picture pose?
Belmarsh regularly permits photography. Tommy Robinson and other convicted prisoners were allowed to be interviewed on camera when ITV filmed inside Belmarsh prison. But for Julian, who isn't even serving a sentence, there appear to be a different set of rules. What are they so afraid of?
I am convinced that they fear that people will see Julian as a human being. Not a name, but a person. Their fear reveals that they want Julian to remain invisible to the public at all costs, even on his wedding day, and especially on his wedding day. For him to disappear from public consciousness.
The press has not been permitted to photograph Julian since 2019. The last time he was photographed by the press was through the scratched windows of a Serco prison van on his way to court, shortly after his arrest on 11 April 2019. After those pictures were published, the authorities switched his transport to vans with automatic steel shutters, which prevent even that type of press photography.
Julian hasn't been seen by the public in three years. Recently, he has not even been permitted to be in court for his own hearings. In October, he suffered a transient ischemic (TIA) attack, or mini-stroke.
The way he is being treated is cruel and inhuman, and the public doesn't like it. So the authorities hide it from the public.
Julian is being turned into prisoner X, an abstraction that is neither seen nor heard, and therefore nonexistent. Julian is being disappeared because his imprisonment is a national disgrace, an embarrassment for the British state, and a vicious, authoritarian move.
The logic of disappearing a person in the hope that they will be forgotten is what Soviet Russia did. But it's too late to hide what is being done to him. The UN special rapporteur on torture, Nils Melzer, has deconstructed a decade of persecution and psychological torture inflicted on Julian. Julian is being made to suffer in a monstrous, undeniable, political persecution.
Julian is not charged with a crime in the UK. The charges he faces in the United States are, according to Amnesty International, politically motivated. And according to every major press freedom organisation, the charges are also an attack on journalism itself, because they criminalise journalism and open the doors to imprisoning journalists for doing their jobs.
The urge of the authorities to silence and disappear Julian is born out of fear. We have the strength of our love and righteous conviction. Julian's family will fight for his freedom and for his life, until he is free. Love over fear. Join us.
Stella's story…
In a heartwarming read, Simon Hattenstone we have taken extracts to help explain the journey Stella Moris and Julian Assange has taken to this point, as Stella expressed 'He's unlike anyone I have ever met'
Stella Moris's life has changed beyond recognition over the past decade. When she first met Assange in 2011, she was a 28-year-old lawyer known as Sara Gonzalez Devant. She had been excited by the work of WikiLeaks, believing the nonprofit media organisation was exposing corruption and war crimes in a way never seen before. She mentions one of its most famous scoops – a horrifying video called Collateral Murder that showed the crew of two Apache helicopters firing on a group of Iraqi civilians with the callous insouciance of video game players. After the lead helicopter fired, one of the crew shouted, "Hahaha. I hit 'em" and another responded, "Oh yeah, look at those dead bastards."
In April 2010, Assange released the video at a press conference in Washington DC. Overnight, WikiLeaks – which he had founded four years previously – became a household name. "If Collateral Murder hadn't been published, those innocent people who were mown down in a war crime would have forever remained in terms of the official story 'enemy combatants' engaged in a war battle and legitimately killed," Moris says. "And that was only one of the stories."
Stella Moris first met Assange at Frontline Mews, where Assange initially lived when under house arrest. An expert in international law, she was hired as part of Assange's legal team to help fight his case against extradition to Sweden.
Before even meeting him, she says, she was convinced he was the victim of an elaborate sting. "I had read all the documents and it was clear that this was a political case and that he was innocent. The Swedish authorities were behaving in a way that was inexplicable, refusing to question him. Then it came out that they were being advised by the Crown Prosecution Service not to question him in England. The CPS was pushing for Julian to be extradited, which was also inexplicable." She shows me a document obtained through a freedom of information request in which a senior CPS lawyer tells his Swedish counterpart "not to get cold feet" over the extradition.
"Why would they do that?" Moris asks. Assange refused to return to Sweden because he believed that he would be more likely to be extradited from there to America, where he would be prosecuted under the Espionage Act.
In May 2012, with the help of the then DDP Keir Starmer, the UK's supreme court ruled he should be extradited to Sweden. In June, Assange entered the Ecuadorian embassy, where he could not be arrested because of the international legal protection afforded diplomatic premises, and refused to come out. In doing so, he breached his bail conditions. Two months later, Ecuador granted Assange political asylum, stating that they feared his human rights would be violated if he were extradited.
After Assange entered the embassy in 2012, he and Moris became close. "I spent a lot of time with him. I got to know him," she says. When did she realise she was falling in love with him? "2014, two years later." Did she resist it? "Initially, yes, because it made things more complicated. But in the end, no." Did Assange see the difficulties? "He's a romantic." Which is a no. "It's such a miracle when you do fall in love," Moris says, "when you find someone you're compatible with."
In the end, Assange spent seven years at the embassy. Towards the end, the atmosphere became progressively more hostile, Moris says. They began to suspect that UC Global, the Spanish security company there to protect him and the embassy, was spying on him for the Americans. At an extradition hearing, the court heard that microphones were concealed to monitor Assange's meetings with lawyers, his fingerprint was obtained from a glass, and there was even a plot to obtain a nappy from a baby who'd regularly visited the embassy.
The unnamed baby was Moris and Assange's elder son, Gabriel. She believes the security firm had hoped to obtain DNA from the nappy to discover whether Assange was Gabriel's father, but the plot was thwarted. "A security guard approached me in December 2017 and told me not to bring Gabriel in any more," Moris says. "It was the guard who had been instructed to steal the nappy. I guess it was a sense of moral disgust. It was no surprise when allegations were made in court about plots to kidnap or poison Julian. It was like a black site in the middle of London. Complete lawlessness."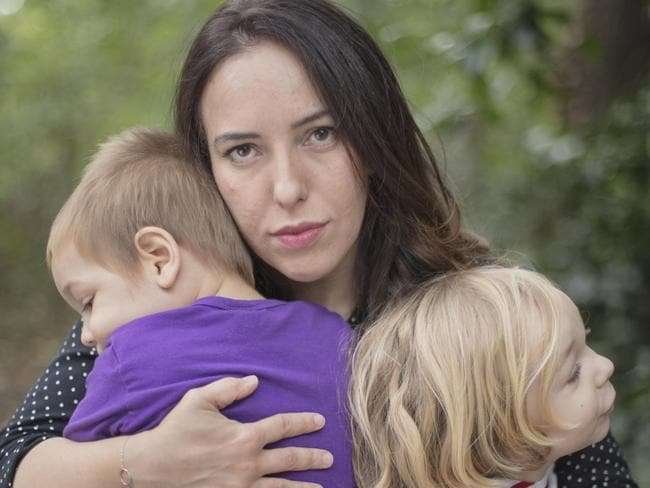 Surely she and Assange must have feared bringing children into that environment? "Well, from that point when we heard of the nappy, yes." But, she says, back when she got pregnant, things were more hopeful: to Moris, it seemed only a matter of time before Assange would be freed. "I was 32, 33 and we decided to start a family. Sure, not the ideal circumstances, but it felt right." She pauses. "It was right." She hid her pregnancy by wearing baggy clothes and saying she had put on weight. When did she tell her parents about her relationship with Assange? "When I was pregnant." Were they like: "I knew it was him all along!" "My mom was, yeah!" How did she know? "Moms know!" She tells me how much her parents admire Assange.
How did she manage to keep the children secret from everybody else for so long? "It was very stressful and very difficult." I ask if she had to lie a lot. There's a big pause, even by her standards. "Yep." Had she lied a lot previously? "No, I found it very difficult. It wasn't so much lying as saying: 'I'm not going there' when people asked, 'Who's the dad?'Which I felt bad about."
Moris says that over the past decade she has necessarily become increasingly private. "Anyone in Julian's vicinity was exposed to being approached openly or covertly by agents." She stops and laughs at herself. "Agents! It sounds so conspiratorial! But, basically, people were spying on Julian. I didn't want to put friends in a position where they might risk exposing him."
On 11 April 2019, Ecuador withdrew its diplomatic asylum and the Metropolitan police entered the embassy. Assange was detained for "failing to surrender to the court" over a warrant issued in 2012 and sent to Belmarsh. In May, he was sentenced to 50 weeks in jail for breaching bail conditions.
Soon after Assange was arrested at the embassy, he was indicted on 17 charges for violating the Espionage Act by publishing classified information, and one charge of conspiring to hack into a secret Pentagon computer network. If found guilty, he faces a maximum 175 years in jail. In November 2019, Sweden dropped the rape investigation. But it provided little comfort for Assange. The US is set on extraditing him, it seems the price of exposing their war crimes is to exact an act of revenge while telegraphing to all journalists and bloggers a message stating 'we will not tolerate truth'.
"While for many people it would seem insane to start a family in that context, for us, it was the sane thing to do," she said in a video posted last year to the WikiLeaks YouTube channel. "To break down those walls around him and see life, imagine a life, beyond that prison."
Stella Moris, who is originally from South Africa, says that her husband watched their sons, Gabriel and Max, being born on a video call. The boys are British citizens and have grown up visiting their father in prison, says Stella Moris.
wedding announcement comes only weeks after proceedings for his extradition resumed in a London court. Lawyers for the United States have argued that he should stand trial in an American court, despite continuing concerns about his mental health. Numerous doctors and mental health experts have chronicled the decline of Julian Assange's physical and mental state while in confinement.
"He is extremely thin, and it's really taking a toll on him," Stella Moris said on Tuesday in an interview with Democracy Now about Julian Assange's well-being. "Every day is a struggle, you can just imagine. There is no end in sight."
The WikiLeaks founder has sought for years to avoid a trial in the United States on charges that his supporters say are politically driven and an attack on media freedom. If Assange is extradited and found guilty, he could face up to 175 years in prison in America.
Support Labour Heartlands
Help Us Sustain Ad-Free Journalism
Sorry, I Need To Put Out the Begging Bowl
Independent Journalism Needs You
Our unwavering dedication is to provide you with unbiased news, diverse perspectives, and insightful opinions. We're on a mission to ensure that those in positions of power are held accountable for their actions, but we can't do it alone. Labour Heartlands is primarily funded by me, Paul Knaggs, and by the generous contributions of readers like you. Your donations keep us going and help us uphold the principles of independent journalism. Join us in our quest for truth, transparency, and accountability – donate today and be a part of our mission!
Like everyone else, we're facing challenges, and we need your help to stay online and continue providing crucial journalism. Every contribution, no matter how small, goes a long way in helping us thrive. By becoming one of our donors, you become a vital part of our mission to uncover the truth and uphold the values of democracy.
While we maintain our independence from political affiliations, we stand united against corruption, injustice, and the erosion of free speech, truth and democracy. We believe in the power of accurate information in a democracy, and we consider facts non-negotiable.
Your support, no matter the amount, can make a significant impact. Together, we can make a difference and continue our journey toward a more informed and just society.
Thank you for supporting Labour Heartlands
Just click the donate button below