Doctors confirm Julian Assange suffered a stroke on the morning of his latest hearing. While Amnesty called this weeks ruling reversing a decision to refuse extradition a "travesty of Justice" the public are just beginning to learn the stress placed upon the whistleblower over the last decade.
Assange is facing 18 counts of violating the Espionage Act for encouraging former Army intelligence analyst Chelsea Manning to hack into defence systems. Manning passed more than half a million secret diplomatic and military cables to Assange who published them on the WikiLeaks website.
The WikiLeaks publisher, now 50, is being held on remand in a maximum-security jail at Belmarsh, he has had a non stop battle against the establishment that have colluded to not only defame him but extradite the Australian citizen to the US, where he will face charges that could see him locked away for his natural life.
For many it is seen as nothing more than revenge carried out by the US. Revenge for releasing thousands of documents relating to the wars in Iraq and Afghanistan.
In July 2010, WikiLeaks, together with several media outlets, such as The Guardian, New York Times, published more than 90,000 US military documents related to the Wars.
These included previously unreported details about civilian deaths, friendly-fire casualties, US air raids, al-Qaeda's role in the country, and nations providing support to Afghan leaders and the Taliban.
Among the most notorious material published by WikiLeaks is the "Collateral Murder" video, released in 2010. It depicts the infamous 2007 episode in Baghdad where US Apache helicopter personnel are recorded enthusiastically slaughtering a dozen Iraqis on the ground, including two Reuters journalists – a fitting hint, perhaps, as to the existential perils of journalistic efforts to document the truth.
The footage of the July 2007 attack was made public in a move that angered the Pentagon, it had drawn up a report identifying the whistleblower website as a threat to national security. The US defence department was embarrassed when that confidential report appeared on the Wikileaks site alongside a slew of other military documents.
The release of the video from Baghdad also comes shortly after the US military admitted that its special forces attempted to cover up the killings of three Afghan women in a raid in February by digging the bullets out of their bodies.
In Assange's case, his crime is just that: telling the truth is in contravention of an official narrative of heroic, world-saving interventions by the US military.
Assange's fight to stop his extradition to America has been relentless, after the stroke Julian Assange was left with a drooping right eyelid, memory problems and signs of neurological damage.
According to the report, the incident happened on October 27, during Assange's video appearance in the High Court. Moris believes that the stroke was caused by the stress, induced by the ongoing US court action against him, as well as overall decline in his health.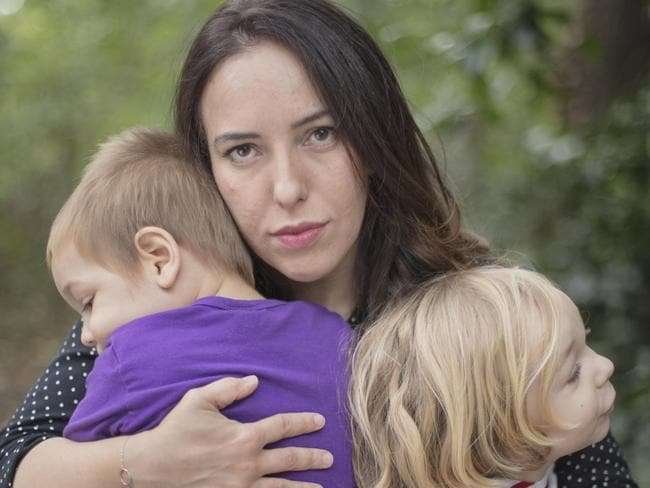 Julian Assange's fiancée Stella Moris said: "His eyes were out of synch, his right eyelid would not close, his memory was blurry."
The mini-stroke was triggered by the stress of the ongoing US court action against him, and an overall decline in his health as he faces his third Christmas behind bars.
A 'transient ischaemic attack' – the interruption of the blood supply to the brain – can be a warning sign of a full stroke. Assange has since had an MRI scan and is now taking anti-stroke medication.
Ms Moris, 38, a lawyer, said: "Julian is struggling and I fear this mini-stroke could be the precursor to a more major attack. It compounds our fears about his ability to survive the longer this long legal battle goes on."
'It urgently needs to be resolved. Look at animals trapped in cages in a zoo. It cuts their life short. That's what's happening to Julian. The never-ending court cases are extremely stressful mentally.'
She said he was kept in his cell for long periods and was 'short of fresh air and sunlight, an adequate diet and the stimulus he needs'.
Assange faced a major legal setback on Friday when the High Court overturned a judgment made this year preventing extradition to the US to face charges under the US Espionage Act.
But Ms Moris said: 'I believe this constant chess game, battle after battle, the extreme stress, is what caused Julian's stroke on October 27.
He was feeling really unwell, far too ill to follow the hearing, and he was excused by the judge but could not leave the prison video room.
'It must have been horrendous hearing a High Court appeal in which you can't participate, which is discussing your mental health and your risk of suicide and in which the US is arguing you are making it all up.
'He had to sit through all this when he should have been excused. He was in a truly terrible state. His eyes were out of synch, his right eyelid would not close, his memory was blurry.'
His lawyers successfully argued he would be kept in conditions in the US that could lead to a serious risk of suicide. The High Court reversed the earlier ruling after the US government offered assurances about his potential imprisonment.
For many at one point there was hope that president Biden would be different from Trump but has recent events have proved Biden or Trump the regime is the same.
The UK cannot stand innocent in this matter, our courts are allowing pressure from the US to overturn sound judgements like the one made last January by District Judge Vanessa Baraitser who ruled that while US prosecutors met the tests for Mr Assange to be extradited for trial, the US was incapable of preventing him from attempting to take his own life.
She outlined evidence of his self harm and suicidal thoughts and said: "The overall impression is of a depressed and sometimes despairing man fearful for his future."
She said: "Faced with the conditions of near total isolation without the protective factors which limited his risk at HMP Belmarsh, I am satisfied the procedures described by the US will not prevent Mr Assange from finding a way to commit suicide and for this reason I have decided extradition would be oppressive by reason of mental harm and I order his discharge."
It is clear that the mental state of Julian Assange was in fact much more severe than the initial judgment made by Judge Vanessa Baraitser imagined, the recent stroke being proof.
The request to extradite Julian Assange should have been refused for so many other reasons, not least to protect investigative journalism, free speech, freedom of the press along with the rights of journalists to act on information brought by whistleblowers, information that brought to light wrongdoing by governments who attempt to cover-up crimes and murder of committed by its military's actions in the people's name. Actions that resulted in the killing of more than a dozen innocent Iraqis, including two Reuters journalists.
The footage leaked by private Manning led to global outrage, reigniting a debate over the US's occupation of Iraq and wider presence in the Middle East.
has until December 23 to appeal against last week's judgment, and could face many months – potentially years – on remand in the UK.
Ms Moris said: 'It remains an outrage that someone who is not serving a prison sentence should be held in prison for years on end.
'Julian is not a threat to anyone and it is a complete disregard to his individual liberty and our right to a family life.
'The US plays dirty every step of the way – it's a war of attrition. We can see from the fact that he has suffered a mini-stroke this is having a dangerous impact on him.'
Around the world the treatment of Julian Assange is seen as nothing more than a vengeful warning to all investigative journalist, an iron heel stomping on press freedoms, no one can pretend this remotely looks like any sort of justice.
A spokesman for the Ministry of Justice said last night he would not comment on an individual prisoner.
Realated Articles:
Richard Burgon: Joe Biden should stop the prosecution of Julian Assange.
Ken Loach calls out Sir Keir Starmer, what were his dealings in the Julian Assange case
Support Labour Heartlands
Help Us Sustain Ad-Free Journalism
Sorry, I Need To Put Out the Begging Bowl
Independent Journalism Needs You
Our unwavering dedication is to provide you with unbiased news, diverse perspectives, and insightful opinions. We're on a mission to ensure that those in positions of power are held accountable for their actions, but we can't do it alone. Labour Heartlands is primarily funded by me, Paul Knaggs, and by the generous contributions of readers like you. Your donations keep us going and help us uphold the principles of independent journalism. Join us in our quest for truth, transparency, and accountability – donate today and be a part of our mission!
Like everyone else, we're facing challenges, and we need your help to stay online and continue providing crucial journalism. Every contribution, no matter how small, goes a long way in helping us thrive. By becoming one of our donors, you become a vital part of our mission to uncover the truth and uphold the values of democracy.
While we maintain our independence from political affiliations, we stand united against corruption, injustice, and the erosion of free speech, truth and democracy. We believe in the power of accurate information in a democracy, and we consider facts non-negotiable.
Your support, no matter the amount, can make a significant impact. Together, we can make a difference and continue our journey toward a more informed and just society.
Thank you for supporting Labour Heartlands
Just click the donate button below