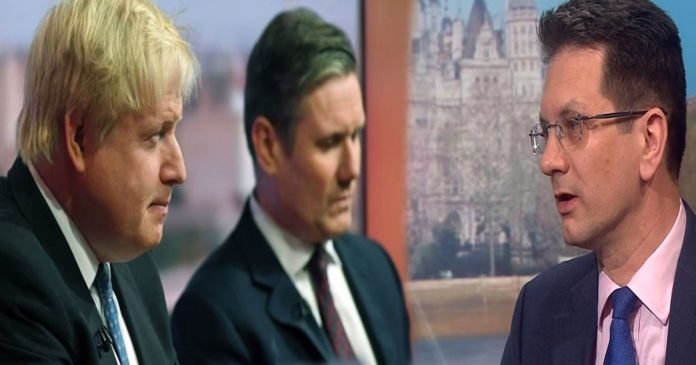 Tory MP Steve Baker today accused Boris Johnson of 'creating a miserable dystopia' by re-imposing coronavirus restrictions as the Prime Minister braces for a massive Conservative revolt over 'Plan B'.
Mr Baker lashed out at Mr Johnson and claimed 'at least' 60 Tory MPs will vote against the Government on Tuesday when they are asked to rubber-stamp the PM's latest Covid curbs.
If such a rebellion does materialise it would be the largest suffered by Mr Johnson during his premiership.
Labour will support the Goverment
However, the PM's crackdown will almost certainly be agreed by the House of Commons after Sir Keir Starmer confirmed the Labour Party will vote in favour of the new rules.
Sir Keir Starmer has told the BBC's Andrew Marr that his MPs will be instructed to vote for the Government's vaccine passports proposals in Parliament on Tuesday.
Sir Keir Starmer said this morning he believes the measures are 'necessary' to counter the 'great threat' posed by the Omicron variant.
He said Labour will act in the 'public interest' and support 'Plan B' as he insisted he will resist calls to take 'political advantage' of the situation.
Marr asked the Leader of the Opposition: "It looks pretty clear from the numbers that you could defeat these measures in the House of Commons, you've already said as a party that they weren't working".
The Government would have faced a potential humiliating Commons defeat on the issue of vaccine passports without the support of Sir Keir Starmer and the Labour Party. A number of rebellious Conservative backbenchers have in recent days declared they will vote down the legislation.
This would cause a vote of no confidence in the government, however, Starmer will back the government claiming Labour will not play Party politics…
It could be argued if this government's policies are not helping, it's the opposition's duty to bring it down and offer an alternative. That would be in the publics best interest.
Mandatory vaccine passports for venues
Under Plan B, certain venues will be forced to ask punters for an NHS Covid pass.
Under previous plans, only the vaccine part would be valid. People would no longer be able to show a negative test.
Boris Johnson announced he is putting this plan into action from 6 am on Wednesday 15 December – with a key change.
Contrary to previous plans, he said "a negative lateral flow test will also be sufficient" to get you into a nightclub even if you aren't double-jabbed.
It's thought venues affected will be all nightclubs, and other venues open after 1am with alcohol, music, and dancing.
They also include:
Indoor, crowded settings with 500 or more attendees where those attendees are likely to be in close proximity to people from other households, such as music venues or large receptions.
Outdoor, crowded settings with 4,000 or more attendees where those attendees are likely to be in close proximity to people from other households, such as outdoor festivals.
Any settings with 10,000 or more attendees, such as large sports and music stadia.
The passes will need to be shown to gain access to indoor venues with more than 500 people, unseated outdoor venues with more than 4,000 people and any venue with more than 10,000 people from Wednesday.
The 'Plan B' measures also include compulsory mask-wearing in most public indoor settings, as well as guidance for employees to work from home where they can.
Mr Baker, a vocal opponent of Covid restrictions, said he will vote against the measures as he announced the relaunch of the Conservative Way Forward group to press for freedom, a smaller state and lower taxes.
He told Sky News: 'Yes, I will vote against. I think what we are doing now is creating a miserable dystopia into which we are going forward and that is why today I am announcing that I will be relaunching Conservative Way Forward.
'We need to create a movement which actually says the Conservative Party needs to be what people traditionally have recognised as conservative that is in favour of freedom and personal responsibility.'
Labour has said it will vote for the 'Plan B' measures which means they will clear the Commons even if there is a sizeable Tory rebellion.
Support Labour Heartlands
PLEASE HELP US KEEP GOING AD-FREE
HELP US GROW.
This is a "Pay as You Feel" website.
This blog has no source of state, corporate or institutional finance whatsoever. It runs entirely on voluntary subscriptions from its readers – many of whom do not necessarily agree with every article, but welcome the alternative voice, insider information and debate.
You can have access to all of our online work for free. However if you want to support what we do, you could make a small donation to help us keep writing and staying ad-free. The choice is entirely yours.