At least one MP has the balls to stand up to the US and for press freedom.
Richard Burgon member of parliament for Leeds East made an impassioned speech highlighting the incarceration of Julian Assange.
During a debate on the Safety of Journalists Burgon spoke out and made an appeal to President Joe Biden:
"I want to start by condemning the recent Israeli air force attacks that destroyed the building housing al-Jazeera and over a dozen media outlets during the assault on Gaza.
They say that truth is the first casualty of war. It is clear that this was done to try to stop the world seeing the truth about that horrific assault on Gaza and the humanitarian crisis that it created.
I want to focus today on the role that brave journalists play in exposing war crimes. Regrettably, our country has been involved in too many unjust wars in recent years—wars of conquest, wars for control and wars for oil. Crimes were committed in those wars in Afghanistan and Iraq, including, in Iraq, the killing of journalists.
Much of what we know about those crimes was exposed by the fearless work of a journalist—a journalist who exposed unlawful killing; a journalist who exposed US renditions; a journalist who exposed the horrors of Guantanamo Bay; a journalist invited to work in this country by The Guardian newspaper; a journalist, who, as we meet today in Parliament for this debate, is sitting in a British high-security prison, solely because of his journalism; a journalist who faces extradition to the United States for his award-winning journalism, carried out here in Britain; a journalist who faces a 175-year sentence for exposing war crimes, which would mean he would spend the rest of his life behind bars in a super-maximum security prison; a journalist whose potential extradition is opposed by Amnesty International, the National Union of Journalists and Reporters Without Borders.
That journalist is Julian Assange.
I appeal to President Joe Biden, who is in this country for the G7 summit, to drop the charges so that the extradition is called off. Present Biden was, of course, vice-president when President Obama took the decision not to prosecute Julian Assange because of the huge damage it would have done to press freedom. Prosecuting Julian Assange would, in the words of Amnesty International, still have
"a chilling effect on the right to freedom of expression".
That is why I raise this case today. That is why I urge President Biden to do the right thing."
---
Many people, especially on the Left, are asking why Sir Keir Starmer a former DPP and Human rights lawyer has not spoken out on behalf of Julian Assange but for many more who understand Starmer's involvement in Julian Assange's incarceration, that question is obvious. Read more…
---
If they don't get you for one thing it will be another.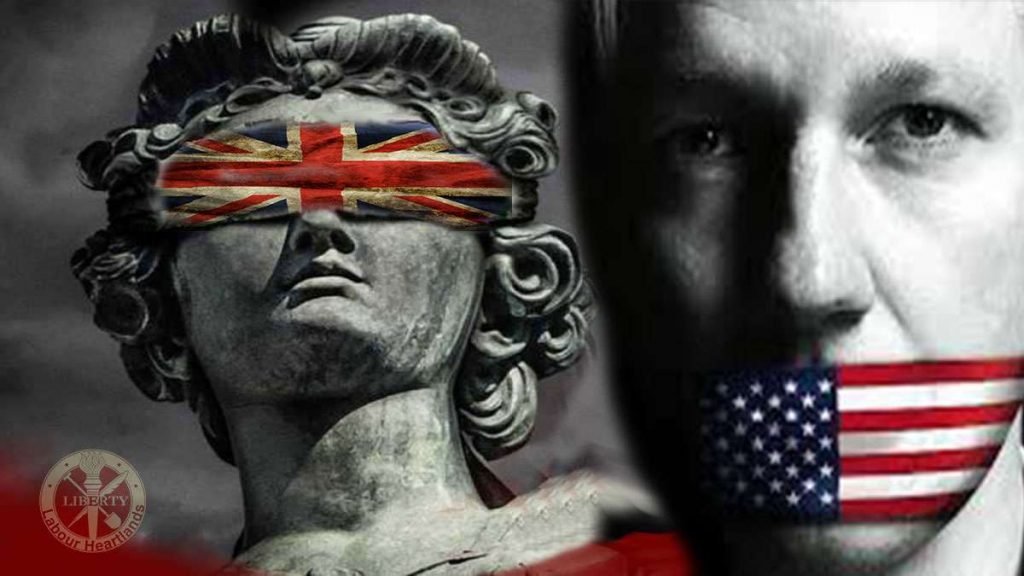 Assange is facing 18 counts of violating the Espionage Act for encouraging former Army intelligence analyst Chelsea Manning to hack into defence systems. Manning passed more than half a million secret diplomatic and military cables to Assange who published them on the WikiLeaks website.
Attorneys and experts appearing on his behalf have already told the court that his extradition is a "political prosecution" that was never advanced by the Obama administration but taken up by President Donald Trump, who has held both supportive and negative views of WikiLeaks over time.
Ex-US Justice Department official Thomas Durkin Stated on behalf of Assange's legal team:
"It seems very clear to me that the Obama administration made a decision not to prosecute," Durkin said. "I think that's what happened, they decided not to go ahead … and for Donald Trump's political purposes they decided to reinstate the charges."
In 2013, The Washington Post reported that the Obama administration had all but concluded it would not pursue Assange because they could not do so without also pursuing media outlets that published WikiLeaks cables, including The New York Times, the Post and Britain's Guardian newspaper.
But prosecuting Assange and/or WikiLeaks for publishing classified documents would be in an entirely different universe of press freedom threats. Reporting on the secret acts of government officials or powerful financial actors – including by publishing documents taken without authorisation – is at the core of investigative journalism.
From the Pentagon Papers to the Panama Papers to the Snowden disclosures to publication of Trump's tax returns to the Iraq and Afghanistan war logs, some of the most important journalism over the last several decades has occurred because it is legal and constitutional to publish secret documents even if the sources of those documents obtained them through illicit or even illegal means.
The Obama DOJ – despite launching notoriously aggressive attacks on press freedoms – recognised this critical principle when it came to WikiLeaks. It spent years exploring whether it could criminally charge Assange and WikiLeaks for publishing classified information. It ultimately decided it would not do so, and could not do so, consistent with the press freedom guarantee of the First Amendment. After all, the Obama DOJ concluded, such a prosecution would pose a severe threat to press freedom because there would be no way to prosecute Assange for publishing classified documents without also prosecuting the New York Times, the Washington Post, the Guardian and others for doing exactly the same thing.
As the Washington Post put it in 2013 when it explained the Obama DOJ's decision not to prosecute Assange:
Of course, what is not mentioned is Joe Biden's attuited was hawkish on Assange during his time as US vice-president in 2010, Joe Biden, likened the WikiLeaks founder, Julian Assange, to a "hi-tech terrorist", the strongest criticism yet from anyone in the Obama administration.
Biden claimed that by leaking diplomatic cables Assange had put lives at risk and made it more difficult for the US to conduct its business around the world.
His description of Assange shows a level of irritation that contrasts with more sanguine comments from other senior figures in the White House, who said the leak had not done serious damage.
Interviewed on NBC's Meet the Press, Biden was asked if the administration could prevent further leaks, as Assange warned last week. "We are looking at that right now. The justice department is taking a look at that," Biden said, without elaborating.
It is precisely the angle of "hi-tech terrorist" commonly known as computer hacking that Lawyers for the US government have repeatedly stressed throughout the extradition hearing that the charges laid against Assange relate to offences of computer hacking and only the publication of informants names.
It is clear Julian Assange was acting as a journalist and within the First Amendment
Barry J. Pollack, a lawyer for Mr. Assange, said his client was being charged with a crime "for encouraging sources to provide him truthful information and for publishing that information." That dramatic step, he said, removed the "fig leaf" that the case about his client was only about hacking.
The US extradition request is based on charges that stem directly from the publication of classified documents as part of Julian Assange's journalistic work with WikiLeaks. Publishing such information is a cornerstone of media freedom and the public's right to access public interest information, and must be protected rather than criminalised.
"These unprecedented charges demonstrate the gravity of the threat the criminal prosecution of Julian Assange poses to all journalists in their endeavor to inform the public about actions that have been taken by the U.S. government," he said.
For most of American history, it was rare for the government to treat the leaking of its secrets to the news media as a crime. But starting in the second half of the George W. Bush administration and accelerating during the Obama administration, the Justice Department began making much more routine use of the Espionage Act to go after officials who provided information to the public through reporters, as opposed to actual spies. The World War I-era law criminalizes the disclosure of potentially damaging national security secrets to someone not authorized to receive them.
On its face, the Espionage Act could also be used to prosecute reporters who publish government secrets. But many legal scholars believe that prosecuting people for acts related to receiving and publishing information would violate the First Amendment.
That notion has never been tested in court, however, because until now the government has never brought such charges.
Though he is not a conventional journalist, much of what Julian Assange does at WikiLeaks is difficult to distinguish in a legally meaningful way from what traditional news organisations like The Times do: seek and publish information that officials want to be secret, including classified national security matters, and take steps to protect the confidentiality of sources.
In the US, Assange could face trial on 18 charges – 17 of them under the USA's Espionage Act, and one under the Computer Fraud and Abuse Act. He would also face a real risk of serious human rights violations, including detention conditions that could amount to torture or other ill-treatment, and the possibility of prolonged solitary confinement. Assange is the first publisher to face charges under the Espionage Act.
The fact that Assange was the target of a negative publicity campaign by US officials at the highest levels undermines his right to be presumed innocent and puts him at risk of an unfair trial.
"We are all citizens of the world"
It's a shame the new age of America does not want to extend its first amendment its advocation for 'freedom of speech'.
It was early in the Seventeenth Century that Francis Bacon remarked on three recent inventions already transforming the world: the compass, gunpowder and the printing press. Now the links between the nations first forged by the compass have made us all citizens of the world, the hopes and threats of one becoming the hopes and threats of us all. In that one world's effort to live together, the evolution of gunpowder to its ultimate limit has warned mankind of the terrible consequences of failure.
And so it is to the printing press—to the recorder of man's deeds, the keeper of his conscience, the courier of his news—that we look for strength and assistance, confident that with your help man will be what he was born to be: free and independent.
This article fetched extracts from:
WikiLeaks, Disclosure, Free Speech and Democracy: New Media and the Fourth Estate JENNIFER ROBINSON
Ken Loach calls out Sir Keir Starmer, what were his dealings in the Julian Assange case
#Assange, #G7Summit2021, #FreeJulianAssange, #FullPardon
Support Labour Heartlands
PLEASE HELP US KEEP GOING AD-FREE
This is a "Pay as You Feel" website.
Hey there! Thanks for stopping by. If you've enjoyed reading the articles on Labour Heartlands so far, We would be incredibly grateful if you could consider making a small donation. Labour Heathlands is not your typical news outlet. We are not here to simply regurgitate the daily news cycle, that's for the rest of them. Our focus is on delving deeper, uncovering the untold stories and shedding light on the issues that the mainstream media chooses to ignore.
Our unwavering commitment to journalistic integrity means that we are not influenced by any external forces. We are not beholden to PR companies, advertisers or press barons, and we refuse to let anyone dictate what we report on. Our editorial independence is sacrosanct, and our only allegiance is to the truth.
While we do not align ourselves with any particular political party, we stand firmly against corruption, injustice and the erosion of truth and the rule of law. We believe that accurate information is the lifeblood of a democracy and that facts are not up for debate.
Once again, thank you for your support – We truly couldn't do this without you!
PLEASE HELP US KEEP GOING AD-FREE