Jeremy Corbyn is a communist spy! Says who?
Again we see the establishment showing their true colours and it's tainted with a touch of fear.
Both the right wing MSM and even the right wing of the Labour party are enjoying a moment of "utter carry on" reminiscent of a Sid James and the carry on classics.
The theory is throw enough mud and something will stick. It's not just the gutter press either right wing Labour MP's snigger at the idiotic attempts while whispering to each other in a conspiratory manner working on their next attack to bring down Jeremy Corbyn.
It was not too long ago that a Labour MP belonging to the right wing Progress group pulled me to one side following our outcry of the leadership coup. He stated "You do know Jeremy Corbyn supports the IRA?
I was initially shocked at this statement, obviously, I had heard the falsehood many times, my shock came at the fact it was a Labour MP repeating the lie, and why this lie and why to me?
The MP was aware of my military background he must have thought that would bring me to question my support for Corbyn! However, my answer was very simple "actually he did not support the IRA, he supported talks and an end to the conflict, he supported breaking the cycle of violence, the only way you get that is to talk!
He then carried on with more slurs about supporting terrorist Islamic terror organisations, all of which became gutter newspaper headlines prior to and following the second leadership campaign and onto the 2017 General election.
Again we see accustions of spying in the latest piece of idiotic and to be quite frank embarrassing show of journalism from the British press. This is nothing more than another attempt by the establishment to maintain the status quo.
Jeremy Corbyn is the biggest threat to the establishment since Watt Tyler peasant's revolt or the French revolution. He is offering real meaningful change that can bring about a fairer more equal society, one that rebalances the haves and have not's.
The establishment understands that the people will only be pushed so far before they start to push back. The moment was at tension point under Thatcher and Major.
Leaders to uphold the establishment not challenge the status quo
The country overwhelmingly voted in a Labour government, the Labour Party promised us "Things will only get better!" but soon that illusion became shattered and socialist abandoned the party as hope of change was replaced with cries of they are "all the same" now it seems like we do have real hope and real aspirations of change.
At this juncture, the left must be prepared for attracts from all angles even from within the party by those whose only purpose is to ensure we keep the status quo and that includes remaining within the EU.
So how far are the establishment prepared to go?
To keep the perspective of the spying game let's look at what Ex MI5 Counter-Terrorism Officer David Shayler had to say.
We at Labour Heartlands have no opinion on the truth of this but it just shows we never get a clear picture.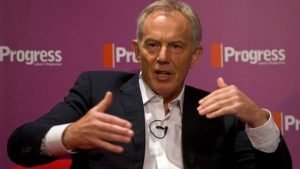 "Tony Blair worked for MI5 before he became Labour leader."- Evening Post.
There has been much speculation as to how the most right wing and powerful elements in the Labour Party used to be such left wing radicals.
Did they have a change of heart?
Apparently not, according to Ex MI5 Counter-Terrorism Officer David Shayler.
It would also explain why the spooks have been so busy trying to blacken Shayler's name.
Ex MI5 anti-terrorism officer David Shayler, who spent three days with us in Bristol recently, when his car got brake failure while parked up at the University, said at his Cube cinema presentation that he had access to information contained in Blair's Security File while in 'the service'.
The day after Shayler's arrest in France, The Mail on Sunday came out with the Headline 'Shayler Could Bring Down Government'.
On the Monday, Shayler says, Blair Summoned the editor to Downing Street and asked him into the Garden (to avoid bugs) demanding to know what David Shayler knew about him (Tony Blair).
The editor wisely explained that due to a government injunction he could not tell Mr Blair anything that Shayler knew or he'd be breaking Blair's government's own injunction.
Tony Blair, according to David Shayler, had documents in his file which clearly meant he had been spying on his comrades in CND and The Labour Party before being made Party Leader – which explains his so-called radical left activities as a young man – he was a spy reporting back on Communist 'subversives' in CND and in the Labour Party!
Shayler says his secret state agent past would make Tony Blair utterly unreliable to hold public office – particularly in the Labour party and would make him a puppet of the hawks in MI6.
The same hawks I guess who cooked up the dodgy dossier at our expense which has been used to kill nearly 150,000 Iraqis and open the gates of hell in the Middle East. (Oh yes and boost the profits and margins of every single Western Arms business leaving not enough to pay our pensioners and treat people on the NHS properly).
It would not surprise me if Tony Blair was indeed a sophisticated ploy by the UK establishment to destroy the left wing of British politics. Not only was he considered Thatcher's portage by many, and admitted himself had that he admired the woman, but he did all of the following:
He brought the Labour Party into the centre of politics which it has stayed even if Ed Miliband is trying to distance himself from New Labour. So far Ed has done nothing of significance to bring Labour back to the left wing of politics.
He removed clause 4 from Labour's own constitution which promised to keep all key industries such as water, electricity, railways under national control. Removing this clause has meant the rise of private monopolies that control prices, caused constant rising train fares which privatisation was supposed to lower due to "competition". Most importantly of all he has ended the strong ties to the unions that bankroll the party and created it in the first place as a political party for the common worker.
He never undid any of the major changes Thatcher brought to the country. He never repealed any of the laws he attacked at the time during opposition and he deliberately wanted to bring Labour into the centre ground where he believed Labour would become electable. By doing this he removed any real choice in the UK voters mind as now all 3 major political parties are based in the centre squabbling over small changes in tax codes, who can be the most austere and who can kiss the US neo-con war lobby's ass the most.
For a party that was supposed to be anti-nuclear and supportive of the CND movement, Blair did nothing to stop the UK's "independent" nuclear deterrent which is reliant on US GPS satellites anyway. He took the country into multiple wars and ignored the wishes of the country and the international community by going to war in Iraq. He is a warmonger and someone who believes the deaths of a million innocent Iraqi civilians was worth it to get rid of a man that was once backed and supported by the UK and USA and which we sold the same weapons to that we later accessed him of having.
The original article from the Evening Post has been removed (surprise!) therefore this is being re-produced to keep people aware of the original story.
Support Labour Heartlands
Help Us Sustain Ad-Free Journalism
Sorry, I Need To Put Out the Begging Bowl
Independent Journalism Needs You
Our unwavering dedication is to provide you with unbiased news, diverse perspectives, and insightful opinions. We're on a mission to ensure that those in positions of power are held accountable for their actions, but we can't do it alone. Labour Heartlands is primarily funded by me, Paul Knaggs, and by the generous contributions of readers like you. Your donations keep us going and help us uphold the principles of independent journalism. Join us in our quest for truth, transparency, and accountability – donate today and be a part of our mission!
Like everyone else, we're facing challenges, and we need your help to stay online and continue providing crucial journalism. Every contribution, no matter how small, goes a long way in helping us thrive. By becoming one of our donors, you become a vital part of our mission to uncover the truth and uphold the values of democracy.
While we maintain our independence from political affiliations, we stand united against corruption, injustice, and the erosion of free speech, truth and democracy. We believe in the power of accurate information in a democracy, and we consider facts non-negotiable.
Your support, no matter the amount, can make a significant impact. Together, we can make a difference and continue our journey toward a more informed and just society.
Thank you for supporting Labour Heartlands
Just click the donate button below