Ten Reasons to Vote 'Leave'
1) Public monopolies in healthcare, energy and rail – all official Labour Party manifesto policies – are prohibited under Article 107 of the Lisbon Treaty (2009). Many respond by arguing that other EU countries have publicly owned state monopolies, but on closer inspection this is simply not the case in practice.
This is because state providers of services must operate as private entities according to the rules of the EU Single Market and Articles 59 and 107(I) of the Treaty within member countries. In practice publicly owned companies must operate within a tightly controlled competitive context where democratic government-led economic interventions are a distortion of the market and can be ruled unlawful under Article 87(1) if it is shown that they 'use state resources, distort competition, distort trade between member states or give enterprises a selective advantage'.
For example Labour's 2017 manifesto will bring passenger rail services back into public ownership and repeal the 1993 Railways Act, which privatised our railways. Yet the Fourth EU Package of Rail Liberalisation Directives embeds an identical competitive structure to the 1993 Railways Act which originally opened up domestic public rail services to compulsory competitive tendering:
https://www.opendemocracy.net/uk/jonathan-white-alex-gordon/eu-single-market-is-incompatible-with-labour-s-manifesto
https://www.ashurst.com/en/news-and-insights/insights/the-fourth-railway-package/
2) The Lisbon Treaty has led to a huge increase in the number of privatisations launched by the national governments of EU countries and this trend accelerated further after the Eurozone debt crisis. Wholesale nationalisation of services is outlawed under the terms of Article 106: these breach EU Internal Market competition laws, which in practice elevates the role of private corporations over that of the state in the provision of services.
3) The ESM came into force in 1993 and re-ordered the national economies of all its member countries into a single liberalised job market subject to the free movement of labour, business and capital. Consequently, although national governments must take main responsibility for their economic problems the effects of the ESM and the legislation of successive EU Treaties have worked to accelerate the processes of privatisation across the continent in a range of different areas such as health, water supplies and postal services from June 2016 (see Zacune, 2013, 8-14).
While it's common to hear about the benefits of living and working abroad this right is only really confined to a tiny 'elite' of employees with the economic and social access. This opportunity has clear benefits for a minority of the workforce within higher paid employment in the arts and media mainly confined to affluent cosmopolitan centres of London and Manchester (Goodhart 2017). However, the consequences of the ESM have been very different for workers on lower incomes who reside on the periphery in regions that suffered the brunt of outsourcing and deindustrialisation from the 1980s onwards.   
Its reality for those unable to resettle elsewhere is that they have to compete for employment in a liberalised labour market of over 500 million other workers and 30 million unemployed. Formerly, national economies sustained a greater number of sectors in the 1970s and 1980s before full exposure to international competition following the introduction of the ESM. This has contributed to the wholesale erosion of entire sectors in many countries such as the shipbuilding, fishing and steel industries so that they no longer exist in many member states.
4) The ESM has also created huge economic imbalances so that member states specialise in far fewer sectors. Therefore, the UK now only has the 'comparative advantage' of retail, finance, pharmaceuticals and the arms industry. This has also had obvious impacts on the numbers of unemployed in member countries which have increased substantially since the 1980s. In 2005, a declassified Treasury Report EU Membership and Trade unexpectedly found that inclusion in the Single Market only had a very marginal impact on UK trade.
https://www.tuc.org.uk/sites/default/files/extras/europerights.pdf
5) None of the actual EU legal protections for workers cited in the TUC document below emanates from European legislation but pre-exist it. Women's Equal Pay came about five years before it was ratified by the EU, Sex Discrimination and Maternity Pay six years before. The rights enjoyed by UK and European workers have all largely came about from the power of trades unions in their own societies, in some cases many years before any of these European rulings were ever introduced.
https://www.tuc.org.uk/sites/default/files/extras/europerights.pdf
6) Also, notice in the TUC document that legislation like Social Chapter Directive 99/70/EC which is supposed to offer part time workers the same protections as full timers is completely legally non-binding and effectively useless in practice. P/T workers in many sectors are routinely treated less favourably than their "permanent" counterparts, have less job protection and are not eligible for sick, maternity or holiday pay – they overwhelmingly rely on trades unions for protection and representation which far exceeds the 'protections' provided by European Union legislation.
7) 'The Social Europe' promised in the 1990s that was supposed to protect jobs and social security benefits has never materialised (see Storey, 2008) despite continuing promises that beneficial reforms are on the way by leaders such as Merkel and Macron. This failure occurred because of the powerful roles taken up by corporate lobbyists (eg. Fleishman-Hillard) through their close relationships to The Council of the European Union and The Commission on behalf of multinational companies like Siemens, Volkswagen, Barclays and Deutsche Bank etc.
These developments have held in check the development of a 'Social Europe' and have instead ensured that the main European Union institutions have not been democratically reformed so that they could be made more directly accountable to the citizens of member countries:
https://corporateeurope.org/power-lobbies/2017/12/corporate-lobbying-influence-over-council-eu
The EU has thus failed to give us the benefits of a federal settlement, preferring to keep power overly-centralised with some limited devolution to two of its four main parts: The European Parliament and European Commission. While they were originally set up to represent separate interests these institutions do not perform this role in practice which is again largely due to the massive lobbying power of corporations and large multinationals.
(https://www.economicshelp.org/europe/disadvantages-eu/)
These arguments always formed the essence of the 'Left Eurosceptic' position (Gaitskell, Benn, Skinner) in that diminished power in national Parliaments means diminished political accountability to their electorates (see 49m 50s)
8) The adoption of pro EU 'third way' policies by traditional left parties (eg New Labour) which occurred all over the continent has fatally weakened their electoral base and their ability to oppose neoliberalism and austerity policies (see table) everywhere except Britain. This has led to a rapid electoral and political decline of 'third way' parties in EU member states as youth unemployment soared following the 2010 crisis and led to a huge corresponding rise in the success of the political far right all over the continent (see http://harvardpolitics.com/world/rise-of-far-right/). The risk is clear: if the mainstream parties don't respond to the demands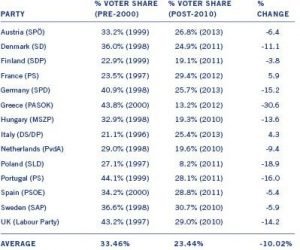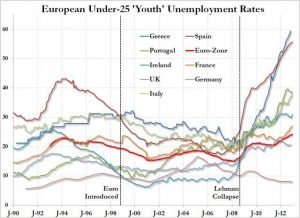 9) Disputes over the EEC, EC and EU have brought down the last four Conservative Party leaders and fatally weakened the Tory Party on each occasion. Cameron was their fifth leader to fall while May now looks like she will be the sixth following the disastrous result in the 2017 General Election which has left the Conservative Government fatally weakened and now prepared to make huge concessions to Brussels in Brexit negotiations.
10) Finally, any reversal of Brexit by an incoming Labour Government is likely to lead to a drastic fall in electoral support among traditional core voters in former industrial regions. While the narrow referendum result was due to the vote count based on local authority boundaries, when the results are reordered on the basis of voters in constituencies – where general elections are fought – the result produces a much larger majority of 'leave' votes:
https://medium.com/@chrishanretty/revised-estimates-of-leave-vote-share-in-westminster-constituencies-c4612f06319d
While it was also found that a majority of Labour members voted 'remain', a majority of Labour supporters voted 'leave' in its traditional working class heartlands. Hanratty's research (2016) at UEA found that these revised estimates actually show that 68% of constituencies in England, Wales and Northern Ireland (421 of 574) voted 'leave'.
Goodhart, D. The Road to Somewhere: The New Tribes Shaping British Politics, London: Penguin, 2017
Storey, A. 'Opposition to Neoliberalism in Europe', in Capital and Class, Issue 96 (Autumn 2008).
Zacune, J. 'Privatising Europe: A Working Paper: Using the Crisis to Entrench Neoliberalism' (March 2013) (https://www.tni.org/en/publication/privatising-europe)
Support Labour Heartlands
Help Us Sustain Ad-Free Journalism
Welcome to the Heartlands of Independent Journalism
At Labour Heartlands, we are committed to delivering independent news, views, and opinions. Our mission is to hold those in power accountable, and we can't do it without your support. As a non-profit independent organisation, we rely on our donors to keep our journalism ad-free and impactful.
Like everyone else, we're facing challenges, and we need your help to stay online and continue providing crucial journalism. Every contribution, no matter how small, goes a long way in helping us thrive. By becoming one of our donors, you become a vital part of our mission to uncover the truth and uphold the values of democracy.
While we maintain our independence from political affiliations, we stand united against corruption, injustice, and the erosion of free speech, truth and democracy. We believe in the power of accurate information in a democracy, and we consider facts non-negotiable.
Your support, no matter the amount, can make a significant impact. Together, we can make a difference and continue our journey toward a more informed and just society.
Thank you for supporting Labour Heartlands
Just click the donate button below