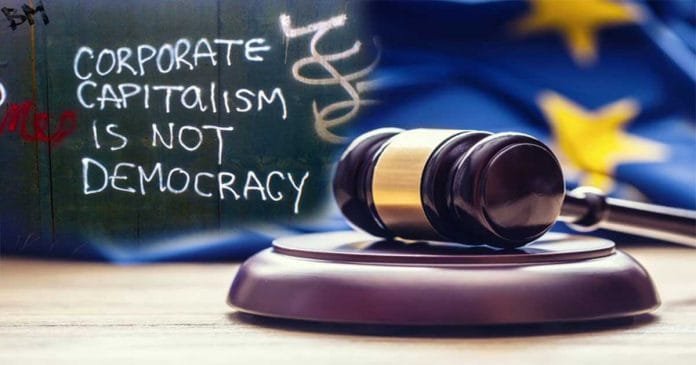 EU Single Market Rules and a UK National Investment Bank
EU Single Market Rules and a UK National Investment Bank
Tarrant and Biondi make the case that 'EU state aid rules do not prevent a future Labour Government from introducing necessary radical reform of the economy' and are largely present to prevent 'the ruinous beggar-thy-neighbour macro-economic policies of the 1930s' (Tarrant and Biondi, p1, 2018).
However, their argument has certain important omissions that are not included in the discussion.
Of particular concern is the Labour Party manifesto policy of creating a National Investment Bank  (NIB) with a £500 billion capitalisation program to spend on investment, training, plant, resources and R&D and whether EU State Aid rules prevent introduction of this flagship policy.
They conclude that a NIB is one of two areas that would indeed be subject to restrictions on state aid (energy companies are the other) within the European Single Market.
At the same time, the authors claim that their 'provisional analysis suggests that within the European Union a Labour government has plenty of scope to act in these areas without any impediment from state aid rules' (ibid, p8).
However, they go on to say that this depends on whether a National Investment Bank 'would directly compete with any already existing privately funded infrastructure'  (ibid) which as a state bank it surely would as it would operate within the same competitive market as private banks.
My immediate response is that this rule would entrench the perverse prospect that a state funded NIB would be deemed uncompetitive because it would operate within the same market sector as these banks which fund the present Private Finance Initiatives (PFI) that are used to pay for infrastructure, schools, hospitals etc.
This in itself would severely restrict its scope of intervention to a smaller number of areas allowed by the European Union Commission. This is in spite of General Block Exemption Regulations which are allow certain exemptions under existing EU legislation (see http://europa.eu/rapid/press-release_MEMO-17-1342_en.htm).
Tarrant and Biondi's most glaring omission is consideration of the actual legislative framework that a National Investment Bank would be compelled to follow within the Single Market which is the Lisbon Treaty (2009). This omission was curious in itself.
This is possibly because according to this legislation Labour would be unable to set up a UK National Investment Bank as state providers of services must act as private entities according to the rules of the EU Single Market and Articles 59 and 107(I) of the Treaty within member states.
State Aid Rules shape what Member States can and cannot do 'depending on whether there is a functioning market or not' (ibid p4) which is a crucial factor within the overall argument.
In practice publicly owned companies must operate within a tightly controlled competitive context where democratic government-led economic interventions can be deemed a distortion of market conditions, and ruled unlawful under Article 87(1). This rule applies if it is shown, the operation of this UK National Investment Bank 'use[s] state resources' to 'distort competition, distort trade between member states or give enterprises a selective advantage' over commercial entities within markets.
Thus under EU law, a government investing in its own enterprises potentially breaches state aid laws if fresh capital is contributed in circumstances that would not be acceptable to a private investor operating under prevailing market conditions. In short, the limitations against government investment apply precisely in those cases that such investment is most necessary – where it should address basic social needs in order to protect working people from the vicissitudes of the market – as this directly contravenes the operation of a competitive market and profit seeking companies set out in Article 87(1).
The same principle applies with regard to public monopolies in healthcare, energy and rail – all official Labour Party manifesto policies – which are prohibited under Article 107 of the Lisbon Treaty (2009).
The key point as Tarrant and Biondi themselves concede is that 'state aid rules are intended to control the provision of state aid to individual companies to ensure that it can be provided where it meets a public policy goal but cannot be provided where it undermines the single market (ibid p2).
Thus, state providers such as a National Investment Bank would potentially operate under competitive market conditions like any other state or mutually owned bank.
Overall, any type of National Investment Bank could very well be severely restricted in its scope for action to intervene in the UK economy: it will, in effect, be forced to operate in the same market as UK and European commercial banks as a competitor under exactly the same conditions.
The fact that European private banks are already restricted in their ability to create fiat themselves under ECB rules in the wake of the Eurozone crisis also adds to the complexity of the issues and signals the possibility of long drawn-out legal battles in the European Court of Justice which could limit its powers of intervention.
It also presents potential problems if a National Investment Bank decides to use its own publicly created (endogenous) fiat money to directly intervene in its domestic economy for necessary infrastructure projects under the proposal devised by the Party's economic advisor Richard Murphy 'People's Quantitative Easing'.
Ultimately, this raises the prospect that it may very well likely to be compelled to borrow capital from the private markets to raise any funds for any flagship policies in its future investment such as research and development in new green technologies and energy sources, infrastructure or training programs. Overall, there are several aspects of the Single Market that would pose problems for this central plank of Labour party policy.
LABOUR HAS SET OUT HOW WE WOULD CREATE A NATIONAL INVESTMENT BANK TO DRIVE INVESTMENT IN EVERY COMMUNITY THROUGH A NETWORK OF REGIONAL DEVELOPMENT BANKS SO THAT EVERY AREA HAS AN INDUSTRIAL STRATEGY, BASED ON INVESTMENT IN A HIGH SKILL, HIGH WAGE AND HIGH PRODUCTIVITY ECONOMY                  
AND THROUGH OUR £500 BILLION NATIONAL TRANSFORMATION FUND WE WOULD INVEST IN A DECADE-LONG PROGRAMME OF RENEWAL SO THAT BRITAIN HAS THE INFRASTRUCTURE THAT MATCHES, IF NOT EXCEEDS, THAT OF OTHER MAJOR ECONOMIES.                             
IN OUR TRANSPORT NETWORKS, OUR ENERGY MARKETS AND OUR DIGITAL INFRASTRUCTURE, TOO OFTEN BRITAIN LAGS BEHIND.                             
SO WE WOULD ALSO SEEK TO NEGOTIATE PROTECTIONS, CLARIFICATIONS OR EXEMPTIONS WHERE NECESSARY IN RELATION TO PRIVATISATION AND PUBLIC SERVICE COMPETITION DIRECTIVES STATE AID AND PROCUREMENT RULES AND THE POSTED WORKERS DIRECTIVE.                             
THE SAME PRINCIPLE APPLIES WITH REGARD TO PUBLIC MONOPOLIES IN HEALTHCARE, ENERGY AND RAIL – ALL OFFICIAL LABOUR PARTY MANIFESTO POLICIES – WHICH ARE PROHIBITED UNDER ARTICLE 107 OF THE LISBON TREATY (2009).
WE CANNOT BE HELD BACK INSIDE OR OUTSIDE THE EU FROM TAKING THE STEPS WE NEED TO SUPPORT CUTTING EDGE INDUSTRIES AND LOCAL BUSINESS, STOP THE TIDE OF PRIVATISATION AND OUTSOURCING OR FROM PREVENTING EMPLOYERS BEING ABLE TO IMPORT CHEAP AGENCY LABOUR TO UNDERCUT EXISTING PAY AND CONDITIONS.
Support Labour Heartlands
PLEASE HELP US KEEP GOING AD-FREE
This is a "Pay as You Feel" website.
Hey there! Thanks for stopping by. If you've enjoyed reading the articles on Labour Heartlands so far, We would be incredibly grateful if you could consider making a small donation. Labour Heathlands is not your typical news outlet. We are not here to simply regurgitate the daily news cycle, that's for the rest of them. Our focus is on delving deeper, uncovering the untold stories and shedding light on the issues that the mainstream media chooses to ignore.
Our unwavering commitment to journalistic integrity means that we are not influenced by any external forces. We are not beholden to PR companies, advertisers or press barons, and we refuse to let anyone dictate what we report on. Our editorial independence is sacrosanct, and our only allegiance is to the truth.
While we do not align ourselves with any particular political party, we stand firmly against corruption, injustice and the erosion of truth and the rule of law. We believe that accurate information is the lifeblood of a democracy and that facts are not up for debate.
Once again, thank you for your support – We truly couldn't do this without you!
PLEASE HELP US KEEP GOING AD-FREE