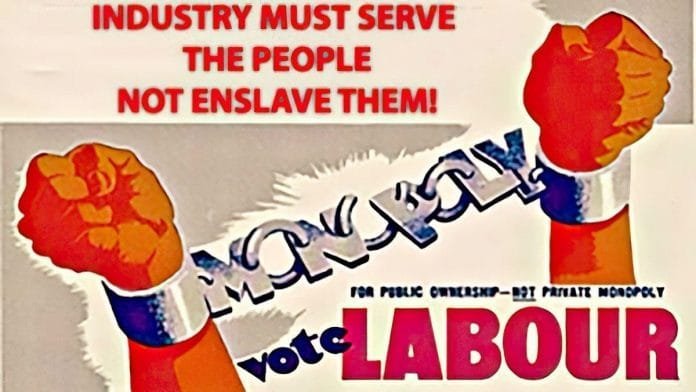 EU Rules incompatible with Labour's manifesto!
In the debate around Labour's position on Brexit, siren voices on the left assert the single market — sometimes called the EU internal market — does not prevent governments creating nationalised industries and utilities.
For example, when French President Emmanuel Macron recently announced a temporary renationalisation of the "STX France" shipyard in Saint-Nazaire, blocking Italian firm Fincantieri's takeover of France's military infrastructure for warship and aircraft carrier construction, some opponents of Brexit hailed the move as evidence that the EU is neutral on the question of nationalisation versus private ownership of industry.
However, French Economy Minister Bruno Le Maire went to great lengths to make clear the intervention to protect French strategic naval interests was "a temporary decision, to give us time for better negotiations and a good agreement."
Le Maire confirmed: "There is no intention Saint-Nazaire shipyard will remain under state ownership."
STX shipyard's previous South Korean owner went bust last year. French and Italian governments are in advanced talks to establish a Eurochampion in naval construction.
Fincantieri's CEO boasts: "The purchase of STX France could give Europe the chance to compete on the world market."
In fact the entire episode was irrelevant for making a judgement about the single market, since military infrastructure is exempt from EU competition law.
Application of single market rules are restricted from the defence equipment market under Article 346(1) of the Treaty on the Functioning of the EU (TFEU).
More generally, others on the left point to the fact that the EU is nominally neutral as to the legal form of companies. This entirely misses the point. Socialist critics never argued that the EU banned public ownership.
Much more insidiously, EU single market membership frustrates any ability to create coherent, integrated, nationalised industries and utilities based on democratically agreed national needs. This becomes very clear when we look in more detail at how the single market actually works.
The single market is defined in the Single European Act of 1986 as "an area without internal frontiers in which the free movement of goods, persons, services and capital is ensured."
The European Court and Commission interpret the "four freedoms" — free movement of goods, workers, capital ("freedom of establishment") and the freedom to provide services across borders — as the highest law informing their actions.
This legal status is based on a profound and immutable assumption in the DNA of the "European project" that competitive markets constitute the most efficient method of organising economic life.
While the EU is theoretically neutral as to the legal form of companies, in practice publicly owned companies must operate within a tightly controlled competitive context where democratic government-led economic interventions are a distortion of the market.
Under Article 107(I) TFEU, the actions of member states must not distort competition. Interventions by EU member states in the economy can be ruled unlawful if it can be shown that they use state resources, distort competition, distort trade between member states or give enterprises a selective advantage. Article 87(1) TFEU covers "any aid granted by a member state or through state resources in any form whatsoever which distorts or threatens to distort competition by favouring certain undertakings or the production of certain goods, in so far as it affects trade between member states."
The European Commission holds strong investigative and decision-making powers. In 2013 revised State Aid Procedural Regulations empowered it to conduct state aid sector inquiries and to recover "incompatible state aid." Member states may not grant state aid without European Commission prior approval (the "standstill obligation").
So how does this work in practice? Labour's 2017 manifesto pledged to bring passenger rail services back into public ownership as rail franchises expire and repeal the 1993 Railways Act, which privatised our railways.
Yet the Fourth EU Package of Rail Liberalisation Directives embeds an identical competitive structure to the 1993 Railways Act introduced in Britain, in order to open up domestic public rail services to compulsory competitive tendering across all EU member states and regions by December 2019.
Public operators may continue to operate passenger rail franchises under EU rail liberalisation rules, but only on the basis of competitive tenders.
This rules out reconstruction of a coherent, integrated public monopoly responsible for passenger and freight services, rail infrastructure and public accessibility, such as British Rail.
Beyond rail sector-specific EU Directives, the rail market is policed more generally by EU competition law, to ensure market competition between firms, including state-owned firms.
In 2011 Dutch rail operator Abellio, a subsidiary of Dutch national railways, launched a legal challenge to the German regional government of Nord-Rhine Westphalia (NRW) over its award of a regional train operating contract to German national rail operator Deutsche Bahn (DB).
Germany's Federal Competition Authority found the NRW government had breached EU competition law by awarding the contract for regional train services to DB.
Significantly, Abellio argued that EU general rules on public contract tenders should apply over and above sector-specific railway rules. The German court upheld Abellio's claim, but further prevented the firm agreeing an out-of-court settlement with DB since EU law prohibits "cartel behaviour."
In this way, EU competition and liberalisation rules enforce the breakup of nationalised rail monopolies to the benefit of emergent transnational, (often) state-owned rail operators, which EU state aid restrictions make increasingly dependent on private finance for capital investment. Single market rules bequeath a vicious circle of market liberalisation, privatisation and corporate monopoly.
A future Labour government renationalising passenger rail services in Britain would face legal challenges for infringing general EU competition law as well as rail-specific EU liberalisation legislation under single market rules.
EU single market and state aid rules also tightly delimit and hamper Labour's key proposal to create a national investment bank. It has been argued that such a bank would meet single market rules because it is modelled on the German Kreditanstalt fur Wiederaufbau (Credit Institute for Reconstruction) KfW national bank.
The KfW national bank, a creation of post-war German corporatism, was established in 1948 as part of the US reconstruction plan for the Federal Republic of Germany to disburse Marshall Plan money.
Created for a completely different political era, KfW notably predated the 1957 Treaty of Rome and the EU. Indeed, as the authors of a 2012 Institute for Public Policy Research (IPPR) report admit: "If the KfW was established today in its existing format, it too would face difficulties with the EU's state aid rules."
In 2002 KfW was reshaped under European Commission pressure, which determined KfW could retain public loan guarantees from the German state on condition it hived off its commercial lending arm completely to create a separate legal entity without state support.
This was explicitly done to prevent KfW's commercial arm from having an unfair advantage over its competitors in the European single market.
KfW's activities to support small and medium-sized enterprises are important in sustaining businesses that would struggle to access credit lines in Britain.
KfW has avoided further trouble with the Commission by focusing on longer-term lending to SMEs and general infrastructure projects that can be shown to "benefit all without discrimination."
Labour's manifesto describes the aims of the national investment bank in broadly similar terms to KfW. In part to provide finance to SMEs failed by the British banking sector, undoubtedly an important measure in itself.
As the IPPR report says, if the national investment bank's remit is confined to funding infrastructure spending and SME lending it might pass EU single market tests. But is that the limit of a left-led Labour government's horizons?
Labour's manifesto talks of Britain's economic problems extending beyond a failure of finance for SMEs and embracing wider failures of corporate behaviour, related to short-termist financing and the dominance of the City of London.
Labour's manifesto envisages the national investment bank playing a more ambitious strategic role in repairing broken supply chains, building national champions for export industries and stimulating economic redevelopment. This national strategic agenda must inevitably fall foul of EU single market rules.
Remaining within the single market would tightly circumscribe the investment focus of the bank. All plans would have to be submitted to the Commission for approval and would probably face legal challenges from competitors if they could show that it was conveying selective advantage, distorting competition or affecting trade between member states.
Any project of building national champions to compete in global markets would come under intense scrutiny and the Commission would take into account not the needs of the British economy, but the comparative advantage obtaining to British firms in the single market and any distortions of competition.
The social theorist of the moment Wolfgang Streeck called the EU an "engine of the liberalisation of European capitalism, a tool of neoliberalism" — and for good reason. The EU is a form of neoliberal government writ large, crushing democratic rights of peoples beneath the higher law of the market.
Those in the trade union movement and the left who can't reconcile themselves to life outside the EU need to do a bit more than pay homage to the EU's putative neutrality on the legal form of companies.
That might feel good, but it doesn't describe reality for millions of Europeans. The EU's demonstrable commitment to enforcing market competition and liberalisation through its single market is incompatible with socialist aspirations and democratic principles.
This piece was cross-posted from The Morning Star and Open Democracy
About the authors
Alex Gordon is a train driver and former President of the National Union of Rail, Maritime & Transport Workers (RMT). During the 2016 referendum on Britain's membership of the European Union was convenor of #Lexit – the Left Leave Campaign.
 Jonathan White is a former academic and the editor and co-author of Building an Economy for the Future: An Alternative Economic and Political strategy for 21st Century Britain.
Support Labour Heartlands
Help Us Sustain Ad-Free Journalism
Sorry, I Need To Put Out the Begging Bowl
Independent Journalism Needs You
Our unwavering dedication is to provide you with unbiased news, diverse perspectives, and insightful opinions. We're on a mission to ensure that those in positions of power are held accountable for their actions, but we can't do it alone. Labour Heartlands is primarily funded by me, Paul Knaggs, and by the generous contributions of readers like you. Your donations keep us going and help us uphold the principles of independent journalism. Join us in our quest for truth, transparency, and accountability – donate today and be a part of our mission!
Like everyone else, we're facing challenges, and we need your help to stay online and continue providing crucial journalism. Every contribution, no matter how small, goes a long way in helping us thrive. By becoming one of our donors, you become a vital part of our mission to uncover the truth and uphold the values of democracy.
While we maintain our independence from political affiliations, we stand united against corruption, injustice, and the erosion of free speech, truth and democracy. We believe in the power of accurate information in a democracy, and we consider facts non-negotiable.
Your support, no matter the amount, can make a significant impact. Together, we can make a difference and continue our journey toward a more informed and just society.
Thank you for supporting Labour Heartlands
Just click the donate button below