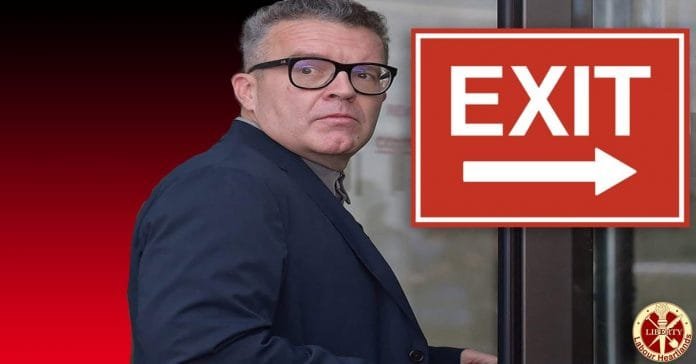 The right of PLP needs to go! This is a Labour Party as been in a civil war. The Blairites are not representative of the Party or the Working class they are bringing the Labour Party into disrepute with their constant attacks on the Leadership and all who support Jeremy Corbyn.
From the moment Jeremy Corbyn was elected as Leader of the Labour Party in September 2015 the Labour Party as been in a civil war. This was first seen the Monday morning after the referendum to leave the EU.  (see our post It started with a coup.)
There have been a number of overt attacks and no doubt many more covert, hidden attacks the general public have no knowledge about.
But throughout these attacks not just on the Labour Party leader but by association the Labour Party itself, one thing is clear, it's the same right wing of the PLP that is behind them.
After Jeremy Corbyn's popularity rise and near one-man general election campaign the attacks started to disappear, with the moderates and less radical of the right wing of the party verbally giving a show of support. It seemed we were on the road to unity, releasing us from our efforts of defending the Party Leader in attacking the real enemy the Tories. The Tories who are systematically punishing the poor and less well-off through cuts and austerity. Austerity measures that sees our local services cuts, underfunding in the NHS and social services and the embarrassing rise of Food Banks to feed not just the poorer less well-off members of the working class but the middle class underpaid known as the "Just getting by'" Austerity measures brought in due to the greed and corruption from bankers that we bailed out on taxpayers money. Bankers that are now sitting pretty with all losses restored.
At this moment the Labour Party just like after the referendum when the Buffoon Cameron ran away, should have been the only Party of choice, instead what the general public see is a party ripping itself apart and no matter how much ordinary members call for unity it will not stop.
It is absolutely transparent the only way the right of the Party will stop its onslaught is not just when Jeremy Corbyn has been removed but when the Party becomes the old Party of New Labour again.
That Party that watched its membership plummet to its lowest from conception the very same Party that the supporters and the general public could not tell the difference between, the one single Party of New Labour and Conservatives.
Labour is the Party of the working class no matter what the right-wing wish it to be. It is evidential that they no longer represent either the working class or the party, just like it is evidential with all their threats of forming a new Party will not happen they simply won't go. They are determined to stay and create havoc stopping us from becoming an effective voice against Tory injustice and persecution of the working class.
In my opinion, we should stop extending the olive branch stop accepting the false cries of unity every time their scheming fails. We should hold them to account. When Tony Benn said "Every generation has to fight the same battles as their ancestors had to fight, again and again." I always thought he referred to the Tories, on reflection it could be taken to refer to the battles he fought against Labour MPs that betrayed the working class and the Labour Party.
Tony Benn to Roy Jenkins  "I'll be blunt with you Roy, you talk about cancer – I feel very strongly about people whose entire life depends on the working class movement, your father was a miner, he was in jail during the General Strike, you got into parliament as a Labour member, every office you held was because of The Labour Party, Cabinet Minister appointed by a Labour Prime Minister, and then you left the party.
Now that's a cancerous growth. People who betray those who gave them power are the real threat, and I must say that bluntly those who stay true to those that put them in power – these are the ones I admire."
There is no more room for false statements of unity! We now find that attacks are directed against Jeremy Corbyn's loyal supporters in an effort to isolate him within the Party. Chris Williamson MP being the latest victim, Chris through his support of MARC WADSWORTH as now come under the eye of a group know as "Campaign Against Antisemitism", they are asking for the whip to be removed from a Labour MP and one of the closest allies to Jeremy Corbyn.
[fusion_separator style_type="default" hide_on_mobile="small-visibility,medium-visibility,large-visibility" class="" id="" sep_color="" top_margin="" bottom_margin="" border_size="" icon="" icon_circle="" icon_circle_color="" width="" alignment="center"][/fusion_separator]
It's time to stop wishing this will go away and we make it go away.
Len McCluskey in a recent interview for the Huffington Post. 
A group of anti-Corbyn MPs are working to "toxify" Labour by portraying it as "morass of misogyny, anti-Semitism and bullying", the leader of the UK's largest trade union has claimed.
In a stinging attack on critics of the Labour leader, Len McCluskey accused a group of MPs of waking up each day and thinking "how can I undermine Jeremy Corbyn today?" – with the complaints about anti-Semitism in the party a tool for such an attack.
McCluskey singles out five MPs – Chris Leslie, Neil Coyle, John Woodcock, Wes Streeting, and Ian Austin – as a "dismal chorus" in the party who are making a Conservative victory at the next election more likely.
And while accepting these MPs are "sincere" opponents of anti-Semitism, the Unite General Secretary questions whether they have done as much to tackle the prejudice as he has.
It is not the first time a Corbyn loyalist has singled out Woodcock and Austin for criticism, with Derby North MP Chris Williamson saying in March he would be "happy" if they "buggered off" out of the party.
McCluskey's comments were published on the day more than 40 Labour MPs and peers escorted their Jewish colleague Ruth Smeeth to a hearing investigating a party member over alleged anti-Semitism.
Writing in the New Statesman, McCluskey said the "virus" of anti-Semitism needs to be rooted out from Labour, adding: "I have fought anti-Semitism and anti-Semites all my life, including physically on the streets on occasion, and I need no lectures from anyone else on the subject.
"I am not sure that some of the voluble backbench critics of Jeremy Corbyn can say as much: just as it is legitimate to raise and combat anti-Semitic views, it is also legitimate to contextualise the attacks of right-wing MPs without being accused of minimalising or denying anti-Semitism."
The same sentiment can be read in Craig Murray's Blog. Historian, Former Ambassador, Human Rights Activist.
A significant proportion of Labour MPs are actively seeking to cause their own party to do badly in forthcoming local elections, with the aim of damaging the leader of that party. To that end, they have attacked Jeremy Corbyn relentlessly in a six-week crescendo, in parliament and in the entirely neo-liberal owned corporate media, over the Skripal case, over Syria, and over crazy allegations of anti-semitism, again and again, and again.
I recall reporting on an Uzbek Presidential election where the "opposition" candidate advised voters to vote for President Karimov. When you have senior Labour MPs including John Woodcock, Jess Phillips, John Mann, Luciana Berger, Mike Gapes, Wes Streeting and Ruth Smeeth carrying on a barrage of attacks on their own leader during a campaign, and openly supporting Government positions, British democracy has become completely dysfunctional. No amount of posing with leaflets in their constituencies will disguise what they are doing, and every Labour activist and trade unionist knows it.
British democracy cannot become functional again until Labour voters have a chance to vote for candidates of their party who are not supporters of the neo-liberal establishment. This can only happen with the removal of Parliamentarians that support these hurtfull ideals that include a very large number of Labour MPs.
That it is "undemocratic" for party members to select their candidates freely at each election, and it is "democratic" for MP's to have the guaranteed candidacy for forty years irrespective of their behaviour, is a nonsensical argument, but one to which the neo-liberal media fiercely clings as axiomatic. Meanwhile, in the SNP, all MPs have to put themselves forward to party members equally with other candidates for selection at every election. This seems perfectly normal. Indeed every serious democratic system elects people for a fixed term. Labour members do not elect their constituency chairman for life, so why should they elect their parliamentary candidate for life? Why do we keep having general elections rather than voters elect the MP for life?
Election of parliamentary candidates for life is, in fact, a perfectly ludicrous proposition, but as it is currently vital to attempts to retain undisputed neo-liberal hegemony, anybody who dissents from the idea that candidacy is for life is reviled in the corporate and state media as anti-democratic, whereas the truth is, of course, the precise opposite.
The election of Jeremy Corbyn to the Labour leadership was a fundamental change in the UK. Previously the choice offered to electors in England and Wales was between two parties with barely distinguishable neo-liberal domestic policies and barely distinguishable neo-conservative foreign policies. Jeremy Corbyn then erupted onto centre stage from the deepest backbenches, and suddenly democracy appeared to offer people an actual choice. Except that at the centre of power Jeremy did not in fact command his own party, as its MPs were largely from the carefully vetted Progress camp and deeply wedded to neo-conservative foreign policy, including a deep-seated devotion to the interests of the state of Israel as defined by the Israeli settlers and nationalist wing, and almost as strongly wedded to the economic shibboleths of neo-liberalism.
These Labour MPs were, in general, prepared grudgingly to go along with a slightly more social democratic economic policy, but drew the line absolutely at abandoning the neo-conservative foreign policy of their hero Tony Blair. So pro-USA policy, support for bombings and missiles as "liberal intervention" in a Middle Eastern policy firmly aligned to the interests of Israel and against the Palestinians, and support for nuclear weapons and the promotion of arms industry interests through a new cold war against Russia, are the grounds on which they stand the most firmly against their own party leadership – and members. Over these issues, these Labour MPs will support, including with voting in parliament, the Tories any day.
Read More at Craig Murray's Blog.
It is clear that if we sit back and do nothing our Labour Party the last best hope will revert back to the Party of the few for the few.
Support Labour Heartlands
Help Us Sustain Ad-Free Journalism
Sorry, I Need To Put Out the Begging Bowl
Independent Journalism Needs You
Our unwavering dedication is to provide you with unbiased news, diverse perspectives, and insightful opinions. We're on a mission to ensure that those in positions of power are held accountable for their actions, but we can't do it alone. Labour Heartlands is primarily funded by me, Paul Knaggs, and by the generous contributions of readers like you. Your donations keep us going and help us uphold the principles of independent journalism. Join us in our quest for truth, transparency, and accountability – donate today and be a part of our mission!
Like everyone else, we're facing challenges, and we need your help to stay online and continue providing crucial journalism. Every contribution, no matter how small, goes a long way in helping us thrive. By becoming one of our donors, you become a vital part of our mission to uncover the truth and uphold the values of democracy.
While we maintain our independence from political affiliations, we stand united against corruption, injustice, and the erosion of free speech, truth and democracy. We believe in the power of accurate information in a democracy, and we consider facts non-negotiable.
Your support, no matter the amount, can make a significant impact. Together, we can make a difference and continue our journey toward a more informed and just society.
Thank you for supporting Labour Heartlands
Just click the donate button below