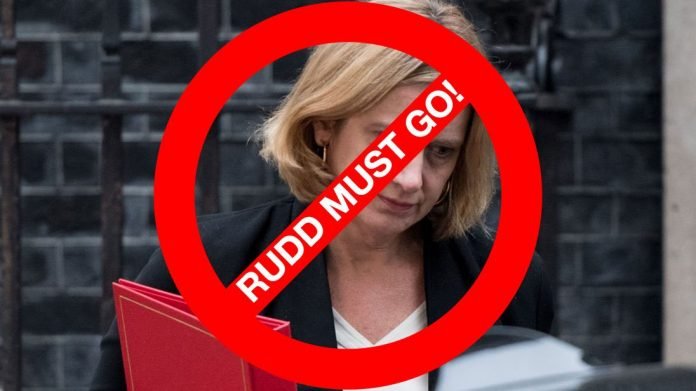 Amber Rudd boasted to Theresa May about setting an "ambitious but deliverable" target for kicking out illegal immigrants
Yet Ms Rudd flatly denied removals targets existed when she appeared before MPs last week.
Her former deputy, Immigration Minister Brandon Lewis, today admitted he had seen a bombshell memo over targets for deporting illegal immigrants – targets she denied existed despite being copied in on the document.
Shadow Home Secretary Diane Abbott said: "The Tories' shameful attempts to cover up their mess must end. Clearly there were targets, and Amber Rudd was aware of them.
"Theresa May has sent Minister after Minister out to protect her cruel legacy, misleading Parliament and the public in the process.
"With each new revelation, we get more of an insight into the Tories' heartless Home Office policies which have led to the Windrush scandal.
"This chaos has gone on for far too long.
"It's time for Rudd to go and for the Government to rethink its whole approach."
The top Tory is under intense pressure to quit over the fiasco, which comes hot on the heels of the Windrush scandal.
MPs claimed she misled the Commons Home Affairs Committee last week when she insisted the Home Office did not have targets for removals.
Extracts from Ms Rudd's letter to the Prime Minister first emerged on April 20.
The leaked letter, which was signed by the Home Secretary and published in full tonight by The Guardian, Ms Rudd wrote: "Illegal and woudl-be illegal immigrants and the public more widely, need to know that our immigration system has 'teeth', and if that people do not comply on their own we will enforce their return, including through arresting and detaining them.
"That is why I will be refocusing IE's (Immigration Enforcement) work to concentrate on enforced removals.
"In particular, I will be reallocating £10m (including from low level crime and intelligence) with the aim of increasing the number of enforced removals by more than 10% over the next few years: something I believe is ambitious, but deliverable."
The private letter from Amber Rudd to Downing Street in which she sets an "ambitious but deliverable" target for an increase in the enforced deportation of immigrants has been published by the Guardian in full for the first time.
The letter, signed by the home secretary in January last year, states that she is refocusing work within her department to achieve the "aim of increasing the number of enforced removals by more than 10% over the next few years".
The Full letter can be read in the Guardian 
RUDD MUST GO!
Support Labour Heartlands
This is a "Pay as You Feel" website. You can have access to all of our online work for free. However if you want to support what we do, you could make a small donation to help us keep writing and staying ad-free. The choice is entirely yours.
PLEASE HELP US KEEP GOING AD-FREE
HELP US GROW.
The future can be ours - but only if we work together to make it happen. We've been fighting to make the Labour Heartlands a better, more fairer and equal place for over two years now. With a dedicated team and the commitment from our generous supporters giving small regular donations each month, more if they can afford it, we're winning. But there is still so much to do. We're ambitious, but we can only continue to make positive change and shape our country if more of our supporters join us on this journey. If you believe in the issues we fight for please take action and join Labour Heartlands grassroots think-and-do-tank today. It will make all the difference. And then we can make all the difference for everyone.
Not funded by millionaires or advertisers.
Labour Heartlands funded by the people.