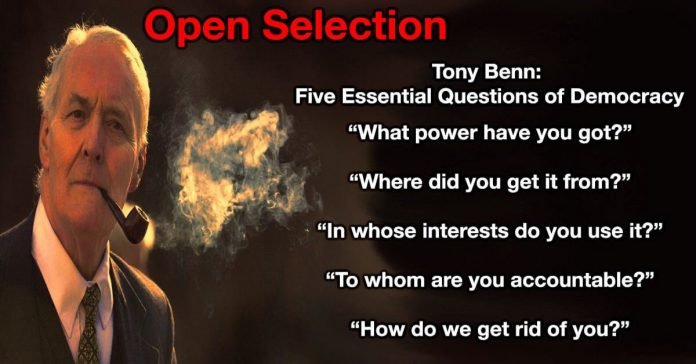 Mandatory Reselection, Democracy in practice.
The current process of 'trigger ballots' is far from adequate to choose our representatives. We believe that any such 'checks and balances' should be abolished.
Members should have the right to easily choose who should represent them and their constituency.
We need a system of true mandatory selection. Quite simply, everybody who wants to stand as MP (including the sitting MP), should have to put themselves forward to the local members who should decide in a democratic and transparent vote.
Labour MPs are not independents, solely elected by their constituents. They are selected by the Labour Party and benefit from Labour funds, national party campaigning, local members on the ground etc.
As such they should be accountable to the party and in particular to local members before each election.
Many Party members feel that some Labour MPs take little account of the views of their CLP and or Annual Conference motions and decisions, even though this is the Party's sovereign body.
One reason for this is that adequate mechanisms of accountability are non-existent in the Labour Party. Effectively, a Labour MP in a 'safe' seat has a 'job for life' – well into their 80s in some cases.
Indeed, some Labour MPs in Scotland took this view until, of course, 'safe' Labour seats ceased to exist north of the border if they had listened a little more the Scottish map would still be predominantly red and they would still be representing the people.
In any job today performance is measured, the performance of your local MP should be measured every 5 years.
If they have represented their constituency along with the party giving a good performance then what's the issue in Mandatory Reselection.
Politics is a business both of state and the CLP's they represent and like any business in this modern world they are not expected to carry deadwood.
Open selection update June 2019
"Ahead of a possible general election, Labour will begin a reselection process of MPs. We are preparing for a general election, whenever it comes.
Under longstanding Labour Party rules, reselection processes are held within every Labour-held constituency in between each general election.
The process isn't new.
Under the reselection rule change, the threshold to force sitting Labour MPs to fight open selection battles will be cut from 50% off all branches affiliated to a constituency party to 33% of local branches or 33% affiliated unions.
An MP who fails a "trigger ballot" is free to stand in any race which follows, but it becomes an open contest.
Centrist Labour MPs – or those who have fallen foul of the leadership – worry that the rule change will be used to cull Jeremy Corbyn's internal opponents.
But the reality is this is not about removing Labour MP's that take a stance for or against the leadership. Open selection is a purely democratic process that making all our representatives accountable.
DEMOCRACY MUST NOT ONLY BE DONE,

DEMOCRACY MUST BE SEEN TO BE DONE!
Please get this motion to the NEC through your branch or CLP
This branch/CLP notes:
* Labour Party conference 2018 voted to reform the trigger ballot, which is currently the only way in which Labour Party members can exercise some democratic control over their parliamentary representative.
* This was moved by the NEC as part of the 'democracy review' and thereby superseded the much more democratic rule change for 'open selection' of all parliamentary candidates (which was supported by over 95% of CLP delegates at the 2018 conference).
We also note that:
* In January 2019, Labour Party general secretary Jennie Formby was commissioned by the NEC to "urgently" draw up guidelines and a timetable for the implementation of the reformed trigger ballot. Without such guidelines, CLPs cannot launch proceedings.
* In February 2019, eight Labour Party MPs split from the party to form The Independent Group, which is currently known as Change UK.
* The Guardian reported on February 25 that in an "attempt to stop further defections, Labour could delay the start of re-election battles" and that "Labour is set to put back the start of the formal MP selection process, due to begin in a few weeks, which could have led to vast numbers of MPs facing deselection."
* This is indeed what seems to have happened: At the March and May meetings of the NEC, proposals to implement the trigger ballots have not been presented and this important democratic issue seems to have been kicked into the long grass.
We further note:
* At the snap election in 2017, CLPs were told that the sitting MP would simply remain in place, without any democratic input by the local members.
* The ongoing Brexit crisis makes another snap election or, worse, the formation of a national government, a real possibility. This would undermine the leadership team's transformative proposals that are supported across the wider Labour movement. Such a development would be welcomed by many current PLP members, given their previous hostility.
* Unless the makeup of the PLP dramatically changes to more accurately reflect the will and composition of the membership, a hostile PLP will jeopardise the Labour Party manifesto resulting in a demoralised and fractured movement and the future viability of the Labour Party.
* The defection of MPs to Change UK and the continued hostility within the PLP highlights how far many PLP members have deviated from their original selection commitments with no sense of accountability or obligation to represent their member constituents. This fuels discord and feeds a hostile media intent on damaging the Party's reputation with the general public and on undermining future electoral chances. Therefore, it is essential that all MPs be required to renew their mandate with their members, in the spirit of unity to mitigate much of the distracting and negative media coverage and ongoing damage the Party.
We, therefore, urge the NEC to:
* Urgently launch guidelines and a timetable to implement the trigger ballot and help branches and CLPs to get ready in case a snap election is called. Labour Party members must be allowed to exercise the right to hold their representatives to account.
* Rule out the possibility that Labour Party MPs will participate in any kind of 'national government'.
Background: How the reformed trigger ballots work
Labour Party conference 2018 voted to introduce two separate trigger ballots: one for all the branches of a CLP, another one for all local affiliates (trade unions, socialist societies, cooperative organisations).
Once the NEC has published its timetable (and only then) are members and affiliates asked to vote 'yes' or 'no' to retaining the sitting MP as the only candidate. If 33 % of a CLP's branches or 33 % of the CLP's affiliates vote 'no', then a full selection process starts – ie, a democratic contest between different candidates, including the sitting MP. Only full Labour Party members have a vote in this next stage of the process.
Colin O Driscoll
http://www.labour-open-selection.org.uk/
Open selection
Opening the doors to new talent it can motivate even the flattest of Parliamentary members to achieve. As Labour Party members, we believe that the selection process for MPs needs to change.
At the moment, a party member can't challenge a sitting Labour MP unless they mount a negative campaign against them.
It's off-putting to potential candidates and means only a handful of open contests have happened in Labour-held seats in nearly 30 years.
We want a process that gives a fair chance to all candidates and does away with this negative, divisive stage of campaigning – so it's an open contest from the start, and there are no "jobs for life".
That way, local members and the sitting MP can compete for the Labour Party's backing at the general election, and run positive campaigns about issues local voters really care about.
Sign the petition now to back open selection, encouraging a culture of democratic accountability and helping to welcome in a new generation of energised, enthusiastic, forward-looking MPs.
Mandatory Reselection opens the doors to new talent it can motivate even the flattest of Parliamentary members to achieve.
"How do we get rid of you?"
"Anyone who cannot answer the last of those questions does not live in a democratic system," Benn explained.
"Only democracy gives us that right. That is why no one with power likes democracy," he would continue. "And that is why every generation must struggle to win it and keep it—including you and me, here and now"
NOTHING TO FEAR BY DOING YOUR JOB.
If a Member of Parliament serves the people then they will look forward to a long career in representing the people.
We should not be waiting for the right moment to introduce Mandatory Reselection, it should be brought into effect at the earliest possible moment. No cries of unity while stabbing in the back, no false flags suggesting there could be a General election soon, no let's get over this crisis first, there will always be a crisis but with Mandatory Reselection maybe we can face and work through a crisis together.
Make Mandatory reselection not just a Campaign for Labour Party Democracy, make it part of Labour Party Democracy now!
Does a great job at explaining Mandatory Reselection please pop over and support these guys in the great work they are doing.
Support Labour Heartlands
PLEASE HELP US KEEP GOING AD-FREE
HELP US GROW.
This is a "Pay as You Feel" website.
This blog has no source of state, corporate or institutional finance whatsoever. It runs entirely on voluntary subscriptions from its readers – many of whom do not necessarily agree with every article, but welcome the alternative voice, insider information and debate.
You can have access to all of our online work for free. However if you want to support what we do, you could make a small donation to help us keep writing and staying ad-free. The choice is entirely yours.