Today I received an email from the Governance and Legal Unit of the Labour Party, it wasn't a surprise I've been waiting for that little gem to drop on my virtual doormat for a long time now.
You see I have been a suspended Labour Party member for just over two years this May.
In 2019 While standing as a Labour councillor in Chesterfield I received a WhatsApp message from The Sunday Times, a Richard Kerbaj and his colleague Gabriel Pogrund were doing an article on Anti-Semitism within the Labour Party. They had been publishing continually during the run-up to the 2019 locals in another attempt to disrupt the political agenda and focus on branding the Labour Party particularly Corbyn as an antisemite.
I'm a reporter at The Sunday Times working on a story…
Richard Kerbaj stated: I'm a reporter at The Sunday Times working on a story for tomorrow's edition on anti-semitism in the Labour Party. (Below is the original text.)
Dear Mr Knaggs,
I'm a reporter at The Sunday Times working on a story for tomorrow's edition on anti-semitism in the Labour Party.
We plan to report on articles in which you:
described Jews as attempting to 'dominate our politics or undermine the working class struggle'. The full quote states: "I respect your freedom to have a religion and even practice it. But I do not respect the fact that you want your religion to dominate our politics or undermine the working class struggle."
said that the "fallacious followers of the State of Israel' are seeking 'to undemocratically destabilise the lawful Labour Party Leader'"
said those reporting anti-semitism in Labour are "loathsome creatures"
I was wondering whether you still support those views and if so, whether they are appropriate for a Labour council candidate.
Please could you respond to me by 5pm today (13th April 2019).
Thank you so much in advance.
Of course, I did not recognise any of the above in any of the articles I had written except one partial comment: "I respect your freedom to have a religion and even practice it. But I do not respect the fact that you want your religion to dominate our politics or undermine the working class struggle."
Again, three years on I would probably review that statement having more understanding of oppression and the universal workers struggle, however, we are where we are.
The reason I did not recognise immediately the text I had actually written was due to the fact the 'award winning journalist Richard Kerbaj and his colleague Gabriel Pogrundor had added their own little bits for example; 'described Jews as attempting to 'dominate our politics or undermine the working class struggle'. Adding their little extras on a sentence it of course made the entire context very different from the original.
In due course, we also established the other two comments on their points were not made by me or that I anything to do with the articles they were extracted from.
Knowing what I know now I should have actually kept stum and let them print the lot including the comments I was not responsible for. The IPSO would have had a great time in their reprimands.
The Times misrepresented my entire article, which may have been a little naïve but in no sense of the word was it Antisemitic or ever meant to offend. I simply gave a verbatim textual copy of Jonathan Arkush and Baroness Warsi views on the subject.
Baroness Warsi had stated: 'The Muslim Council of Britain has now called on the Tories to launch an independent inquiry into allegations of Islamophobia.
I used the comparison view of one of the UK's most senior Jewish leaders Jonathan Arkush, who while attacking the Labour Party and in particular, Jeremy Corbyn branded him antisemitic. Arkush said: Jeremy Corbyn holds "antisemitic views" which could drive Jewish people to leave Britain if he becomes prime minister.
My article was a warning not to let politics go down that Rabbit hole of both major parties adopting a culture war. Unfortunately, my words, again, although very naïve, fell on deaf ears and politics fell right down that Rabbit hole headfirst.
Down the Rabbit hole…
It went so far down the Rabbit hole that The Labour Party staffers mentioned in the Forde report #LabourLeaks actually created a program to trawl Labour members social media accounts to find comments, likes, and loves, historic or not, that had criticised Isreal in any way or its policy of imprisoning the Palestinian people in Gaza. Read more…
Truth, in a nutshell, I had made a vain attempt three years ago writing in an article an appeal to all political parties not to fall down the rabbit hole of weaponising Antisemitism and Islamophobia.
But back to my little story, after receiving the WhatsApp messages I imminently phoned my Labour council leader to inform her of my predicament followed by me sending both the whats app conversation and the offending article written a year before, in 2018.
On that Sunday I did something I had never done before, I bought the Sunday Times. Yes, they did a hit job on me and nothing resembled the truth. They had perverted the entire article added and subtracted until they got the result they wanted.
There is always a silver lining and at least I got a column next to Julian Assange.
By Monday morning I had received an email from the Governance and Legal Unit of the Labour Party stating I had been placed on an administrative suspension.
After completing the silly questions from the party in reference to my original article my suspension stayed for two years.
Quite obviously they suffered to find any malicious antisemitic or islamophobia content in the article.
I along with the thousands of other Corbyn supporting Left wing members of the Labour party had become victim of the 'witchhunt', although I must say I did not find too much solace in that group, wrong sort of Lexiteer.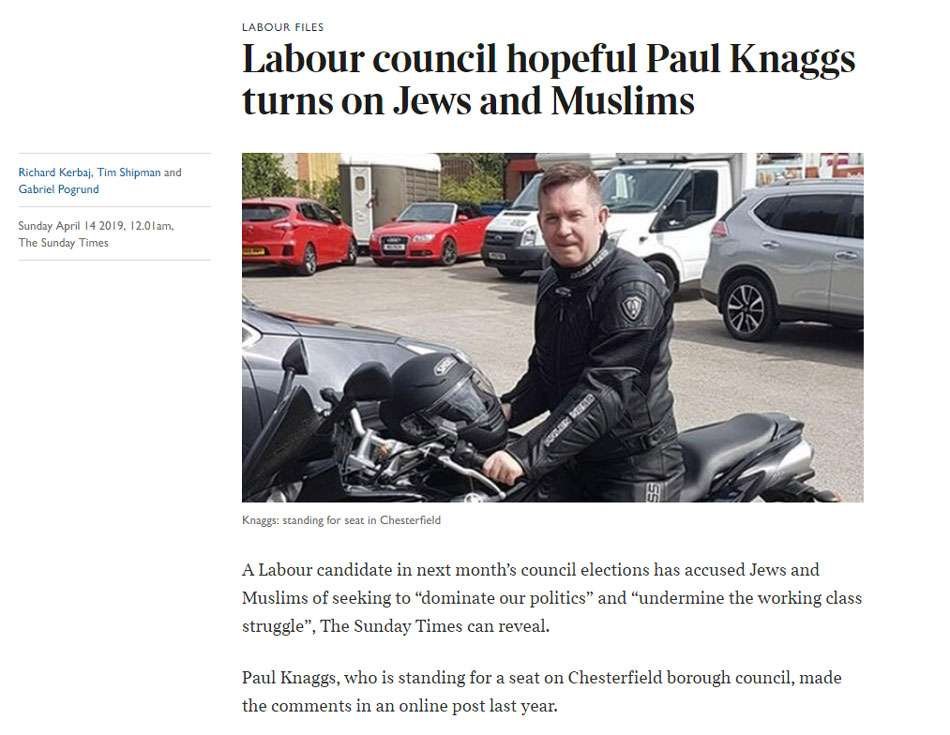 However, I did get some great support from some Labour members both local and online particularly the two great members who helped me in some legal matters and data request from the Labour party, thank you C.T. and also your great little group.
Being a South Yorkshire miners son and an ex-squaddie comradeship has always been important to me. Unfortunately, that's old Labour and it tends to be in short supply in this 'New post-Blairite come Starmer, Labour Party. In the main the local party members dropped me like a bad smell, exile is always lonely but it does give you time to think about real solidarity or the lack of it. It's understandable how Jackie Walker, Ken Livingstone, Chris Williamson, Marc Wadsworth and Pete Wilsman felt when they were left deserted by the Party they had put their lives and souls into.
At least Corbyn kept his Corbynite's and we all kept our comrades within our respective groups outside the Labour Party. The growing battalions of ex-Labour Party members or socialist who know better than to think the Labour Party can offer a change to the status quo.
So for two years I waited in exile for my redemption and return to the fold. Then bang! I received an email from the Stasi telling me I am expelled however it was for a totally different reason than my original two year suspension…
It seems all members are equal, just that some are more equal than others!
My expulsion was for the alleged support I made to a candidate standing against the Labour party, attached the letter and an image of the offending Tweet.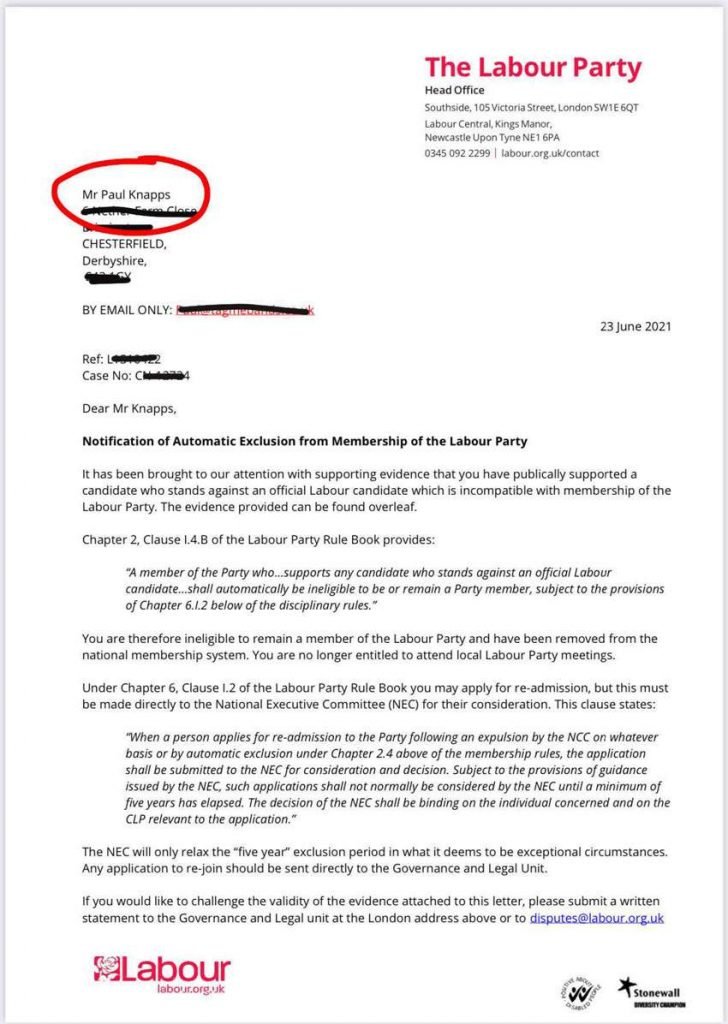 I thought it was a little ironic the week Sir Keir Starmer launches his new campaign for veterans that Starmer's Labour Party not only expels a combat veteran but when they do they can not even get my name right. Some desk jockey spelt it Knapps, with a name like 'Knaggs' you would have thought it at least a little memorable if for nothing more than pub humour.
It was a little funny to be expelled for an off the cuff remark to a friend on Twitter.
The thing is it's always been common knowledge that I helped found the Resistance movement with Chris Williamson and the gang, I created their original website, Facebook account and Resistance TV Youtube channel.
Yet after a two year suspension waiting in exile on trumped up charges, they finally expel me not for the original suspension or for my work with the Resist Movement but for saying Chris Williamson and Joti Brar are 'Two good eggs'.
As a political blogger, I Immediately thought now that the constraints of the Labour Party Stasis were lifted I could once again assert my right to free speech.
I automatically remembered my final statement to 'The award winning' journalist Richard Kerbaj and his colleague Gabriel Pogrundor who asked at the end of their messaging what I thought the Labour parties response would be to the article they were about to publish?
I replied: "I'm very sure as an independent political writer (I don't qualify to use the word journalist) I will take lessons from this. I will be removed from the Labour Party but then have the freedom to express views without any political constraints."
Imagine being able to comment on Twitter or Facebook knowing your every word is not being checked and scrutinised by Labour's pretend Stasi Governance.
Its such a liberation to be out of Starmer's Labour Party. I think I'll bake a cake…
Support Labour Heartlands
Help Us Sustain Ad-Free Journalism
Sorry, I Need To Put Out the Begging Bowl
Independent Journalism Needs You
Our unwavering dedication is to provide you with unbiased news, diverse perspectives, and insightful opinions. We're on a mission to ensure that those in positions of power are held accountable for their actions, but we can't do it alone. Labour Heartlands is primarily funded by me, Paul Knaggs, and by the generous contributions of readers like you. Your donations keep us going and help us uphold the principles of independent journalism. Join us in our quest for truth, transparency, and accountability – donate today and be a part of our mission!
Like everyone else, we're facing challenges, and we need your help to stay online and continue providing crucial journalism. Every contribution, no matter how small, goes a long way in helping us thrive. By becoming one of our donors, you become a vital part of our mission to uncover the truth and uphold the values of democracy.
While we maintain our independence from political affiliations, we stand united against corruption, injustice, and the erosion of free speech, truth and democracy. We believe in the power of accurate information in a democracy, and we consider facts non-negotiable.
Your support, no matter the amount, can make a significant impact. Together, we can make a difference and continue our journey toward a more informed and just society.
Thank you for supporting Labour Heartlands
Just click the donate button below