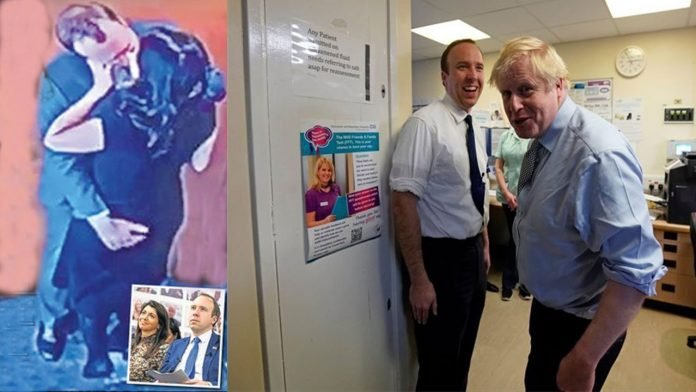 Labour Calls For Matt Hancock To Be Sacked After Publication Of Kissing Pictures yet were happy for him to stay in his job while thousands died.
It beggars belief, the deaths of thousands of unnecessary Covid victims or the blatant corruption through cronyism are not reason enough for Starmer to call for the sacking of Hancock.
I would have preferred if Labour had called for Hancock to be sacked for allowing Covid hospital patients to be discharged to Care Homes, killing thousands.
More to the point a criminal investigation after the sacking into the handling of the Covid crisis would be more apt, however, Hancock's sleaziness was the only reason for Labour to get of the benches.
It comes after questions about Matt Hancock hiring former lobbyist Gina Coladangelo pictures surfaced in The Sun newspaper appeared to show Mr Hancock, who is married, kissing the aide in his office.
The Sun claimed. Health Secretary Matt Hancock has been having a secret affair with his closest aide,
He cheated on his wife with Gina Coladangelo, 43, who he hired last year with taxpayers' money, as Covid gripped Britain.
Boris Johnson has said he continues to have "full confidence" in Matt Hancock after the health secretary was accused of having an affair with one of his close aides and breaking Covid rules.
The PM's spokesperson said that Mr Johnson had accepted his minister's apology and considered the matter "closed".
On Friday, Mr Hancock said he was "very sorry" for breaching social distancing guidelines but made clear he did not intend to resign over the matter.
"I have let people down and am very sorry. I remain focused on working to get the country out of this pandemic, and would be grateful for privacy for my family on this personal matter," the health secretary said.
The Sun claimed that Mr Hancock was caught on camera kissing Gina Coladangelo, with the newspaper publishing security pictures reportedly taken on 6 May.
According to the newspaper, the images, which appear to be from CCTV footage, were taken on 6 May from the Department of Health and Social Care building.
The Sunday Times reported in November that Mr Hancock had failed to declare he had appointed Ms Coladangelo as an unpaid adviser on a six-month contract last March and later gave her a role on the board of the Department of Health.
It was revealed in November that Ms Coladangelo had been given a role as a non-executive director at the Department of Health and Social Care (DHSC), despite there being no public record of the appointment.
Key Points
Matt Hancock 'very sorry' for breaching social distancing rules
Labour reiterates call for 'spineless' Johnson to sack Hancock
What were the Covid rules at the time of Hancock's 'embrace'
Matt Hancock accused of 'having affair with close aide'
Transport secretary dismisses affair allegations as 'personal' matter
Who is Gina Coladangelo? The taxpayer-funded adviser in the alleged affair
Matt Hancock's messy month – from being called 'f**king hopeless' to alleged affair
The state of British politics is reflected in the Labour parties response to Hancocks continued failures.
Sir Keir Starmer said in February: the public do not want Matt Hancock to resign after the health secretary's department was found to have acted unlawfully.
Speaking to LBC on Monday morning, the Labour leader said while Hancock should "apologise", he should remain in post.
"At the moment in the middle of the vaccine, my strong feeling is that the vast majority of the public would say, for heaven's sake what you should be doing here is making sure he's working really hard to get that vaccine rolled out properly, rather than calling for him to resign," Starmer saiid.
No calls for him to resign over the mishandling of care home patients and the thousands of unnecessary deaths.
The fact that Hancock's incompetence is more than likely responsible for tens of thousands of covid deaths did not bring about calls for his sacking.
Thousands of hospital patients were allowed to return to their care homes without a Covid test despite a direct plea to the government from major care providers not to allow the practice.
The health secretary claimed it "wasn't possible" to test all care home residents for Covid before they were discharged from hospital last March, because the testing capacity was not yet available.
"simply doesn't stack up".
"There were over 530,000 tests carried out in the UK by 20 April, yet they couldn't test 25,000 people discharged from hospitals to care homes, after we saw it sweep through care homes in Italy, France and America?" she said. "The reality is, they wanted to free up the beds and they didn't prioritise older people."
It's deplorable that we have witnessed over one hundred and fifty thousand covid deaths one of the highest totals in the world and this is the reason Labour call for Hancock's sacking.
This government, this parliament is not being held accountable. Both Starmer and the Tories must go. Time for change!
Support Labour Heartlands
PLEASE HELP US KEEP GOING AD-FREE
HELP US GROW.
This is a "Pay as You Feel" website.
This blog has no source of state, corporate or institutional finance whatsoever. It runs entirely on voluntary subscriptions from its readers – many of whom do not necessarily agree with every article, but welcome the alternative voice, insider information and debate.
You can have access to all of our online work for free. However if you want to support what we do, you could make a small donation to help us keep writing and staying ad-free. The choice is entirely yours.