"My starting point is always a feeling of partisanship, a sense of injustice. When I sit down to write a book, I do not say to myself, 'I am going to produce a work of art'. I write it because there is some lie that I want to expose, some fact to which I want to draw attention, and my initial concern is to get a hearing". -George Orwell.
Exposing That Lie…
As I have always maintained, the issue of antisemitism within the Labour Party has never been about genuinely eliminating such a toxic element from its ranks. Rather, it has always been about weaponising this issue for political gain. To be brutally frank, this cynical strategy is just as reprehensible, if not more so, than the very act of antisemitism itself.
The persistent weaponisation and targeted persecution within the ranks of the Labour Party persistently plays out, with the victims consistently being those who espouse leftist ideologies or exhibit socialist tendencies. This Machiavellian practice, rooted in political expediency, continues to mar the integrity of that once great working class Party, leaving a trail of casualties in its wake.
We can see this in practice, happening in real-time with Starmer targeting Diane Abbott while continuing to ignore right-wingers who are blatantly guilty of antisemitism.
Speaking to broadcasters this morning, Labour leader Sir Keir Starmer described Diane Abbott's letter to The Observer newspaper yesterday suggesting that travellers, Jewish and Irish people do not face racism as "antisemitic" – after being asked three times.
Asked if what Ms Abbott wrote was antisemitic, Sir Keir said: "What she wrote yesterday, I utterly condemn.
"And I said we would tear out antisemitism by its roots. I meant it, and that's why we acted so swiftly yesterday.
"I think it's a mark of how far the Labour Party has changed that we acted so swiftly and we take it so seriously. But I condemn what she said."
Pushed a second time on whether it was antisemitic, Sir Keir said: "I condemn what she said.
"There's an investigation going on now, but look, I don't think anybody can doubt the change in the Labour Party when you see such swift action and an absolute commitment to zero tolerance."
Pushed a third time, the Labour leader said: "In my view, what she said was to be condemned, it was antisemitic.
"It's absolutely right that we acted as swiftly as we did."
He said that he wants to show the Labour Party takes antisemitism seriously and acts swiftly.
Asked if Ms Abbott can stand as a Labour candidate at the next election, Sir Keir said: "There's an investigation going on at the moment. That's the right thing.
"The whip has been suspended; that was done very swiftly, and I have condemned what she said, along with many other people."
In light of Starmer's calculated use of selective outrage and weaponisation of antisemitism, it is not difficult to imagine that Diane Abbott, the UK's trailblazing black female MP, will not be contesting the next general election under the banner of the Labour Party. Alas, Abbott has now been cast as the next victim of the Labour Party's despicable witchhunt.
Selective outrage
The tactic can clearly be seen in the prejudicial why antisemitism has been used against different sections of the Labour Party. For example, Labour MP and Starmer ally Steve Reed used social media to call a Jewish Conservative donor "puppet master".
Reed Tweeted: "Is billionaire former porn-baron Desmond the puppet master for the entire Tory cabinet?"
Of course, Steve Reed apologised "unreservedly" for the tweet describing a Jewish Conservative donor as a "puppet master".
Tory MP Andrew Percy, who is Jewish, said: "Alluding to Jews as puppet-masters is an age old antisemitic trope and for a Shadow Cabinet member to use this trope is totally unacceptable.
If Keir Starmer was serious about tackling antisemitism he would have sacked Steve Reed, on the spot.
In contrast, Rebecca Long-Bailey was summarily dismissed as shadow education secretary for Liking a tweet about an interview in which the actor Maxine Peake said the US police tactic of kneeling on someone's neck was taught by the Israeli secret service.
Steve Reed still serves as Shadow Secretary of State for Communities and Local Government.
Ironically or not, as the case may be, Reed had previously been outspoken on Labour's failure on antisemitism under Jeremy Corbyn.
During Corbyn's tenure, he said: "Labour's failure to tackle antisemitism has let the actions of a tiny minority turn into a crisis for the whole party – for the sake of staff, members, the Jewish community and our supporters who need a Labour government it's time for a fully independent process to deal with antisemitism complaints.''
Despite his supposed aversion to antisemitism, Steve Reed, a prominent supporter of Keir Starmer's centrist faction within the Labour Party, unhesitatingly employed an 'age-old anti-Semitic trope', describing a Jewish man as a "puppet master."
In the face of the severity of this offence, Reed faced no disciplinary action, nor was an investigation conducted into his conduct. This episode conclusively demonstrated that Reed's animosity was not primarily directed against antisemitism per se, but rather against Jeremy Corbyn and the left-wing faction he represents. Reed, in other words, cynically wielded the charge of 'antisemitism as a weapon' to further his own political agenda.
Again another Starmer centrist, Labour MP Barry Sheerman wasn't suspended for his 'shekels' tweet: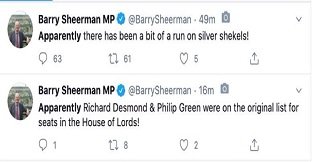 A Labour spokesperson said: "Barry has deleted the tweets and apologised. He deeply regrets the offence caused."
No action taken…
In stark contrast, we have the case of Diane Abbott and the selective outrage forged against her. Diane Abbott who, in a letter penned to the Observer, proffered an unreserved apology for any offence that her remarks may have caused. To be sure, Abbott's statements were not intended to trivialize the hardships endured by any particular group, but rather to draw attention to the subtle intricacies of language and its influence on our perception of societal matters. As someone who has herself suffered the slings and arrows of racial prejudice, Abbott is eminently qualified to differentiate between the pernicious effects of racism and prejudice.
Diane Abbott wrote… "Tomiwa Owolade claims that Irish, Jewish and Traveller people all suffer from 'racism'. They undoubtedly experience prejudice. This is similar to racism and the two words are often used as if they are interchangeable. It is true that many types of white people with points of difference, such as redheads, can experience this prejudice. But they are not all their lives subject to racism. In pre-civil rights America, Irish people, Jewish people and Travellers were not required to sit at the back of the bus. In apartheid, South Africa, these groups were allowed to vote. And at the height of slavery, there were no white-seeming people manacled on the slave ships."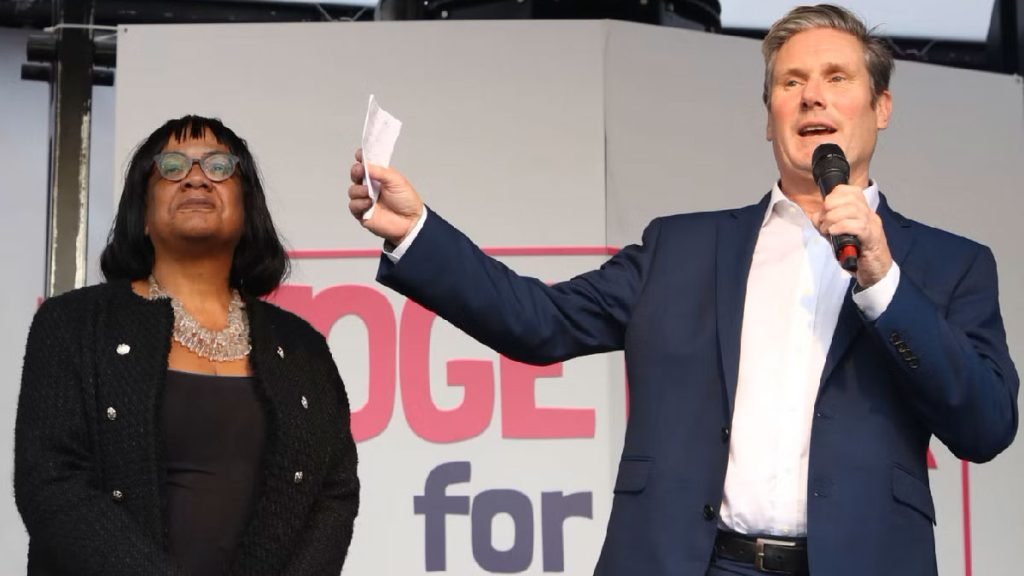 While acknowledging that her initial draft letter may have lacked the necessary nuance, Abbott recognises the inherent challenge in capturing the complexity of language when describing racism, its victims, and its consequences. Inevitably, in this perilous terrain, someone is bound to take offence.
The truth is that there is no clear consensus on this issue, and it is a matter of interpretation and perspective. What is clear, however, is that the distinctions between racism and prejudice are complex and nuanced, and that they are often subject to misunderstanding and misinterpretation.
It is unfortunate that Abbott's attempt to articulate her views on this issue has been met with such hostility and criticism. While it is true that her comments have caused offence to some, it is important to remember that freedom of speech is a fundamental right, and that robust debate and discussion are essential in a democratic society.
Rather than seeking to silence or condemn those who express opinions with which we disagree, we should instead seek to engage in open and honest dialogue, and to seek common ground where possible.
Still, the fear of causing offence must not deter us from engaging in the crucial task of navigating and articulating this paramount issue. Instead, it should spur us to open up discourse and debate, for it is through candid and rigorous deliberation that we can hope to attain lucidity and discover solutions to these pressing matters. After all, it is only by confronting uncomfortable truths head-on that we can arrive at a genuine understanding of the problem at hand.
In saying that it is also important to note that there is indeed a difference between racism and prejudice. Racism is a structural issue that perpetuates inequality and is often deeply ingrained in societal systems and institutions. Prejudice, on the other hand, is a personal belief or attitude that can be unlearned.
Prejudice, on the other hand, is not just a feeling or an opinion. It is a preconceived judgment or bias that affects how one thinks and behaves towards others. Prejudice can lead to discrimination, violence, hatred, and intolerance. Prejudice can also be internalised by the victims themselves, resulting in low self-esteem, self-hatred, and alienation. Prejudice can be based on any characteristic or identity: race, ethnicity, religion, gender, sexuality, class, disability, age, etc.
However, it wasn't prejudice that witnessed millions of Jews and gipsies murdered during the holocaust or the Pogroms carried out through Eastern Europe. It wasn't prejudice that witnessed the enslavement and dehumanising of millions of Africans and other races either. prejudice is far too light a word to describe the evil committed against man by man.
There is also a big difference between antisemitism and racism. There are lots of words that can cause confusion and detraction when talking about racism and antisemitism. For example, taking the literal meaning of the word racism means you can't be racist against Jewish people, Judaism is a religion, not a race.
Jews are a diverse group of people who come from a wide range of geographic origins and physical appearances. However, they are united by a shared history and cultural identity that has been subject to persecution and discrimination throughout history.
The Jewish learning centre states: Jews are not a race. People who identify as Jewish include individuals of enormously diverse geographic origins and physical appearances, making the idea that Jews could easily be designated a race in the sense of shared physical or biological characteristics implausible.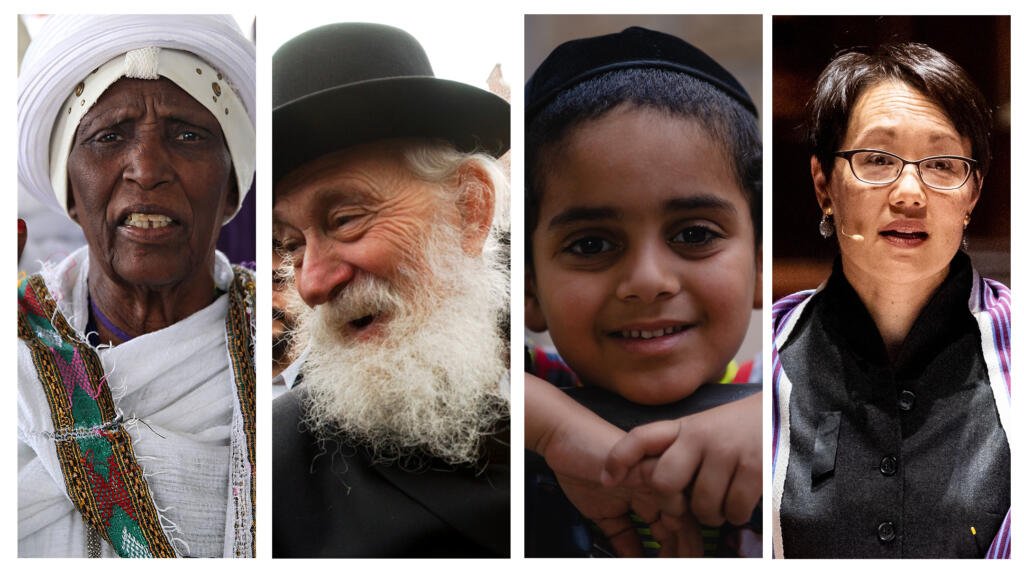 Jews historically have defined themselves as a people, the descendants of Abraham, Isaac and Jacob. Converts are also considered descendants of these patriarchal ancestors. Colloquially, Jews also sometimes describe themselves as a tribe.
Taking this into account the use of the term racism seems to fall short and doesn't cover Jewish people that have been subject to treatments some call racism. I am not even sure antisemitism covers it. Many people of many religions are semantic.
The term "Semitic people" refers to a group of ethnic and linguistic communities who speak or are descended from languages in the Semitic language family. This includes modern-day Arabs, Jews, and Samaritans, as well as historically significant groups like the ancient Assyrians and Babylonians. Semitic languages include Arabic, Hebrew, Aramaic, and Amharic, among others.
The term "Semitic" comes from the Hebrew word "Shem," which refers to one of Noah's sons in the Bible. The term was later used to describe the people and languages that descended from Shem.
If the treatment of Jewish people isn't racist what is it?
Personally, I think that's a debate to be had. We know that the Nazies pushed their Aryan race agenda that lay as the root of their antisemitism and the results of that ideology. But their crimes were not only aimed at Jewish people.
However, I do know two words that describe the horrors conducted on Jewish people and others. words that were diligently created to encompass the horrors of the evils man conducted against man. Those words are Holocaust and Pogrom.
What is true is it is misleading and dangerous to suggest that there is a hierarchy of oppression or suffering among different groups based on their experiences of racism or prejudice. All forms of bigotry and injustice should be condemned and challenged equally. No one has a monopoly on victimhood or virtue.
In saying that, Labour has been accused of "operating a hierarchy of racism or of discrimination" claims made by Martin Forde KC' the Author who carried out a report into the party's culture says antisemitism is taken more seriously than other forms of racism
Hierarchy of racism or of discrimination
Martin Forde KC's disconcerting revelation regarding the Labour Party's complicity in fostering a "hierarchy of racism," as part of his investigation into allegations of bullying, racism, and sexism commissioned by Keir Starmer himself, it is incumbent upon the Party to take decisive action if it genuinely aims to uproot the insidious menace of antisemitism from its midst.
This necessitates not only a sincere commitment to implementing the recommendations put forth in the Forde report, but also a comprehensive examination of all forms of racism within the Party, including anti-black racism and Islamophobia, which have regrettably been accorded less urgency than antisemitism.
Forde expressed shock that no one from Labour had engaged with him after he published the report to discuss his recommendations further. "I had limited communications with David Evans [the party's] general secretary but that was about general housekeeping. I have spoken to a caucus of black Labour MPs in the Commons," he said, but otherwise claimed he had not spoken to any party officials. "These are serious debates that need to be had in a respectful context and I just feel there's work to be done."
The former shadow chancellor John McDonnell said the "vast majority" of Labour members would find Forde's accusations "deeply worrying and will want a serious response from all those holding leading positions in the party".
Kate Osamor, a former shadow minister, added: "The Forde report was a call to action. It must not be ignored. Unless something changes, the party risks becoming a hostile environment for black and ethnic minority members."
Forde's report also found that some of the attitudes expressed towards Diane Abbott and other black, Asian and minority ethnic MPs in private WhatsApp messages among staffers hostile to Jeremy Corbyn represented "overt and underlying racism and sexism".
Abbott has said she received no apology for the comments, which Forde said used "expressions of visceral disgust, drawing (consciously or otherwise) on racist tropes, and they bear little resemblance to the criticisms of white male MPs elsewhere in the messages".
The Labour Party must confront these inconvenient truths head-on, acknowledge its failings, and take substantive steps to rectify them, if it is to regain its moral compass and restore its credibility on matters of racial equality and social justice. Failure to do so would not only be myopic, but also a politically expedient ploy that will inevitably have dire repercussions in the future.
Furthermore, the Party's weaponisation of antisemitism as a means to target the Left, exemplified by its treatment of Diane Abbott, is not only politically motivated, but also reeks of prejudice and racism.
It lays bare the Party's true priorities and underscores the likelihood of Abbott being the next victim in its relentless witchhunt. Such unjust actions are detrimental to the Party's integrity and betray a callous disregard for principles of fairness and equality. The Labour Party must introspect, course-correct, and demonstrate a genuine commitment to combating all forms of discrimination, without succumbing to the temptations of political expediency and bias. Only then can it claim to truly represent the values of inclusivity, justice, and progress.
Support Labour Heartlands
PLEASE HELP US KEEP GOING AD-FREE
This is a "Pay as You Feel" website.
Hey there! Thanks for stopping by. If you've enjoyed reading the articles on Labour Heartlands so far, We would be incredibly grateful if you could consider making a small donation. Labour Heathlands is not your typical news outlet. We are not here to simply regurgitate the daily news cycle, that's for the rest of them. Our focus is on delving deeper, uncovering the untold stories and shedding light on the issues that the mainstream media chooses to ignore.
Our unwavering commitment to journalistic integrity means that we are not influenced by any external forces. We are not beholden to PR companies, advertisers or press barons, and we refuse to let anyone dictate what we report on. Our editorial independence is sacrosanct, and our only allegiance is to the truth.
While we do not align ourselves with any particular political party, we stand firmly against corruption, injustice and the erosion of truth and the rule of law. We believe that accurate information is the lifeblood of a democracy and that facts are not up for debate.
Once again, thank you for your support – We truly couldn't do this without you!
PLEASE HELP US KEEP GOING AD-FREE