Thoughtcrime in British Politics: MP Andy McDonald's Suspension and the Erosion of Dissent
"Political language is designed to make lies sound truthful and murder respectable, and to give an appearance of solidity to pure wind. " ― George Orwell
Westminster's metamorphosis into an Orwellian enforcer of approved thought continues. The latest victim of the purge is MP Andy McDonald, suspended for referencing "between the river and the sea" in a speech supporting peace. His crime was nuance exceeding prescribed limits.
It comes as Labour frontbenchers have openly defied their leader by calling for a ceasefire in Gaza as the death toll surpasses 8,000.
Labour's suspension of Andy McDonald for referencing now prescribed words mirrors the Tories' own lurch towards Orwellianism. Earlier today they sacked MP Paul Bristow from government simply for appealing for a Gaza ceasefire.
This exposes the rot afflicting both parties. Displays of conscience or independent thought are dangerous liabilities. Loyalty to this new world order supersedes truth.
The mountains of Palestinian corpses must be erased if contrary to doctrine as if those poor souls never existed. Verbal deviationists in either party risk being cancelled by groupthink.
The MP for Middlesbrough used the phrase as he urged peace between Israelis and Palestinians at an event at the weekend.
Home secretary Suella Braverman has previously branded the slogan antisemitic and claimed that it is "widely understood" to call for the destruction of Israel but pro-Palestinian protesters have contested this definition.
McDonald said at a pro-Palestine rally: "Until all people, Israelis and Palestinians, between the river and the sea can live in peaceful liberty."
McDonald "clarified" that his words were a plea for reconciliation, not antagonism. But intent is irrelevant – subtle distinctions vanish in this burgeoning police state. Complexity is treason. McDonald's suspension for thoughtcrime aims to chill dissent.
Like citizens under Big Brother's gaze, Labour members now constantly self-censor for deviationism. The whip comes down brutally on any lack of conformity. Lines between legitimate criticism of Israel and antisemitic rhetoric blur into meaninglessness.
McDonald stated: "I am saddened to have received the news from the opposition chief whip that I have been placed under "precautionary suspension" for a period of three months, which is reviewable pending an investigation from the Labour Party
"Throughout the past two days, there have been a number of misrepresentations of my words in the media.
"In my speech on Saturday, I said the following: 'Until all people, Israelis and Palestinians, between the river and the sea, can live in peaceful liberty.'
"These words should not be construed in any other way than they were intended, namely as a heart felt plea for an end to killings in Israel, Gaza, and the occupied West Bank, and for all peoples in the region to live in freedom without the threat of violence."
McDonald questioned no sacred tenets, defended no violence. But now even injudicious phrasing brings disgrace in Starmer's ruthless purge. Vulnerable minorities like Jews are cynically invoked to mask this power play.
My statement on the news that I have been placed under "precautionary suspension" by the Labour Party👇 pic.twitter.com/7b9jpO3IuY

— Andy McDonald MP (@AndyMcDonaldMP) October 30, 2023
This is not new for Labour. the weaponisation of antisemitism has served Starmer well, purging the Party of undesirable as he sees fit. The Left is dead. Long live the Left.
Starmer follows the Party edict: "Who controls the past controls the future. Who controls the present controls the past." Inconvenient history is excised, memory warped to serve political need. Consistency means little when doctrine shifts daily.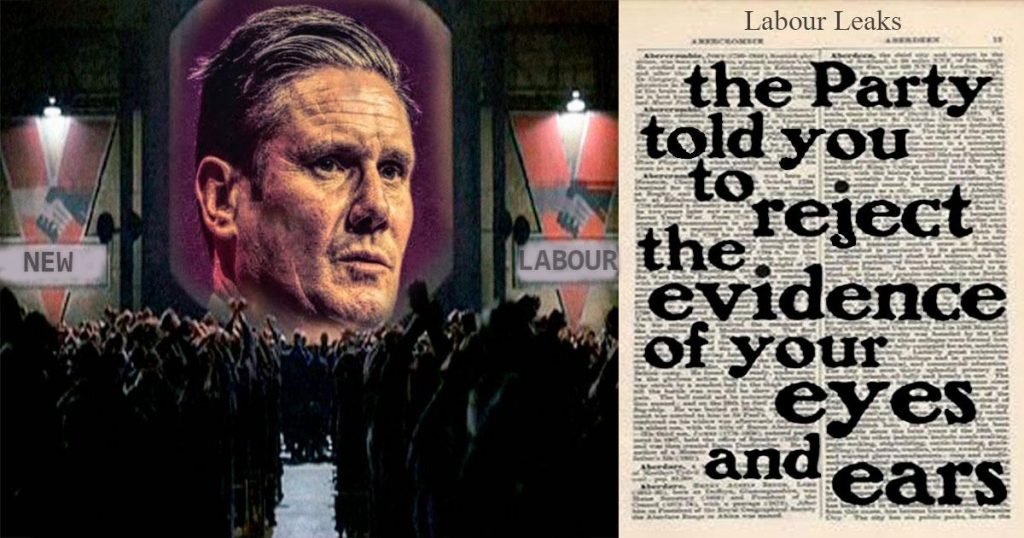 Labour exhibits the doublethink Orwell foretold, simultaneously embracing contradictory beliefs to fit agendas. Truth mutates according to diktat. Yesterday's orthodoxies become grounds for expulsion overnight. The only constant is loyalty to the leader above conscience or justice.
Announcing his suspension, a Labour spokesperson said: "The comments made by Andy McDonald at the weekend were deeply offensive, particularly at a time of rising antisemitism which has left Jewish people fearful for their safety.
"The chief whip has suspended the Labour whip from Andy McDonald, pending an investigation."
Downing Street has expressed concerns over the chant, describing it as "deeply offensive" to many.
McDonald dared speak truth, he dared call for peace, he now faces exile.
This farce exposes Labour's descent into authoritarianism. Ranks are purged of free-thinkers, zealots promoted. Shameful capitulation to tribalism will be Labour's epitaph. It is unfit to lecture others on rights until it restores them internally.
This authoritarian creep should profoundly trouble British citizens who value liberty.
Support Labour Heartlands
Help Us Sustain Ad-Free Journalism
Sorry, I Need To Put Out the Begging Bowl
Independent Journalism Needs You
Our unwavering dedication is to provide you with unbiased news, diverse perspectives, and insightful opinions. We're on a mission to ensure that those in positions of power are held accountable for their actions, but we can't do it alone. Labour Heartlands is primarily funded by me, Paul Knaggs, and by the generous contributions of readers like you. Your donations keep us going and help us uphold the principles of independent journalism. Join us in our quest for truth, transparency, and accountability – donate today and be a part of our mission!
Like everyone else, we're facing challenges, and we need your help to stay online and continue providing crucial journalism. Every contribution, no matter how small, goes a long way in helping us thrive. By becoming one of our donors, you become a vital part of our mission to uncover the truth and uphold the values of democracy.
While we maintain our independence from political affiliations, we stand united against corruption, injustice, and the erosion of free speech, truth and democracy. We believe in the power of accurate information in a democracy, and we consider facts non-negotiable.
Your support, no matter the amount, can make a significant impact. Together, we can make a difference and continue our journey toward a more informed and just society.
Thank you for supporting Labour Heartlands
Just click the donate button below