MP Sacked for Urging Gaza Ceasefire as Dissent Crushed
"The Party told you to reject the evidence of your eyes and ears. It was their final, most essential command." – George Orwell, 1984
Orwell's dark prophecy becomes reality as Tory MP Paul Bristow was sacked simply for requesting a Gaza ceasefire. His benign appeal to protect life contravened the party line. Truth and humanity must be subjugated to political orthodoxy.
Paul Bristow has been asked to leave his position as a parliamentary private secretary (PPS) after writing to Prime Minister Rishi Sunak to urge a "permanent" break in fighting between Israel and Hamas.
While Gaza burns, Bristow broke ranks, allowing conscience to guide his call for peace. This thoughtcrime provoked his immediate removal. Compassion towards the wrong victims is forbidden.
Speaking later to Sky News, the Peterborough MP said: "I completely understand the PM's decision. And it is with regret I leave a job I enjoyed.
"But I can now talk openly about an issue so many of my constituents care deeply about. I believe I can do this better from the backbenches rather than as part of the government payroll."
The letter said: "Thousands have been killed and more than one million now displaced. It is difficult to understand how this makes Israel more secure or indeed makes anything better."
Mr Bristow wrote that "some of my constituents have been directly affected" by the situation in the Middle East.
He added: "It is important that you hear this message. This is my job as a local member of parliament."
So we have it! Seeking peace is now a sackable offence in Britain's emergent dystopia. Dismissed for daring to urge a Gaza ceasefire, exposing the new intolerance for dissent.
Bristow's humane plea enraged the power structure. Challenging state narratives cannot be tolerated, no matter how slightly. Robotically chanting "Israel's right to self-defence" is compulsory, no alternate perspectives permitted.
Big Brother is always watching for ideological deviation. Bristow's position as a junior minister could not protect him from retribution. This show trial punishment demonstrates zero tolerance for unapproved opinions in the ranks.
Labour is no different both parties enforcers brutalizing their own. Starmer on day one condoned the act of withholding food and water from the entire population of Gaza. An act of collective punishment.
An Orwellian State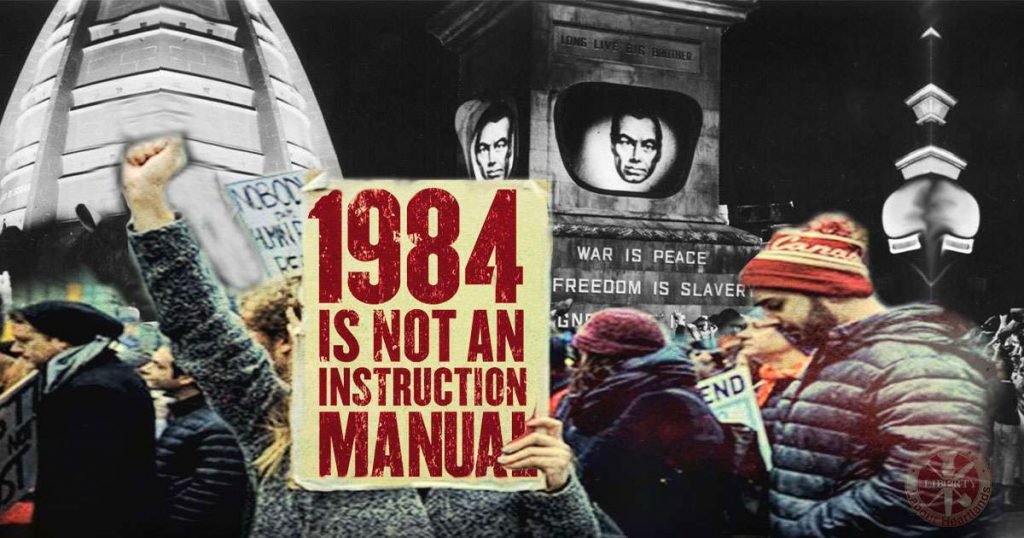 In Britain's increasingly Orwellian landscape, moral complexity is forbidden. Dissenters become unpersons, cancelled, their concerns erased from memory.
War is peace, freedom is slavery. Compassion towards undesirables constitutes thoughtcrime. The mere suggestion of recognising shared humanity across tribal divides seals one's excommunication.
With truth under assault, suppression of conscience accelerates. The window for principled resistance narrows, but closing one's eyes will not halt the horror. Light still lingers for those brave enough to follow it, though the darkness encroaches.
Our world's salvation or ruin hangs in the balance. Will voices of compassion be intimidated into silence, or rediscover their power? The choice confronting our society has seldom been clearer. Bristow's dismissal sounds the alarm. As one worker said to the other, they can't sack all of us, can they?
Support Labour Heartlands
Help Us Sustain Ad-Free Journalism
Sorry, I Need To Put Out the Begging Bowl
Independent Journalism Needs You
Our unwavering dedication is to provide you with unbiased news, diverse perspectives, and insightful opinions. We're on a mission to ensure that those in positions of power are held accountable for their actions, but we can't do it alone. Labour Heartlands is primarily funded by me, Paul Knaggs, and by the generous contributions of readers like you. Your donations keep us going and help us uphold the principles of independent journalism. Join us in our quest for truth, transparency, and accountability – donate today and be a part of our mission!
Like everyone else, we're facing challenges, and we need your help to stay online and continue providing crucial journalism. Every contribution, no matter how small, goes a long way in helping us thrive. By becoming one of our donors, you become a vital part of our mission to uncover the truth and uphold the values of democracy.
While we maintain our independence from political affiliations, we stand united against corruption, injustice, and the erosion of free speech, truth and democracy. We believe in the power of accurate information in a democracy, and we consider facts non-negotiable.
Your support, no matter the amount, can make a significant impact. Together, we can make a difference and continue our journey toward a more informed and just society.
Thank you for supporting Labour Heartlands
Just click the donate button below