Academics challenge Starmer to accept Israel's siege of Gaza is against international law
The ongoing Israel-Gaza conflict has exposed deep divisions within the Labour Party. Some members are incensed by the party's reluctance to strongly criticise Israel's actions, while others support Starmer's position, especially in the wake of Hamas's attacks, linking it to his campaign against anti-Semitism within the party.
First, let us not indulge in weaselly equivocation – the nihilistic savagery of Hamas merits only unstinting condemnation. Its latest orgy of bloodletting fully displayed the depraved death cult that lurks in the heart of such entities.
However, in the interests of moral clarity, we must also recognise a wider truth – that the dark impulse for vengeance has corrupted this conflict since its inception.
Unforgiving hatreds have been passed down like a poisoned chalice from generation to generation. Until this cycle is broken, justice will remain elusive and peace a distant dream. Hamas' crimes do not exist in isolation but are part of a twisted dialectic of murder and retaliation, each side's brutalities invoking the other's.
Those who truly seek resolution must have the courage to transcend entrenched grievances. Only magnanimity on all sides can end the agony. The Old Testament be damned, the injunction of 'an eye for an eye' leaves all blind, yet it frames the toxic dialectic of violence holding this region captive. Each fresh atrocity becomes pretext for retaliation ad infinitum. Only by breaking free of the choking grip of the past can these peoples imagine a different future.
But while Gazan children starve and civilians perish, Sir Keir Starmer, this pious charlatan and his fellow political chameleons twist and turn to avoid plain condemnation of collective punishment. Never lacking in righteous rhetoric on human rights, their cowardly refusal to oppose Israel's war crimes exposes the hollowness of Labour's supposed principles.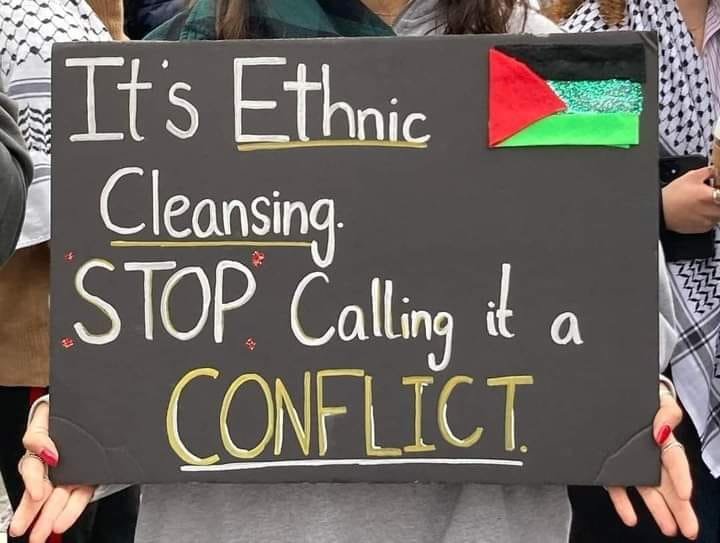 With customary dishonesty, Starmer falsely claims Israel has the 'right' to breach international law by withholding water and electricity from two million captives. No country has the 'right' to commit war crimes. Labour's humbug on humanitarian law would be shameless were they capable of shame.
For some, the stench of hypocrisy wafting from Labour over Gaza threatens to become overpowering. A group of some 39 academics has now challenged the Pontiff of the Party, Sir Keir Starmer, to clarify his tortured logic on Israel's medieval siege.
This collection of international lawyers and other assorted worthies rightly condemn Starmer's tortured casuistry in tacitly approving the war crime of collective punishment against the Palestinians. By claiming Israel has the 'right' to deprive Gaza of water and electricity, this over-promoted mediocrity has exposed his moral bankruptcy.
Starmer's sophistry cannot conceal the ugly truth: that he and his fellow lawyer-politicians have sacrificed principle on the altar of power politics. They vigorously defend the human rights of approved victim groups. But the Palestinians find that Labour's solidarity is conditional upon good behaviour.
On Sunday, the Labour leader issued a statement calling on "all parties to act in line with international law, including allowing humanitarian access of food, water, electricity and medicines to Gaza". But the letter says the latter statement "does nothing to rescind your tacit approval of Israel's collective punishment of the population of Gaza".
It states:
"The right to self-defence is not unqualified, it is bound by longstanding laws that form one of the pillars of a rules-based international order. International humanitarian law, including the Fourth Geneva Convention and additional protocols, prohibits collective punishment in all circumstances. The imposition of collective punishment can be considered a war crime under customary international law. The cutting off of food, water and electricity to the population of Gaza is a clear case of collective punishment.
Indiscriminate bombing of populated areas, the use of white phosphorus, as documented by Human Rights Watch on 12 October, and the forced transfer of a population are incompatible with international humanitarian law. The atrocities committed by Hamas on 7 October and its slaughter of Israeli citizens do not abrogate international humanitarian law; on the contrary, these laws were designed for precisely these circumstances.
The political contortions of lawyer Starmer bring shame upon his profession. Indeed, this hypocrite and his fellow travellers now face potential prosecution for aiding and abetting war crimes. If there is justice, these imposters will swap the opposition benches for the defendant's dock.
We request that you immediately issue a public and detailed clarification of Labour's legal position on collective punishment and on the forcible transfer of civilians. We request that you confirm that you and your party oppose the commission of war crimes, wherever and whenever they may occur."
There is a copy of the letter here. Michelle Farrell, a professor of international law at Liverpool University and one of the signatories, has posted it on X.
"We request that you immediately issue a public and detailed clarification of Labour's legal position on collective punishment and on the forcible transfer of civilians." Our letter to @Keir_Starmer @UKLabour @EmilyThornberry @DavidLammy sent today. pic.twitter.com/OeHyxNtHJj

— Michelle Farrell (@mnifhearail) October 17, 2023
The International Centre of Justice for Palestinians (ICJP) issued Starmer, Thornberry and Lammy with notices of intention to prosecute "for their role in aiding and abetting Israel's perpetration of war crimes".
This shabby spectacle will further tarnish Labour's reputation as the party totters from crisis to crisis under Starmer's inept leadership. Tacitly endorsing apartheid by another name, Labour is unfit to govern. Its rank hypocrisy on Palestine is sadly nothing new. The Zionist lobby has long pulled Labour's strings. His craven appeasement of fashionable Zionism has corroded his credibility among Labour councils and Muslim communities alike.
As the humanitarian crisis in Gaza intensifies and the potential for civilian casualties grows with the possibility of an Israeli ground offensive, these divisions are expected to widen, making the situation increasingly complex.
The pressure on Starmer extends beyond his party, with influential Muslim members demanding a more balanced response. They emphasise that the statements made now will be remembered when the conflict in Gaza concludes.
Sir Keir Starmer must retract his comments on LBC, and apologise.

Our statement: pic.twitter.com/6QpHIYoHVT

— Labour Muslim Network (@LabourMuslims) October 11, 2023
By failing to unconditionally condemn Israel's cruel strangulation of Gaza, Labour has lost any moral authority on human rights. Its leaders spout platitudes while people starve.
The British people are not fooled. Labour has forfeited the right to pose as defenders of the oppressed. Its moral desiccation is complete. On issue after issue, the Starmer clique put power before principle. His promises of integrity were mere persiflage. Labour now stands for nothing but its own naked interest. It is a party rotten from top to bottom. They are charlatans, whited sepulchres—their day of reckoning approaches.
Support Labour Heartlands
Help Us Sustain Ad-Free Journalism
Sorry, I Need To Put Out the Begging Bowl
Independent Journalism Needs You
Our unwavering dedication is to provide you with unbiased news, diverse perspectives, and insightful opinions. We're on a mission to ensure that those in positions of power are held accountable for their actions, but we can't do it alone. Labour Heartlands is primarily funded by me, Paul Knaggs, and by the generous contributions of readers like you. Your donations keep us going and help us uphold the principles of independent journalism. Join us in our quest for truth, transparency, and accountability – donate today and be a part of our mission!
Like everyone else, we're facing challenges, and we need your help to stay online and continue providing crucial journalism. Every contribution, no matter how small, goes a long way in helping us thrive. By becoming one of our donors, you become a vital part of our mission to uncover the truth and uphold the values of democracy.
While we maintain our independence from political affiliations, we stand united against corruption, injustice, and the erosion of free speech, truth and democracy. We believe in the power of accurate information in a democracy, and we consider facts non-negotiable.
Your support, no matter the amount, can make a significant impact. Together, we can make a difference and continue our journey toward a more informed and just society.
Thank you for supporting Labour Heartlands
Just click the donate button below