As a Hung Parliament Looms Labour's Losses to Independents Reflect the Public's Demand for Genuine Representation
The local election results have shown a trend towards the emergence of independent groups and individuals, indicating a growing dissatisfaction with the dominant Parties. Labour has failed to make significant gains against the Tories, leaving the possibility of a hung parliament. However, the real victors in these elections are the independent left-wing groups and emerging parties such as the Greens.
Particularly notable are those independents who have departed from the Labour Party due to its right-wing shift under Sir Keir Starmer.
Salt of the Earth Group's Triumph: A Blow to Labour's Dominance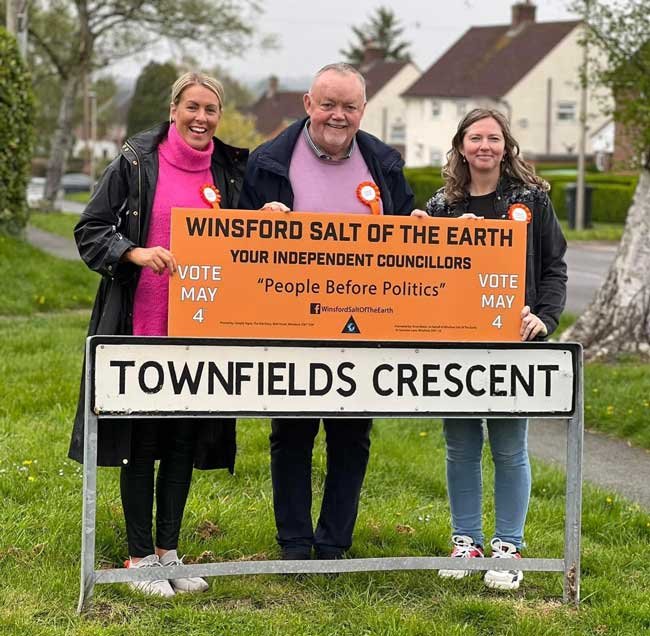 One standout success story comes from Winsford, where the newly formed "Salt of the Earth" group achieved a remarkable feat by not only upsetting Labour but virtually wiping them out to gain control of the town council. Frustrated with the Labour Council, the Salt of the Earth candidates stood for all 15 seats and won an impressive 14.
This victory highlights the group's commitment to putting "people before politics" and their determination to represent the community's interests.
The group's formation earlier this year aimed to prioritise the people over politics and stood for every available seat. Their success reflects the yearning for change and genuine democratic representation in the face of what is increasingly resembling a one-party state.
Many Clare talking on the Not the Andrew Marr show described the idea behind Salt of the Earth, she explained how people are desperate for change and want real democratic representation.
The group is now looking for more people who 'want to see more power in the hands of those with Salt of the Earth values and experience, who really understand and care about the town and share a determination to make improvements the good people of Winsford have been waiting so long for'.
Salt of the Earth's triumph, despite Labour's malicious attacks, underscores the desire for change and authentic representation. Similarly, the popular "Liverpool Community Independents" secured a decisive majority, dealing a blow to Labour in one of its historically loyal strongholds.
Liverpool Community Independents: A Resounding Victory Against Labour's Dirty Campaigning
The victorious three for @LIndependents https://t.co/XUhRqqNgVI pic.twitter.com/gfUgyuMMFp

— David Humphreys (@HumphreysECHO) May 5, 2023
Despite Labour's desperate and dirty campaign, the people saw through their tactics and returned Lucy Williams, Sam Gorst, and Alan Gibbons with overwhelming majorities.
Sam Gorst wrote: "This is the first time in over 50 years that Independents have won councils elections in the City. Garston as well as Orrell Park's Cllr Alan Gibbons. The turnout to vote in Liverpool was shockingly low. I hope that people will see Community Independents, as we grow our candidates as a credible alternative so we can get more registered to vote and feel hopeful that, at least in local elections, they have local politicians they can trust and rely on from a legitimate registered new political Party through the Electoral Commission and not as a fringe group that cannot win as Maria Eagle MP had alluded to on her leaflet. I hope that I can continue the community work and keep holding the ruling administration to account but now with twice the energy and ideas with Lucy also winning her seat as a first-time candidate."
Local Independents For Tiverton
The newly formed former Labour independent groups also hit home in Devon as Tiverton Town Council, celebrated Local Independents For Tiverton (LIFT) who won six seats, becoming the second largest group within the council coming second to the Lib Dems who only managed to take 13 seats.
Councillor Steve Bush who is a LIFT member in Cranmore said: "We are hoping to give the town a lift. It's sad at the same time as we have lost two of our long standing councillors, but we've gained another five, so it's a mixed bag, but we're pleased to have doubled our numbers on the town council.
"it's going to be very different because a lot of the old guard are gone and it'll be interesting to see what happens. We look forward to it."
On LIFT's view of Mid Devon's election, he added: "I think the Lib Dems are going to find it very difficult because they've inherited what is effectively a poisoned chalice in terms of the state of the budget and the amount of funding and finance that they've got to do anything is going to be limited. We'll do our best to hold them to account and to make sure that Tiverton gets its fair share and say."
The six new Councillors – Steve Bush, Tim Bridger, Jason Lejeune, Kate Lejeune, Tony Wheeler, and Chris Berry – with the support from other members of LIFT Andy Perris, Ana Hendy and Dan Furminger. are all looking forward to making a positive change for their community.
Jo Bird's Journey: From Labour Expulsion to Green Party Success
Former Labour activist Jo Bird's story also stands out. Expelled by the Labour Party, Bird expressed delight and joined the Greens, where she has thrived. Re-elected as a Green Councillor for Bromborough, alongside Ruth Molyneux and Kieran Murphy, Bird's success showcases her unwavering pursuit of social change. With 13 remarkable Green Councillors, Wirral Council now holds the balance of power.
These stories of success, however, are not readily embraced by the main parties or the mainstream media, as they threaten to spark hope among the people that collective efforts can indeed bring about change. It is a testament to the growing sentiment that together, we can make a difference, and the established parties fear such notions taking root.
Support Labour Heartlands
PLEASE HELP US KEEP GOING AD-FREE
This is a "Pay as You Feel" website.
Hey there! Thanks for stopping by. If you've enjoyed reading the articles on Labour Heartlands so far, We would be incredibly grateful if you could consider making a small donation. Labour Heathlands is not your typical news outlet. We are not here to simply regurgitate the daily news cycle, that's for the rest of them. Our focus is on delving deeper, uncovering the untold stories and shedding light on the issues that the mainstream media chooses to ignore.
Our unwavering commitment to journalistic integrity means that we are not influenced by any external forces. We are not beholden to PR companies, advertisers or press barons, and we refuse to let anyone dictate what we report on. Our editorial independence is sacrosanct, and our only allegiance is to the truth.
While we do not align ourselves with any particular political party, we stand firmly against corruption, injustice and the erosion of truth and the rule of law. We believe that accurate information is the lifeblood of a democracy and that facts are not up for debate.
Once again, thank you for your support – We truly couldn't do this without you!
PLEASE HELP US KEEP GOING AD-FREE