Johnson and Starmer are treating the people with utter contempt.
After dither and delay, Ms Gray had been expected to hand her report on alleged Covid-rule breaking to Boris Johnson this week.
But the Met Police have asked her to leave out key details to avoid prejudicing their own inquiries.
There is also debate in the Cabinet Office, where Ms Gray is based, about what should be redacted, sources say.
Labour leader Sir Keir Starmer is calling for the report to be published in full and the investigations to be wrapped up as soon as possible.
While we welcome any publication of the Gray report the hypocrisy of Starmer's statement cannot be ignored.
The Gray Report is turning out to be just as elusive as Labour's Forde Report, it seems that Labour's lawyer leader can teach the Tories a trick or two, specifically on how to run interference on the publication of damaging reports.
Both parties are waiting for opportunities to publish. The Tories hoping for an alternative press splash with a big enough fallout to cover the damage, while Labour is waiting to publish immediately after the Gray report in the hope its damning inquiry into the sabotage of the Corbyn movement by its own staffers and others pulling the strings remains publicly hidden, lost in the chatter, what a tangled web both deceptive parties weave in this toxic system they call politics.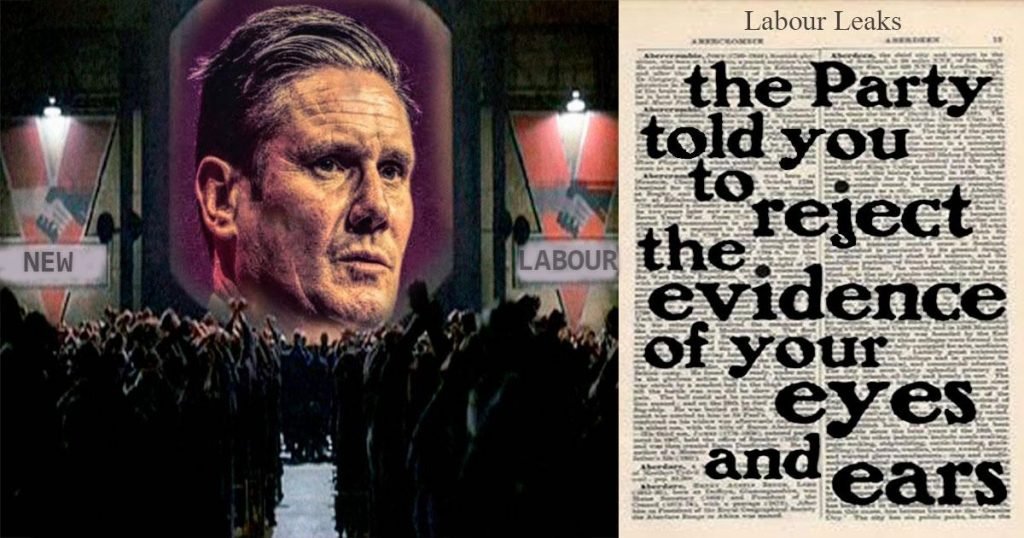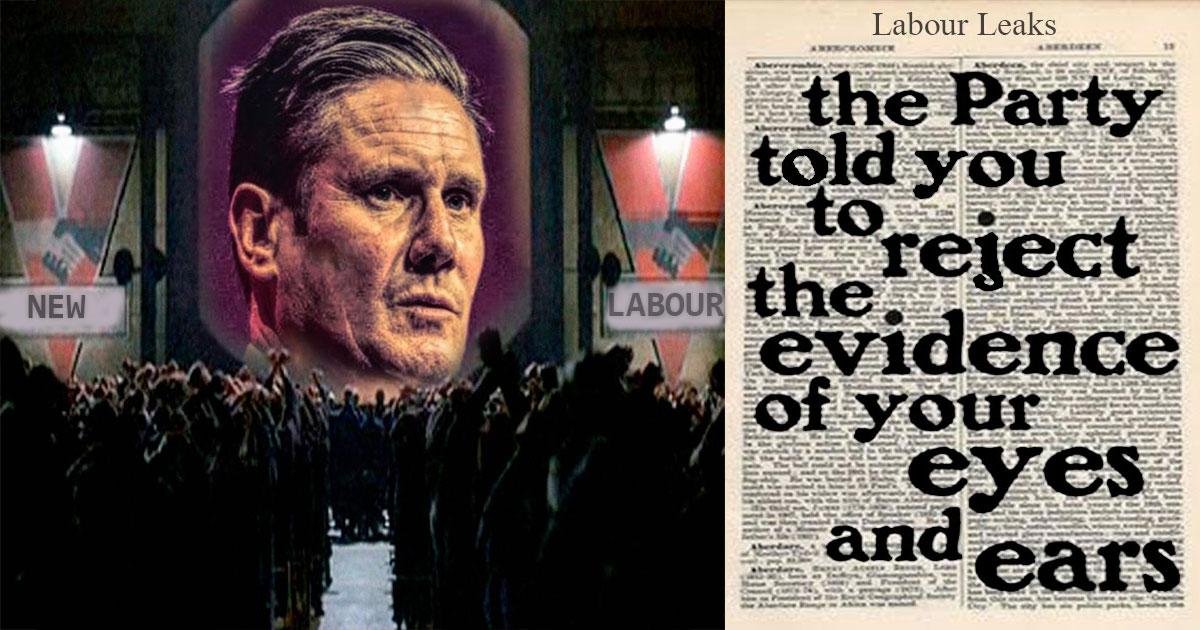 The Forde Inquiry was tasked with looking into an internal report, leaked online in March 2020.
A deeply controversial internal report leaked in April 2020 to journalists and then distributed on social media. The shocking content showed Labour's factional war along with the toxic relationships between different groups within the Party and how vile they had become.
The dossier – dated March 2020 and leaked in April 2020 – claimed some Labour Party staffers did not want Jeremy Corbyn to win the 2017 general election and actively worked to destabilise his leadership. The Whatsapp messages suggested they used their positions in the Labour Party to undermine the 2017 general election.
The report is the result of an internal investigation into the work of Labour's governance and legal unit in relation to antisemitism. Created by party staff, it pulls together an estimated 10,000 emails, thousands of messages exchanged on work accounts, and the contents of two WhatsApp group chats apparently created by senior management in Labour headquarters.
The Forde report has been delayed in its publication numurs times.
On 4 April 2020, newly elected party leader Keir Starmer said he would look to cooperate fully with the EHRC's investigation into antisemitism in the party.
The document was leaked in full and this prompted two investigations by Labour – one by an independent external investigator and another by Martin Forde QC.
Starmer set up an inquiry to examine both the contents of the report and how it was authored and leaked. This was known as the Forde Inquiry.
The Forde Inquiry was originally set to conclude in mid-July, but this timescale was described by Forde as "impractical". It then aimed to deliver the report "by the end of 2020", which was later changed to "early in 2021".
After the two delayed release dates, it seemed the Forde report has been delayed indefinitely. The chair announced in February 2021 that the probe had "recently been made aware" that the Information Commissioner's Office is investigating the same leaks.
You really couldn't make it up! indefinitely delaying publication of the findings of this highly charged inquiry into a leaked report on antisemitism and internal party culture under Jeremy Corbyn, stating concerns it could prejudice an investigation by the information commissioner.
Like the Gray report, an outside agency was then brought in to investigate. in the case of the Gray report, it's the Met, while the Forde report had the ICO make an inquiry into the leaked documents. Leaving Forde to declare an indefinite delay.
The weak excuse provided said Labour set up an internal investigation at the time to look into potential security breaches and made a disclosure to the ICO. Then for The Forde Inquiry to say it has only now learnt that the ICO is investigating the potential breaches, as a result, is a little insulting to members and the wider public who all read those initial media publications saying that Starmer was looking into how the documents were leaked.
It's also worth noting the ICO investigate breaches in data protection and will not be looking into the context of the leaked documents but just how they were leaked.
Some of the ex-officials who were named in the leaks have been or are being readmitted to the party. Their disciplinary cases were concluded at the end of January when they were found to have broken party rules and were suspended for several months as a result.
The delaying and burying of the Forde report continued to be a point of controversy.
It was once again promised the report would be realised on January 25th again another deadline was missed.
Forde now says he hopes – it's not even a promise – to 'deliver' the report in February. Not 'publish', merely 'deliver' it to the party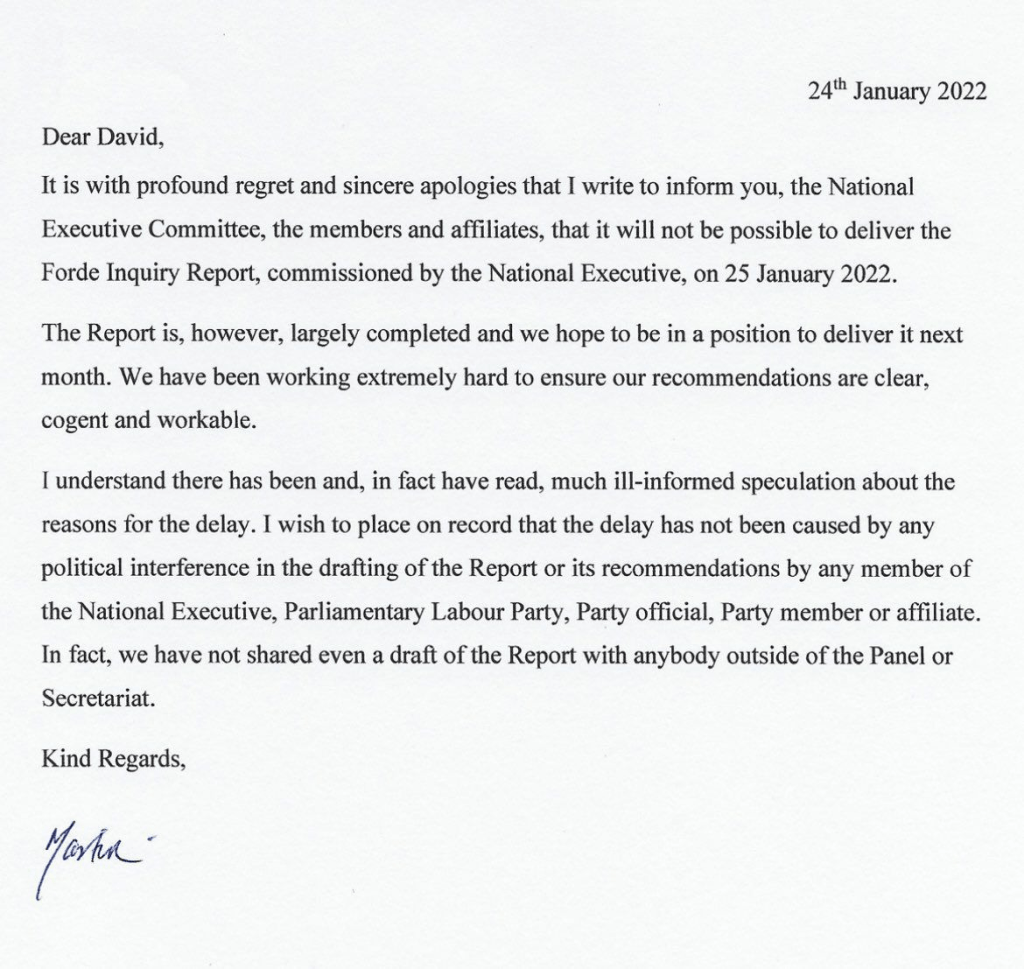 In June, Labour's press office provided a statement prepared by party lawyers to journalists covering the story that defended the comments, describing criticism as "po-faced" and stating: "These were messages exchanged between co-workers in the expectation that they would remain private and confidential and the tone of the language used reflects that." In response, 13 NEC members (one third of the NEC), including representatives from four trade unions (Transport Salaried Staffs' Association, Fire Brigades Union, Associated Society of Locomotive Engineers and Firemen and Unite the Union) wrote to Keir Starmer, accusing his office of misleading them about how the party dealt with leaked WhatsApp messages by senior officials detailed in the report and accusing party officials of defending "racist, sexist and abusive" messages about colleagues, and "also directly prejudged the specific issues that Martin Forde's inquiry is considering … and thereby undermines its independence". The NEC members called for an apology and retraction from Starmer."
The leaks show Labour party officials opposed to Jeremy Corbyn worked to lose the 2017 general election in the hope that a bad result would trigger a leadership contest to oust him, a dossier was drawn up by the party suggests.
A huge cache of leaked WhatsApp messages and emails show senior officials from the party's right wing, who worked at its HQ, became despondent as Labour climbed in the polls during the election campaign despite their efforts to undermine Jeremy Corbyn and any chance of a Left leaning Corbyn government.
The 860-page document claims that "an abnormal intensity of factional opposition to the party leader" had "inhibited the proper functioning of the Labour Party bureaucracy" and contributed to "a litany of mistakes" in dealing with antisemitism, which it admits was a serious problem in the party.
Tactics by anti-Corbyn staff evidenced in the report include channelling resources to candidates associated with the right wing of the party, refusing to share information with the leader's office, and "coming into the office and doing nothing for a few months" during the election campaign.
The report says hostile staff created a chat so they could pretend to work while actually speaking to each other, with one participant stating that "tap tap tapping away will make us look v busy".
They stopped a manifesto of hope from becoming a reality.
John Mcdonnell wrote of the report in 2020
The document chronicles many failures in the complaints process and includes evidence from thousands of emails, messages and two WhatsApp groups featuring senior management. These internal messages have sparked further controversy, as they appear to show that senior party staff were viciously cruel to members of our shadow cabinet, and were even actively working to undermine the party's electoral success.
The report will have been especially affecting for those who worked so hard and enthusiastically, delivering leaflets, knocking on doors and hitting those phone lines, to try to secure the election of a Labour government in 2017. If its contents are accurate – and so far, I understand that there has been no public denial of the veracity of the internal communications exposed – the hearts of many party members and supporters will be broken.
It has been calculated that Labour came within 2,500 votes, spread across a limited number of constituencies, of forming a government in 2017. If what is reported in the leaked document is true, that a group of senior staff undermined the chances of Labour going into government, it would represent the most shocking act of treachery against the party, its members and our supporters in Labour's century-long history.
It would also represent a betrayal of all those who desperately needed a Labour government, especially in light of the current crisis.
We could now have been in the third year of a Labour government fully funding an NHS, which would consequently be so much better resourced and prepared for the coronavirus pandemic. The nurses and health workers and carers we go out to clap every Thursday evening would have had a decent pay rise, which the Conservatives voted to deny them. We would have celebrated the third anniversary of Labour's formation of a National Care Service, fully funded to provide quality care for our elderly and vulnerable fellow citizens, with carers professionally recognised and properly paid.
So if the report has weight, expect all of us whose dreams of this transformative Labour government were shattered in 2017 to be angry.
It is a travesty that political parties have become so unaccountable to the public their members and even the Law, today the only avenue left is to vote out these grifters from both parties. We've adopted the American system of politics, impeachments, lawsuits, and generally no real issues being resolved politically or socially.
This is what happens when barristers and solicitors dominate a working class party.
Support Labour Heartlands
PLEASE HELP US KEEP GOING AD-FREE
HELP US GROW.
This is a "Pay as You Feel" website.
This blog has no source of state, corporate or institutional finance whatsoever. It runs entirely on voluntary subscriptions from its readers – many of whom do not necessarily agree with every article, but welcome the alternative voice, insider information and debate.
You can have access to all of our online work for free. However if you want to support what we do, you could make a small donation to help us keep writing and staying ad-free. The choice is entirely yours.