Dave Nellist promises to stand up for the working class against Red Tories, Blue Tories or Yellow Tories.
The Erdington by-election and Socialist Coalition (TUSC) today announced that Dave Nellist is to contest the forthcoming Birmingham Erdington parliamentary by-election on behalf of the left-wing alliance.  During his time as a Midlands Labour MP from 1983-1992, Dave was a backbench parliamentary colleague of Jeremy Corbyn and would often be pictured protesting on important issues.
Dave, who was the MP for Coventry South East for nine years and later, for 14 years, a Coventry city councillor for the Socialist Party from 1998 to 2012.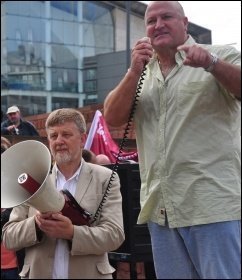 TUSC was co-founded in 2010 by the late Bob Crow, the RMT transport workers' union leader. Along with the RMT, a constituent organisation of TUSC, its national steering committee involves leading trade unionists from seven other unions together with the Socialist Party, Resist – the party established by the former Labour MP Chris Williamson – and independent socialists.
Nellist chose to "get by" on a wage closer to that of the people he represented.
Dave Nellist was well-known during his time in parliament for only taking an ordinary worker's wage, he give away over half of his MP's bloated salary – currently £82,000 a year – to trade unionists and working class campaigners fighting to defend their livelihoods and communities.
Mr Nellist said he saw his political career as being akin to that of a union rep in a factory.
"At the time time, we were going into the [MP] job like a convenor in a factory, we had the time to do the job but not three times the wage or holidays," he said.
"The engineering union used to work out the returns of all the factories in Coventry and averaged their wages – equivalent to £28,000 or £29,000 nowadays – so that was what I took home.
"I accepted every penny of the full salary, but as the Labour Party we gave away roughly £35,000 [per year in today's money] to help the families of miners in the 80s, community groups, pensioners."
He said receiving less money did not damage "the responsibility" he had to his family and he was very proud of the way his children grew up.
"They didn't want for anything. We went camping as a family for two weeks every year – and still do – like many people.
"I came off factory wages and into that job on the same. I've never had anything different so you don't miss what you've not had."
Mr Nellist added that as a Coventry City Councillor for 12 years until 2012, he continued to take home the same wage by reducing the hours of his full time job at an advice agency.
He dismissed the idea that the more someone is paid, the more they will achieve.
"Why should MPs be any better? How many millions have we been paying the bankers, how many millions do we pay footballers?
"I don't accept the idea that those prepared to live the same life as their constituents are going to be any less representative."
Accepting the TUSC nomination for the Erdington contest, Dave said: "With Sir Keir Starmer's Labour welcoming a Tory MP into the parliamentary party last week – while confirming Jeremy Corbyn's exclusion from the PLP at its national executive committee meeting on January 25th – it couldn't be clearer that the interests of Britain's wealthy establishment will be in safe hands if and when they decide to move on from Boris Johnson's disintegrating premiership. Starmer is so obviously not on our side".
"In contrast, I and the rest of the TUSC coalition wholeheartedly supported Jeremy's leadership of the Labour Party as an opportunity to put someone in Number Ten who would challenge what he called the 'rigged system' – in other words, capitalism – that works in the interests of a rich and powerful minority".
"So the Trade Unionist and Socialist Coalition, co-founded in 2010 by the late transport workers' leader Bob Crow, adjusted its electoral activity in response, not standing candidates in either the 2017 or 2019 general elections".
"But we also warned that the followers of Tony Blair within Labour – like Keir Starmer – didn't support the socialist policies of taxing the rich and public ownership that are needed to overturn the 'rigged system' and that they would drop the Labour manifesto policies of 2017 and 2019 as soon as they had the chance".
"And so it has come to pass, with Starmer, for example, explicitly ruling out public ownership of the big oil and gas companies even as they boost shareholder dividends from our hiked up energy bills".
"That is why I am proud to represent TUSC in the Birmingham Erdington by-election and would urge other trade unionists, socialists and community campaigners to also consider standing for TUSC in the forthcoming local council elections in May".
"Red Tories, Blue Tories or Yellow Tories carrying out policies against the interests of the working class majority cannot expect to be unchallenged at the ballot box".
At this point, it is unclear whether other Left-wing parties will be fielding candidates the WPGB or the CPB have at this point not declared and my well for a Left alliance on this occasion.
Labour has announced its candidate for the Birmingham Erdington by-election.
Local councillor Paulette Hamilton, an NHS nurse for 25 years, was chosen by the party on Wednesday.
The election follows the death of Labour MP Jack Dromey earlier this month, who had held the seat for nearly 12 years.
She said she wanted to tackle key issues affecting the area such as food and fuel poverty, community safety and fly-tipping.
You can find Dave on Facebook HERE or Twitter HERE.
Support Labour Heartlands
Help Us Sustain Ad-Free Journalism
Sorry, I Need To Put Out the Begging Bowl
Independent Journalism Needs You
Our unwavering dedication is to provide you with unbiased news, diverse perspectives, and insightful opinions. We're on a mission to ensure that those in positions of power are held accountable for their actions, but we can't do it alone. Labour Heartlands is primarily funded by me, Paul Knaggs, and by the generous contributions of readers like you. Your donations keep us going and help us uphold the principles of independent journalism. Join us in our quest for truth, transparency, and accountability – donate today and be a part of our mission!
Like everyone else, we're facing challenges, and we need your help to stay online and continue providing crucial journalism. Every contribution, no matter how small, goes a long way in helping us thrive. By becoming one of our donors, you become a vital part of our mission to uncover the truth and uphold the values of democracy.
While we maintain our independence from political affiliations, we stand united against corruption, injustice, and the erosion of free speech, truth and democracy. We believe in the power of accurate information in a democracy, and we consider facts non-negotiable.
Your support, no matter the amount, can make a significant impact. Together, we can make a difference and continue our journey toward a more informed and just society.
Thank you for supporting Labour Heartlands
Just click the donate button below