Boris Johnson's 'lies have finally caught up with him'.
Boris Johnson has apologised over a party held at Downing Street during the first coronavirus lockdown, as he faced MPs at Prime Minister's Questions.
Yesterday Labour's deputy leader Angela Rayner described the revelations about the Downing Street garden party as "disgusting" and "despicable".
"At the time many people couldn't see their loved ones who were dying, the British people were told to do the right thing to keep people safe and look after their relatives," she told Sky News.
"We were in a time of crisis and we needed good leadership and what we got is somebody who was good at telling lies and fibs… I think the British public now have just about had enough."
In a heated session in parliament during PMQs, opposition Labour leader Sir Keir Starmer called on Johnson to resign.
It comes amid public and political fury over the latest allegations that the prime minister and his staff flouted lockdown restrictions by having a party in May 2020.
A leaked email purportedly shows a top official from Johnson's office invited more than 100 staff to a garden party in May 2020, with a proposal to "bring your own booze". Reports in UK media suggest the prime minister attended the event with his wife Carrie.
The police confirmed on Monday night that they were in "contact" with the government about the matter, which could become the subject of an inquiry for violating COVID-19 health restrictions.
At the time, lockdown restrictions had been in place since late March. It was forbidden to meet more than one other person from another household outdoors in a public place.
According to the Sunday Times, the PM's principal private secretary, Martin Reynolds, invited more than 100 Party officials to the gathering on May 20 2020, urging them to "BYOB" (bring your own booze) and 'make the most of the lovely weather '.
The email urging aides to 'make the most of the lovely weather' apparently cause shock among some recipients, who exchanged comments including 'Why is Martin encouraging a mass gathering in the garden?' and 'Is this for real?'
It's claimed that dozens of Johnson's staff, as well as the prime minister himself along with his wife, attended the event in the Downing Street garden during the first coronavirus lockdown, at a time when social mixing was banned.
A witness said: "There were 40 people in the garden, including Boris and Carrie. There were long tables laden with drink, crisps, sausage rolls and other picnic food. It was a proper booze-up."
Johnson admitted attending the party during the Prime ministers' questions session, claiming he thought it was a works event and stayed for around 25 minutes. The question of why his wife also attended while the country was under covid restrictions even if it was a if it was a works event was not asked.
"I want to apologise," Boris Johnson said as he appeared before MPs. "I know that millions of people across this country have made extraordinary sacrifices over the last 18 months," adding that he recognised their "anguish" at being unable to mourn relatives and live their lives normally.
"I know the rage they feel with me and with the government I lead, when they think that in Downing Street itself the rules are not being properly followed by the people who make the rules."
"There were things that we simply did not get right, and I must take responsibility," the prime minister added. Admitting that he attended the drinks party, he said he was there for 25 minutes and "thought it was a work event".
Starmer described Johnson's response as "offensive to the British public", who were obeying lockdown rules while the prime minister and his staff were "hosting boozy parties in Downing Street". He accused Johnson of "lying through his teeth" and called on him to "do the decent thing, and resign".
The prime minister accused the opposition leader of making a political point, saying he would not pre-empt the outcome of the current internal inquiry. A senior civil servant is investigating reports that Johnson's staff held several social events during lockdowns.
The leader of the Scottish National Party (SNP) in parliament, Ian Blackford, accused Boris Johnson of "betraying the nation's trust" and "treating the public with contempt".
As well as opposition figures, even some within Johnson's own ruling Conservative Party have called on him to quit — and his answers will be closely scrutinised.
According to ITV News, Johnson's principal private secretary sent an email to around 100 people, inviting them to "bring your own booze" to "socially distanced drinks". Some 30-40 people are said to have attended.
A social media post by the Metropolitan Police on the same day of the party reminded people that they could enjoy being outside as long as they were "on your own / with people you live with / just you and one other person".
Have you been enjoying the hottest day of the year so far? ?

It is important that we all continue to #StayAlert

You can relax, have a picnic, exercise or play sport, as long as you are:

➡️ On your own
➡️ With people you live with
➡️ Just you and one other person pic.twitter.com/LAVe6DScQ5

— Metropolitan Police (@metpoliceuk) May 20, 2020
Millions of people around the country desisted from holding social events, during the early stages of the the pandemic, months before the vaccination rollout. Thousands of people died, while many were unable to visit sick relatives or attend funerals.
Government ministers and some Tory politicians have reserved judgement on the prime minister in media interviews, citing the ongoing internal inquiry into alleged parties at Downing Street during lockdowns.
But many in private are furious, and after a series of scandals last year, some have publicly questioned whether Johnson should remain as party leader and prime minister.
Johnson has previously repeatedly denied that lockdown guidelines were broken by his staff, including when he has appeared before parliament.
PM's speech 'carefully lawyered', say experts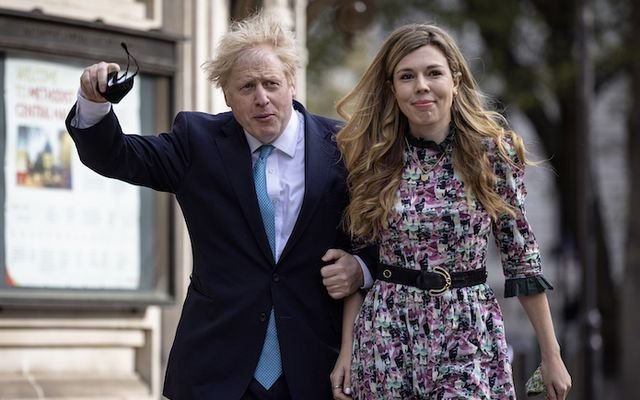 Boris Johnson's apology was "carefully lawyered", a legal expert has said.
Adam Wagner, a human rights barrister at Doughty Street Solicitors, writes: "The apology – when read carefully – was to the millions of people who 'wouldn't see it in that way', but because he also said technically it could be said to fall within the guidance he is implicitly saying the millions of people are wrong in their interpretation.
"This was only what *he* thought the event was. He 'went into the garden to thank groups of staff for 25 minutes [he] believed implicitly this was a work event'.
"So defence is a personal one only and leaves open the possibility the event was something else without him realising.
"This is very much about his personal liability – he is implicitly denying he knew what the event was, had seen the email or had anything to do with it. Because here's the key point: on the wording of email ('bring your own booze') this couldn't technically have been a work event."
Labour Heartlands say, they may be clever words but that still doesn't explain why he took his wife…
Support Labour Heartlands
Help Us Sustain Ad-Free Journalism
Sorry, I Need To Put Out the Begging Bowl
Independent Journalism Needs You
Our unwavering dedication is to provide you with unbiased news, diverse perspectives, and insightful opinions. We're on a mission to ensure that those in positions of power are held accountable for their actions, but we can't do it alone. Labour Heartlands is primarily funded by me, Paul Knaggs, and by the generous contributions of readers like you. Your donations keep us going and help us uphold the principles of independent journalism. Join us in our quest for truth, transparency, and accountability – donate today and be a part of our mission!
Like everyone else, we're facing challenges, and we need your help to stay online and continue providing crucial journalism. Every contribution, no matter how small, goes a long way in helping us thrive. By becoming one of our donors, you become a vital part of our mission to uncover the truth and uphold the values of democracy.
While we maintain our independence from political affiliations, we stand united against corruption, injustice, and the erosion of free speech, truth and democracy. We believe in the power of accurate information in a democracy, and we consider facts non-negotiable.
Your support, no matter the amount, can make a significant impact. Together, we can make a difference and continue our journey toward a more informed and just society.
Thank you for supporting Labour Heartlands
Just click the donate button below