The Diva Departs: Nadine Dorries' Theatrical Farewell to Westminster, what a Pantomime.
Well, knock me down with a feather – the Right Honorable Member for Mid Bedfordshire has finally resigned, two months after vowing to depart "with immediate effect." Apparently in Westminster-speak, "immediate" actually means "leisurely saunter off whenever I feel like it."
After drawing her ample MP's salary for months while doing a cracking impression of the Invisible Woman, the magical Dameless Dorries has decided to release her abandoned constituency from purgatory. The poor townsfolk resorted to lighting smoke signals and praying to the Patron Saint of Absentee MPs, but alas, their vanishing representative remained out of reach in the jungle, no doubt relying on her crack team of ghost caseworkers.
Waiting in vain for an explanation of why she was denied the peerage she clearly feels entitled to, Dameless Dorries carried on treating Parliament like a personal green room. Even Sunak criticizes her for failing to actually represent real people, imagine that! What a novel concept – doing the job you're paid for instead of obsessing over billing and billing. imagine that! The audacity of a Tory prime minister pretending they represent the people.
Now Nadine has flounced off in a righteous huff, but not before blasting young Rishi 'The Mouse of Westminster' for having the audacity to become PM without her blessing. She fumes that the country is adrift leaderless without her and the boy King Boris – my, doesn't she have a high opinion of her talents? Perish the thought of a Britain deprived of her peerless vision. Maybe I should alert the cartographer to immediately erase the realm from all maps, for it is but a shadow kingdom in their absence. But then again she may be right…
In a criticism of Sunak's leadership, she stated: "Since you took office a year ago, the country is run by a zombie Parliament where nothing meaningful has happened.
"You have no mandate from the people and the government is adrift. You have squandered the goodwill of the nation, for what?"
She continued: "It is a fact that there is no affection for [Labour leader] Keir Starmer out on the doorstep. He does not have the winning X factor qualities of a Thatcher, Blair or a Boris Johnson, and sadly, prime minister, neither do you."
Amid that grandiose proclamation, more than a hint of truth. The Tories are indeed in disarray, steering a sinking ship towards an uncertain horizon. There may be a chance for a left-wing opposition. Alas, the glimmer of hope quickly fades as we remember the opposition at the helm is none other than Sir Keir Starmer the kid starver– a Red Tory if ever there was one with strings being deftly pulled from behind the curtains by the same oligarchy that controls the other lot.
But what an absolute delight to witness such a masterclass in humility and grace as Nadine exits the stage. The echoes of her departure will undoubtedly resonate through the annals of parliamentary history, leaving an indelible mark. One can't help but imagine the solemn unveiling of a bronze statue, forever immortalising her unparalleled contributions – a selfless legacy etched in perpetuity, as if…
But fear not – though she abandons her flock, wannabe Dame Dorries shall continue leading by example from afar, no doubt refreshing herself at a luxury spa before mounting her next celebrity jungle adventure. British politics shall be so much the poorer without her peerless gifts, but we must soldier on in this diminished state. The people's loss is reality television's gain.
Of course, Dameless Dorries shot a few parting lines at Sunak what self-serving deva wouldn't lash out just a little? She accused the flagging prime minister of failing to work with UK companies to boost opportunities, saying: 'You flashed your gleaming smile in your Prada shoes and Savile Row suit from behind a camera, but you just weren't listening.'
In further histrionics directed at the little mouse of Westminster, Rishi Sunak, the Dameless Dorris penned a scathing dramaturgical monologue, bemoaning the "electoral tsunami" about to sweep away her poor colleagues' "livelihoods" – a catastrophe entirely of the Conservatives' own making, of course.
She added: Your actions have left some 200 or more of my MP colleagues to face an electoral tsunami and the loss of their livelihoods, because in your impatience to become prime minister, you put your personal ambition above the stability of the country and our economy.
"Bewildered, we look in vain for the grand political vision for the people of this great country to hold on to, that would make all this disruption and subsequent inertia worthwhile, and we find absolutely nothing." she laments.
Well, whose fault is that, Nadine? Your party has been directing this aimless farce for over a decade now. But easier to fling barbs at the latest leading man than accept you and your starlets wrecked the show.
Well, the diva has finally flounced off, leaving behind a cast of understudies to clean up the plot holes and continuity errors littering the stage. Perhaps her successor might focus more on public service than settling personal scores and hunting for the next marquee role. We can hope, but today's political theatre selects for primadonnas, not selfless character actors committed to the craft.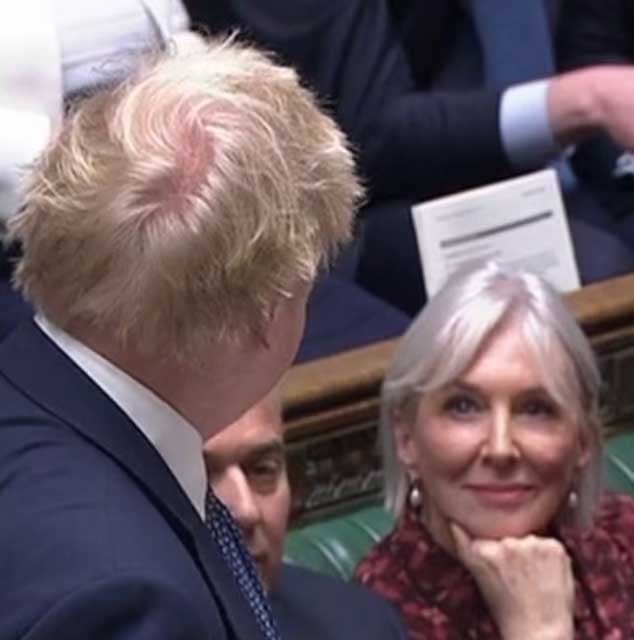 This petulant exit sums up the superficiality and entitlement poisoning the well of public life. Dameless Dorries glided from reality show to high office on little more than ruthless ambition and shameless thirst for fame. Now denied the starring role she craves, At least one hopes her successor hews to sturdier stuff, shunning the transient glare of fame for actual service.
But such selfless examples seem in short supply these days. So Dameless Dorries departs the political stage, leaving behind more melodrama than meaningful achievement. One doubts she'll exit gracefully into quiet retirement…there are always more cameras to preen in front of. Until then, her constituents are left cleaning up the debris from her wanton toddler tantrum.
Her decision opens the way for another awkward byelection for the Conservatives in what should be an ultra-safe Tory seat. In 2019, Dorries won the seat with a 24,664 majority over Labour.
However, Sunak's party is still reeling from the loss to Labour of Selby and Ainsty, in North Yorkshire, in a byelection earlier this summer. In that contest, Labour overturned a Tory majority of just over 20,000, suggesting that even the safest seats are now vulnerable."
Let's see who hits the billboards for the next show, at this point all we know is that both parties self-identify as Tories…
Support Labour Heartlands
WAIT! BEFORE YOU GO
PLEASE HELP US KEEP GOING AD-FREE
This is a "Pay as You Feel" website.
Your support for Labour Heartlands is greatly appreciated. As an independent nonprofit news outlet, we rely on our members to hold the powerful accountable. Our kind of reporting is essential to democracy, but it is not easy, cheap, or profitable.
To continue providing impactful journalism, we need your help. It's getting really hard for us all. Becoming one of our donors. It's simple and doesn't have to cost a lot. With as little as £2, £3, or £5 a month, you can support the journalism you rely on.
While we do not align ourselves with any particular political party, we stand firmly against corruption, injustice, and the erosion of truth and the rule of law. We believe that accurate information is the lifeblood of a democracy and that facts are not up for debate.
Your contribution, no matter how small, goes a long way in helping us continue our mission. Together, we can make a difference.
Thank you, The Labour Heartlands Team
PLEASE HELP US KEEP GOING AD-FREE