Theatre of Hypocrisy: Perks, Privilege, and Corporate Influence on Our Democracy
The corridors of Westminster have long been adorned with broken promises and principles, cast aside like the words of a manifesto. Pledges dropped Sutley smoothed along the way with the allure of lavish 'perks' and donations that bring with them an enchanting spell creating an air of privilege on our politicians, each new freebie morphs into a gateway bribe dressed in the attire of respectability.
Of course, these corporate benefactors all realise the truth in that old Yorkshire saying: 'You won't get owt for nowt' They understand these thinly veiled kickbacks serve as golden tickets, granting access, wielding influence, and commanding preferential treatment, all while sowing the seeds of corruption within the very fabric of our democracy.
In the face of this corrosive charade, one might reasonably expect our elected representatives to remember their solemn duty: to champion the voices of the people, rather than brazenly indulging themselves at the public trough. Alas, the privilege of public office, once a symbol of duty, has become an avenue for personal enrichment, leaving us to ponder whether these self-serving charlatans have lost sight of their purpose amid their opulent revelry.
Yet here we are with more than 100 MPs who have enjoyed free hospitality to concerts and sporting events worth more than £180,000 this summer alone, with tickets given away by banks, oil companies, the gambling industry, and media firms. All this while the public faces the worst cost of living crisis in decades.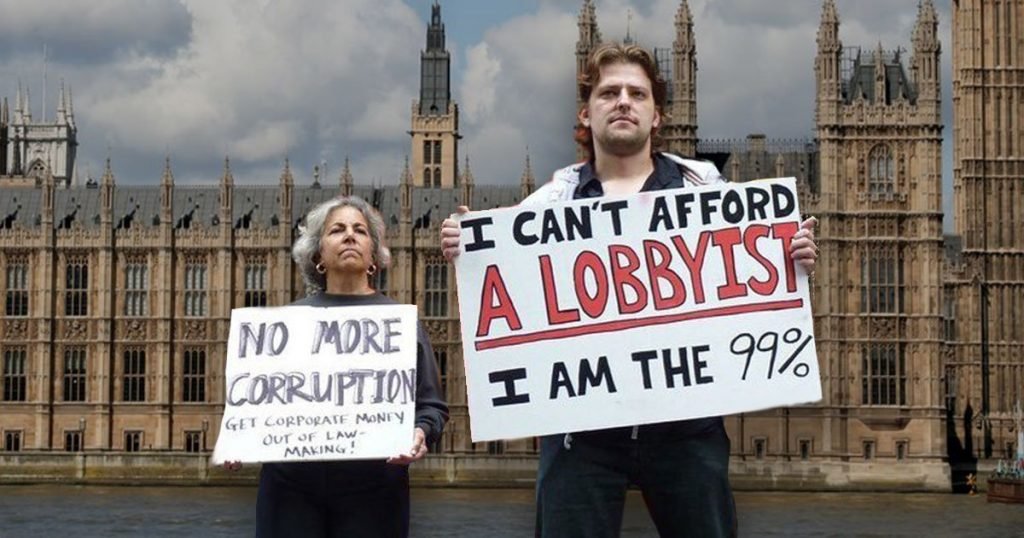 Nobody had a doubt the Tories would have no compulsions at dipping their bread into the troth, not satisfied with their corrupt dishing out of public funds to friends and family during the covid giveaway they continue to act as if they are entitled.
Findings reveal several ministers hosted and handed out freebies by companies including Chancellor Jeremy Hunt who was taken to the Chelsea flower show by Lloyds Banking Group in a benefit worth more than £600, as well as accepting theatre and opera tickets you would just pass it off as parr for the course.
But it is when you drill down you start to understand the implications of such privilege. You start to understand the true value of these small, yet significant so-called gifts, you understand the value is influence.
Paul Scully, Parliamentary Under-Secretary of State for Tech and the Digital Economy accepted £1,100 worth of tickets to a Billy Joel concert from the Betting and Gaming Council, and Wimbledon hospitality to the tune of £1,560 from the oil and gas company, BP, while Andrew Griffith, a Treasury minister, accepted a £400 ticket to the Ashes and £2,000 of hospitality at Silverstone from his former employer, Sky.
The deputy prime minister, Oliver Dowden, declared five sets of free tickets including a £1,210 trip to the Chelsea flower show courtesy of Fenchurch Advisory, an investment firm run by Tory donor Malik Karim, as well as trips to Ascot, the Royal Opera House and Formula One.
These are just a few examples and won't raise many eyebrows however when you take into consideration the fact most people are struggling right now, and it is precisely those profiteering companies that are stealing the coin from our pockets while splashing out on lavash lifestyles for our already well-paid politicians it starts to stinck a little. But what really cuts to the bone is when you start to look at the Labour party. The so-called representatives of the working-class movement.
From Perks to Policy: How Corporate Gifts Shape Political Agendas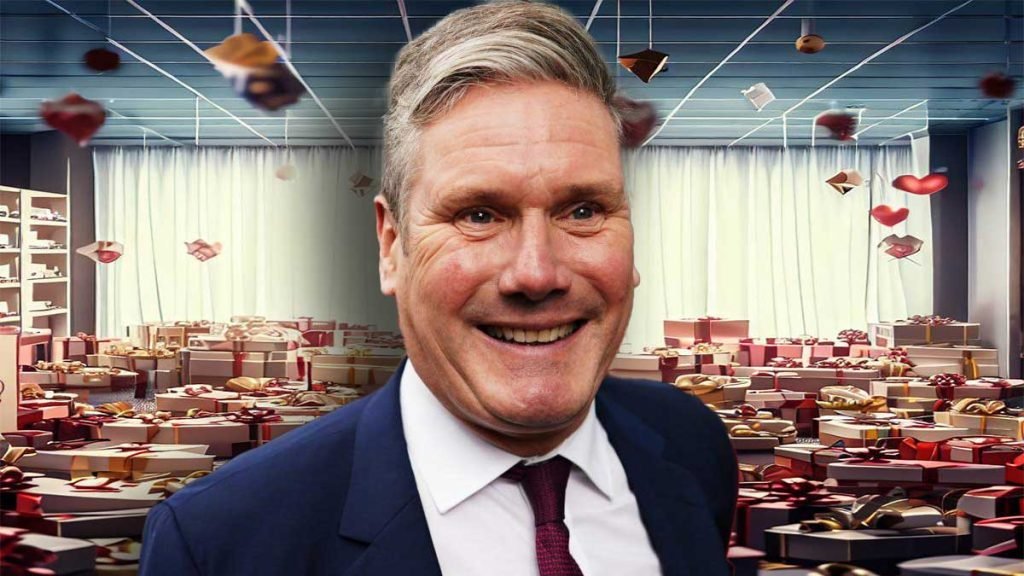 Enter Keir Starmer, Amidst the backdrop of a pandemic-induced lockdown, Starmer's calendar seems to have burst into life, adorned with days at the races, glittering concerts, and privileged hospitality at premier sporting events. The offerings totaling a princely sum of nearly £30,000, have flowed in from an array of sources, including multi-millionaire donors, gambling moguls, the digital marketplace GETIR, and the construction behemoth Mulalley & Co.
Starmer has not only accepted and taken more so-called freebies than any other Labour leader. He has taken more than all the former Labour leaders combined since these records began back in 1997.
The contrast with his predecessors becomes starkly evident. Jeremy Corbyn's tenure, marked by a single instance of accepting free tickets to Glastonbury, stands as a testament to his refusal to be ensnared by corporate courtesies. Former Corbyn adviser Andrew Fisher, encapsulated the essence perfectly, as he told openDemocracy, "Politicians at any level shouldn't be beholden to corporate interests. They're elected to represent the people, and are well paid for it."
His predecessors, Ed Miliband's acceptance was limited to tickets for the London Olympics and Paralympics opening and closing ceremonies, along with several contests during the games. Gordon Brown, during his tenure as both Labour leader and prime minister, steered clear of such gifts.
Tony Blair may have thought of himself more a president than a prime minister while embracing a life of globetrotting, indulging in summer holidays alongside the regional president of Tuscany and at Cliff Richard's Caribbean retreat. However, Blair's acceptance of gifts pales in comparison to Starmer's, during his entire tenure as prime minister. Furthermore, Blair often redirected the value of these offerings to charitable causes, a practice that stood as a testament to a different kind of leadership.
Among the ranks of companies extending offerings to Starmer and his office are notable names, including the groceries delivery app GETIR, the fast food delivery titan Just Eat, and Matthew Moulding, the CEO of the burgeoning online retail empire, The Hut Group, which has recently ventured into the realm of hotels.
An intriguing revelation from openDemocracy reveals that Moulding, in an act of hospitality, facilitated accommodations for Starmer and a trio of companions in his opulent Manchester establishment, The King Street Townhouse. This boutique haven boasts an infinity pool that offers vistas of Manchester's iconic town hall. Its restaurant tantalizingly promises an unforgettable dining experience, a description that finds a harmonious echo in The Telegraph's portrayal of it as a "lavish urban retreat."
The Hut Group declined to elaborate on the rationale behind their provision of complimentary lodging to Starmer and his associates.
Meanwhile, GETIR presented Starmer with "four tickets with hospitality" for a Tottenham Hotspur vs Arsenal match, a bundle valued at £1,600. This match, which witnessed Starmer's attendance due to his Arsenal allegiance, unfolded at the Spurs stadium. The executive suite, a space where "private gourmet dining" and meticulously crafted menus by world-renowned chefs converge, underscores the upscale ambience.
Speaking to openDemocracy, a staff collective of GETIR employees in Germany, where the firm is more established than the UK, said it was "like working in a cartel", and that employees are often too afraid to speak out against the violation of their rights. GETIR didn't respond to the request for comment.
Amid this tableau, Just Eat emerges with two sets of tickets in 2021, granted to Starmer – invitations to the British Kebab Awards and the esteemed 'Taste of London' event. Admirably, Starmer opted to share these tokens with his office staff. However, it's worth noting that Just Eat finds itself embroiled in legal wrangling, confronted by lawyers championing the rights of its workers. These workers allege that the company, by categorizing them as self-employed, denies them fundamental entitlements like holiday pay and minimum wage.
Recent reports have indicated that Starmer is now considering rolling back on previous commitments to enhance rights for workers in sectors like the online delivery market, where jobs are notoriously precarious.
Amid this landscape, the North of Tyne mayor Jamie Driscoll, who recently parted ways with the Labour Party, issues a stern denouncement of the perks culture. He questions the necessity for MPs to indulge in complimentary tickets and lavish affairs, asserting that it's incongruent with the very essence of their elected responsibilities.
Starmer is paid £149,682 a year for his work as an MP and as leader of the opposition, and also received an £18,450 advance for a book in 2022 from the Rupert Murdoch-owned publishing house Harper Collins.
This prompts us to question the veracity of our democratic foundations. While accepting hospitality remains within legal bounds, the implications for transparency and ethical governance cannot be understated. As the moral fabric of our democracy is tested, the words of Alex Beatty from Spotlight on Corruption reverberate: "Hospitality enables private interests with the deepest pockets to access and potentially influence MPs and ministers." This erosion of integrity, driven by corporate indulgence, threatens to corrode the very essence of decision-making, tilting the balance in favour of corporations at the expense of the common good.
Rose Whiffen, from Transparency International UK, adds a final note of caution. The convergence of parliamentarians and private interests during social occasions, obscured by limited rules, casts a pall over the sanctity of the democratic process. The clarion call for updated rules to curb this informal lobbying loophole resounds with urgency, invoking the necessity of safeguarding the integrity of our political sphere.
As an inherent irony emerges for these MPs who love the theatre so much that these political performers bask in their 'perks' – a euphemism for veiled kickbacks – while preaching the gospel of public service. The very foundations of democracy crumble under the weight of thinly disguised bribes, tainting the purity of representation. It's an orchestra of hypocrisy where the grand crescendo is a symphony of betraying the populace's trust.
Support Labour Heartlands
Help Us Sustain Ad-Free Journalism
Welcome to the Heartlands of Independent Journalism
At Labour Heartlands, we are committed to delivering independent news, views, and opinions. Our mission is to hold those in power accountable, and we can't do it without your support. As a non-profit independent organisation, we rely on our donors to keep our journalism ad-free and impactful.
Like everyone else, we're facing challenges, and we need your help to stay online and continue providing crucial journalism. Every contribution, no matter how small, goes a long way in helping us thrive. By becoming one of our donors, you become a vital part of our mission to uncover the truth and uphold the values of democracy.
While we maintain our independence from political affiliations, we stand united against corruption, injustice, and the erosion of free speech, truth and democracy. We believe in the power of accurate information in a democracy, and we consider facts non-negotiable.
Your support, no matter the amount, can make a significant impact. Together, we can make a difference and continue our journey toward a more informed and just society.
Thank you for supporting Labour Heartlands
Just click the donate button below