Nazanin Zaghari-Ratcliffe has finally been FREED by Iran and will head back to her family in Britain after six torturous years apart.
Following intense haggling and years of false hope will, at last, be reunited with husband Richard and daughter Gabriella in Hampstead.
It comes after the 44-year-old's British passport was returned to her on Tuesday, raising hopes of her return to the UK.
This morning, BBC news reader Joanna Gosling become emotional as she broke the news of Zaghari-Ratcliffe release live on air.
Her lawyer said that Ms Zaghari-Ratcliffe and Anousheh Ashouri, another detained British-Iranian, were both on their way to Tehran airport.
Aid worker Nazanin, 44, was arrested in 2016 and convicted of plotting to overthrow the government.
She was thrown in jail for five years and served another year under house arrest.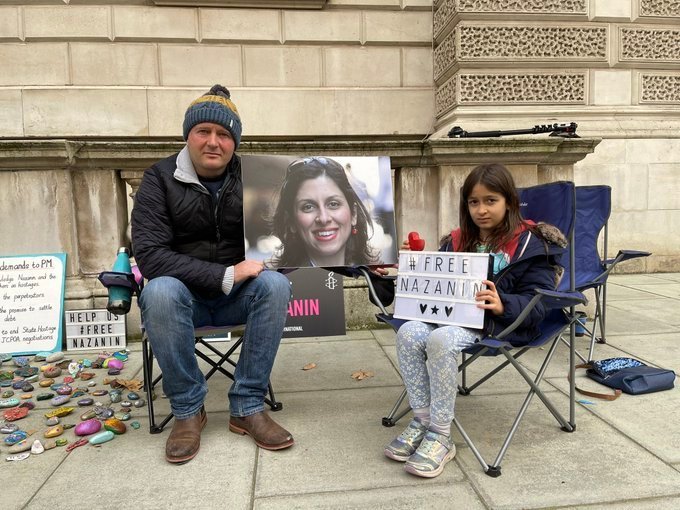 Nazanin Zaghari-Ratcliffe Husband Richard has kept this travesty in the public eye along with activists and Campaigners who have pressured government and politicians to bring Nazanin home.
Iranian state media said the UK has "settled a long-overdue debt" of around £400 million to Tehran.
Foreign Secretary Liz Truss previously said there was a British team in Tehran working to release British-Iranian dual nationals in Iran, including Zaghari-Ratcliffe.
Ms Truss said the UK was working "very hard" to "secure the release of Nazanin", and other dual-nationals.
The Cabinet minister said it was also a "priority to pay the debt that we owe to Iran" – a reference to the £400million outstanding in relation to a cancelled order for 1,500 Chieftain tanks dating back to the 1970s – but stressed she could not say anymore.
Of course, the UK still holds the whistleblower and journalist Julian Assange at her majesties pleasure awaiting extradition to the US where he could face torture and a prison sentence of 165 years, for telling the truth on war crimes.
Support Labour Heartlands
PLEASE HELP US KEEP GOING AD-FREE
HELP US GROW.
This is a "Pay as You Feel" website.
This blog has no source of state, corporate or institutional finance whatsoever. It runs entirely on voluntary subscriptions from its readers – many of whom do not necessarily agree with every article, but welcome the alternative voice, insider information and debate.
You can have access to all of our online work for free. However if you want to support what we do, you could make a small donation to help us keep writing and staying ad-free. The choice is entirely yours.