Voyage of the Damned: The Bibby Stockholm Fiasco
In a rather chilling display of ineptitude and disregard for human welfare, that could have come straight out of the annals of a Kafkaesque tragedy, the Bibby Stockholm, a massive vessel hired by the Home Office under the auspices of an eye-watering £1.6 billion immigration deal, have proven to be harbouring more than just the echoes of governmental folly, but a potential breeding ground for disease.
The latest revelation: a lurking presence of legionella bacteria lurking within the vessel's water system.
Imagine, if you will, a rusting behemoth afloat in the serene waters of Portland Port, Dorset. This is the place where this asylum-seeking charade began, with hopeful souls stepping aboard the Bibby Stockholm, unaware that their so-called "accommodation" was a veritable petri dish of peril.
A short-lived voyage coming after recent reports revealed that the dread spectre of legionella, that malevolent bacterium known for its knack for inducing debilitating lung infections, has made its ominous presence known in the very water system that has now become the bane of both the government and the asylum seekers seeking refuge aboard the ill-fated vessel.
This aquatic infestation has led to a swift exodus of the occupants, making the very phrase "out of the frying pan and into the fire" seem like a melodious lullaby. What a novel way for the Home Office to play the role of the bumbling and indifferent landlord, pushing the dispossessed into perilous quarters without so much as a backward glance. Indeed, it is an act of tragicomedy that Kafka himself would have been hard-pressed to conjure.
For all who are not aware Legionnaires' disease, a severe respiratory affliction with an insidious penchant for masquerading as the common flu, is the spawn of this very bacteria, legionella. Inhaling these sinister microbes can potentially lead to a lung dance with the devil, while Pontiac fever, a milder yet equally unwelcome consequence, may also join the macabre ball.
No instances of disease have yet emerged amongst the asylum seekers – at least, none that officialdom has been willing to concede. However, a spokesperson for the Home Office maintains a facade of cautious concern, stating that the plague-bearing water warranted "further investigation" and that the 39 souls recently deposited on the Bibby Stockholm would be left to tread the safer shores until the microbial maelstrom was quelled. The spokesperson, with the subtly obtuse logic of a bureaucrat par excellence, affirms that while the aquatic contagion seems to have claimed dominion only over the vessel's waterworks, the rest of Portland remains blessedly immune.
One can only hope that the bacterium has not undertaken swimming lessons, lest it finds its way to the freshwater supplies of the town – a calamity the Home Office, in its infinite wisdom, assures us is not the case. Meanwhile, the benevolent overlords in the Home Office are working hand-in-hand with the UK Health Security Agency, Dorset Council's environmental health team, and the Dorset NHS – an ensemble cast of knights in shining lab coats, rushing forth to confront this aquatic menace.
Notably, several souls had wisely declined the dubious honour of embarking upon the Bibby Stockholm last week, heeding the foreboding murmurs of the Home Office's veiled threats. The ominous portents of an unsupported existence weighed heavier on their minds than the beguiling promise of this floating sanctuary.
Only Adults in the Room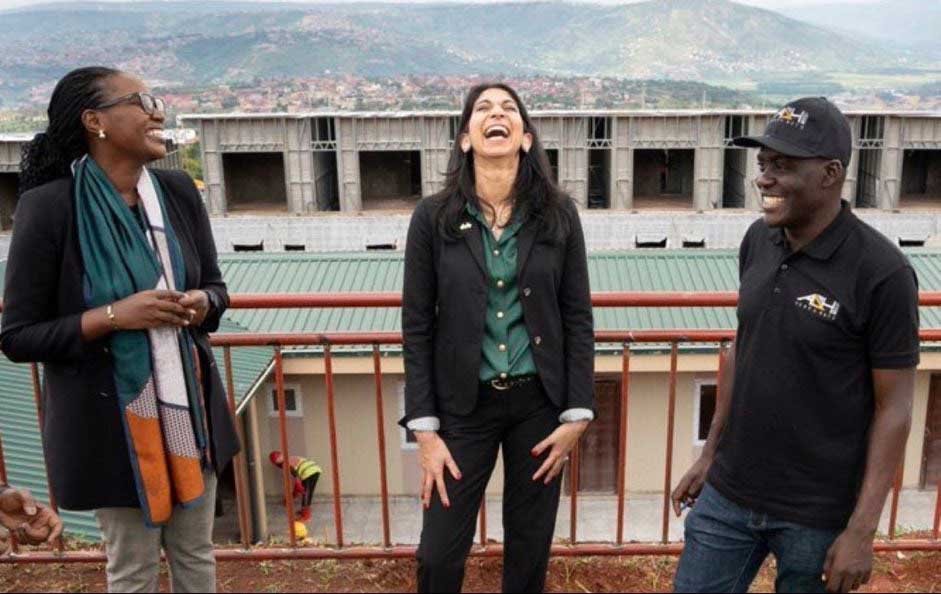 After yet another failure The home secretary, Suella Braverman is facing fresh pressure to scrap plans to house asylum seekers on barges. But what next?
What next is a very good question…This recent scandal serves as yet another woeful outcome stemming from years of heedless border policies, not solely limited to the United Kingdom but echoing across the expanse of Europe. Our feverish pursuit of virtue-signalling and open borders has left a gaping chasm where robust immigration controls should have stood.
Our inability to strengthen these safeguards or create effective pathways for refugees through lawful avenues stands as a shared oversight that should evoke unease, not solely within the realm of those who staunchly oppose any entry to this hallowed land, even barring their own kin should they tarry over a fortnight in Barcelona. No, this ought to instil a disquieting shiver across the spectrum, reaching even into the precincts of the left and those of liberal persuasions who take delight in their waiters and bar staff adorned with exotic accents, offering gracious "sirs" and "madams" at their service.
It is the ramifications of our joint actions that have unveiled a chilling truth – a truth starkly illustrated by the grim tally of over 20,000 migrants who have met their end while embarking on treacherous Mediterranean crossings since 2014.
These migrants, hailing from lands scarred by conflicts like Syria, Afghanistan, Sudan, and Pakistan, are each propelled by relentless desperation to flee their homes. The cruel concoction of circumstances, ranging from oppressive regimes and gnawing hunger to natural calamities and a dearth of economic opportunities, has compelled them to embark on perilous journeys.
The staggering numbers of those daring the hazardous passage continue to surge, an unsettling reality underscored by the fact that migrant arrivals to Europe by sea have notably spiked in recent years. The grim arithmetic reveals that the first half of 2023 witnessed almost twice as many arrivals in Europe during the first half of 2023 than during the same period last year.
Amidst this tumultuous sea of humanity, genuine asylum seekers find themselves ensnared within a merciless bureaucratic limbo. They languish in squalid camps throughout the EU or find scant refuge aboard ships and barracks that resemble nothing less than disease-ridden crucibles. These inhospitable confines, far from offering safety and solace, breed ailment and affliction, snuffing out the very hope that these desperate souls had clung to.
The gravity of this situation cannot be overstated. It is a collective failure, an indictment of our ability to navigate a humanitarian crisis with a modicum of responsibility and compassion. A responsibility the government has by default adopted along with a duty of care for the people undergoing the asylum prosses.
In boasting of doing their duty and carrying out that responsibly added a touch of tragicomedy to this already bewildering farce, Housing Secretary Robert Jenrick, in an impressive display of cognitive dissonance, christened the barge "perfectly decent accommodation," seemingly oblivious to the hullabaloo echoing from the Fire Brigades Union, who had aptly christened it a "death trap" mere moments before.
A Dorset council spokesperson said: "No individuals have presented symptoms of Legionnaires' disease, and there is no health risk to the wider community of Portland." It is understood that the Home Office is managing the search for alternative accommodation for the asylum seekers. A spokesperson for the charity Freedom From Torture said:
"The presence of life-threatening bacteria onboard the Bibby Stockholm is just another shocking revelation that we've seen unfold over the past few weeks. This government's punitive policies and deliberate neglect of the asylum system is not just cruel, it's dangerous. "This government urgently needs to stop forcing refugees into unsafe and undignified accommodation, and instead focus their efforts on rebuilding a compassionate and efficient system that protects people like me who have fled torture and persecution."
A spokesperson for the group Stand Up To Racism Dorset said activists were heading to the port to protest about the Home Office's treatment of asylum seekers. "This is yet another example of the Home Office's incompetence and inhumanity."
As the Bibby Stockholm stands as a beacon of governmental gaffes, its corridors now vacant and its waters seething with the spectral presence of legionella, one can't help but reflect on the woeful irony of a nation that, despite its storied past as a haven for the dispossessed, now seems to have lost its way amidst the treacherous waters of bureaucracy and neglect.
It's not just the maddeningly lackadaisical attitude toward basic hygiene and safety that's alarming; it's the broader pattern of governmental cruelty and callousness. The Bibby Stockholm, a floating symbol of both avarice and negligence, is a microcosm of a system that routinely fails those souls who seek refuge on these shores but everyone who hasn't the power to stand up and fight for themselves.
The migrant crisis, that relentless tempest of human desperation and geopolitical complexity, has weathered its way into the fabric of our times. While the migrant crisis's Gordian knot can only be unravelled through meticulous discourse and the forging of novel legislation. A multifaceted approach rooted in constructive dialogue and a reimagining of legislative frameworks.
The remedy, a confluence of efforts not limited to the United Kingdom alone or even the EU, beckons us to forge alliances with nations grappling with the exodus of their youth. A remedy illuminated not merely by rhetorical flourish, but by substantive alterations to existing laws, coupled with the establishment of transit camps serving as havens for secure processing and onward transport to destinations where legal eligibility awaits.
The migrant crisis is not merely a test of policy; it's a moral test of our collective humanity. The way we handle this complex tangle of circumstances reflects our values, our compassion, and our commitment to upholding the dignity of every individual. It's a challenge that requires us to embrace change, challenge norms, and above all, remember that the resolution of this crisis lies in our ability to cooperate, legislate, and forge a way forward that offers refuge and hope to those who seek it most.
Support Labour Heartlands
WAIT! BEFORE YOU GO
PLEASE HELP US KEEP GOING AD-FREE
This is a "Pay as You Feel" website.
Your support for Labour Heartlands is greatly appreciated. As an independent nonprofit news outlet, we rely on our members to hold the powerful accountable. Our kind of reporting is essential to democracy, but it is not easy, cheap, or profitable.
To continue providing impactful journalism, we need your help. It's getting really hard for us all. Becoming one of our donors. It's simple and doesn't have to cost a lot. With as little as £2, £3, or £5 a month, you can support the journalism you rely on.
While we do not align ourselves with any particular political party, we stand firmly against corruption, injustice, and the erosion of truth and the rule of law. We believe that accurate information is the lifeblood of a democracy and that facts are not up for debate.
Your contribution, no matter how small, goes a long way in helping us continue our mission. Together, we can make a difference.
Thank you, The Labour Heartlands Team
PLEASE HELP US KEEP GOING AD-FREE