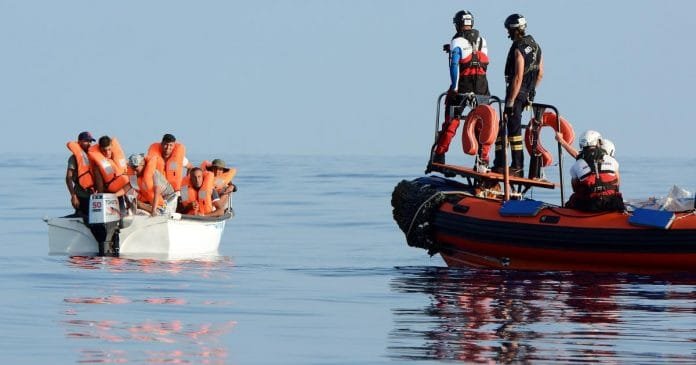 The European Parliament has voted against a resolution supporting more search and rescue operations in the Mediterranean.
The European Parliament failed to commit to protecting human life in the Mediterranean.
MEPs actively voted to maintain a 'fortress Europe' status quo that has seen thousands of men, women and children drown simply for seeking sanctuary.
"While the EU wax lyrical about the 'four freedoms' of the EU, including the freedom of movement, they are ready to side with their right-wing EU colleagues to ensure these values don't extend to those fleeing destitution, war and persecution."
The collection of EU ruling far-right and mainstream conservative parties defeated the plans to pressure member states to step-up their efforts in saving people's lives it did not as far anything other than the right thing to do.
The resolution in full called on the "EU Member States to enhance proactive search and rescue operations by providing sufficient vessels and equipment specifically dedicated to search and rescue operations and personnel, along the routes where they can make an effective contribution to the preservation of lives" and "to step up their efforts in support of search and rescue operations in the Mediterranean".
The EU's legislature narrowly defeated the motion by 290 votes against to 288 in favour.
EU search and rescue operations have been downgraded and de-funded in recent years as European government policies towards refugees have hardened. Some governments, like Italy's, have even waged a campaign to try to stop NGOs rescuing drowning migrants with their own resources.
Around 18,000 people have died in the Mediterranean since 2014, according to figures released by the UN's International Organisation for Migration at the start of the month – most of them people trying to make the crossing to Europe.
The majority vote to defeat the motion came from the parliament's largest political group, the centre-right European People's Party. A coalition of conservatives across EU countries. The EPP is the home of mainstream pro-EU conservative politicians such as Angela Merkel, Jean-Claude Juncker, and incoming European Commission president Ursula von der Leyen.
MEPs from Leo Varadkar's Fine Gael party in Ireland also voted against the motion – a move that has prompted a major political storm in Ireland.
Across members states, most socialists, liberals, greens and leftists supported the motion that asked little more than common decency.
Reacting to the news, Oxfam's EU migration policy advisor Raphael Shilhav said:
"More than 1,000 women, men and children have drowned or gone missing in the Mediterranean this year alone. Europe should do everything it can to prevent further tragedies. People crossing the sea to Europe are fleeing torture, detention, slavery and sexual violence in Libya. While people continue to make these treacherous journeys across the Mediterranean there is a need for sustained and coordinated search and rescue operations.
This is not about migration this is about saving people's lives
"Europe needs more and better search and rescue operations in the Mediterranean to save people's lives. It also needs to suspend its shameful cooperation with the Libyan coastguard which sends people saved at sea back into detention and abuse."
In 2019 alone, at least 1,078 migrants have died or gone missing according to the UN while trying to reach safety and dignity in Europe.
Two years after Italy's EU-backed migration deal with Libya, more than 5,300 women, men and children have perished in the Mediterranean and more still are suffering back in Libyan detention camps, Oxfam said on Friday.
In a joint open letter to EU governments, over 50 organisations and platforms, including Oxfam, say EU governments have become complicit in the tragedy unfolding before their eyes in the Mediterranean. People are now in even more danger at sea and are being taken back by the Libyan coastguard to face human rights abuses in Libya.
The NGOs state that some EU member states have deliberately forced many of the organisations conducting search and rescue operations to stop their life-saving work. Governments have made unfounded allegations against ships operating in the Mediterranean and prevented them from leaving their ports, the letter says. This time last year there were five organisations conducting search and rescue for people in distress – now there is only one.
Since the Libya migration deal was struck, more than 4,000 people have drowned in the Central Mediterranean alone, and more than 5,300 in all corners of the Mediterranean Sea, making it the deadliest sea in the world. Those who are picked up by the Libyan coastguard are returned to Libya, a country still torn apart by war and where beatings, sexual abuse, detention without trial, human trafficking and slavery are rife.
Oxfam's EU migration policy advisor, Raphael Shilhav, said:
"EU countries are making the Mediterranean a watery graveyard as a matter of deliberate policy. They must allow search and rescue ships to dock in their ports, disembark rescued people, and return to sea to save people's lives, in line with international law. All attempts to prevent their work will inevitably lead to more deaths and run counter to Europe's humanitarian values."
The Libya deal promises logistical and financial support from Italy and the EU to the Libyan coastguard, in return for the coastguard preventing people leaving Libya for Europe. Numerous accounts collected by Oxfam and its partners over the past years show that in Libya, these people are often crammed into detention centers in abandoned buildings or pitch-black tunnels, without enough food. Many are mistreated before being sold to armed groups or as slaves. Recent testimonies collected by Oxfam and its partner Borderline show that the situation has not changed.
Labour MEP Julie Ward told said that the vote was "hugely disappointing", adding: "Far too many innocent people are dying; this cannot go on. We are failing to protect the vulnerable people who need our help the most."
Last year, EU leaders were accused by campaigners of "abdicating their responsibilities to save lives" after they sided with a campaign against rescue boats and condemned NGOs who operated them.
Support Labour Heartlands
PLEASE HELP US KEEP GOING AD-FREE
HELP US GROW.
This is a "Pay as You Feel" website.
This blog has no source of state, corporate or institutional finance whatsoever. It runs entirely on voluntary subscriptions from its readers – many of whom do not necessarily agree with every article, but welcome the alternative voice, insider information and debate.
You can have access to all of our online work for free. However if you want to support what we do, you could make a small donation to help us keep writing and staying ad-free. The choice is entirely yours.