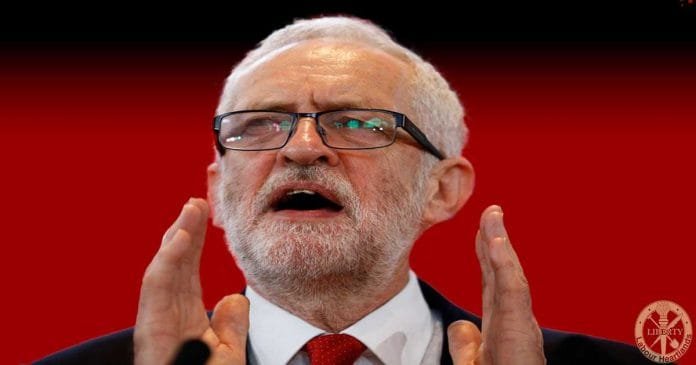 Jeremy Corbyn vowed to "transform" Britain by taking on "the few who run a corrupt system" as he kicked off Labour's election campaign.
The party leader promised to "rebuild" public services and hit out at "tax dodgers, dodgy landlords, bad bosses and big polluters".
In a speech, Mr Corbyn called the 12 December poll a "once-in-a-generation chance to transform our country".
Flanked by members of the shadow cabinet, he said: "You know what really scares the elite? What they're actually afraid of is paying their taxes. So in this election they'll fight harder and dirtier than ever before. They'll throw everything at us because they know we're not afraid to take them on.
"So we're going after the tax dodgers. We're going after the dodgy landlords. We're going after the bad bosses. We're going after the big polluters. Because we know whose side we're on."
Jeremy Corbyn stated:
"The choice could not be clearer.
We put our faith in the British people's spirit and commitment to community. It's your country. That's why we stand with you.
Labour will put wealth and power in the hands of the many Boris Johnson's Conservatives, who think they're born to rule, will only look after the privileged few.
They've slashed taxes for the richest and slashed vital services and support for everyone else. But real change is coming.
This election is a once in a generation chance to transform our country take on the vested interests holding people back and ensure that no community is left behind.
Some people believe that real change isn't possible. They say that we're asking too much. Really?
A health service people can be proud of, where tens of thousands of cancer patients aren't waiting months for treatment and prescriptions are free. Is that asking too much?
A social care system that doesn't leave our older people isolated and afraid, but gives them dignity with free personal care. Is that asking too much?
How about a decent pay rise? A real living wage of at least £10 an hour, right away including for young workers from the age of 16.Asking too much?
Secure homes that families can afford rents that don't break the bank and an end to rough sleeping. Is that too much to ask?
Thirty hours' free childcare for all two to four year olds. A good education, from cradle to grave, as a right not a privilege and no tuition fees. Is that too much?
Ending the Conservatives' great rip-off by putting rail, mail and water into public ownership so they work for everyone, not just Tory donors and shareholders in tax havens. Is that asking too much?"
It was not clear how we could have full nationalisation of rail, mail and water while the UK still falls foul of EU competition laws that prevent monopolies.
The December election was called for by the prime minister after it was clear he could not deliver on Brexit and is now taking place after Mr Corbyn agreed to it in an attempt to both remove the Tory scourge and break the Brexit impasse, following the EU's decision to delay Brexit no deal was no longer an issue.
The Labour leader told the audience that, if elected prime minister, he would "open negotiations with the EU about a sensible relationship with Europe".
Speaking at Labour's campaign launch, Mr Corbyn said that Labour would resolve Brexit within six months with a second referendum and that it "isn't complicated". He said that the party would immediately reopen negotiations with the EU and seek to keep Britain in a customs union before putting the newly negotiated deal alongside Remain in a referendum.
The remain option as not been seen as a popular option throughout the predominantly leave supporting Labour Heartlands.
Meanwhile in a LBC radio interview with Donald Trump stated that Boris Johnson's Brexit deal would prevent the U.K. from striking a trade agreement with the U.S. This is in no doubt a major fail for Johnson who seems to be riding the entire conservative party on is 'Get Brexit done!' slogan.
Mr Corbyn said: "The prime minister wants you to believe that we're having this election because Brexit is being blocked by an establishment elite.
Not for sale
"People aren't fooled so easily. They know the Conservatives are the establishment elite."
Jeremy Corbyn also said the NHS was "not for sale" and that any future trade deal with the US should not involve giving American firms greater access to it.
The audience, made up of Labour supporters, then repeatedly chanted: "Not for sale."
Jeremy Corbyn launched the Labour party official general election campaign to rousing support
Meanwhile, Liberal Democrat leader Jo Swinson has defended her decision to campaign as a "candidate to be prime minister", denying such an outcome is a "fantasy".
Support Labour Heartlands
PLEASE HELP US KEEP GOING AD-FREE
HELP US GROW.
This is a "Pay as You Feel" website.
Hey there! Thanks for stopping by. If you've enjoyed reading my blog so far, I would be incredibly grateful if you could consider making a small donation. My blog is entirely independent and does not receive any funding from the state, corporations, or institutions. Instead, it relies solely on the support of readers like you.
Despite the fact that not everyone agrees with every article I publish, I'm proud to provide a unique perspective, insider information, and a platform for debate. However, I simply can't continue to do this without your help.
So, if you're able to spare a few pounds, dollars, or euros, I would be so grateful for your support. Your donations will help me to keep my blog running and entirely free from ads, which means you can enjoy an uninterrupted reading experience.
Once again, thank you for your support – I truly couldn't do this without you!