Sir Keir Starmer has warned against blaming Labour's historic election defeat on its 2019 campaign alone.
NEWSFLASH STARMER, WE BLAME YOU.
The leadership candidate claimed the party had been losing votes in its Heartlands for a "long time" and had lost four general elections in a row.
People wanted "fundamental change" but did not trust Labour to deliver it, he told the BBC's Laura Kuenssberg.
He goes on to say: "We need to unify the party and I think I can do that," he said.
"We spent far too much time fighting ourselves and not fighting the Tories. Factions have been there in the Labour Party – they've got to go."
Sir Starmer in what could only be described by most in the Labour Heartlands as a 'moment of humour', vowed to restore trust in Labour "as a force for good and a force for change" he claimed he would end factional infighting. In view of the fact Starmer has representatives from the most toxic right-wing Labour groups working within his Leadership campaign team, we can only presume the Left will be met with a mass culling from the Blairite coalition if he wins the Leadership. 
Plausible deniability
In the interview  Sir Starmer was confronted with the statement by the BBC's Laura Kuenssberg expressing "Some on the left have blamed the election defeat on Sir Keir and others at the top of the party promoting another Brexit referendum". 
Starmer responded with the stock answer: "We were trying to bring together both sides whether they voted Leave, or they voted Remain.
He goes on to say "But I think the idea that Brexit was the only issue in this election is wrong, or even that in our Heartlands it was the determining factor because actually if you look at what's happened in our Heartlands we've been losing votes there for a long time."
Starmer then distances himself from his part in the vote losing policy of a second referendum by saying: he believed Labour could win last year's election, even though the "odds were against us", but added: "In the end people didn't have trust in us.
Sir Starmer goes on to pass the buck blaming Corbyn…
"Partly that was to do with the leadership, rightly or wrongly, partly it was to do with Brexit, anti-Semitism came up, and the overload of the manifesto."
He said Labour needed to "restore that trust, but if we only look at the 2019 election we're missing the fact that we've lost four in a row".
Sir Starmer's complete denial of the major part he played in the catastrophic collapse of the Labour vote is evident, he constantly moves away from the real reasons that Labour lost, 52 Labour Leave-voting seats, suggesting that the party had been on a downward slope for 4 elections. As a barrister he is quite apt at talking around the evidence, however, the jury is clear he along with his frontbench remain policymakers were directly responsible for the crash.
Labour voters reject Free Broadband
It was not the offer of Free Broadband that pushed the 52 Labour Leave-voting seats into a position where the people found they could not support the Labour Party. Neither was it has suggested by some Leadership candidates, a toxic Jeremy Corbyn, if that was the case it would have to be asked was 'Jeremy Corbyn only toxic in leave voting seats'? Very unlikely when you examine Corbyn's Eurosceptic history.
The truth is that telling Labour leave supporters to vote again was a hard sell, but telling the leave voting general public to vote again was never going to be a vote winner. In that alone Sir Starmer is more responsible than most. But for Labour frontbenchers to suggest if they win office. after negotiation an EU Brexit deal they would then go on to campaign against their own deal created a public view of utter cynicism.
It was Sir Starmer that pushed the Labour Party into the position in this first place. From the moment he made the 2018 composite speech at conference with the impromptu word 'REMAIN' added to a reluctantly agreed criteria for a campaign on a second referendum, a second referendum that Jeremy Corbyn said no to that very morning. What Starmer had done was to give new hope to remain voters who had reluctantly accepted the referendum result. Form that moment on the remainers felt the tide could be turned, that the result could be somehow overturned. 
Sir Starmer understood exactly what he had done. By adding that one word 'REMAIN' he had challenged the Leadership and created his very own ready-made following in the remain campaigners. His orchestrated move did not go amiss by many on the Left. 
However to have the audacity to declare himself the Leadership contender that can unify the Labour Party and win back the Labour Heartlands truly beggars belief.
They say a man is judged by the company he keeps. 
If being a major contributor to the collapse of the Labour vote was not reason enough to 'Steer clear of Keir' then the company he keeps must surly reject him from winning your vote in this Leadership ballot.
During the interview with the BBC's Laura Kuenssberg Sir Starmer refused to say whether his politics were closer to Tony Blair or Jeremy Corbyn, saying: "I want to lead a Labour Party that is trusted enough to bring about fundamental change. "I don't need somebody else's name or badge to do that."
Sir Starmer has already given people more than enough reasons to mistrust him. Now, serious questions have emerged about how he handled questions concerning the background of a campaign staff member at his launch.
When asked about his decision to hire Ben Nunn, an ex-lobbyist for private healthcare companies, Starmer said he "won't tolerate" it:
Sir Starmer has been accused of refusing to answer a question from the public about his employment of a private healthcare lobbyist.
The question about whether he would still be able to defend the NHS was put forward by a young woman from the floor during an election meeting in Manchester on Saturday.
It referred to the hiring of Ben Nunn, who has worked as a lobbyist for the private healthcare sector.
Mr Starmer responded by saying that he would not tolerate attacks on his staff.
The issue went onto Twitter, where the woman, whose name is Lydia, said: "Not only was his response to completely avoid answering my question, but his supporters were heckling me before I'd even finished.
And this from @Lydl1997, which was totally ignored. Starmer refuses to answer questions from members on who his campaign is working with and their ties to private health firms pic.twitter.com/DV02DhxKWm

— Jack Chadwick (@jckchd) January 11, 2020
"My friends and I were told we were just trying to 'cause trouble,' and that we were too young to understand anything.
"The line pedalled by Starmer in his 'response' — that he, brave statesman, would never tolerate 'attacks' on his staff — was one repeated multiple times by his supporters to us at the end as we were trying to leave. But lobbyists aren't just 'staff'."
Continuity Blairism.
The young woman branded Mr Starmer's hiring of a private healthcare lobbyists "continuity Blairism."
She added: "One lady was great, though. She came up to me at the end saying she had really been considering Starmer but now was going to change her mind.
"Not just on learning about Nunn but more due to Starmer's chauvinistic, disingenuous and frankly insulting response."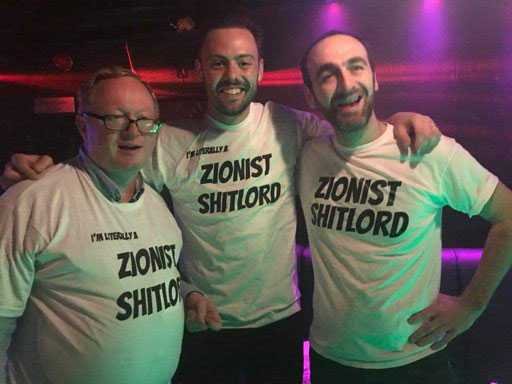 Only a couple of days prior to Starmer's campaign launch, it came to light that Matt Pound had joined his campaign. The Morning Star identified Pound as "the leader of anti-Corbyn group Labour First". He's an outspoken critic of Jeremy Corbyn and his efforts to reform the Labour Party. His appointment prompted further questions about Starmer's team.
Luke Akehurst, the man who effectively *is* Labour First, is a pro-Israel/pro-nuclear lobbyist masquerading as a Labour supporter. He has spent the last 5 years campaigning to prevent Jeremy Corbyn becoming PM. Akehurst hired Matt Pound to help him. Keir Starmer knows this. https://t.co/N7YAsteNZH

— Frank Owen's Legendary Paintbrush (@WarmongerHodges) January 10, 2020
In December, Novara Media revealed that a leading figure in the Kier Starmer campaign had extensive links to Owen Smith's failed leadership bid in 2016. When asked if others from the Smith campaign were also involved in Sir Starmer's leadership tilt, the Westminster office of the Holborn and St Pancras MP did not respond. 
Politically, links between Starmer and Smith matter. While keen to distance himself from the present leadership in certain aspects, Starmer has frequently stated that Labour's break with austerity under Jeremy Corbyn was necessary. That resonates because while many members want the next leader to command support from across the party – the scale of December's defeat making that clearer than ever – they also want a commitment to the present policy agenda.
In the absence of clear signals in that regard, and with Starmer's own voting record somewhat mixed – he abstained on the second reading of the 2015 Welfare Bill for example – assessing the credentials of the bookies favourite to succeed Corbyn is critical. That includes examining his inner circle.
The involvement of Alex Barros-Curtis revealed some continuity between Smith's campaign in 2016 and Starmer's now. But of course that could just have been one individual, and, besides, many feel that the party's next leader needs a retinue which reflects the party more broadly. However it has now come to light that two other individuals close to Starmer also worked with Smith in 2016, calling into question the political priorities, and values, of the shadow Brexit secretary.
The first of these is Ben Nunn, a political advisor to Starmer and the deputy director of communications on Smith's leadership campaign. Until a few weeks ago both positions were publicly disclosed on Nunn's Linkedin page – which has since been deleted.
Prior to his time with Smith, Nunn held the position of political advisor to Heidi Alexander – the former Lewisham East MP who was shadow health secretary under Corbyn. Alexander was the first member of the shadow cabinet to resign as part of the 2016 'chicken coup' after which she helped run Smith's leadership campaign. That move gave Nunn the opportunity to enjoy a senior position in the ultimately doomed effort to defeat Corbyn internally.
Before his time in Westminster, Nunn worked for the healthcare lobbyist Incisive Health. Incisive was founded by Sarah Winston, Mike Birtwhistle and Bill Morgan – a former special advisor to then Tory health secretary Andrew Lansley. At Incisive's launch in 2013 Birtwhistle explained the ethos of the new firm and the need, in the words of PR Week, for private interests to work harder and smarter to make [the NHS] adapt and change in a way that will help their businesses. Birtwhistle explicitly stated how Morgan's proximity to Tory policy on healthcare was commercially advantageous, "Bill Morgan has been closely involved in the reforms of health and social care and so he has a good understanding of how the system should work".
Following his stints with Alexander and Smith, Nunn returned to Incisive Health – only now he was promoted to the prestigious position of associate director. If you want a snapshot of how seamlessly lobbyists switch between party politics and client representation, often with competing interests, the story of Nunn is a good place to start. Advancing the interests of private corporations and assisting politicians in public service are rarely seen as being at odds. Indeed in the case of Incisive it was the basis of their business model.
Which explains why Nunn's appointment by Alexander in 2016 raised eyebrows among NHS campaigners. One told Novara Media he was surprised by the move given the party was under 'new management' subsequent to the election of Jeremy Corbyn, "a shadow health secretary is supposed to be defending the NHS" he said, "and she was getting help from the people who were dismantling it". But while that grated for many, the fact that Nunn now works for Starmer, whose portfolio is entirely unconnected to health, makes even less sense. "At least with Alexander you kind of understood – with Starmer I have no idea why an ex lobbyist is there" the campaigner added.
Another source said Nunn had voted for Liz Kendall in the 2015 leadership campaign, "it's fine to vote for whoever… the best candidate won – but don't tell me a lobbyist and Kendall supporter is now on the left," they said.
If you are looking for a return to Blairism go ahead vote Starmer but if you want the Party to keep LeFT keep looking
Support Labour Heartlands
Help Us Sustain Ad-Free Journalism
Sorry, I Need To Put Out the Begging Bowl
Independent Journalism Needs You
Our unwavering dedication is to provide you with unbiased news, diverse perspectives, and insightful opinions. We're on a mission to ensure that those in positions of power are held accountable for their actions, but we can't do it alone. Labour Heartlands is primarily funded by me, Paul Knaggs, and by the generous contributions of readers like you. Your donations keep us going and help us uphold the principles of independent journalism. Join us in our quest for truth, transparency, and accountability – donate today and be a part of our mission!
Like everyone else, we're facing challenges, and we need your help to stay online and continue providing crucial journalism. Every contribution, no matter how small, goes a long way in helping us thrive. By becoming one of our donors, you become a vital part of our mission to uncover the truth and uphold the values of democracy.
While we maintain our independence from political affiliations, we stand united against corruption, injustice, and the erosion of free speech, truth and democracy. We believe in the power of accurate information in a democracy, and we consider facts non-negotiable.
Your support, no matter the amount, can make a significant impact. Together, we can make a difference and continue our journey toward a more informed and just society.
Thank you for supporting Labour Heartlands
Just click the donate button below