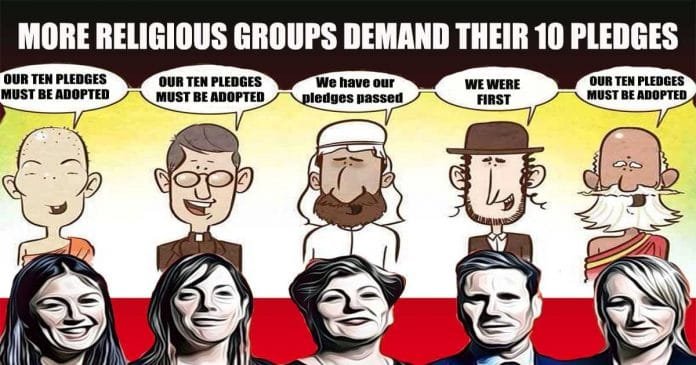 The contenders for the Labour Leadership contest have adopted the 'Ten pledges' from the Muslim council of Britain.
Back in November 2019, the Muslim Council of Britain launched its election policy platform, in which it called on all political parties to commit to a series of 10 key pledges, with Islamophobia being the key priority.
The report, along with identifying a number of policies on a range of issues from the NHS to national security, details the issues surrounding Islamophobia which are most pertinent to British Muslims. In particular, the MCB found 3 in 4 Muslims are most concerned about the media portrayal of Muslims, and that many British Muslims are looking for strong leadership on tackling Islamophobia.
The Muslim and Jewish community's are not the only community to experience prejudices, discrimination or hate crimes. There are large populations of Sikh and Hindu community's, for example in the UK who are frequently abused. The Sikh Federation stated that public bodies ignore their community as a survey finds 20% of Sikhs faced public discrimination last year.
Who will be next to lay out their Ten Pledges.
In November UK Sikhs begin a court battle with UK government over equal rights. Hate crimes against Sikhs are wrongly recorded as Islamophobic incidents by police suggesting religious illiteracy and throwing doubt on the accuracy of recorded data.
The police in England and Wales recorded over 100,000 incidents of hate crime in 2018-19, including many affecting members of the Indian community and those following Islam, Hindu and Sikh faiths, official Home Office figures show.
The United Kingdom Home Office said the increasing numbers of hate crime are mainly driven by improvements in crime recording, but also show a spike after the 2016 EU referendum and terror attacks in Manchester and London in 2017.
The majority of hate crimes were related to race (76 per cent), while those linked to religion show that 47 per cent affected Muslims, 3 per cent Sikhs (188 incidents), 2 per cent Hindus (114 incidents) and 19 incidents affected Buddhists.
Overall, 103,379 hate crimes were recorded in 2018-19, an increase of 10 per cent compared with 2017-18 (94,121 offences).
Some Hindu temples and gurdwaras in various parts of the country have faced attacks in recent months and years, prompting the Home Office to offer funding to install security apparatus at religious institutions.
A Land fit for everyone.
The Labour Party should be making rules and policy that cover all people, making the party inclusive to all, not exclusive to some. The UK is a secular nation, its laws must reflect that fact and not discriminate one group, religion or person over another. To achieve that Laws, rules and policy must be made on the bases of what is fair, irrespective of race, creed colour, sex or gender.
I support these pledges and would continue to work with Britain's Muslim communities if leader of the Labour Party. https://t.co/pSTjcPEj6V

— Keir Starmer (@Keir_Starmer) 15 January 2020
This definition has already been adopted by a number of political parties, including the Labour Party, the Liberal Democrats and the Scottish Conservatives, but is yet to be adopted by the Conservative Party.
Today following the the adoption of the Ten pledges presented by the Jewish Board of deputies the Labour leadership contenders have also adopted the Muslim council of Britain's Ten Pledges.
The 10 key pledges include tackling Islamophobia and all forms of racism, defending religious liberty, proactively engaging with British Muslim communities and providing funding and support to places of worship to safeguard visitors, among others.
"It is essential that British Muslims, alongside their fellow Britons, play a role in this generationally important election.
"The ongoing Islamophobia scandal in our country's governing party, as well as cases of racism and discrimination across political divides, underscore this even more.
"Far from being a monolith, British Muslim communities have a range of concerns and priorities, and these election pledges will help them see who aligns with them – whichever party they belong to."
The pledges, which can be viewed here, are:
1. Tackle Racism and Islamophobia 
Adopt the APPG on British Muslims definition of Islamophobia across the UK, defining Islamophobia as being rooted in racism and as a type of racism that targets expressions of Muslimness or perceived Muslimness.
2. Religious Liberty
Defend the right of Muslims – and people of all faiths – to express their faith, be that in religious clothing, food and reasonable accommodation of religious observance.
3. Engagement with Muslim Communities
Commit to proactively engage with a broad and representative spectrum of British Muslim communities to ensure a plurality of views are being considered.
4. Safety at Places of Worship
Safeguard visitors at places of worship, by providing support and funding for any Muslim institutions to implement safety measures, in line with other faith groups.
5. Effective Health and Elderly Care Services
Focus policymaking on ensuring equity for all sections of society, recognising the gap in health and wellbeing standards, particularly between older and elderly Muslims and the general population.
6. Refugees 
Encourage the resettlement of refugees across the UK, working with communities to address and tackle issues faced by refugees resettling in Britain.
7. Full Economic, Social and Public Participation in British Life
Enhance democracy by enabling increased participation of minorities and women in politics and public life, addressing the underlying socio-economic challenges in place.
8. Criminal Justice 
Address the disparity of treatment and outcomes for BAME people within the criminal justice system. Rebuild trust with Muslim communities by ensuring all counter-terror legislation is evidence-led, non-discriminatory, and open to evaluation.
9. Equality in Education 
Ensure a fair approach to educational provision for all children, with a syllabus that reflects the diversity of communities, with appropriate parent involvement.
10. Ethical Foreign Policy
Support a binding recognition of Palestine as an independent and sovereign state, and address human rights abuses abroad, including in Kashmir, Xinjiang and Myanmar.
Labour leadership: From Corbyn's 10 pledges of socialist change to 10 damaging pledges of an outside religious organisation.
Support Labour Heartlands
Help Us Sustain Ad-Free Journalism
Sorry, I Need To Put Out the Begging Bowl
Independent Journalism Needs You
Our unwavering dedication is to provide you with unbiased news, diverse perspectives, and insightful opinions. We're on a mission to ensure that those in positions of power are held accountable for their actions, but we can't do it alone. Labour Heartlands is primarily funded by me, Paul Knaggs, and by the generous contributions of readers like you. Your donations keep us going and help us uphold the principles of independent journalism. Join us in our quest for truth, transparency, and accountability – donate today and be a part of our mission!
Like everyone else, we're facing challenges, and we need your help to stay online and continue providing crucial journalism. Every contribution, no matter how small, goes a long way in helping us thrive. By becoming one of our donors, you become a vital part of our mission to uncover the truth and uphold the values of democracy.
While we maintain our independence from political affiliations, we stand united against corruption, injustice, and the erosion of free speech, truth and democracy. We believe in the power of accurate information in a democracy, and we consider facts non-negotiable.
Your support, no matter the amount, can make a significant impact. Together, we can make a difference and continue our journey toward a more informed and just society.
Thank you for supporting Labour Heartlands
Just click the donate button below