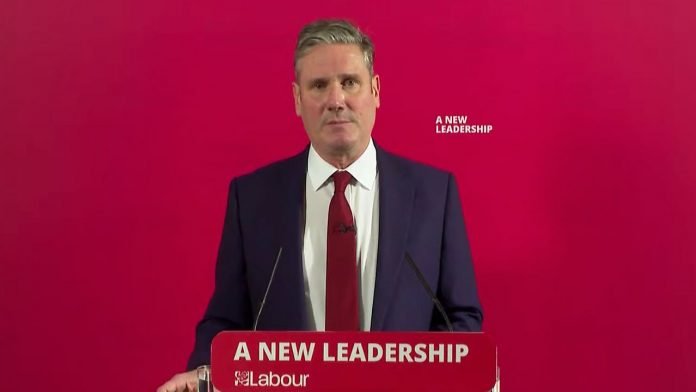 Sir Keir Starmer second Labour reshuffle in six months – 'blindsiding' his deputy Angela Rayner.
Labour kicked off this week with a much needed attack on the Tories, Angela Rayner gave the Tories both barrels over corruption, one shot directly at Boris Johnson while the other laid square into the Tory party itself.
The media should have carried the headlines all day pointing out how public money has been used to fund Tory family, friends and donors, not in thousands, not even hundreds of thousands or eye-watering millions but billions in our money, gone without a trace, (£37 billion on track and trace) a white elephant, not fit for purpose.
Rayner demanded an overhaul of rules governing standards in public life Labour's deputy leader said the regulations could not be based on a 'gentleman's agreement' as she accused Boris Johnson of corruption.
Angela Rayner's speech went down pretty well and pulled no punches, she stated: " The truth is nobody could have predicted the corruption and shamelessness of Boris Johnson.
The current system only works when there is respect for the rules and there are consequences for breaking them.
Today – because of this Prime Minister – there is no respect for the rules and no consequences for breaking them."
She goes on with her broadside directly attacking Boris Johnson saying:
"He went on to give us the VIP lane for PPE contracts, the Randox lobbying scandal and the £3.5bn of taxpayers' money lining the pockets of party donors and Ministers' mates.
The Prime Minister said that:
"The precious principles of public life… Integrity, objectivity, accountability, transparency, honesty and leadership in the public interest – must be honoured at all times".
You'll all be glad to hear I won't list every example of his breaking those principles, or none of you would get out of her before dinner time.
The current regime is no longer working precisely because we have a Prime Minister who is shameless in breaking the rules, and won't enforce consequences on others who break them.  Corruption – that is the word – is happening in plain sight and it is rife right through this Conservative government.
That is why we must now urgently rebuild public trust in politics and government. It is why we must go further than the last Labour government and stamp out the corruption that has engulfed Boris Johnson's government and his party thanks to his own actions and inaction."
The deputy Leader then ices the cake with a 'no holds barred' Tweet saying:
"Corruption is happening in plain sight and is rife in this government because of Boris Johnson. This morning I set out my plan for what Labour will do to stamp out corruption. Tougher rules, proper enforcement of the rules and an independent watchdog."
Corruption is happening in plain sight and is rife in this government because of Boris Johnson.

This morning I set out my plan for what Labour will do to stamp out corruption.

Tougher rules, proper enforcement of the rules and an independent watchdog.https://t.co/nPMbnpiNZL

— Angela Rayner (@AngelaRayner) November 29, 2021
For Rayner that should have been it, job done. The media had all they needed to make this a political headline…
However, as good as an attack on the Tories as this was, (better late than never) it was lost in the following chatter.
Sir Keir Starmer sparked a row in the Labour party by launching a shadow cabinet reshuffle as his deputy was giving this major speech attacking "corruption" by the government.
Allies of Angela Rayner insisted that while she met the Labour leader between her broadcast round on Monday morning and her speech at 11am, she was not told the reshuffle would be imminent or consulted about any of the details.
One Rayner ally said Starmer would have been fully aware the reshuffle would "blow up" her attempt to lay out plans for reforming the standards system and said it was "not fair". A second said she had been "gazumped" and complained at the "utterly bizarre" timing.
Angela Rayner said she is not aware of any Labour reshuffle
Deputy Labour leader Angela Rayner has said she is not aware of any Labour reshuffle.
During her speech on standards, Ms Rayner said: "I've been concentrating on the job that I'm doing."
She added that the Labour Party should be focusing on getting into power.
Clearly a case of the Left hand in all senses not knowing what the right hand was doing.
However, other senior Labour sources disputed Rayner had been "blindsided". One shadow cabinet minister insisted "she definitely knew". Another insider said Rayner met Starmer in his office on Monday morning and was told directly the reshuffle would be taking place that day.
Unfortunately, that argument was topped and Ryaners speech was lost with media attention now focusing on Cat smiths resignation announcement. She suggested Starmer had offered her the opportunity to remain in her existing post, but that she had raised concerns about several issues, including the failure to restore the whip to Corbyn.
Speaking earlier at an event in Westminster, Labour deputy leader Angela Rayner said: "I don't know the details of the reshuffle or the timing of it, I've been here concentrating on my role now.
"But six months ago I said again we need some consistency in how we're approaching things as an opposition. I want us to see us as a government in waiting, I want us to do that job."
Sky's political correspondent Kate McCann reports that Ms Rayner did get a call from Sir Keir on Monday morning to say she would keep her role, but was not given any detail or consulted about the reshuffle itself.
She posted a tweet on Monday afternoon addressing Ms Smith's departure from the shadow cabinet, writing: "I want to thank @CatSmithMP for all of her work in my team especially in exposing and standing up against the Conservatives' anti-democratic power-grab Elections Bill.
"Cat is a brilliant local MP and I know she will continue to stand up for her constituents from the backbenches."
Sir Keir's previous reshuffle provoked controversy within the party when he sacked Ms Rayner as Labour Party chair.
She tweeted out a copy of a letter she has sent to Sir Keir Starmer, saying: "Although I am grateful for your offer to remain in my current brief, I have only been on the backbenches for four months in my six and a half years as an MP and I will instead be returning to the backbenchers."
It's been an honour to serve on the Labour front bench since 2015 but I'm looking forward to spending even more time at home here in Lancashire and standing up for my constituents. pic.twitter.com/8pybEql5WB

— Cat Smith MP (@CatSmithMP) November 29, 2021
Ms Smith warned Sir Keir of the "damage" being done by Jeremy Corbyn remaining suspended from the Parliamentary Labour Party.
The reshuffle comes six months after Starmer's last refresh of his shadow cabinet, it seems he is trying to match reshuffles with the number of times he's had relaunches of his leadership.
Support Labour Heartlands
WAIT! BEFORE YOU GO
PLEASE HELP US KEEP GOING AD-FREE
This is a "Pay as You Feel" website.
Your support for Labour Heartlands is greatly appreciated. As an independent nonprofit news outlet, we rely on our members to hold the powerful accountable. Our kind of reporting is essential to democracy, but it is not easy, cheap, or profitable.
To continue providing impactful journalism, we need your help. It's getting really hard for us all. Becoming one of our donors. It's simple and doesn't have to cost a lot. With as little as £2, £3, or £5 a month, you can support the journalism you rely on.
While we do not align ourselves with any particular political party, we stand firmly against corruption, injustice, and the erosion of truth and the rule of law. We believe that accurate information is the lifeblood of a democracy and that facts are not up for debate.
Your contribution, no matter how small, goes a long way in helping us continue our mission. Together, we can make a difference.
Thank you, The Labour Heartlands Team
PLEASE HELP US KEEP GOING AD-FREE