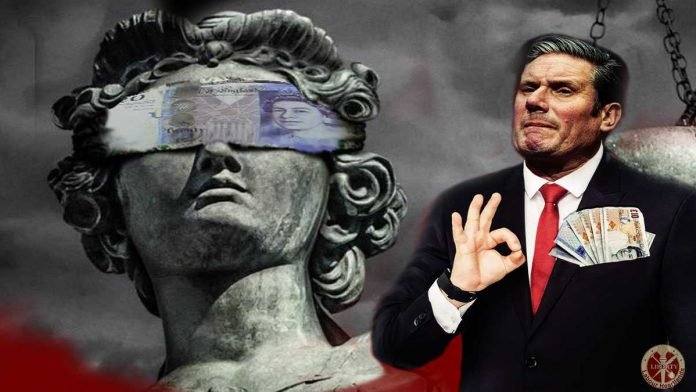 Labour chairman Ian Lavery has piled pressure on Keir Starmer to reveal a full list of who is bankrolling his campaign to be party leader.
Ian Lavery said he had been "inundated" with emails from members "demanding transparency within our party".
He also said he was seeking a meeting with Jennie Formby, Labour's general secretary, on the matter.
"As chair of the party I'm steadfastly on record regarding the absolute need for total transparency within our party, and that certainly includes the need for members seeking high office to disclose their financial donations.
"Candidates for the leadership should do so as soon as possible, so this information is available to those voting in the leadership contest.
"With this urgency in mind I'll be seeking a meeting with Jennie Formby to discuss the available options."
Front-bencher Jon Trickett told the SKWAWKBOX:
"It's time that we put an end to secrecy in political donations. People want to know what lies behind who they are being asked to vote for. This applies to both general elections and inner party elections."
"I think we need real time declarations of donations. The moment you take a private sum as a candidate, it ought to be declared. Maybe everything over a few hundred pounds. There's really no excuse for delays."
Party chair Ian Lavery added:
"I've been very clear and my opinion hasn't in any way changed. Transparency within our party is of the utmost importance. MPs standing for leadership positions should see it as an obligation and not an impediment to publish a timely and clear detailed list of ALL donations from 'ALL' sources let's get on with this."
It is understood that more than 600 Labour members have emailed Mr Lavery, using an online form published by the left-wing website Evolve Politics.
Evolve have also placed a petition on their website for Labour Party members calling on the Party to uphold the basic principles of transparency and democracy by demanding that all leadership and deputy leadership candidates publish their donations in full now and update them in real time.
It's time to end the secrecy.
PETITION TO THE LABOUR PARTY: KEIR STARMER MUST RELEASE HIS FULL LIST OF DONORS IMMEDIATELY LINK.
The donations Sir Keir Starmer declared amount to less than £125,000. This is a drop in the ocean compared to what his campaign will have spent overall. It doesn't even come close to covering the cost of sending his mail shot to over half a million members which would have cost up to £300,000, let alone his staffing costs, the cost of renting office space, hiring venues for events and travelling across the country.
Rebecca Long-Bailey and Lisa Nandy have published their donations in full. Keir Starmer has no excuse for not doing the same.
This isn't about factionalism or opposing any candidate. This is about members having a right to know who's funding the candidates asking for their votes before they vote, not afterwards.
The Labour chair is just the latest senior party figure to call on Sir Keir to publish his list of backers.
Last month, Jeremy Corbyn said: "I think there always has to be openness in all respects, and when you receive financial support for a political campaign it's very important to know where it comes from, all of it should be published."
Shadow Cabinet Office minister Jon Trickett, who is backing Ms Long-Bailey, said: "We need to put an end to the secrecy surrounding political donations, which means political donations being declared in real time."
And Unite boss Len McCluskey, whose union has donated more than £200,000 to Ms Long-Bailey's campaign, said: "Trust in politics and politicians is essential, which is why it is really important that all the leadership candidates declare where their campaign money comes from.
"In the Labour Party there should be no secret financiers sitting in the shadows."
Sir Keir's team has been approached for comment.
Support Labour Heartlands
PLEASE HELP US KEEP GOING AD-FREE
HELP US GROW.
This is a "Pay as You Feel" website.
This blog has no source of state, corporate or institutional finance whatsoever. It runs entirely on voluntary subscriptions from its readers – many of whom do not necessarily agree with every article, but welcome the alternative voice, insider information and debate.
You can have access to all of our online work for free. However if you want to support what we do, you could make a small donation to help us keep writing and staying ad-free. The choice is entirely yours.