Sir Keir Starmer, the Labour leadership frontrunner, has declined to rule out campaigning to rejoin the EU in the years ahead.
Appealing to Remain voting metropolitan cities, Sir Keir Starmer refused to rule out a future campaign to rejoin the EU.
Starmer hopes to maintain support from the large predominant remain membership, detracting from the questions on who is actually funding his Leadership campaign. These questions are intensifying and have become embarrassing to the frontrunner, the questions just wont go away.
How a future Labour Party Leader who advocates rejoining the EU could ever possibly think they could unify the Party and win back the Leave voting former Red-wall of the Labour Heartlands has left many political pundits flabbergasted.
Labour lost 52 leave voting seats due to a disastrous second referendum policy. LINK
It would appear that Sir Keir Starmer's ambitions for the immediate future are only concerned with winning over the Remain voting metropolitan cities. After all that is where the mass of Labour membership resides.
Last month, Starmer who is said to be the frontrunner to succeed Jeremy Corbyn stated there was no question that could happen after Brexit.
Since then his position seems to have softened.
Today he admitted: "I don't think it's a priority for now and the immediate future," but asked to explicitly rule it out he refused to do so.
When pressed he said: "It's for our kids to decide what our future relationship is" to huge applause from the audience in Dudley Town Hall.
It came in a response to a question by fellow candidate Rebecca Long-Bailey in a segment allowing each of them to question the others.
"Our Brexit policy clearly impacted our election performance, do you agree we should rule out campaigning in the 2024 election to rejoin the EU?"
Both his Labour leadership rivals Rebecca Long-Bailey and Lisa Nandy absolutely ruled it out but the Shadow Brexit Secretary would only say it's not "a priority for now and the immediate future"
Lisa Nandy told the audience in Dudley that Labour got into a "complete and utter mess over Brexit".
She said she campaigned for Remain as a member of the Shadow Cabinet but that once the party had told the public they would respect the result of the referendum in the 2017 election they should have done it.
"We promised it in our manifesto in 2017 and I went out and my neck
She said they got into a situation where Remainers thought Labour was in favour of Brexit and Leavers thought the party was in favour of Remain.
And she explained that she realised "take back control" went much wider than Brexit.
Again Starmer tried to distance himself from the disastrous Brexit policy that Labour's general election collapse, he told the members that if people thought "we were cruising to victory but for Brexit then I'll suggest they weren't out there campaigning".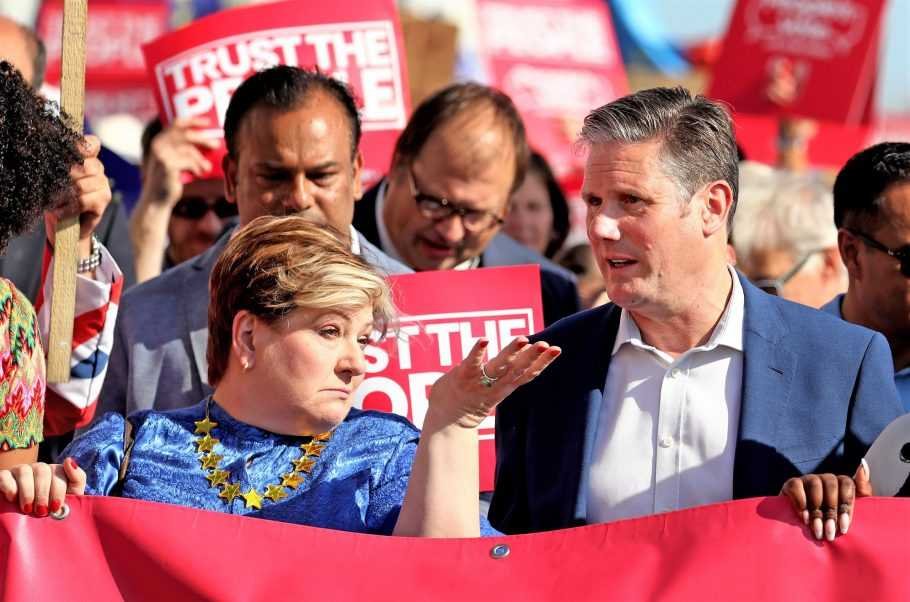 But he said: "The Leave- Remain argument is over. We have left the EU."
He added: "We can't inherit a problem which has been deep in the Tory Party for 40 years and make it a problem of the Labour Party."
When pressed further he failed to rule out campaigning to rejoin.
After the hustings, Rebecca Long-Bailey told the Mirror: "I don't think we should campaign to rejoin the EU.
"It would be absolutely disastrous and think we should be setting out a positive vision now of what Britain looks like outside of the EU.
"Also, holding the Government to account on the trade deal so that it doesn't water down workers' rights, environmental protections and consumer protections in the way we think they will."
The leadership candidates faced a grilling from the Daily Mirror's editor Alison Phillips and Labour party members at Dudley Town Hall.
Starmer was instrumental in shifting Labour's position in favour of a second referendum before the election. But he told the hustings that the party's Brexit policy had not been the main factor in its election defeat.
Labour needs to wake up to the fact that U-turning on Brexit cost it the election
Too many members are engaged in a collective effort to deny the devastating effect of framing ourselves as a Remain party, says CHELLEY RYAN
We were never going to be rewarded for trying to overturn democracy. Two-thirds of our seats voted Leave in the EU referendum, and these seats were more marginal than our Remain seats.
We committed electoral suicide the moment we decided to have a referendum against a Labour deal because that gave Boris Johnson a big open goal to fire into every day of the general election campaign with his "Get Brexit done" slogan.
Had the general election result acted as a huge wake-up call to members, I'd have more hope, but currently they are engaged in a collective effort to deny the devastating effect of framing ourselves as a Remain party.
Keir Starmer is the leadership candidate capitalising on this denial. Not from him will the members hear any awkward home truths.
Yes, he acknowledged Brexit is happening but there is no reflection over why it's happening under the Tories and not under a Corbyn-led Labour government.
Had Starmer hired a van with a tannoy during the election, to drive round our Leave seats, shouting: "Don't vote Labour," it wouldn't have done as much harm as our Brexit policy, designed by him. I know I'm not completely alone in the way I feel.
Other members are feeling the same sense of despair and frustration I'm feeling. This feeling doesn't dissipate when members tell us to move on, either.
If anything it makes it worse, especially when the people telling you to move on pushed for the referendum policy and are completely in denial over the damage it did to our election results.
Their hope that Leave voters will develop collective amnesia or buyer's regret is not reassuring either. We should be facing where we went wrong and move forward from there.
Of course other factors were at play in contributing to our defeat, such as a hostile media and Corbyn's personal ratings, but they were still interconnected to our flawed Brexit policy.
Support Labour Heartlands
PLEASE HELP US KEEP GOING AD-FREE
This is a "Pay as You Feel" website.
Hey there! Thanks for stopping by. If you've enjoyed reading the articles on Labour Heartlands so far, We would be incredibly grateful if you could consider making a small donation. Labour Heathlands is not your typical news outlet. We are not here to simply regurgitate the daily news cycle, that's for the rest of them. Our focus is on delving deeper, uncovering the untold stories and shedding light on the issues that the mainstream media chooses to ignore.
Our unwavering commitment to journalistic integrity means that we are not influenced by any external forces. We are not beholden to PR companies, advertisers or press barons, and we refuse to let anyone dictate what we report on. Our editorial independence is sacrosanct, and our only allegiance is to the truth.
While we do not align ourselves with any particular political party, we stand firmly against corruption, injustice and the erosion of truth and the rule of law. We believe that accurate information is the lifeblood of a democracy and that facts are not up for debate.
Once again, thank you for your support – We truly couldn't do this without you!
PLEASE HELP US KEEP GOING AD-FREE