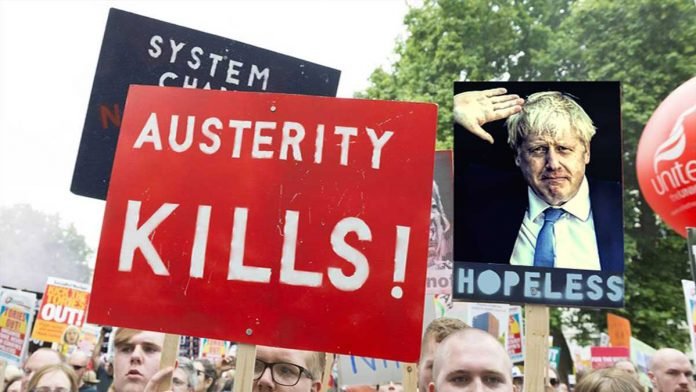 The rate of murders and manslaughters has soared by 39% from 2015 to 2018. And while reduction of police numbers may not have been a driver, it was likely a "contributing factor", according to government research
Budget cuts to police contributed to the rising number of murders in Britain, an official report has found.
Home Office research named the falling number of police officers since 2010 were a "contributory factor", alongside drugs and terror attacks.
"The evidence suggests that levels of police resources and the activities pursued can drive homicide trends," said a report released on Thursday.
"If all else is equal, more police officers means fewer homicides and bringing justice to lawless areas or markets seems particularly important."
There were four times as many homicide deaths in the year ending March 31 2018 as those resulting from terror attacks since 1980.
The report ' Trends and drivers of homicide' goes on to say in London, knife homicides doubled from the year ending March 2017 to the following year.
A paper published on Thursday, titled Trends And Drivers Of Homicide, said the rise, following a downward trend between 2002 and 2014, was driven by drug-related cases and terrorism cases.
"Drug-related cases accounted for about half of the homicide increase between the years ending March 2015 and 2018," it said.
"Terrorism cases accounted for 15% of the increase and corporate manslaughter cases 3%.
But the document warned that increasing police numbers were "no panacea", following Boris Johnson's pledge to recruit 20,000 police officers over three years.
The Home Office report said that rising murders since 2014 had been partly driven by drug-related cases and partly by terror attacks, whose victims are included in the homicide count.
It found that sudden spikes are often linked to "destabilisation of illicit drug markets", where small groups of people are drawn into patterns of tit-for-tat violence "due to gang beef or competition related to a change in supply or demand of illicit drugs".
Researchers said that crack cocaine in particular has been linked with the recent homicide surge. LINK
The drug is commonly dealt by "county lines" gangs, who use children to transport their product from urban hubs to rural targets – a practice that has been linked to increased knife carrying.
Knives or sharp instruments are the most common weapons used and the majority of victims are white.
But the report found that in the year to March 2018, homicide rates were four times higher for black victims and eight times higher for black suspects.
Researchers said the gap narrows in deprived areas, suggesting poverty is a "factor in explaining higher rates among black people".
They concluded that homicide rates could be reduced with a long-term scientific approach, and stressed that figures were still low in Britain compared to other nations.
The report recommended the use of prevention programmes alongside focused police operations.
"To fully understand and prevent the sudden surges in homicide it is vital to marry up street-level intelligence on drug markets and gang conflicts to data analysis of serious violence trends," it concluded.
"We need to know which types of shift in drug supply, demand and gang conflict typically cause surges in homicides."
It was published as the policing minister spoke with police and crime commissioners at a forum aimed at tackling serious violence, including county lines drug dealing, and driving down homicides.
Kit Malthouse said: "The rise in serious violence is deeply concerning and we can only tackle it by working together and giving police and crime commissioners the tools to reduce crime at a local level."
Yvette Cooper, chair of the Home Affairs Committee, called the findings "damning" and said the government had been repeatedly warned of austerity's consequences for public safety.
"For years, Home Office ministers have insisted that there is no direct relationship between the number of police officers and levels of crime on our streets – this report indicates that there is one," the Labour MP added.
"The committee will be monitoring the government's recruitment process to ensure that the planned increase in police officers occurs and that police forces are supported in the logistical challenges posed."
A Home Office spokesperson said: "We are committed to tackling serious violence and we are recruiting 20,000 extra police officers over the next three years to keep our communities safe.
"Tough law enforcement is only one part of the solution, which is why we are also investing in early intervention projects and Violence Reduction Units to address the root causes of violent crime."
"Austerity is theft, the greatest transfer of wealth from poor to the rich since the enclosures."
We are all in it together!
The political elites and the Fourth Estate have consistently demonised poor people, the sick and those with disabilities by the use of inflammatory language to create division both across and within the social classes. The constant reference by politicians and journalists to strivers and hard-working families is an example. Or the provocative words of George Osborne who said:
"Where is the fairness, we ask, for the shift-worker, leaving home in the dark hours of the early morning, who looks up at the closed blinds of their next-door neighbour sleeping off a life on benefits."
Such images perpetuate hate, encourage violence, justify selfishness and a sense of entitlement as well drive the notion that personal fulfilment trumps the interests of the collective.
The ideological narrative that competition defines the human race, and thus the individual is responsible for his or her own fortune. It applies the biological evolutionary language of Darwin to the functioning of the economy and society. It posits that the State has no role to play in delivering public purpose and well- being and that it should not interfere in what is conceived to be a natural process of the survival of the fittest whereby the most motivated, strongest and powerful win. It rejects outright the concept of mutual aid and cooperation as being fundamental to human and planetary thriving.
In 1845 Friedrich Engels coined the phrase 'social murder 'whereby the class which holds social and political control places citizens in such a position that they inevitably meet an early or unnatural death. Murder committed not by one individual against another but by the political elite against the poorest in society. One hundred and seventy three years on Dr Chris Grover from Lancaster University in a recently published report accuses the political elites of the same as a direct consequence of austerity and cuts to benefits which he says can be viewed as a form of "structural violence that is built into society and is expressed in unequal power and unequal life chances as it deepens inequalities and injustices and creates even more poverty." He suggests that "as a result of austerity working class people face harm to their physical and mental well-being and in some instances are 'socially murdered."
People are not suffering and dying because of their own personal failings they are dying as victims of an ideology which has promoted austerity as a financial necessity when, in fact, it is the worst prescription of all. Umair Haque describes it as a force that is ripping the world apart, slashing through democracy, the future and society reducing the planet to a smoking wreck.
It's now time for the people to contest the lies and the cruel deception practised by ideologically driven politicians. Firstly, by recognising that nothing is set in stone and that there is an alternative to austerity. Secondly, by opening our eyes to the painful realities of cuts to public services and social security whereby people are suffering and dying as a result. And thirdly, by getting to grips with how money works and the currency issuing nature of sovereign governments. Governments which need neither to tax nor to borrow to spend and whose limitations are not money but the real resources available to it to deliver its policies.
The truth is that government spending into the economy injects money into the purses and bank accounts of public sector workers who then take their earnings and spend them directly into the real economy, pay down their debts or save. In fact, a healthy economy depends on people spending, it depends on sales of goods and services. To give an example every £1 spent by government on the NHS will generate around £4.30 of spending as wages circulate around the economy. By cutting public spending, austerity has had the reverse effect which has led to soaring of unsustainable private debt and a downward economic spiral for all but the rich.
Once we grasp the essential truths of monetary realities we will be able to see the wood for the trees and recognise that the role of government is not to balance the budget but to balance the economy. Only in this way can we create a fairer, equitable and more sustainable world.
References
Fuad Alakbarov (Azerbaijani-Scottish human rights activist, political commentator and humanitarian.)
How Austerity Ripped the World Apart – Umair Haque
Austerity results in 'social murder' according to new research – Lancaster University
Support Labour Heartlands
PLEASE HELP US KEEP GOING AD-FREE
HELP US GROW.
This is a "Pay as You Feel" website.
This blog has no source of state, corporate or institutional finance whatsoever. It runs entirely on voluntary subscriptions from its readers – many of whom do not necessarily agree with every article, but welcome the alternative voice, insider information and debate.
You can have access to all of our online work for free. However if you want to support what we do, you could make a small donation to help us keep writing and staying ad-free. The choice is entirely yours.