Northern Ireland shipyard workers occupy yard that built the Titanic
Workers at Harland and Wolff, the Belfast shipyard that built the Titanic, have occupied the 158-year old shipyard to protest against its closure.
The 130 workers, members of IndustriALL Global Union affiliates Unite and GMB, are calling for the yard to be nationalized.
The yard was put up for sale in December 2018 due to serious financial problems at its Norwegian parent company, Dolphin Drilling, and has so far failed to find a buyer.
Harland & Wolff workers have vowed to remain on site until a solution is found, pressing government in particular with calls to step in and nationalise the business.
They are maintaining a 24/7 occupation of the site, fuelled by donations and support from the public.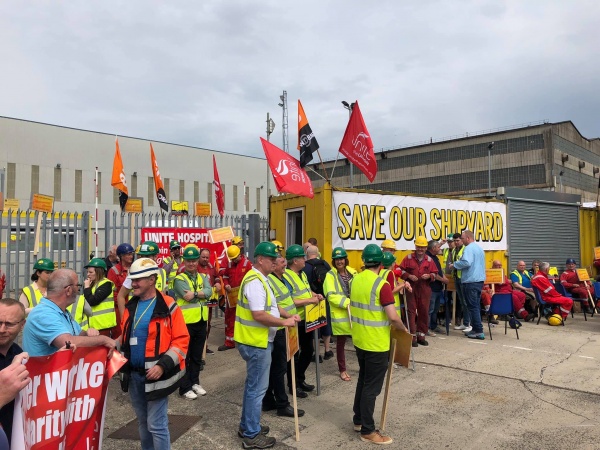 In addition to the occupation, workers protested outside Stormont, the Northern Ireland Assembly, and held a family day at the yard on Sunday. Messages of support and solidarity have flooded in from across the UK and Ireland, as well as further afield.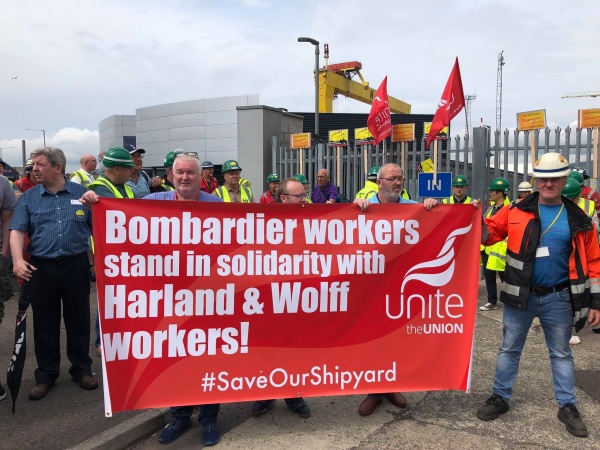 The unions are concerned that the yard will be sold after administration and asset stripped, with the company's expertise and skilled workforce discarded.
Unite shop steward at Harland & Wolff on the workforce's fight to save jobs & skills.
Interview with Joe Passmore, Unite shop steward at Harland & Wolff on the workforce's fight to save jobs & skills.
Belfast has a tremendous history of shipbuilding going back 400 years – these workers and the skills they possess offer a tremendous future – if only our political leaders grasp this opportunity.
In the days bought by the action of the workers from the administrators, we need urgent action by the UK government to intervene and nationalise the shipyard.
There are multi-billion pound Royal Navy contracts which could sustain shipyards up and down the country – offering time to invest in a future where these skills would be transferred to constructing the renewable energy technologies of the future.
Unions are calling for the yard to be nationalized as part of the UK government's strategy to protect shipbuilding. The closure of the yard could also have an effect on other yards, as Harland and Wolff is part of a consortium which is bidding for a Royal Navy contract.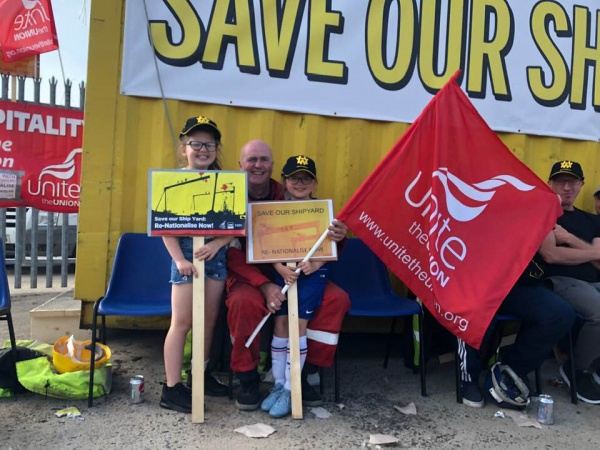 The Harland and Wolff yard is an iconic part of Belfast's industrial heritage and landscape. Founded in 1861, the yard employed 35,000 workers at its peak, building the Titanic and many other famous ships.
The yard has not built a ship since 2003, but has remained active repairing and refitting ships and oil rigs, and providing structural engineering to the offshore oil, gas and renewable energy sectors. In 2008, the yard built SeaGen, then the world's largest tidal energy generator, and has subsequently built components and platforms for offshore wind farms.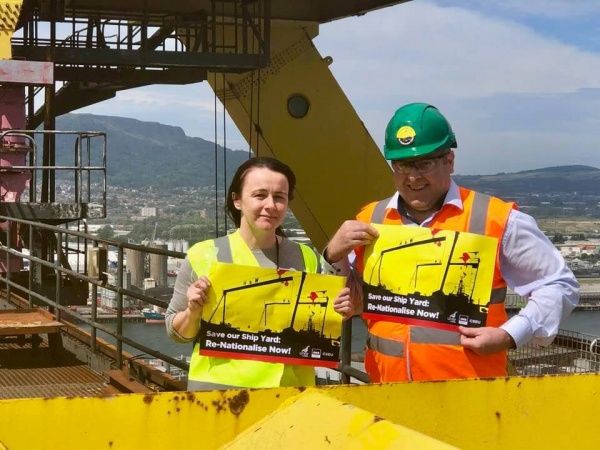 Susan Fitzgerald of Unite said,
"There is still time for the Government to put aside its ideological prejudices and re-nationalize Harland and Wolff.  Given the cost – in terms of lost purchasing power and taxes, as well as expenditure on benefits – of losing Harland and Wolff's jobs, re-nationalization would be a sound commercial decision as well as an investment in Northern Ireland's future."
Michael Mulholland of the GMB said:
"Our members have been protesting for almost 24 hours straight – such is the strength of feeling for this famous yard. GMB demands Harland and Wolf is renationalized, securing hundreds of jobs and Belfast's place as a global centre of shipbuilding."
IndustriALL director for shipbuilding and shipbreaking, Kan Matsuzaki, said:
"This historic yard is part of Belfast's industrial heritage. But it belongs to the future, too. There is surging demand for renewable energy, and Harland and Wolff workers have demonstrated that they have the expertise and experience to turn the yard around and supply the sector.
It is deeply irresponsible to allow the yard to close.

It must be saved.
Related links
Decades of putting City spivs before manufacturing jobs has cost us dear
Unite warns Tories will 'shipwreck' our shipbuilding industry
Support Labour Heartlands
PLEASE HELP US KEEP GOING AD-FREE
This is a "Pay as You Feel" website.
Hey there! Thanks for stopping by. If you've enjoyed reading the articles on Labour Heartlands so far, We would be incredibly grateful if you could consider making a small donation. Labour Heathlands is not your typical news outlet. We are not here to simply regurgitate the daily news cycle, that's for the rest of them. Our focus is on delving deeper, uncovering the untold stories and shedding light on the issues that the mainstream media chooses to ignore.
Our unwavering commitment to journalistic integrity means that we are not influenced by any external forces. We are not beholden to PR companies, advertisers or press barons, and we refuse to let anyone dictate what we report on. Our editorial independence is sacrosanct, and our only allegiance is to the truth.
While we do not align ourselves with any particular political party, we stand firmly against corruption, injustice and the erosion of truth and the rule of law. We believe that accurate information is the lifeblood of a democracy and that facts are not up for debate.
Once again, thank you for your support – We truly couldn't do this without you!
PLEASE HELP US KEEP GOING AD-FREE