The Forde Report is a long-awaited independent inquiry into the leaked Labour report that revealed "shocking" evidence of Labour staffers working to undermine any chance of a Corbyn government."

Sir Keir Starmer commissioned the Forde report, by Martin Forde QC, in the wake of the leak of a document containing private WhatsApp messages that exposed deep factionalism in Labour's efforts to combat antisemitism.
The independent inquiry known as the Forde report came about after a leaked 860-page report into, "The work of the Labour Party's Governance and Legal Unit (GLU) in relation to antisemitism, 2014-2019."
That report highlights blatant sabotage and treachery carried out by The Labour Party's own staffers. Staffers who worked not only against the prospect of Jeremy Corbyn becoming Prime minister but in doing so stopped any chance of a life-changing Labour manifesto being implemented.
The 2017 manifesto of hope was one that would have renationalised railways, supported the NHS, capped energy bills, brought back into public ownership energy companies, and scrapped education fees, all in an effort to lift workers up giving them a more equal opportunity to succeed in life.
The manifesto would have meant a radical change to the UK, one that in today's circumstances would have helped not only consumers but businesses as well, it would have helped buck the trend with the ability to use real economic tools with inflation busting energy gaps.
All these were popular positions with the public, which made Jeremy Corbyn especially dangerous to the Tories and the right wing of his own party.
How were they going to fight this? They certainly didn't ever want to debate the issues with him – actually, they wanted to draw public attention as far away from the vote-winning policies as possible, the only way to stop Corbyn was to use the dirtiest weapon of all, the stab in the back.
The Forde Report
The Forde Report was originally supposed to be delivered in July 2020 but has suffered numerous delays. Martin Forde QC, chair of the inquiry, was tasked with looking into an internal report on Labour's handling of anti-Semitism complaints.
Written by party staff amid the Equality and Human Rights Commission probe into Labour antisemitism, the unredacted so-called "Labour Leaks" report was leaked online in April 2020. It contained personal data and allegations concerning former party staff members, which led to legal complications.
The report draws on roughly 10,000 emails, thousands of messages exchanged on the party's internal messaging service and 400,000 words of messages in two WhatsApp groups for senior party staff.
The report dismissed the complaint by Labour staffers that derogatory messages were "cherrypicked and selectively edited" in the leaked report.
Forde stated: "We find that the messages on the SMT [senior management team] WhatsApp reveal deplorably factional and insensitive, and at times discriminatory, attitudes expressed by many of the party's most senior staff," it found.
Reading the exchange of messages between the plotters is pretty sickening. When the polls showed Labour losing, they cheered. When they showed Labour gaining, they mourned. When the accusations of antisemitism hit the party, they raised their glasses to celebrate – not because they were appalled by antisemitism but because they knew it was a big stick to thrash Corbyn with.
Using their media contacts, they fuelled the anti-Corbyn propaganda machine, planting stories and misinformation designed to paint him as black as possible – all this while their wages were being paid by the subscriptions of party members, the very people who'd elected him as Leader.
As hundreds of thousands of workers and youth signed up to the Labour Party, with illusions that Corbyn would lead a fight against austerity and war, the staff at Labour's head office were running, in their own words, a "Stasi system" to purge left-wing sentiment, they were set on undermining that fight.
The "Labour Leaks" report that the Party's election efforts in 2017 were undermined by factionalism or deliberately sabotaged by the right wing of the Labour Party, staffers who worked for the Labour Party supposedly help bring about a Labour government, instead worked to ensure Corbyn would fail.
That leaked Labour report should have been an explosive scandal but the media buried it because they were complicit.
At the time Open democracy described the situation accurately saying: Most people now agree that the media campaign against Jeremy Corbyn in the two years leading up to the last election plumbed new lows of viciousness, misinformation and character assassination. In some respects that was to be expected: The Right reacted at first with incredulity at the prospect of somebody with a coherent progressive agenda becoming prime minister – and then used every dirty trick in the book to prevent it from happening.
But it wasn't just the media, the enemy within used every dirty trick in the book to ensure Jeremy Corbyn and a Left wing manifesto would not be successful.

Someone somewhere decided their best strategy was to try to destroy Corbyn using a method of relentless character assassination. Many of us expected the dirty tricks, however, It wasn't only coming from the usual suspects – The Mail, Telegraph and Murdoch Press – but at times The Guardian, The BBC, the Head of The Board of Deputies and a bevvy of 'useful idiot' columnists. This was deeper and darker, The leaks and press reports were relentless and totally bias in nature.
What we didn't expect – or at least I didn't – was the monolithic unanimity of the establishment including its servants within the Labour Party to not only use dirty tricks but that they would be so low as to carry out underhanded tactics that the results would be instrumental in losing an election and all but destroyed that once great political wing of the Labour movement.
Antisemitism was used as 'factional weapon' in Labour party, Forde report finds
The Forde Report revealed "shocking" evidence about Labour and found that "both factions" treated anti-Semitism in the party "as a factional weapon".
Forde throughout his report constantly refers to two factions within the Labour Party as if that was the mandate of the report, to explain the factional differences.
What he misses is the fact there was only one faction. That was an anti_Corbyn faction which used its influence to undermine the legitimate leader of the Labour party through any means possible. Of course, the other faction Forde referees to isn't in fact a faction, but the legitimate democratically elected leader of the Labour party and his staff.
He states…
On the relations between Jeremy Corbyn's office and Labour HQ when it was largely staffed by Corbynsceptics, the report says: "The whole situation rapidly deteriorated as several on the Right did seize on the issue as a way to attack Jeremy Corbyn and several on the Left adopted a position of denialism and conspiracy theories."
While noting that internal divisions within Labour had previously existed, the report sets out that "factionalism permeated relationships" between Corbyn's team and the party's HQ, seriously affecting its functioning.
Detailing the extent of mutual mistrust, it said: "Staff in HQ and LOTO [the leader of the opposition's office] both genuinely believed that the other side was trying to sabotage their work in this period – sometimes with a degree of justification and sometimes not.
"In simple terms, each faction believed the other had 'started it' when it came to obstructionist behaviour and that they were only responding in kind."
Forde continues to downplay the sabotage as factional infighting…
Ergon Hous
One of the key allegations of the report leaked in 2020 was that Labour staff hostile to Corbyn ran a parallel campaign in the 2017 general election, which could have cost the party the chance of power.
The original document by party staff included details of an operation run in Ergon House during the 2017 general election campaign, which Corbynites said they did not know about.
The allegation, investigated in the report, was that some senior Labour Party officials had actively tried to undermine Labour's 2017 general election campaign.
If Labour had taken just a few more seats, the Conservatives would have been unable to form a government, and a minority Labour government would probably have been the only option. The Forde Report declines to get into hypotheticals about what might have been – which are unknowable.
The Forde report concluded this was "highly unlikely" while noting that the two sides did have very different election strategies, based in part on seeking support for MPs they favoured, adding: "The two sides were trying to win in different ways."
The setting up of Ergon House happened as Forde states: "Covertly and without authority diverted money and personal without authority."
Again, Forde tries to mitigate the fact that the faction that opposed Corbyn spent a huge amount of Labour funds £135,000 on campaigns supportive of anti-Corbyn Labour MPs and not on campaigns for pro-Corbyn candidates in potentially winnable Tory seats.
Concluding "We consider it to be highly unlikely that the diversion of funds and personnel into the Ergon House operation lost the Party the general election. Nevertheless, the Ergon House operation was wrong"
"it was unequivocally wrong for HQ staff to pursue an alternative strategy covertly… We are absolutely clear that this should never have happened, and we consider that the anger amongst the membership regarding the issue is justified."
Again, Forde is quick to make a judgement, one that doesn't hold water, most of us, understand that winning a campaign is best done with a master plan, one clear strategy, not by running covert and secretive strategies with separate objectives outside the official campaign, strategies of which no one else is remotely aware.
Forde tries to mitigate the divisions by constantly refereeing to Labour factionalism as if it was a norm, that somehow that was just par for the course, to have one side of the Labour Party undermining the Party's chance of succeeding in a general election.
The fundamental point is that democracy must be respected. Jeremy Corbyn was elected, he had an overwhelming mandate for change. In many instances, senior staff effectively refused to recognise this. As Forde reports, "by 2015, the majority of the Party's senior staff did not see their roles as requiring perfect neutrality, or even the appearance of it".
Forde found that such factional behaviour meant staff actively weeded out party members and supporters from voting in Labour leadership elections who might have been pro-Corbyn: "In our view the intention and effect of both validation exercises was to remove ballots from individuals who would otherwise have voted for Jeremy Corbyn." This is a lesson not just about party management but about re-establishing a culture of respect for democracy in the party.
By definition any faction that undermines that of its own party is not a faction they are in fact a fifth column, saboteurs, the enemy within, there is no justification for such acts as the right wing conducted, acts that had profound consequences on millions of people who voted for a party thy supported and believed would change their lives for the better.
These staffers are very much the Tory enablers they ensured a Conservative victory under both Theresa May then Boris Johnson and should never be forgiven for doing so.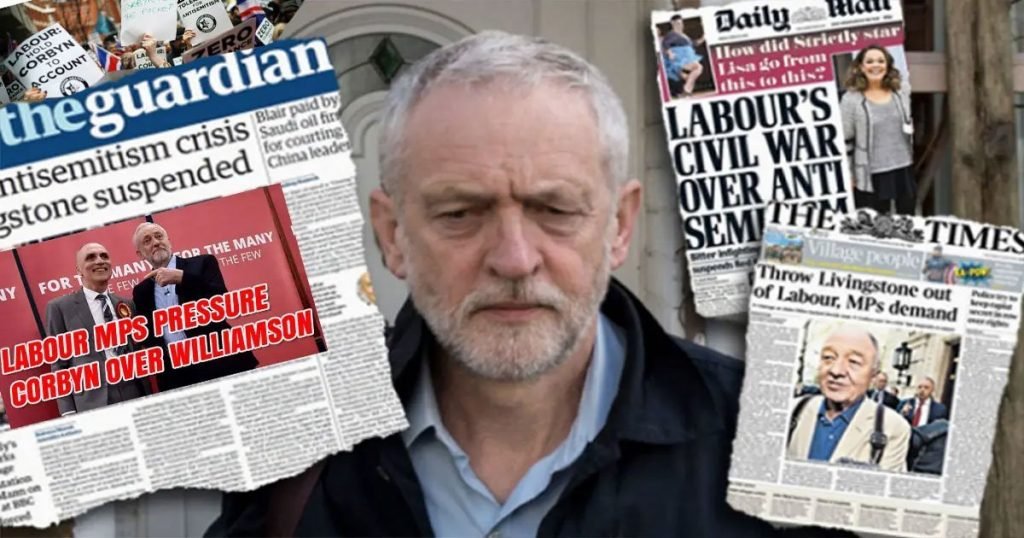 In a statement on the release of the Forde report, Jeremy Corbyn said that many in Labour had found it "hard to come to terms" with his "overwhelming" election as leader in 2015.
"The Forde Report casts an important light on events in the Labour Party in recent years. My election as leader in 2015 was a major shock in British politics. It wasn't about me, but a popular demand for anti-austerity politics following the 2008 financial crisis and 35 years of market fundamentalism.
Despite overwhelming support from members and affiliates, powerful groups in the party found that change hard to come to terms with.
This led to a conflict in Labour that created a toxic environment, which the Forde Report lays bare. In any party there are groups and factions, but the resistance we were faced with went far beyond that.
It included the secret diversion of campaign funds by senior HQ staff in the 2017 election, which Forde rightly condemns as "unequivocally wrong". Whether or not that prevented the election of a Labour government, it was dishonest.
In a democratic party those decisions should be taken by the elected leadership. Too often the will of the membership was overridden by people who thought they shouldn't have had a say in the first place.
Whatever arguments there are about specific findings, this report should help us see a path forward. The politics of the many, not the few, are more needed in this country than ever.
We suffer a cost of living scandal while billionaire wealth soars and climate breakdown accelerates while fossil fuel companies boast record profits. For the Labour Party to be the vehicle for a better and sustainable world, things need to change.
The appalling behaviour that Forde calls out, including the repulsive racism and sexism shown to Diane Abbott and others, should have no place in a progressive party. Toxic factionalism is far from over – nor are persistent problems of racism and sexism – and action must be taken, as Forde makes clear.
Most of all, the Party needs to decide what it is for and who decides that. Are we a democratic socialist party, run by members and affiliated unions, that aims for a fundamental transfer of wealth and power from the few to the many? Or are we something else?" -Jeremy Corbyn
Hilary Schan, co-chair of the Momentum Group, which supports Mr Corbyn, said the report showed that "right-wing Labour staff members worked to undermine the party's general election chances and its own complaints system, including on anti-Semitism".
"Disgracefully, while tens of thousands of Labour members were pounding the streets to kick the Tories out in favour of a socialist Labour government, these right-wing factional operators were wreaking havoc on the party from within," she added.
For many people the reality is the Labour Party are no longer the Party of the People, it has shown itself to be little more than an alternative Tory Party, not an alternative to the Tory Party.
If members don't understand the implication and implicit ethos of what the staff of the Labour Party GLU have done then they should read the leaked documents.
In a free democratic country, no matter your political views, people should find this terrifying.
To grasp the full gravity of the Labour leaks it must be understood, "If her majesty's opposition has 'intentionally' thrown two elections, that's not just a matter for Labour but for the whole country. "You don't have a democracy if you do 'NOT' have an opposition party trying to win."
If the Labour Party cannot challenge the status quo to bring about the emancipation of the working class if it cannot offer itself to be a platform for social change and the common good if it cannot present an economic program that challenges capitalism, then what's the point of Labour?
More so, if the Labour Party works against its own members' interests as it has been shown to have done, then it is no longer fit for purpose and it is time the people got a new Party that represents their interests, by the people for the people.


Support Labour Heartlands
PLEASE HELP US KEEP GOING AD-FREE
This is a "Pay as You Feel" website.
Hey there! Thanks for stopping by. If you've enjoyed reading the articles on Labour Heartlands so far, We would be incredibly grateful if you could consider making a small donation. Labour Heathlands is not your typical news outlet. We are not here to simply regurgitate the daily news cycle, that's for the rest of them. Our focus is on delving deeper, uncovering the untold stories and shedding light on the issues that the mainstream media chooses to ignore.
Our unwavering commitment to journalistic integrity means that we are not influenced by any external forces. We are not beholden to PR companies, advertisers or press barons, and we refuse to let anyone dictate what we report on. Our editorial independence is sacrosanct, and our only allegiance is to the truth.
While we do not align ourselves with any particular political party, we stand firmly against corruption, injustice and the erosion of truth and the rule of law. We believe that accurate information is the lifeblood of a democracy and that facts are not up for debate.
Once again, thank you for your support – We truly couldn't do this without you!
PLEASE HELP US KEEP GOING AD-FREE