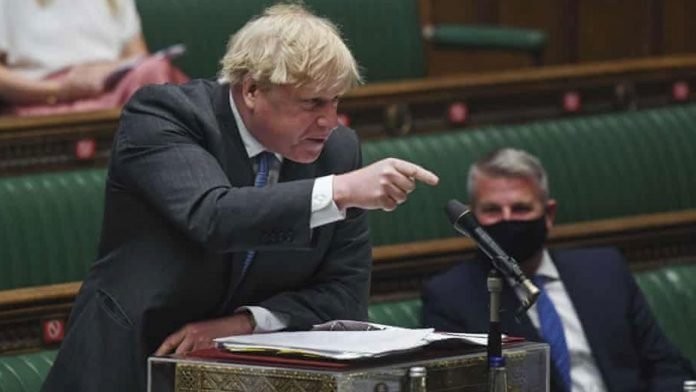 Boris Johnson: 'Partygate' report finds serious failures of leadership
Boris Johnson's tenure is hanging by a thread as Sue Gray's report blasted "failures of leadership and judgement" in 10 Downing Street.
The Prime Minister was branded "unfit for office" after top civil servant Sue Gray said several Downing Street lockdown parties "should not have been allowed". For many that is an understatement, according to the Tories own lockdown rules they were illegal but of course, the report itself has now been compromised with the Met diluting what can and can't be published.
Gray's nine-page interim update said "at least some" of the gatherings were "a serious failure to observe not just the high standards expected of those working at the heart of Government, but also of the standards expected of the entire British population at the time."
There were 'failures of leadership and judgement'
Sue Gray said "at times it seems there was too little thought" given to whether the gatherings were appropriate. She added: "There were failures of leadership and judgment by different parts of No 10 and the Cabinet Office at different times."
The report went on: "Some of the events should not have been allowed to take place. Other events should not have been allowed to develop as they did."
Ms Gray added: "Against the backdrop of the pandemic, when the Government was asking citizens to accept far-reaching restrictions on their lives, some of the behaviour surrounding these gatherings is difficult to justify."
She revealed three new gatherings we didn't even know about and said police are probing 12, including an 'ABBA party' in the Downing Street flat that the PM denied ever happened.
Boris Johnson told MPs he was "sorry for the things we simply didn't get right", adding: "I get it and I will fix it."
Miss Gray insisted her 12-page document – which does 'not' include any details or names – should be referred to as an 'update' rather than her complete report.
In it, she said it was 'not possible at present to provide a meaningful report' setting out all she discovered.
Boris Johnson accused Labour leader Sir Keir Starmer of failing to prosecute Jimmy Savile and drug taking from Labour's frontbench.
In his two hours stand up act, Johnson went from contrite schoolboy caught out, to accusing Sir Keir Starmer of "failing to prosecute Jimmy Savile" then when later asked if there was a culture of drug taking in Downing Street, he suggested the inquiry be "put to the Labour front bench".
But the contrition did not last long, as he used the ongoing police probe as a shield and bullishly insisted he is 'getting on with the job I was elected to do' – 'delivering' on issues such as Brexit and levelling up.
The prime minister said Labour's criticism was a "tissue of nonsense" after the report did not directly attack him, or say directly if people broke the rules or the law. But of course, it wouldn't if the redacted version did not include any details or names.
He said that was what the public 'want us to focus on instead of 'talking about ourselves'.
It is at this point Boris Johnson and his wife Carrie are facing being questioned by detectives probing lockdown-breaching Whitehall parties 'within days' it emerged tonight after a trove of evidence was handed to Scotland Yard.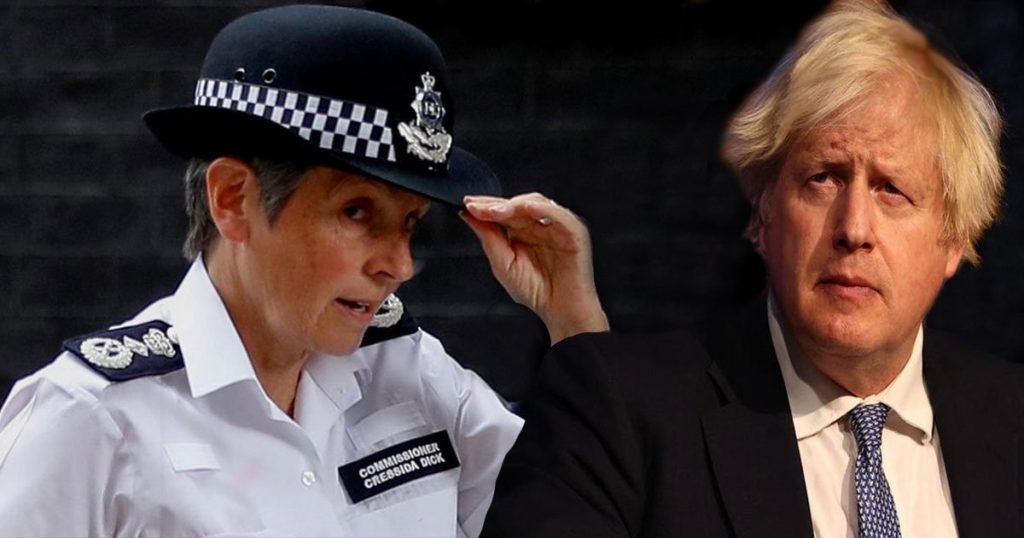 Detectives are poring over a dossier of 300 Partygate photos with Carrie Johnson's alleged Abba bash now one of 12 under investigation.
Scotland Yard is examining eight dates on which events are said to have taken place and a spokesman said last night that it had gathered 500 pages of information.
The Prime Minister is understood to have attended at least four gatherings being probed by the police, including a 'bring your own booze' garden party and a birthday party where he was 'ambushed by cake'. Two of the events the Met is investigating had not been reported on.
Detectives also said they were looking into a bash said to have taken place in the Prime Minister's Downing Street flat to mark the departure of Dominic Cummings in November 2020.
It was claimed at the weekend that Abba music was played at a victory party attended by Mrs Johnson after her husband's former chief adviser had left with his belongings in a box.
The couple insists the party did not take place – a denial the Prime Minister repeated in the Commons yesterday.
But Sue Gray's report listed the event as one which the civil servant said was in the scope of her inquiry. It means the Prime Minister and his wife could be fined.
The Met said the photographs were handed over by the Cabinet Office on Friday and officers were sifting through them to determine which individuals needed to be questioned further.
Police are looking at THREE HUNDRED pictures
Sue Gray warned she has "extensive substantive factual information" after interviewing more than 70 people and checking e-mails, WhatsApps, texts, photographs, official records and entry and exit logs.
And police revealed she gave them "well over 500 pieces of paper, about a ream and a half, and over 300 photographs".
Met Police Commander Catherine Roper said: "We'll be contacting those people that we want to have further information from with a series of questions – that could be via email or it could be by post."
The cover of the Sue Gray Partygate report ( Image: PA)
But will it ever see the light of day?
Most of the information Sue Gray gathered will now be locked away for "storage and safekeeping", "until such time as it may be required further".
That's because it could not be published due to the Scotland Yard probe. Frustrated Ms Gray said: "It is not possible at present to provide a meaningful report".
Tonight Downing Street pledged to "ask Sue Gray to update her work" after the Met probe ends and the PM "will publish that update".
But that stops short of a commitment to a full report – and it's thought Ms Gray could hold back evidence like photos or texts.
Starmer said: "The Prime Minister must keep his promise to publish Sue Gray's report in full when it is available." Tory MP Tobias Ellwood added: "If the PM fails to publish the report in full then he will no longer have my support."
However, on social media, Starmer's hypocrisy is often pointed out when it comes to publishing reports. The long-overdue Forde report has been put back continually for over 18 months, only last week missing another promised publication.
For many, it is hard to understand how Boris Johnson can continue as prime minister but for many more, they have come to a point where they are asking "how can we continue under such a farce as this parliament, whoever is in charge?
Support Labour Heartlands
PLEASE HELP US KEEP GOING AD-FREE
HELP US GROW.
This is a "Pay as You Feel" website.
This blog has no source of state, corporate or institutional finance whatsoever. It runs entirely on voluntary subscriptions from its readers – many of whom do not necessarily agree with every article, but welcome the alternative voice, insider information and debate.
You can have access to all of our online work for free. However if you want to support what we do, you could make a small donation to help us keep writing and staying ad-free. The choice is entirely yours.