Putin's actions result in Biden getting what he wanted, a halt to Nord Stream 2
German Chancellor Olaf Scholz has said the gas pipeline project cannot go ahead now in these crisis circumstances. He said the approval process has been halted.
Germany's energy minister, Robert Habeck, on Tuesday morning instructed the withdrawal of an assessment required to authorise the pipeline between Russia and Germany.
"This may sound technical, but it is the necessary administrative step without which the pipeline cannot be certified," Scholz said at a press conference in Berlin at midday. "Without this certification Nord Stream 2 cannot go into operation".
Scholz said he has commissioned a new assessment into Germany's energy security in the light of geopolitical developments in east Ukraine.
Scholz calls Putin's actions 'unjustified and incomprehensible'
The German chancellor labelled Russian President Vladimir Putin's recognition of the separatist territories in eastern Ukraine "unjustified and incomprehensible."
Speaking at a joint press conference with Irish Prime Minister Micheal Martin, Scholz said Moscow needed to be held to account for its actions.
"Now it is down to the international community to respond to this unilateral, unjustified and incomprehensible action taken by the Russian president. We need to coordinate our approach … in order to send a clear signal to Moscow that activities of this kind cannot remain without consequences."
Scholz said Germany's energy needs would need to be reassessed by the relevant government authority.
"The department of the German ministry of economics will reassess the security of our supply needs in light of what has taken place."
The German chancellor continued to push diplomacy as a way of averting what he called a "disaster."
"In this phase it is important, apart from initial sanctions, to prevent a further escalation and with it a disaster. All of our diplomatic efforts will be aimed at achieving this."
Why is the Nord Stream 2 gas pipeline contentious?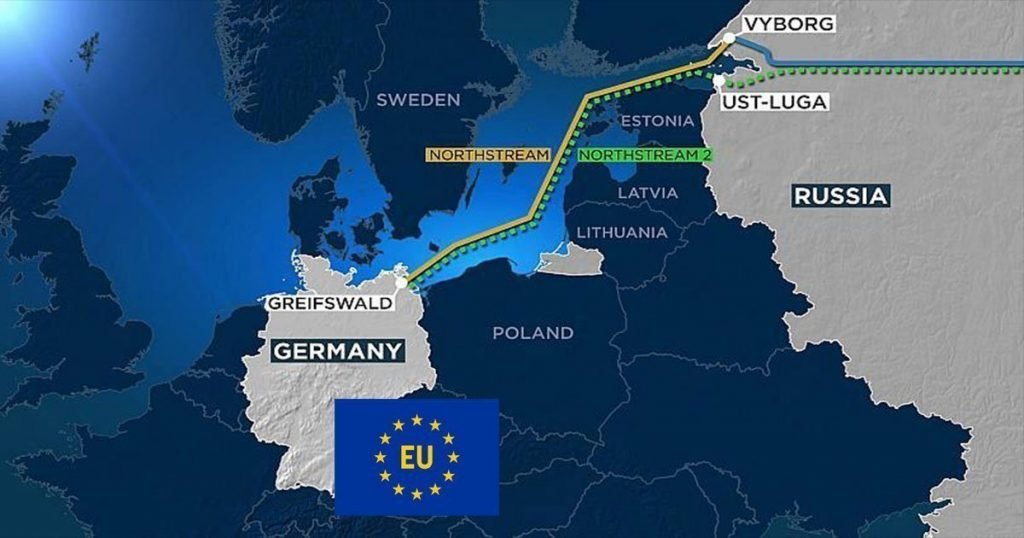 The devils in the detail.
The construction of the pipeline project has been completed, but the project still needed regulatory certification from German authorities before the gas could be delivered.
The pipeline has been a source of contention with the US, which has expressed concern that it increases European dependence on Russia for its energy needs.
Earlier this month US President Joe Biden said there would be no chance of the project going ahead if Russian tanks and troops crossed the Ukraine border.
Nord Stream 2 would double the amount of gas flowing from Russia to Germany and would bypass Ukraine, owing to it running along the bed of the Baltic Sea.
Whichever way you look at it the US has succeded in stopping Nord stream 2
GAS, GAS, GAS! Ukraine crisis Nord Stream 2
The US and UK, along with Russia's neighbours Poland and Ukraine, strongly oppose Nord Stream 2.
They fear that if they were to start operating, it would give Russia even more of a stranglehold over gas supplies to Europe.
Ukrainian president Volodymyr Zelensky has called Nord Stream 2 "a dangerous political weapon".
In 2006, Russia shut off gas supplies going through Ukraine because of a financial quarrel between the two countries. It caused acute energy shortages during winter in central and eastern Europe.
There are fears Russia might stop gas supplies in the future for political reasons.
The US has tried to block Nord Stream 2 before, by imposing sanctions on companies involved in the project. However, it has only targeted Russian firms and not German ones, for fear of damaging diplomatic relations with Berlin.
US President Joe Biden vowed in early February to shut down Nord Stream 2 if Moscow invades Ukraine, saying "I promise you we will be able to do it".
This would be a problem for Germany, since it is it Russia's single biggest customer for gas in Europe and has been looking forward to the new supplies.
Germany's chancellor Olaf Scholz notably did not mention scrapping Nord Stream 2 as a possible sanction before his 15 February peace mission to Moscow to meet Vladimir Putin.
However, German foreign minister Annalena Baerbock said more recently: "We, Germany, are prepared to pay a high economic price for this. That's why all options are on the table for me, also Nord Stream 2."
Natural gas represents about one-fifth of all primary energy used across Europe. It accounts for about 20% of electric power generation and also is used for heating and industrial processes.
Russia is the largest supplier of natural gas to Europe, sending about 40% of the continent's supplies shipped by pipeline. The next-largest suppliers via pipeline are Norway (22%), Algeria (18%) and Azerbaijan 9%. Europe also receives natural gas that is liquefied and delivered by ship.
In recent months, European imports of liquefied natural gas, or LNG, from the U.S. and elsewhere reached record levels at around 400 million cubic meters per day. To put that in perspective, a single LNG cargo ship can hold roughly 125,000-175,000 cubic meters of natural gas – enough energy to warm 17 million British homes for one winter day.
Biden has some very close friends within the Liquid Natral gas industry set to make a fortune if War were to break out…
Again we mustn't forget the US sanctions in respect of Nord Stream 2 and TurkStream pipelines.
If Europe wants energy they will have to look elsewhere.
Support Labour Heartlands
Help Us Sustain Ad-Free Journalism
Sorry, I Need To Put Out the Begging Bowl
Independent Journalism Needs You
Our unwavering dedication is to provide you with unbiased news, diverse perspectives, and insightful opinions. We're on a mission to ensure that those in positions of power are held accountable for their actions, but we can't do it alone. Labour Heartlands is primarily funded by me, Paul Knaggs, and by the generous contributions of readers like you. Your donations keep us going and help us uphold the principles of independent journalism. Join us in our quest for truth, transparency, and accountability – donate today and be a part of our mission!
Like everyone else, we're facing challenges, and we need your help to stay online and continue providing crucial journalism. Every contribution, no matter how small, goes a long way in helping us thrive. By becoming one of our donors, you become a vital part of our mission to uncover the truth and uphold the values of democracy.
While we maintain our independence from political affiliations, we stand united against corruption, injustice, and the erosion of free speech, truth and democracy. We believe in the power of accurate information in a democracy, and we consider facts non-negotiable.
Your support, no matter the amount, can make a significant impact. Together, we can make a difference and continue our journey toward a more informed and just society.
Thank you for supporting Labour Heartlands
Just click the donate button below