Russia's Vladimir Putin says he is recognising breakaway rebel regions in Ukraine's east as independent states.
The self-declared people's republics of Donetsk and Luhansk are home to pro-Russian rebels who have been seeking self-determination fighting Ukrainian forces since 2014.
Donetsk and its surrounding areas have been one of the major sites of fighting in the ongoing Donbas War, as pro-Russian separatist forces continued to battle against Ukrainian military forces for control of the city and surrounding areas.
Throughout the war, the city of Donetsk has been administered by the pro-Russian separatist forces as the centre of the Donetsk People's Republic (DPR), with outlying territories of the Donetsk region divided between the two sides.
Donetsk International Airport became the epicentre of the war with almost a year-long battle leading to massive casualties among civilians and total ruination of the northwestern neighbourhoods of the city.
Since then, more than 14,000 people have been killed in fighting between Ukraine's army and the separatists.
The DPR currently controls an area of about 7,853 km2 area, stretching from the town of Novoazovsk in the south to the city of Debaltseve in the north, but from April to July 2014 the unrecognised republic controlled most of Ukraine's Donetsk Oblast's 26,517 km2.
The DPR has full control of the city, with Ukrainian and DPR forces still engaging in combat outside of the city, the international community has done nothing to help the people in these regions.
The Lugansk and Donetsk Peoples Republics are located in the historical Donbas region of Eastern Ukraine. Since Ukraine's independence from the Soviet Union in 1991
The territory on which the city of Luhansk emerged had been part of Russia since 1533.
Russia had formerly recognised identity documents, diplomas, birth- and marriage certificates, and vehicle registration plates issued by the DPR since February 2017.
It is impossible to ignore millions of people, backed by Russia or not, that are fighting for self-determination.
A little history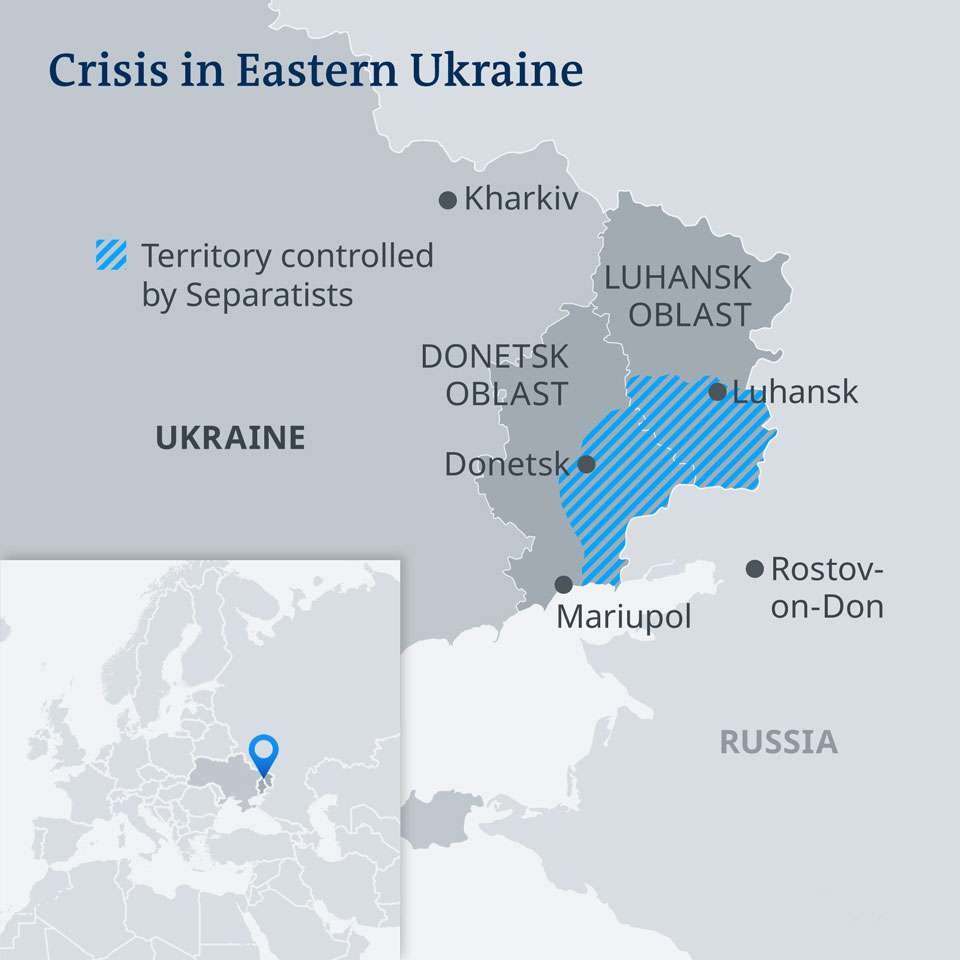 Typically both Eastern and Western Ukraine voted for different candidates in presidential elections. In 2010 when Viktor Yanukovych, a Donetsk native was elected president of Ukraine.
He was pro Russian but understood neutrality would be the best option for Ukraine.
In 2010 in an attempt to keep Ukraine neutral a new bill was passed barring Ukraine's membership in any military bloc, but allowing for cooperation with alliances such as Nato.
"The main element of predictability and consistency in Ukraine's foreign policy is its non-aligned status," Prime Minister Mykola Azarov said as he submitted the bill.
That bill still stands, beyond the MSM repeating calls of NATO alliances standing together forget to mention Ukraine is not a NATO member.
The lesser of two evils is still evil.
Of course, they are all corrupt, it's just a matter of Eastern or Western corruption. The losers are always going to be the people.
In this case, the corrupt West managed to topple the corrupt East.
In 2014 Ukraine said no to the EU seven years later the country is still in turmoil.
The crunch came when Viktor Yanukovych decided Ukraine's future was not as part of the EU.
Ukraine's pro-European trajectory was abruptly halted in November 2013, when a planned association agreement with the EU was scuttled just days before it was scheduled to be signed. The accord would have more closely integrated political and economic ties between the EU
Relations between the European Union (EU) and Ukraine were shaped through the Ukraine–European Union Association Agreement and the Deep and Comprehensive Free Trade Area (DCFTA). It stated Ukraine is a priority partner within the Eastern Partnership and the European Neighbourhood Policy (ENP). The EU and Ukraine are seeking an increasingly close relationship with each other, going beyond co-operation, to gradual economic integration and deepening of political co-operation.
The association agreement was initiated in 2012, but the Ukrainian government suspended preparations for signing the association agreement on 21 November 2013, during the presidency of pro-Russian Viktor Yanukovych, who attended the EU summit in Vilnius on 28–29 November 2013 where the association agreement was originally planned to be signed but it was not. The Ukrainian government refused to sigh.
The decision not to sign the association agreement led to the pro-EU Euromaidan movement.
In November 2013 a wave of large scale protests (known as Euromaidan) erupted in response to President Yanukovych's refusal to sign a political association and free trade agreement with the European Union at a meeting of the Eastern Partnership in Vilnius, Lithuania.
Protests continued for months. In February 2014 clashes between the protestors and the riot police became violent, and resulted in the deaths of nearly 130 people, including 18 police officers. On February 21, an agreement between President Yanukovych and the leaders of the parliamentary opposition was signed that called for early elections and the formation of an interim unity government.
After rejecting the Ukrainian-European Association Agreement, Yanukovych was ousted from office in the 2014 Ukrainian Revolution.
The following day, Yanukovych fled from the capital ahead of an impeachment vote and in fear of his life. He currently lives in exile in Russia.
CIA refered to this as regime change.
Snap presidential elections were held in Ukraine on 25 May 2014, resulting in Petro Poroshenko being elected President of Ukraine. Originally scheduled to take place on 29 March 2015, the date was changed following the 2014 Ukrainian revolution. Poroshenko won the elections with 54.7% of the votes, enough to win in a single round. His closest competitor was Yulia Tymoshenko, who emerged with 12.81% of the votes.
The Central Election Commission reported voter turnout at over 60% excluding those regions not under government control. Since Poroshenko obtained an absolute majority in the first round, a run-off second ballot (on 15 June 2014) was unnecessary.
The elections were not held throughout Ukraine.
During the 2014 Crimean crisis, Ukraine lost control over Crimea, which was unilaterally annexed by Russia in March 2014 after a referendum by the people. As a result, elections were not held in Crimea.
In the Donbas region of Ukraine, only 20% of the ballot stations were open due to threats and violence from one side or the other. Of the 2,430 planned ballot stations (in Donbas), only 426 remained open for polling. The self-proclaimed Donetsk People's Republic and Luhansk People's Republic, controlling large parts of Donbas, had vowed to do everything possible to disrupt the elections on their territory.
Petro Poroshenko won the presidency and served a full presidential term until 2019, losing to Volodymyr Zelensky.
At any other time, by any other state, we would have proclaimed the new Ukraine government illegitimate, a puppet government, however when it's our puppet it's absolutely legitimate, no questions asked.
US foreign policy ironically is now once again directed by the 'The Council on Foreign Relations'. Another non-elected non-governmental murky organisation of elitists that astonishingly had Jeffrey Epstein in its ranks.
US foreign policy is often perceived abroad as a selfish exercise to further economic interests, largely driven by a huge energy demand. We would be remiss if we didn't point out a few incontinent facts about Biden's foreign policy that could see us all involved in a bloody conflict.
In 2014 Joe Biden was the White House's go-to guy during the Ukraine crisis, touring former Soviet republics and reassuring their concerned leaders but he was not the only Biden involved in the region."
The son of the then US Vice President Joe Biden, Hunter Biden joined the board of directors of Ukraine's largest private gas company 'Burisma' which was controlled by a confidant of former Ukrainian President Viktor Yanukovych.
Biden joined the board of Burisma Holdings owned by Ukrainian oligarch and former politician Mykola Zlochevsky, who was facing a money laundering investigation just after the Ukrainian revolution, in April 2014.
at the time the move raised some eyebrows in the US, given the Obama administration's attempts to manage the ongoing crisis in Ukraine.
Nothing fishy, says White House
The White House at the time said it can't see any problem in Biden's appointment. Press Secretary Jay Carney refused to comment further, stating only that "Hunter Biden and other members of the Biden family are obviously private citizens, and where they work does not reflect an endorsement by the administration or by the vice president or president."
Western Europe had come to a consensus that Ukraine's prosecutor general, Viktor Shokin, wasn't doing enough to crack down on corruption. Biden, as he later colorfully recounted, delivered the message that the West wanted Shokin gone or else loan guarantees would be held up, and Shokin was, in turn, fired.
At the time no congressional Republicans complained about it, and the European Union hailed the decision to fire Shokin. The reason there is video footage of Biden touting his personal role in this is it was considered a foreign policy triumph that Biden wanted to claim credit for, not anything sordid or embarrassing.
But Shokin, of course, didn't want to go down with the theory that he was corrupt or incompetent. So he started offering another theory: he was fired for going after Burisma by Joe Biden operating on behalf of Hunter Biden.
The question of whether Shokin was actually investigating Burisma at all is a matter of dispute one we will never get to the bottom of (the relevant Ukrainian players have told inconsistent stories), but this is clearly not the reason he was fired.
NEW: The BIDENS are entangled in a Ukrainian corruption scandal:@JoeBiden pushed Ukraine to fire a prosecutor seen as corrupt.
BUT the prosecutor had opened a case into a company that was paying HUNTER BIDEN.
The Bidens say they never discussed it. https://t.co/tblUPYPJMG

— Kenneth P. Vogel (@kenvogel) May 2, 2019
Hunter's position on the board was a standing conflict of interest that should have been avoided. There's no evidence that Joe Biden did anything wrong, specifically. But an examination of the life and times of Hunter Biden does provide a reminder that most Americans thought politics, as usual, was corrupt long before Trump arrived on the scene to make it more corrupt.
Now his dad is president well it's looking more like the family business is going to become everyone's business like it or not.
GAS, GAS, GAS! Ukraine crisis Nord Stream 2
The US and UK, along with Russia's neighbours Poland and Ukraine, strongly oppose Nord Stream 2.
They fear that if they were to start operating, it would give Russia even more of a stranglehold over gas supplies to Europe.
Ukrainian president Volodymyr Zelensky has called Nord Stream 2 "a dangerous political weapon".
Coincidentally the United States is now the world's leading exporter of liquefied natural gas as Europe's energy crisis and shortages in China send demand for American shipments soaring.
In 2006, Russia shut off gas supplies going through Ukraine because of a financial quarrel between the two countries. It caused acute energy shortages during winter in central and eastern Europe.
There are fears Russia might stop gas supplies in the future for political reasons.
The US has tried to block Nord Stream 2 before, by imposing sanctions on companies involved in the project. However, it has only targeted Russian firms and not German ones, for fear of damaging diplomatic relations with Berlin.
US President Joe Biden vowed in early February to shut down Nord Stream 2 if Moscow invades Ukraine, saying "I promise you we will be able to do it".
This would be a problem for Germany, since it is it Russia's single biggest customer for gas in Europe and has been looking forward to the new supplies.
Germany's chancellor Olaf Scholz notably did not mention scrapping Nord Stream 2 as a possible sanction before his 15 February peace mission to Moscow to meet Vladimir Putin.
However, German foreign minister Annalena Baerbock said more recently: "We, Germany, are prepared to pay a high economic price for this. That's why all options are on the table for me, also Nord Stream 2."
Natural gas represents about one-fifth of all primary energy used across Europe. It accounts for about 20% of electric power generation and also is used for heating and industrial processes.
Russia is the largest supplier of natural gas to Europe, sending about 40% of the continent's supplies shipped by pipeline. The next-largest suppliers via pipeline are Norway (22%), Algeria (18%) and Azerbaijan 9%. Europe also receives natural gas that is liquefied and delivered by ship.
In recent months, European imports of liquefied natural gas, or LNG, from the U.S. and elsewhere reached record levels at around 400 million cubic meters per day. To put that in perspective, a single LNG cargo ship can hold roughly 125,000-175,000 cubic meters of natural gas – enough energy to warm 17 million British homes for one winter day.
Again we mustn't forget the US sanctions in respect of Nord Stream 2 and TurkStream pipelines
---
Seven years ago Seumas Milne wrote the most insightful article about the situation surrounding Ukraine.
We can see how we got here and the forgotten struggles the people of Donetsk and Luhansk have endured for the last seven years. No matter how much the MSM will argue differently.
It's not Russia that's pushed Ukraine to the brink of war
Now the US and the European Union will step up sanctions against the Kremlin, accusing it of destabilising Ukraine. The White House is reported to be set on a new cold war policy with the aim of turning Russia into a "pariah state".
That might be more explicable if what is going on in eastern Ukraine now were not the mirror image of what took place in Kiev a couple of months ago. Then, it was armed protesters in Maidan Square seizing government buildings and demanding a change of government and constitution. US and European leaders championed the "masked militants" and denounced the elected government for its crackdown, just as they now back the unelected government's use of force against rebels occupying police stations and town halls in cities such as Slavyansk and Donetsk.
"America is with you," Senator John McCain told demonstrators then, standing shoulder to shoulder with the leader of the far-right Svoboda party as the US ambassador haggled with the state department over who would make up the new Ukrainian government.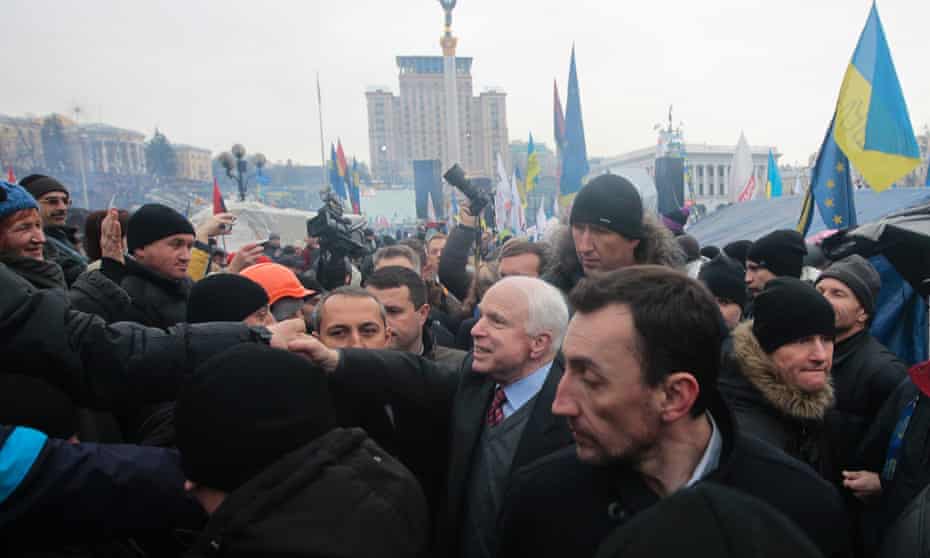 When the Ukrainian president was replaced by a US-selected administration, in an entirely unconstitutional takeover, politicians such as William Hague brazenly misled parliament about the legality of what had taken place: the imposition of a pro-western government on Russia's most neuralgic and politically divided neighbour.
Putin bit back, taking a leaf out of the US street-protest playbook – even though, as in Kiev, the protests that spread from Crimea to eastern Ukraine evidently have mass support. But what had been a glorious cry for freedom in Kiev became infiltration and insatiable aggression in Sevastopol and Luhansk.
After Crimeans voted overwhelmingly to join Russia, the bulk of the western media abandoned any hint of even-handed coverage. So Putin is now routinely compared to Hitler, while the role of the fascistic right on the streets and in the new Ukrainian regime has been airbrushed out of most reporting as Putinist propaganda.
So you don't hear much about the Ukrainian government's veneration of wartime Nazi collaborators and pogromists, or the arson attacks on the homes and offices of elected communist leaders, or the integration of the extreme Right Sector into the national guard, while the anti-semitism and white supremacism of the government's ultra-nationalists is assiduously played down, and false identifications of Russian special forces are relayed as fact.
The reality is that, after two decades of eastward Nato expansion, this crisis was triggered by the west's attempt to pull Ukraine decisively into its orbit and defence structure, via an explicitly anti-Moscow EU association agreement. Its rejection led to the Maidan protests and the installation of an anti-Russian administration – rejected by half the country – that went on to sign the EU and International Monetary Fund agreements regardless.
No Russian government could have acquiesced in such a threat from territory that was at the heart of both Russia and the Soviet Union. Putin's absorption of Crimea and support for the rebellion in eastern Ukraine is clearly defensive, and the red line now drawn: the east of Ukraine, at least, is not going to be swallowed up by Nato or the EU.
But the dangers are also multiplying. Ukraine has shown itself to be barely a functioning state: the former government was unable to clear Maidan, and the western-backed regime is "helpless" against the protests in the Soviet-nostalgic industrial east. For all the talk about the paramilitary "green men" (who turn out to be overwhelmingly Ukrainian), the rebellion also has strong social and democratic demands: who would argue against a referendum on autonomy and elected governors?
Meanwhile, the US and its European allies impose sanctions and dictate terms to Russia and its proteges in Kiev, encouraging the military crackdown on protesters after visits from Joe Biden and the CIA director, John Brennan. But by what right is the US involved at all, incorporating under its strategic umbrella a state that has never been a member of Nato, and whose last elected government came to power on a platform of explicit neutrality? It has none, of course – which is why the Ukraine crisis is seen in such a different light across most of the world. There may be few global takers for Putin's oligarchic conservatism and nationalism, but Russia's counterweight to US imperial expansion is welcomed, from China to Brazil.
In fact, one outcome of the crisis is likely to be a closer alliance between China and Russia, as the US continues its anti-Chinese "pivot" to Asia. And despite growing violence, the cost in lives of Russia's arms-length involvement in Ukraine has so far been minimal compared with any significant western intervention you care to think of for decades.
The risk of civil war is nevertheless growing, and with it the chances of outside powers being drawn into the conflict. Barack Obama has already sent token forces to eastern Europe and is under pressure, both from Republicans and Nato hawks such as Poland, to send many more. Both US and British troops are due to take part in Nato military exercises in Ukraine this summer.
The US and EU have already overplayed their hand in Ukraine. Neither Russia nor the western powers may want to intervene directly, and the Ukrainian prime minister's conjuring up of a third world war presumably isn't authorised by his Washington sponsors. But a century after 1914, the risk of unintended consequences should be obvious enough – as the threat of a return of big-power conflict grows. Pressure for a negotiated end to the crisis is essential. -Seumas Milne
---
Support Labour Heartlands
PLEASE HELP US KEEP GOING AD-FREE
This is a "Pay as You Feel" website.
Hey there! Thanks for stopping by. If you've enjoyed reading the articles on Labour Heartlands so far, We would be incredibly grateful if you could consider making a small donation. Labour Heathlands is not your typical news outlet. We are not here to simply regurgitate the daily news cycle, that's for the rest of them. Our focus is on delving deeper, uncovering the untold stories and shedding light on the issues that the mainstream media chooses to ignore.
Our unwavering commitment to journalistic integrity means that we are not influenced by any external forces. We are not beholden to PR companies, advertisers or press barons, and we refuse to let anyone dictate what we report on. Our editorial independence is sacrosanct, and our only allegiance is to the truth.
While we do not align ourselves with any particular political party, we stand firmly against corruption, injustice and the erosion of truth and the rule of law. We believe that accurate information is the lifeblood of a democracy and that facts are not up for debate.
Once again, thank you for your support – We truly couldn't do this without you!
PLEASE HELP US KEEP GOING AD-FREE