Andrew Bridgen has been suspended as a Conservative MP for comparing the HOLOCAUST to the Covid vaccination.
Bridgen claimed in a tweet that COVID vaccines "are causing serious harms" and said the programme was "the biggest crime against humanity since the holocaust".
The HOLOCAUST remark was one analogy too far…
Karen Pollock, chief executive of the Holocaust Educational Trust, called the comments "highly irresponsible and wholly inappropriate".
Lord Mann, an independent peer and former Labour MP who advises the government on anti-Semitism, said Mr Bridgen should be barred from standing for the Tories at the next election.
Andrew Bridgen's tweet now taken down stated: "As one consultant cardiologist said to me this is the biggest crime against humanity since the holocaust"
"He cannot claim that he didn't realise the level of offence that his remarks cause," he added.
Tory Chief Whip Simon Hart said: "Andrew Bridgen has crossed a line, causing great offence in the process.
Prime Minister Rishi Sunak also condemned the remarks, calling the comparison "utterly unacceptable".
"As a nation we should be very proud of what has been achieved through the vaccine programme. The vaccine is the best defence against COVID that we have.
"Misinformation about the vaccine causes harm and costs lives. I am therefore removing the whip from Andrew Bridgen with immediate effect, pending a formal investigation."
Having the whip removed means Mr Bridgen is no longer a Conservative MP but is now an independent MP.
His remarks come after a series of tweets in which he cites people like Robert F. Kennedy Jr on covid vaccination safety, Kennedy's tweet linking his own website asked: "Are COVID Boosters Behind Increase in Cancer Among Younger Adults?"
This ran along a series of tweets asking questions on the covid vaccine, however, Andrew Bridgen's offending tweet also compared the Holocaust to the vaccine. That seemed to be the trigger in his suspension.
The offending tweet also linked to the website Zerohedge, containing an article claiming to be a relied document showing all the VAERS Safety Monitoring Analyses For COVID Vaccines.
All this comes at a time when many people have become very concerned at how the vaccines were created so quickly and distributed without the usual medical trial period that we always see with any drugs brought into public use, including life-saving drugs.
Coupled with articles from reliable sources like the BBC who yesterday published an article stating that Excess deaths in 2022 are among the worst in 50 years, where they state:
"More than 650,000 deaths were registered in the UK in 2022 – 9% more than 2019."
This represents one of the largest excess death levels outside the pandemic in 50 years.
Though far below peak pandemic levels, it has prompted questions about why more people are still dying than normal.
Data indicates pandemic effects on health and NHS pressures are among the leading explanations.
We are still seeing more deaths overall than would be expected based on recent history. The difference in 2022 – compared with 2020 and 2021 – is that Covid deaths were one of several factors, rather than the main explanation for this excess.
People are very worried and want answers, not speculation.
However, the claim is that there is no evidence of vaccine effect.
The BBC go on to suggest the rise in cardiac problems has been pointed to by some online as evidence that Covid vaccines are driving the rise in deaths, but this conclusion is not supported by the data.
The article states, one type of Covid vaccine has been linked to a small rise in cases of heart inflammation and scarring (pericarditis and myocarditis). But this particular vaccine side-effect was mainly seen in boys and young men, while the excess deaths are highest in older men – aged 50 or more. And these cases are too rare – and mostly not fatal – to account for the excess in deaths.
Finally, BBC point to figures up to June 2022 looking at deaths from all causes showing unvaccinated people were more likely to die than vaccinated people.
While this data on its own can't tell us it's the vaccine protecting people from dying – there are too many complicating factors – if vaccines were driving excess deaths we would expect this to be the other way around.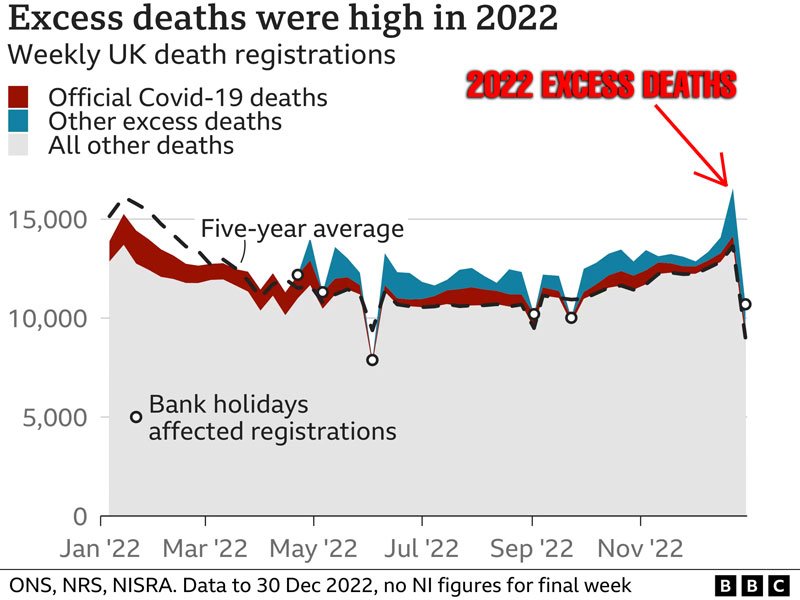 smoke and mirrors
There is no doubt there are legitimate concerns about the vaccine and the unaccounted excess deaths we are suffering, but we should also check our sources, what else is going on?
The MP for North West Leicestershire is already serving a five-day suspension from the Commons for breaching lobbying rules.
The committee found the MP had breached the Code of Conduct by making multiple approaches to ministers and public officials on behalf of Mere Plantations, a Cheshire-based teak reforestation company with forests in Ghana for which he was initially paid £12,000 a year as an adviser.
He failed to register his interest in the company in the time frame stipulated by the code, with the committee saying he had a "very cavalier" attitude to the rules.
The committee also found Mr Bridgen, the MP for North West Leicestershire since 2010, had attempted to improperly influence Standards Commissioner Kathryn Stone during her investigation into his lobbying.
He emailed the commissioner shortly after the investigation started and implied she could be swayed with a peerage as he claimed he heard a "rumour" she would only receive one if she ruled against him because he was an outspoken critic of then prime minister Boris Johnson.
Support Labour Heartlands
PLEASE HELP US KEEP GOING AD-FREE
HELP US GROW.
This is a "Pay as You Feel" website.
This blog has no source of state, corporate or institutional finance whatsoever. It runs entirely on voluntary subscriptions from its readers – many of whom do not necessarily agree with every article, but welcome the alternative voice, insider information and debate.
You can have access to all of our online work for free. However if you want to support what we do, you could make a small donation to help us keep writing and staying ad-free. The choice is entirely yours.