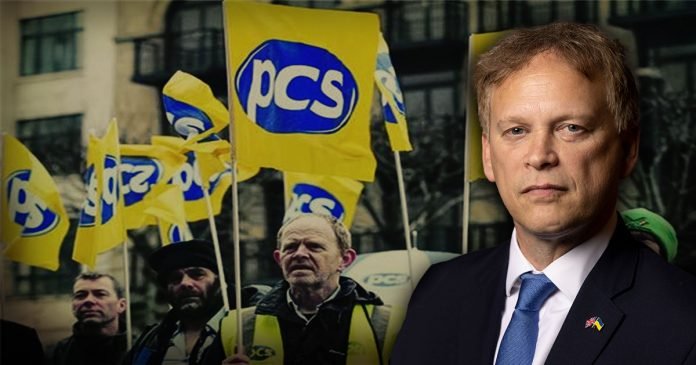 Around 100,000 civil servants are to strike on February 1 in a worsening dispute over jobs, pay and conditions, the Public and Commercial Services union has announced.
The PCS national executive committee has agreed to call a one-day strike on 1 February of all members in employers where the turnout passed the 50% threshold required by law for action in our ballot last year.
The union called it "a fantastic result with a massive average 'Yes vote' for industrial action across the areas balloted of 86.2%, the highest percentage vote in the union's history."
This means around 100,000 civil servants have voted for a national strike over pay, pensions and jobs.
The Public and Commercial Services Union (PCS) announced:
"We are now in a position to call significant industrial action in support of our claim for a 10% pay rise, pensions justice, job security and no cuts to redundancy terms", a statement from the union said.
General secretary Mark Serwotka said: "The government must look at the huge vote for strike action across swathes of the Civil Service and realise it can no longer treat its workers with contempt.
"Our members have spoken and if the government fails to listen to them, we'll have no option but to launch a prolonged programme of industrial action reaching into every corner of public life.
"Civil servants have willingly and diligently played a vital role in keeping the country running during the pandemic but enough is enough.
The Union spokesman said it was to publish the full results, including the sectors that will be affected. Those to strike could include border force officials, driving test examiners and Jobcentre staff.
On Tuesday Business secretary Grant Shapps outlined new proposed laws which would give the government powers to ensure some public servants must continue to work during strike action.
In reply, the civil service union PCS has said: "The government's attempt to make it harder for public sector workers, including civil servants in the Border Force, to go on strike is "reprehensible, provocative and vindictive".
The bill would allow employers in "critical public sectors" to maintain minimum levels of service during strikes, the Department for Business, Energy and Industrial Strategy said. If unions failed to comply with the obligations, they would lose legal protection from damages.
Mark Serwotka, PCS's general secretary, said: "We shall oppose this hostile legislation to protect our members' rights.
"It's reprehensible, provocative and vindictive, and we'll fight the legislation every step of the way."
Serwotka said the bill "puts power in the hands of the wrong people".
"It gives all the power to ministers and employers instead of our members who are being denied their democratic right to strike," he said.
"It paves the way for workers who have voted for strike action being sacked if they refuse to turn up for work on a strike day. "
Border Force staff who are represented by PCS walked out over the festive period, holding strikes at London Heathrow, London Gatwick, Manchester, Birmingham, Cardiff and Glasgow airports, as well as the Port of Newhaven, on 23-26 and 28-31 December. The government responded by drafting around 600 army personnel in to provide emergency cover.
It's us against them…
Sunak's government has intensified efforts to water down strikes after a wave of industrial action across the publis sector last year as wages stagnated and inflation soared. In December, PCS, the civil service's biggest union, joined nurses, rail workers, Royal Mail staff and others in taking action.
Fellow civil service unions Prospect and the FDA are also considering strike action. The FDA has begun a begun a formal ballot of fast streamers, while Prospect members backed action in an indicative vote held last year and said it would begin a formal ballot soon if its demands are not met.
Cabinet Office minister Jeremy Quin has invited civil service unions for talks to resolve the disputes. The unions have urged ministers to move out of "listening mode" and put meaningful offers on the table to resolve pay disputes.
Support Labour Heartlands
PLEASE HELP US KEEP GOING AD-FREE
This is a "Pay as You Feel" website.
Hey there! Thanks for stopping by. If you've enjoyed reading the articles on Labour Heartlands so far, We would be incredibly grateful if you could consider making a small donation. Labour Heathlands is not your typical news outlet. We are not here to simply regurgitate the daily news cycle, that's for the rest of them. Our focus is on delving deeper, uncovering the untold stories and shedding light on the issues that the mainstream media chooses to ignore.
Our unwavering commitment to journalistic integrity means that we are not influenced by any external forces. We are not beholden to PR companies, advertisers or press barons, and we refuse to let anyone dictate what we report on. Our editorial independence is sacrosanct, and our only allegiance is to the truth.
While we do not align ourselves with any particular political party, we stand firmly against corruption, injustice and the erosion of truth and the rule of law. We believe that accurate information is the lifeblood of a democracy and that facts are not up for debate.
Once again, thank you for your support – We truly couldn't do this without you!
PLEASE HELP US KEEP GOING AD-FREE