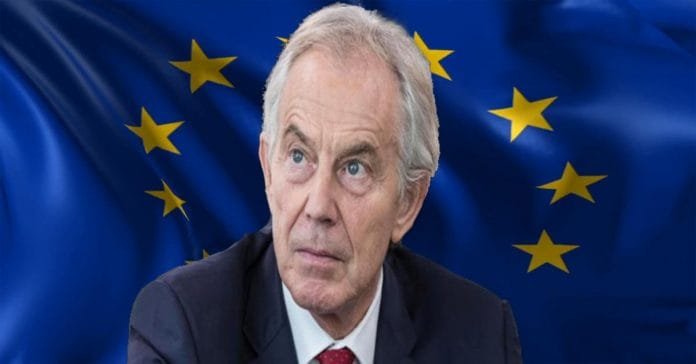 Tony Blair in a outspoken attack on Brexit advocates that remain voters should vote for "unequivocal remain parties!"
Tony Blair urges Labour supporters put off by the party's "equivocation" to vote for one of the "unequivocal" Remain parties
The former prime minister and leading campaigner for a second referendum says Labour's "destructive indecision" of trying to face both ways "pleased no one" and let down the country.
But he urges Labour supporters put off by the party's "equivocation" to vote for one of the "unequivocal Remain parties" – the Lib Dems, Change UK, Greens, Scottish National Party or Plaid Cymru.
Mr Blair's latest anti-Brexit onslaught comes only days after he was attacked and mocked by Tory Brexiteers for claiming a second referendum would be a "healing process" for the nation.
In the article he goes on to say:
"The most important thing to remember is that with the knowledge of these election results parliament will take its decision. MPs will scrutinise the ledger as if their future depends on it.

So, the big message: vote. Because your vote will affect their vote.

Who to vote for if you're on the anti-Farage side of the ledger. There are unequivocal remain parties – Liberal Democrats, Change UK, Greens, SNP and Plaid Cymru. If, because of Labour's equivocation, you simply won't vote Labour, then vote for them. If, like me, despite everything, you can vote Labour, then vote Labour.

But whatever you do, vote! This is not a vote to choose a prime minister or a government. It is a vote for the Farage Brexit – or against it."
Blair makes the EU referendum a barometer for a second referendum
"The EU election results will send a vital message to MPs about Brexit"
Blair argues that the result of the EU elections will create the grounds for a second referendum that the result will set government policy and direction.
Blair suggests in his own words "Politics is not an exact science. After the vote, there will be a ledger. On one side will be hard or no-deal Brexit with Farage and the Tory fellow travellers. On the other will be those who want an end to Brexit and those who believe that, after this degree of mess and on a decision of this magnitude, the final say should be with the people."
"The most important thing to remember is that with the knowledge of these election results parliament will take its decision. MPs will scrutinise the ledger as if their future depends on it."

"So, the big message: vote. Because your vote will affect their vote."
Blair blames Corbyn not Brexit
He says: "Yet Labour could not even win the local elections. Despite Keir Starmer's best efforts, the leadership's ambiguity on Brexit has brought it confusion, not shelter from principled decision on the most vital question of national interest.
But leave aside principle. Even as a piece of political strategy, it was doomed to fail. Of course, there are Labour seats that voted strongly leave and who feel Labour should deliver Brexit, though, according to some MPs in these former Labour heartlands, it is concern over the Corbyn leadership as much as Brexit that is driving voters away."
Exasperating the divide
Blair's message does nothing but alienate the five million Labour supporting leave voters. These are grassroots Labour supporters who continually feel frustration at having no representation in the EU elections. Lots of whom are now openly declaring support for a one of vote for the Brexit Party.
Their frustration has been compounded by Labour remain MEP candidates like Lord Andrew Adonis who also claims this EU election is a endorsement for a remain second referendum. Adonis also told Brexit Labour supporters not to vote Labour if they wanted to leave the EU.
The Left is losing ground and the public pulse
It also coincides with a new opinion poll suggesting the Conservatives face a near wipe-out in the European elections and Labour is trailing badly behind The Brexit Party.
The poll, by Opinium Research, suggests the Brexit Party is way out in front on 34% (+6), Labour on 21% (-7), the pro-Remain Lib Dems 12% (+5), Conservatives 11% (-3), Greens 8% (+2), UKIP 4% (+1) and Change UK 3% (-4).
The reality to many Left wing Leave voters is lack of representation
The Tory Party is divided and catastrophically incapable of delivering Brexit. The Labour Party is divided and appears to many Leave voters as if it is permanently held hostage by the majority Remain Parliamentary Labour Party and constantly pressured into compromise by the second referendum campaign.
So Leave voters have no effective, unequivocal, voice in establishment politics. After three long years of watching the political Establishment twist and turn, squirm and prevaricate, the political system is held in even lower esteem than it was before the referendum took place.
In other words, everything that produced the Leave vote in the first place has become worse in the last three years while the political representation of those who voted Leave is still non-existent.
The secret of the Brexit Party's success is that it has fill this void.
And while Nigel Farage is obnoxious he is not stupid. The "democratic revolution" is a clever pitch to those who are politically disenfranchised.
The "tell them again" line perfectly expresses the anger of those who see a political Establishment desperate to nullify the democratic vote of the initial referendum.
Leave voters need to see that there is a radical left voice providing a real alternative to what Corbyn accurately described as the "snake oil" on offer from Farage.
Now the Labour Party machine needs to take its cue from the Labour Party leader. Action needs to follow words. And the action needs to start at the top.
The clearly fruitless and ill-advised discussions with the Tory government need to be halted now.
The Tories have no intention of guaranteeing workers' rights or meeting any of the other requirements that Labour would need in order to be able to agree a deal.
We need a Left wing Lexit campaigner with a clear vision and destination for the UK outside the EU
#Lexit
Support Labour Heartlands
PLEASE HELP US KEEP GOING AD-FREE
HELP US GROW.
This is a "Pay as You Feel" website.
This blog has no source of state, corporate or institutional finance whatsoever. It runs entirely on voluntary subscriptions from its readers – many of whom do not necessarily agree with every article, but welcome the alternative voice, insider information and debate.
You can have access to all of our online work for free. However if you want to support what we do, you could make a small donation to help us keep writing and staying ad-free. The choice is entirely yours.