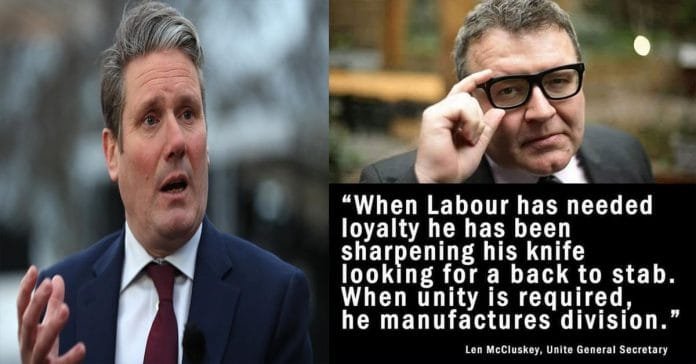 Tom Watson has today defined Labour as a Remain and Reform party.
This is not Labours official position well documented in both the 2017 Manifesto and the October conference decision.
It's an affront to the 5 million Labour leave voting socialists and a Labour Party that promised to respect the result of the referendum and reflected this in its manifesto.
His announcement does nothing but create more division, making the EU elections a barometer for a second referendum will only succeed in splitting the Labour vote. It leaves the overwhelmingly Brexit supporting Labour constituencies no other choice than to vote for a leave party if they want their vote upheld.
This will no doubt add another nail to Jeremy Corbyn's coffin giving ammunition to the right wing of the party if Labour does badly in these elections. Watson's position as Deputy Leader is now untenable. He has failed in his only true mandate, that of uniting the Party.
Watson's statement that Labour is still a "remain and reform party" with his push for a confirmatory referendum, is in clear contrast to Labour's official position.
Both Watson and the shadow Brexit secretary Keir Starmer have adopted their own stance as Labour Party policy, their remarks are not inline with agreed policy. They are playing to a remain London bubble without consideration for the Labour heartlands. The use of remain backing media outlets to promote a second referendum is a total betrayal and a drifting shift from Labour's ambiguous stance.
This comes after Starmer told the Guardian that up to 150 Labour MPs would reject an agreement that did not include a second referendum; Watson said he believed this figure seemed credible.
Watson, Labour's deputy leader, told BBC Radio 4's Today programme that even though talks with the government over a compromise deal were still ongoing – they are due to resume on Monday – it "would be difficult" to get it through parliament without a new public vote.
Keir Starmer has a very short memory
This stinks of more Watson skulduggery after his failed attempts to push a second referendum EU election manifesto.
This comes after the result of a humiliating defeat for deputy leader Tom Watson, who had tried to orchestrate pressure on the Labour Party to support a second referendum in all circumstances during last months NEC conference where the Labour Party manifesto on the EU elections was set.
Len McCluskey: wrote after the NEC conference on the EU election manifesto
"The NEC made the right decision on Labour's Brexit policy.
"It is a Labour government, and only a Labour government, that can make the changes the country needs, bringing together the north of London and the north of England. Class not culture is what counts."
He continued saying: "Under the circumstances, it was wise not to submit to an over-cooked campaign to leap far ahead of agreed policy and commit Labour to fighting for a re-run of the referendum under all and any conditions.
I am also unsurprised that the nine NEC representatives elected from the constituency parties because they backed Corbyn ended up voting…to back Corbyn. A campaign fronted by Alistair Campbell and championed by the leadership's most vociferous critics was never likely to sway them.
The manifesto decision will not be the end of the matter, I'm sure, but it gives Labour a chance to regroup and once more speak across the artificial divide that is being allowed to scar our politics.
I have always argued that the Europe debate is not really, and certainly not only, about membership of the European Union. It stands proxy for a range of concerns in a society that is somewhat traumatised by ten years and more of economic crisis and austerity.
Millions of people in ex-industrial areas, the sort of communities bypassed by booms yet invariably savaged by slumps, were motivated neither by the primitive nationalism of Farage nor by the free-trade fantasies of the Tory right, but by a desire for their voices, long drowned out by the clink of champagne glasses in the City, to be heard. The European Union was perceived, rightly, as part of the status quo that had left their interests ignored.
Likewise, the hundreds of thousands who marched for a second referendum are not, I believe, demonstrating in support of Jean-Claude Juncker, nor endorsing the economic waterboarding the EU Commission imposed on Greece and Ireland. They want a tolerant, open society and to stand up for liberal values in the teeth of a resurgent populist right.
Both 'sides' worry about the country that they will be leaving their grandchildren.
Now I wonder which politician stands for the sort of radical economic and social change that addresses the anger of the first group, or many of them at least? And which politician has spent his life fighting for tolerance, and for human rights for all, wherever they come from?
The answer to both questions is the same and is, of course, Corbyn, whose handling of the Brexit issues has not been about the expediencies of party management – it is the right one in principle. There can be no basis for a successful Labour government resting on the victory of either of the 'tribes' into which Brexit has divided our country over the other.
They say Labour should only demand a second referendum if it is needed to avoid a damaging Tory Brexit or 'No Deal'.
The issue came to a head at the NEC, where reps were discussing Labour's manifesto for the EU elections on May 23." -End quote
Stick to policy and stop the divide
This is a sure way of creating a bigger divide within the Labour Party a divide that plays directly into the hands of the Blairite right and Watson's Future Britain Group.
It becomes very clear that at every step Watson aims to split the party and undermine Jeremy Corbyn.
Just to remind Watson.
Labours 2017 Manifesto…
Labour accepts the referendum result and a Labour government will put the national interest first.
We will prioritise jobs and living standards, build a close new relationship with the EU, protect workers' rights and environmental standards, provide certainty to EU nationals and give a meaningful role to Parliament throughout negotiations.
We will end Theresa May's reckless approach to Brexit, and seek to unite the country around a Brexit deal that works for every community in Britain.
For Good measure the conference compost motion Oct 2018
Below is the full text of the composite motion on Brexit passed by Labour conference 2018. The key pledge is that Labour vows to "support all options remaining on the table, including campaigning for a public vote" should it not be able to secure a general election.
Conference welcomes Jeremy Corbyn's determined efforts to hold the Tories to account for their disastrous negotiations. Conference accepts that the public voted to leave the EU, but when people voted to 'take back control' they were not voting for fewer rights, economic chaos or to risk jobs. Conference notes the warning made by Jaguar Land Rover on 11.9.18, that without the right deal in place, tens of thousands of jobs there would be put at risk.
Conference notes that workers in industries across the economy in ports, food, pharmaceuticals, manufacturing, energy, chemicals, in our public services and beyond are worried about the impact of a hard Brexit on livelihoods and communities.
Conference believes we need a relationship with the EU that guarantees full participation in the Single Market. The Brexit deal being pursued by Theresa May is a threat to jobs, freedom of movement, peace in Northern Ireland and the NHS. Tory Brexit means a future of dodgy trade deals and American-style deregulation, undermining our rights, freedoms and prosperity. This binds the hands of future Labour governments, making it much harder for us to deliver on our promises. Conference notes Labour has set six robust tests for the final Brexit deal. Conference believes Labour MPs must vote against any Tory deal failing to meet these tests in full.
Conference also believes a no-deal Brexit should be rejected as a viable option and calls upon Labour MPs to vigorously oppose any attempt by this Government to deliver a no-deal outcome. Conference notes that when trade unions have a mandate to negotiate a deal for their members, the final deal is accepted or rejected by the membership. Conference does not believe that such important negotiations should be left to government ministers who are more concerned with self-preservation and ideology than household bills and wages.
Stagnant wages, crumbling services and the housing crisis are being exacerbated by the government and employers making the rich richer at working people's expense, and not immigration. Conference declares solidarity and common cause with all progressive and socialist forces confronting the rising tide of neo-fascism, xenophobia, nationalism and right wing populism in Europe.
Conference resolves to reaffirm the Labour Party's commitment to the Good Friday Agreement of 1998 including no hard border in Ireland.
Conference believes that there is no satisfactory technological solution that is compliant with the Good Friday Agreement and resolves to oppose any Brexit deal that would see the restoration of a border on the island of Ireland in any form for goods, services or people.
Should Parliament vote down a Tory Brexit deal or the talks end in no-deal, Conference believes this would constitute a loss of confidence in the Government. In these circumstances, the best outcome for the country is an immediate General Election that can sweep the Tories from power.
If we cannot get a general election Labour must support all options remaining on the table, including campaigning for a public vote. If the Government is confident in negotiating a deal that working people, our economy and communities will benefit from they should not be afraid to put that deal to the public.
This should be the first step in a Europe-wide struggle for levelling-up of living standards, rights and services and democratisation of European institutions Labour will form a radical government; taxing the rich to fund better public services, expanding common ownership, abolishing anti-union laws and engaging in massive public investment.
End of the composite motion.
The possibility of a referendum is very slim but has some have suggested the odds go up is Corbyn and Labour back a referendum. Polls show if that was the case and Labour are seen to instigate a second referendum they would be punished at the polls in any subsequent General election.
Nobody is naive enough to think that if this to happen Jeremy Corbyn could continue as Labour Party leader. We all know that part and parcel of the Mandelson, Rudd, Chucka lead People's vote is to remove Jeremy Corbyn from the Leadership and return the Party back to the New Labour default of the other Tory Party and away from its traditional socialist values.
The best and only course for the Labour Party is to continually wear down May and her Government until we force a general election.
Support Labour Heartlands
WAIT! BEFORE YOU GO
PLEASE HELP US KEEP GOING AD-FREE
This is a "Pay as You Feel" website.
Your support for Labour Heartlands is greatly appreciated. As an independent nonprofit news outlet, we rely on our members to hold the powerful accountable. Our kind of reporting is essential to democracy, but it is not easy, cheap, or profitable.
To continue providing impactful journalism, we need your help. It's getting really hard for us all. Becoming one of our donors. It's simple and doesn't have to cost a lot. With as little as £2, £3, or £5 a month, you can support the journalism you rely on.
While we do not align ourselves with any particular political party, we stand firmly against corruption, injustice, and the erosion of truth and the rule of law. We believe that accurate information is the lifeblood of a democracy and that facts are not up for debate.
Your contribution, no matter how small, goes a long way in helping us continue our mission. Together, we can make a difference.
Thank you, The Labour Heartlands Team
PLEASE HELP US KEEP GOING AD-FREE