You couldn't make it up! Quizzing the quizzers by email.
Police will start quizzing more than 50 people linked to No10 Partygate by the weekend via Email
Met police acting as part of Operation Hillman will be sending emails as "formal questionnaires" in the coming days asking for "an account and explanation" of Partygate – and they could include Boris Johnson after another party photo emerged
The Metropolitan Police will email more than 50 people as part of its inquiry into the lockdown Downing Street party inquiry.
A questionnaire will be sent to people alleged to have been at events on eight dates between May 2020 and April 2021.
It will ask for their account of what happened and "must be answered truthfully", the Met said.
The force said it must be answered in seven days, but being contacted did not mean a fine would always be issued.
The police inquiry, called Operation Hillman, is examining 12 parties on the eight dates over the course of the pandemic – some of which the PM attended – to see if Covid regulations were broken.
It was launched after an inquiry by senior civil servant Sue Gray, who in her initial findings criticised "failures of leadership and judgement" over the gatherings in Downing Street and Whitehall and referred them to the police.
The Met earlier announced it would also review its decision not to investigate another event, a Christmas quiz on 15 December 2020, after a picture of Boris Johnson was leaked to the press.
Detectives investigating allegations of breaches of Covid-19 regulations in Downing Street and Whitehall will by the end of this week begin contacting people believed to have taken part in the events in question to get their accounts.
The officers, from what has been named Operation Hillman, will be sending formal questionnaires to more than 50 people.
This document, which asks for an account and explanation of the recipient's participation in an event, has formal legal status and must be answered truthfully. Recipients are informed that responses are required within seven days. In most cases, contact is being made via email.
Contact is being made with people in relation to each of the eight dates under police investigation:
20 May 2020
18 June 2020
19 June 2020
13 November 2020
17 December 2020
18 December 2020
14 January 2021
16 April 2021
The photo, published by the Daily Mirror, showed the PM with three aides, two in tinsel and a Santa hat, with a bottle of sparkling wine.
A statement from police said: "The [Met] previously assessed this event and determined that on the basis of the evidence available at that time, it did not meet the threshold for criminal investigation.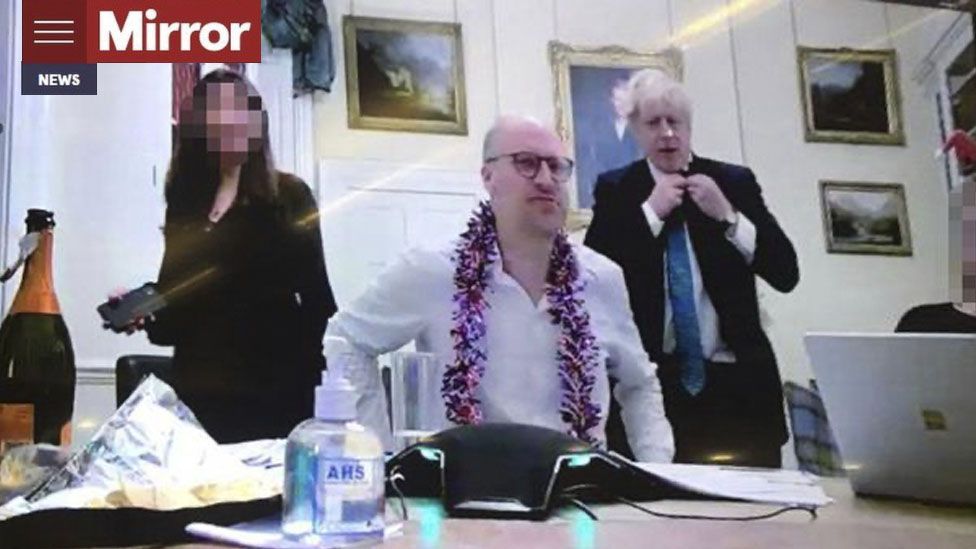 "That assessment is now being reviewed."
Cressida Dick's force has officially named the probe Operation Hillman and will be sending "formal questionnaires" in the coming days asking party-goers for "an account and explanation".
The Met has warned the forms have "legal status and must be answered truthfully".
It comes as embattled Boris Johnson tries to avoid Tory MPs triggering a confidence vote and ousting him as Prime Minister.
Detectives investigating the parties are continuing to examine more than 500 documents and 300 images gathered as part of Ms Gray's inquiry, and the Met said it would be requesting further information from the Cabinet Office.
It said police might also contact further people in future if they were identified as having taken part in an event that potentially breached the regulations.
While being contacted does not necessarily mean a fixed penalty notice will be issued, the Met said that would "normally" happen where officers believed regulations had been breached without reasonable excuse.
It said in a statement: "We understand the interest in and impact of this case, and are progressing the investigation at pace.
"We are committed to completing our investigations proportionately, fairly and impartially."
Support Labour Heartlands
PLEASE HELP US KEEP GOING AD-FREE
HELP US GROW.
This is a "Pay as You Feel" website.
This blog has no source of state, corporate or institutional finance whatsoever. It runs entirely on voluntary subscriptions from its readers – many of whom do not necessarily agree with every article, but welcome the alternative voice, insider information and debate.
You can have access to all of our online work for free. However if you want to support what we do, you could make a small donation to help us keep writing and staying ad-free. The choice is entirely yours.