Sir Keir Starmer has been plunged into a full-scale leadership crisis after The Mail on Sunday obtained a secret Labour party document which appears to blow apart his version of events over 'Beergate'.
A confidential operational note, drawn up in the days before Starmer visited Durham, reveals that the beer and curry gathering had been planned in advance, it also puts serious doubt on Starmer's claim that he returned to work afterwards, it appears to show no work was to be conducted after the planned stopping for dinner between 20:40 and 22:00, followed by a walk back to the booked accommodation.
After an entry recording the 'dinner in Miners Hall' – and a note to 'arrange takeaway' from a local curry house – the document simply says: 'End of visit'.
The bombshell document, which was passed to the newspaper by a whistleblower, seems very damning and places the Labour Party leader in a precarious position.
The document also makes clear that Rayner's ('AR') attendance was well known to the party and equally planned – and the footage in circulation of the event makes clear that the instruction to maintain social distancing and wear masks was disregarded.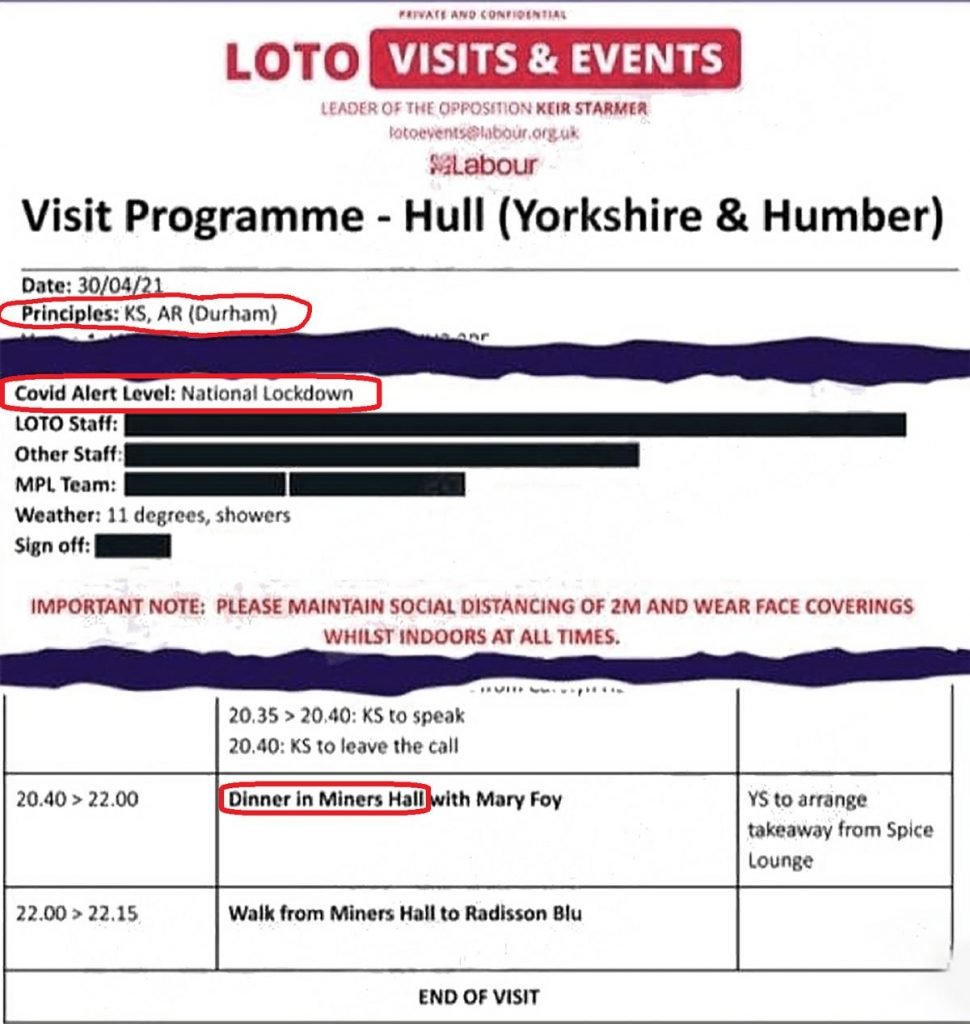 Separately, a source who was present told the Sunday Times: "It has been claimed that Starmer worked during the curry and then after the curry. None of those two things happened. He did not go back to work to the best of my knowledge."
The source said some of those present were not working at all, and "we're just there for a jolly".
Sir Keir Starmer recently tweeted: "Honesty and decency matter. After months of denials the Prime Minister is now under criminal investigations for breaking his own lockdown laws. He needs to do the decent thing and resign".
Honesty and decency matter.

After months of denials the Prime Minister is now under criminal investigations for breaking his own lockdown laws.

He needs to do the decent thing and resign.

— Keir Starmer (@Keir_Starmer) January 31, 2022
On social media people are calling for both Boris Johnson and Sir Keir Starmer to resign, of course, there is anger at both leaders, especially the hypocrisy, however, we all have to wait and see what the outcome of the Sue Gray report and the investigation by the Durham police.
"We were working in the office, we stopped for something to eat. No party, no breach of the rules," says Sir Keir Starmer

The Labour leader is being investigated over whether he broke lockdown rules on a visit during which he drank beer in an MP's officehttps://t.co/piGDjookbC pic.twitter.com/Rlhs803PpV

— BBC Politics (@BBCPolitics) May 6, 2022
The revelation follows the announcement by Durham Police on Friday that it was opening a fresh investigation into the event on April 30 last year, which took place when indoor socialising was illegal.
Starmer had been filmed drinking a bottle of lager with colleagues at the event at the offices of Durham MP Mary Foy in the run-up to last year's local elections – and has been struggling with answers when asked about the incident all week.
A Labour spokesperson said: 'Keir was working, a takeaway was made available in the kitchen, and he ate between work demands. No rules were broken.'
A Labour source said: 'During a fast-moving campaign, the op note doesn't always keep up with events so it would be wrong to assume that activities occurred at the times originally planned. For example, it's been documented that the takeaway was late.'
Support Labour Heartlands
PLEASE HELP US KEEP GOING AD-FREE
HELP US GROW.
This is a "Pay as You Feel" website.
This blog has no source of state, corporate or institutional finance whatsoever. It runs entirely on voluntary subscriptions from its readers – many of whom do not necessarily agree with every article, but welcome the alternative voice, insider information and debate.
You can have access to all of our online work for free. However if you want to support what we do, you could make a small donation to help us keep writing and staying ad-free. The choice is entirely yours.