The Tories have implemented rules that have been the most draconian since the great plague of 1665, at times it has felt like the only thing missing was a constant bell ringing its sad tones as the numbers of dead rolled across our TV screens.
We have made great sacrifices to follow the rules, rules that in many cases have kept people away from their loved ones at moments of their greatest need, grandparents, parents, children and loved ones separated, restricted in that most basic human instinct, to socialise, to be together.
The majority have not questioned the necessity in sacrificing we followed 'the science' the politicians making rules based on models to flatten alarming curves. For many, it's been hard, for many more it's been a nightmare, people stuck in flats with no reprieve to even spend an hour in their gardens. But again in the main with the stoicism and even a touch of the Dunkirk spirit, we endured.
That is precisely why it has been such an insult to find that while we have sacrificed the very people that have implemented the rules have been allegedly breaking them. It's insulting to hear of Christmas parties at 10 downing street it's heartbreaking to read that families have lost loved ones and have not been allowed to visit before their final moments.
All this while at the same time the Liberal elite have been having good old knee's up.
It created the platform first time for the Tories to be hit in the polls since Starmer's Leadership of the Labour Party, it put the Tories on the back foot and we all ran with it, after all, it's a disgrace, a case of a modern 'let them eat cake'.
BEER ROW Keir Starmer enjoys beer with Labour workers despite lockdown rules banning indoor social gatherings. You tell us @Keir_Starmer we wouldn't know we were all in our homes, is this a party or a work meeting? You are all at it… pic.twitter.com/Xd22KQxepU

— Labour Heartlands (@Labourheartland) December 21, 2021
But when you find out they are all at it then it really stinks. Sir Keir Starmer was also filmed having a social gathering in a confined space with others. At the end of April this year, he was spotted having beers and food at a location in Durham.
It was more than disappointing to find out members of the Labour Party were what looked like for all intents and purposes socialising during lockdown having beers and food the same allegations they were making against the Tories.
On that perhaps we could have left it if it wasn't for the fact we remembered that not so long ago a member of the Labour party front bench was demanding Jeremy Corbyn be fined for attending a dinner wake, a wake in remembrance of his friend the late Occupy Wall Street founder David Graeber.
Corbyn was hounded by the Labour party and of course the Sun newspaper.
This did, unfortunately, breach the rule of six that stated only six people or less can meet indoors or outdoors. The penalty for the breach was a £200 fine.
Jeremy Corbyn explained to the Sun, which published the photo: "I recently had dinner at a friend's house where the number of guests eventually exceeded five. I understand that remaining at the dinner was a breach of the rule of six. I apologise for my mistake."
The fact that not one Tory called for Jeremy Corbyn to be fined, was noted, however, the most disappointing thing was Labour Shadow mental health minister Rosena Allin-Khan said Jeremy Corbyn should be made to pay a fine after he was caught breaching the government's 'rule of six' coronavirus restrictions.
Most people while not condoning the gathering could at least understand it was a wake and for many warranted special dispensation.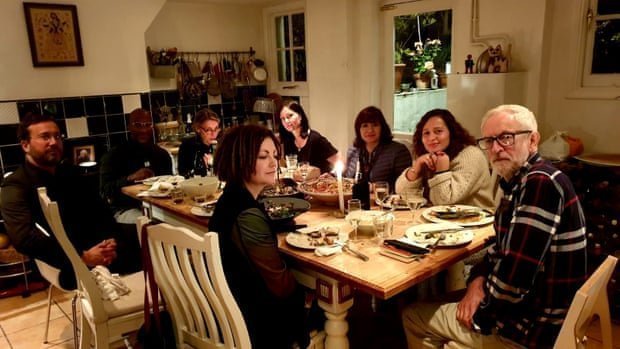 The Labour Shadow mental health minister said her former party leader's actions were "inexcusable" after The Sun revealed he was pictured at a dinner party with eight other people present.
Although Mr Corbyn did apologise for the breach and said he understood "remaining at the dinner" was a mistake the frontbencher stated "I'm disappointed," she told Sky News. "I'm glad Jeremy Corbyn has apologised. It is absolutely inexcusable to break the rules, the rules apply to everyone.
On that, we agree rules are for everyone, however, even though we are sure that many people would excuse the fact it was more of a 'wake' than knees up but if it is good enough to call out Jeremy Corbyn on this it is more than good enough to call out Sir Keir Starmer the leader of the Labour Party and former DDP. It's also a matter of balance, nobody is beyond the rules.
Ironically it was the Sun again that printed these pictures but like many controversial things Starmer does the media just don't seem so hawkish as they were with Jeremy Corbyn…
LABOUR dismissed an election 'booze row' after Sir Keir Starmer enjoyed a beer after a day on the campaign trail.
He was seen mixing with party workers in a constituency office in Durham on Friday 30th of April.
At the time Rules stated, you can gather indoors for work but this doesn't include social gatherings with colleagues.
On 8 March 2021, England began a phased exit out of lockdown. This consists of a four-step plan, forming part of the Government's broader roadmap intended to "cautiously but irreversibly" ease lockdown restrictions. Instead of a return to the tier system, the Government confirmed that it planned to lift restrictions in all areas at the same time as the level of infection was "broadly similar" across England
England moved to step two restrictions on the 12th of April, which has seen the reopening of outdoor attractions and settings. Prior to this, as part of step one, children returned to schools and restrictions on gatherings were relaxed, with the rule of six reinstated (in outdoor settings only). Step three will be reached "no earlier than 17 May Read more…
The Labour party dismissed the allegations made at the time by the Tories using exactly the same dismissal the Tories used suggesting it was a dinner meeting when a Labour spokesman said:
"Keir was in the workplace, meeting a local MP in her constituency office and participating in an online Labour Party event. They paused for dinner as the meeting was during the evening."
We have approached the Labour Party for comment and a request for information:
1, How many people were at the alleged dinner? 2, Why are people clearly seen walking around with drinks when the rules stated that people should be seated while drinking and eating otherwise they should wear masks. 3, What precautions did you carry out to ensure the spread of covid was minimised i.e we notice no windows are visibly open in any of the images.
At the timer of publishing the Labour Party had not replied.
Support Labour Heartlands
PLEASE HELP US KEEP GOING AD-FREE
HELP US GROW.
This is a "Pay as You Feel" website.
This blog has no source of state, corporate or institutional finance whatsoever. It runs entirely on voluntary subscriptions from its readers – many of whom do not necessarily agree with every article, but welcome the alternative voice, insider information and debate.
You can have access to all of our online work for free. However if you want to support what we do, you could make a small donation to help us keep writing and staying ad-free. The choice is entirely yours.