Actor Dennis Waterman, known for his roles in TV shows including Minder, The Sweeney and New Tricks, has died, his family have said. He was 74.
A statement said: "We are deeply saddened to announce that our beloved Dennis passed away very peacefully at his home in Spain."
He died on Sunday afternoon with wife Pam at his side, they said.
"The family kindly ask that our privacy is respected at this very difficult time," they added.
A little background
Waterman found fame in his teens in the BBC drama William, and became one of the best-known faces on British television in the 1970s when he played Detective Sergeant George Carter opposite John Thaw in ITV's police drama The Sweeney.
He enjoyed more success in Minder from 1979 to 1989 as Terry McCann, the bodyguard and partner to George Cole's wheeler-dealer Arthur Daley.
Dennis Waterman, grew up on a council estate in south-west London, the youngest of nine children. He was once asked You are the youngest of nine children. Were you spoilt rotten or downtrodden? He replied:
I'm afraid it was the former. Nobody had enough money to spoil me rotten, but I was six years younger than the last one, so I was the baby of the family. I've no idea if all that attention contributed to my decision to become an actor. Basically, it was my oldest sister who got me into acting. She dragged me into amateur dramatics. We all had to do it. I started off doing Shakespeare – A Winter's Tale and Love's Labours Lost – when I was about eight and I don't think I was mad about it at the time. I had to go to rehearsals and miss the football.
Waterman was always keen on football and often played in celebrity charity football matches captaining the 'Dennis Waterman's All Stars'.
Dennis Waterman played football legend, Bob Jones, in a TV film the true story of the First world footballing competition in 1910, won by a bunch of miners from Durham. Won it three times and beat the likes of Juventus to retain the cup in perpetuity.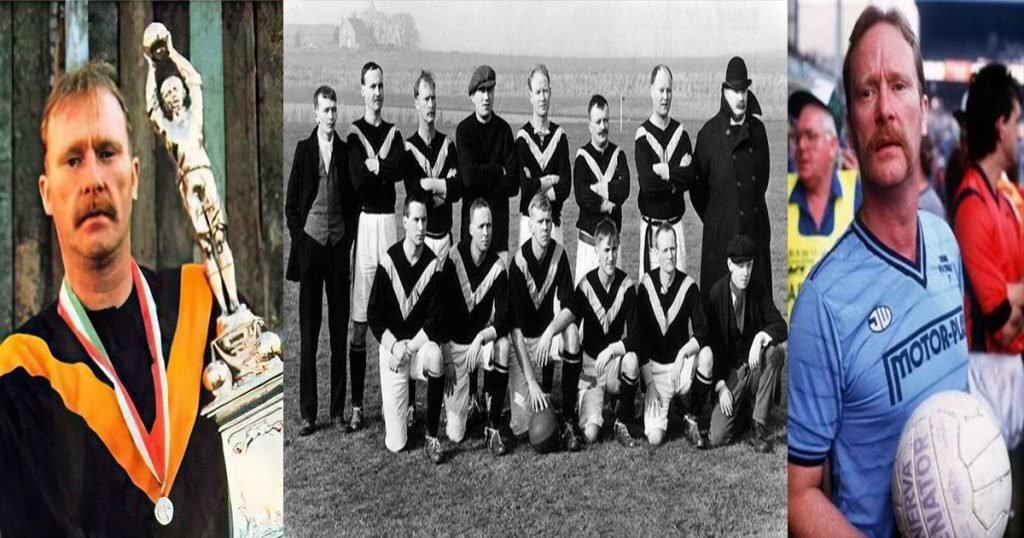 Boxing was a big part of Waterman's childhood. His father had been an amateur boxer and made all of his sons box. His older brother Ken first took Dennis boxing when he was three years old, and when he was ten Dennis joined Caius Boxing Club. Another older brother, Peter, was a welterweight boxing champion.
He was educated at the Corona Theatre School and, aged 12, joined the Royal Shakespeare Company. By 14, he was in Hollywood, starring in the American sitcom Fair Exchange. He is best known for his roles in the Seventies police drama The Sweeney alongside John Thaw, The Sweeney and Minder.
We mustn't forget Dennis Waterman was also a great singer. The theme song for Minder, 'I Could Be So Good' reached No. 3 in the British charts in 1979
On politics, Dennis Waterman was traditional Labour however Blair disappointed him, Dennis was once asked, Will you vote for Tony Blair at the next election?
I wouldn't piss on him if he were on fire, quite frankly. I haven't always felt like that. When he was first elected, I thought "This is nice and fresh". Now I don't believe a word he says.
Dennis Waterman will be sadly missed he was the icon of a generation, true to his working-class character he once stated when asked Would you say you are as un-PC as your character in New Tricks?
"I'm much less politically correct than him. I hate political correctness. It makes liars out of everyone. I guess that makes me a chauvinist as well then?"
On a personal level, I find it very sad to hear of Dennis Waterman's passing today, he was a hero to every boy of my generation both on-screen and off.
Support Labour Heartlands
PLEASE HELP US KEEP GOING AD-FREE
This is a "Pay as You Feel" website.
Hey there! Thanks for stopping by. If you've enjoyed reading the articles on Labour Heartlands so far, We would be incredibly grateful if you could consider making a small donation. Labour Heathlands is not your typical news outlet. We are not here to simply regurgitate the daily news cycle, that's for the rest of them. Our focus is on delving deeper, uncovering the untold stories and shedding light on the issues that the mainstream media chooses to ignore.
Our unwavering commitment to journalistic integrity means that we are not influenced by any external forces. We are not beholden to PR companies, advertisers or press barons, and we refuse to let anyone dictate what we report on. Our editorial independence is sacrosanct, and our only allegiance is to the truth.
While we do not align ourselves with any particular political party, we stand firmly against corruption, injustice and the erosion of truth and the rule of law. We believe that accurate information is the lifeblood of a democracy and that facts are not up for debate.
Once again, thank you for your support – We truly couldn't do this without you!
PLEASE HELP US KEEP GOING AD-FREE