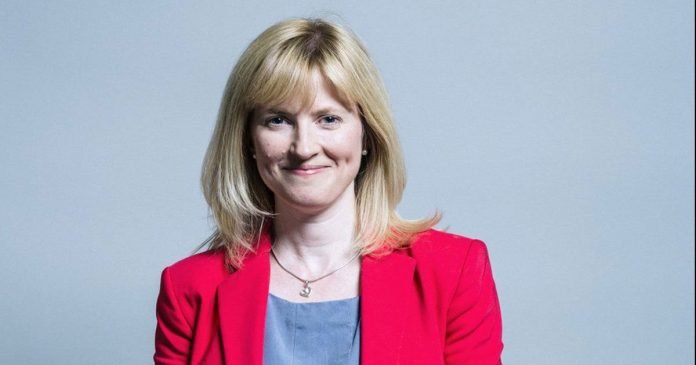 Labour MP wants a meeting with Sir Keir Starmer to clarify where the party stands on transgender issues.
Rosie Duffield, who has clashed with campaigners over her views on self-identification for trans people, said the party's position was unclear.
This comes after Ms Duffield confirmed she would not attend this week's party conference after online threats to her safety.
The abuse has been widely condemned by politicians and activists, who called it "utterly unacceptable".
Last week, Labour's shadow equalities minister Marsha de Cordova resigned from her post, saying she wanted to focus more of her time in her marginal constituency of Battersea, and shadow women's minister Charlotte Nichols also stepped down.
It is not known if the debate within the party over transgender issues had anything to do with their resignations, but it leaves a gap on the party's frontbench when it comes to issues of equality and women's rights.
Sources also say there have been tensions over trans rights and to what extent the party should be engaging with groups that are opposed to Sir Keir Starmer's stance on reforming the Gender Recognition Act and supporting self-identification.
Marsha de Cordova recently declined to attend an event by LGBT+ Labour and Stonewall being held at the Labour conference this year in spite of pressure from Sir Keir Starmer, the party's leader. It is understood the party is sending Angela Rayner to represent the frontbench instead.
LGBT Labour and the Stonewall charity have been running joint events at the party's conference for at least a decade. No shadow equalities secretary has previously declined the invitation to attend.
Womans rights.
Canterbury MP Ms Duffield has regularly used social media to outline her own position on transgender issues.
She believes that biological females should have protected spaces where biological males are not allowed to go, such as domestic violence refuges and prisons, and she is against people being able to self-identify as trans to gain access to those spaces.
Ms Duffield has said she is "completely supportive of trans rights", but she has been condemned by some LGBT+ groups for her position – which say trans men and women should be treated the same as biological men and women – as well as for endorsing controversial tweets on the issue.
And two of her staff members resigned from her office over her views.
A senior Labour MP, who did not want to be identified, told the BBC they were frustrated with the "oxygen" being given to the subject, calling it "a stupid, pointless, manufactured row about rights" that was distracting from the issues that needed debating.
They added: "Let's talk about how every single trans person awaiting NHS treatment is having their rights to see a specialist in 18 weeks under the NHS constitution breached, for example, rather than whether Rosie Duffield thinks everyone should have their genitals and chromosomes checked to go to the toilet."
I also have feminist and gender critical beliefs which mean that whilst I've always fully supported the rights of all trans people to live freely as they choose, I do not accept self-ID as a passport for male-bodied biological men to enter protected spaces for biological women..

— Rosie Duffield MP ? (@RosieDuffield1) September 10, 2021
'It always turns to violence'
Speaking to BBC Radio 4's Today programme, Ms Duffield said she and other female MPs had asked for a meeting with Sir Keir to discuss transgender rights and women-only spaces, but it had not yet taken place.
"Lots of women have been asking to meet with Keir Starmer in groups or one-to-one about this issue and obviously he is incredibly busy, but it would be good to just clarify what our position is as a party and just to discuss how we go forward with this issue," she said.
Asked what the response had been, Duffield said: "He's always positive about trying to organise a meeting but it just hasn't happened yet."
The Canterbury MP has become a focal point for criticism from some LGBT groups in Labour for actions such as liking a tweet that said "individuals with a cervix" should instead be referred to as "women".
In July, Labour LGBT groups called for the party to investigate her after she liked a tweet from a gay US rapper which complained about trans groups appropriating the word "queer" and described them as "mostly heterosexuals cosplaying [costume playing] as the opposite sex and as gay".
Asked if she accepted that liking the latter tweet could have inflamed the debate, Duffield defended her decision, saying the tweet author, whom she knew via social media, was "incredibly distressed and insulted" about what he felt was the appropriation of gay culture, adding: "I think he has a valid right to talk about it without being cancelled."
Asked what sort of threats she had received as a result of her views, Ms Duffield said the "levels of vitriol are pretty horrible".
She added: "Women have every right to voice their opinions. I have seen tweets by male colleagues that have been identical to mine about Labour policy for example, and the comments under mine and other women's tweets are very different.
"This is is a cross-party issue. All women in public life, anyone who puts their head above the parapet… just gets abuse for the way we look, what we say and it is really horrible and it always turns to violence when its women.
"We always get the violence, pictures of guns, pictures of mocked up nooses, that's the kind of thing we get on social media."
The UK government dropped plans to allow people to officially change gender without a medical diagnosis earlier this year, abandoning self-identification proposals developed under the last administration led by Theresa May.
The Labour leader added: "The Act was a step in the right direction but it's obvious from discussions with people it's not working as it currently is, and it must be possible therefore to make progress and improvements.
"I realise that then takes us into an area where people have very strong and different views, but that's not a reason for us to do nothing. The Conservative Party simply saying 'we'll put it in the too difficult box' is not acceptable, and we need to have that discussion.
"The only thing I would say about that discussion is it needs to be done in a tolerant and respectful way because we don't actually do any service to those who want to change the GRA if we just descend into a toxic argument."
Starmer concluded by saying: "On LGBT+ rights, we are proud allies and supporters – and I will just, having listened to you, make sure we make that absolutely clear all of the time in everything that we do."
After the news Ms Duffield would not be attending the Labour Party conference in Brighton was reported by the Sunday Times, a number of public figures spoke out against the abuse she had received.
Commons Speaker Sir Lindsay Hoyle said too many people had been "targeted for their opinion or the office they hold", adding: "In order to protect democracy, we need to ensure those participating can do so without threats of intimidation."
Sadiq Khan, the Labour mayor of London, and Pat McFadden, a shadow Treasury minister, have expressed concern that Duffield feels she cannot go to conference, although neither has endorsed her stance on trans issues.
Khan told the BBC: "It's unacceptable that anybody feels unsafe going to Labour party conference, whether it's Rosie Duffield, whether it's journalists or anybody else. We must be able to have this conversation in a civilised way."
Absolutely everybody has the right to be safe from abuse, threat or harm. That includes @RosieDuffield1 AND the transgender community.

It's about time we looked for our shared humanity in our dealings with others, rather than the division. #disagreewell

— Archbishop of Canterbury (@JustinWelby) September 19, 2021
The Archbishop of Canterbury, Justin Welby, also took to Twitter to speak out against the abuse, posting: "Absolutely everybody has the right to be safe from abuse, threat or harm. That includes Rosie Duffield and the transgender community.
"It's about time we looked for our shared humanity in our dealings with others, rather than the division."
Support Labour Heartlands
Help Us Sustain Ad-Free Journalism
Sorry, I Need To Put Out the Begging Bowl
Independent Journalism Needs You
Our unwavering dedication is to provide you with unbiased news, diverse perspectives, and insightful opinions. We're on a mission to ensure that those in positions of power are held accountable for their actions, but we can't do it alone. Labour Heartlands is primarily funded by me, Paul Knaggs, and by the generous contributions of readers like you. Your donations keep us going and help us uphold the principles of independent journalism. Join us in our quest for truth, transparency, and accountability – donate today and be a part of our mission!
Like everyone else, we're facing challenges, and we need your help to stay online and continue providing crucial journalism. Every contribution, no matter how small, goes a long way in helping us thrive. By becoming one of our donors, you become a vital part of our mission to uncover the truth and uphold the values of democracy.
While we maintain our independence from political affiliations, we stand united against corruption, injustice, and the erosion of free speech, truth and democracy. We believe in the power of accurate information in a democracy, and we consider facts non-negotiable.
Your support, no matter the amount, can make a significant impact. Together, we can make a difference and continue our journey toward a more informed and just society.
Thank you for supporting Labour Heartlands
Just click the donate button below