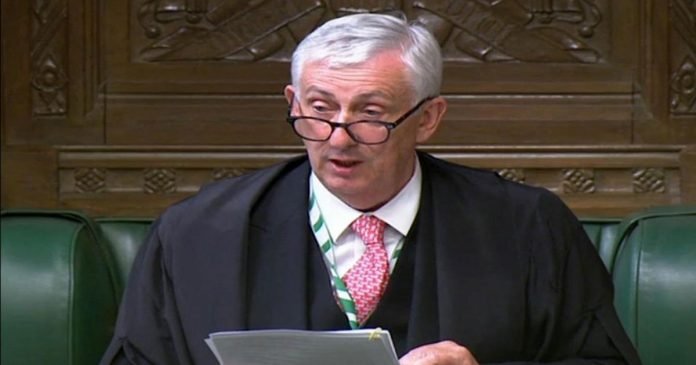 Universal Credit: Top Tories lose bid to stage last-ditch Commons showdown
Two Tory grandees have lost their bid to stage a last-ditch Commons showdown tonight over Boris Johnson's £20-a-week Universal Credit cut.
Former leader and DWP chief Sir Iain Duncan Smith tried to force a vote urging the PM to cancel the hit to 6million Brits' benefits.
According to the Mirror, the amendment has now not been called by Speaker Lindsay Hoyle – meaning there can be no vote.
Even if the amendment had passed – no mean feat, as Sir Iain would have had to find more than 40 rebels – Mr Johnson could have refused to stop the UC cut. He has already ignored another non-binding vote called by Labour last week, which passed easily because he told Tory MPs to abstain.
Why the Labour speaker of the house Lindsay Hoyle did not pick the amendment is yet to be declared.
The amendment was also backed by Damian Green, chairman of the 'One Nation' group of Tory moderates, and Labour's Stephen Timms, chairman of the cross-party Work and Pensions Committee.
It was tacked onto the Social Security (Up-Rating of Benefits) Bill, which despite its name is not directly related to the Universal Credit cut.
The Bill is the legal mechanism for cancelling the triple lock on pensions next year. Sir Iain's amendment would reject the Bill, on the basis that the £4.5bn it saves is not being ploughed into Universal Credit.
Keeping the £20-a-week uplift, put in place last April, would cost about £5bn a year.
If the vote were to have passed, the Bill would fall and the government would have to find another route for it – though the Universal Credit cut would not automatically be reversed.
It comes as pressure mounts from Boris Johnson's natural allies to cancel the cut.
Prominent Tory MP Tracey Crouch broke ranks on Sunday to say the uplift "should stay".
The former minister told i News she was "deeply uncomfortable" adding: "It is happening at a time where other things are increasing such as energy bills and food bills and everything else. So personally I think it should stay."
Tory peer Philippa Stroud, who was Sir Iain's Special Advisor when he designed the benefit, warned the cut next month will have "immediate knock-on effects in terms of poverty".
The Legatum Institute, of which she is chief executive, estimated the change will hit 290,000 children, 520,000 working-age adults and 30,000 pensioners who are currently just above the poverty line.
Think tank Legatum has links to the Prime Minister himself. It was at a Legatum Institute event in 2017 that Mr Johnson made infamous comments about "bodies" in Libya.
Tomorrow's vote marks a remarkable turnaround in the five years since Sir Iain – a former welfare slasher – quit as Work and Pensions Secretary over cuts to disability benefits.
The former Tory leader has since repeatedly made the case for making Universal Credit more generous, saying then-Chancellor George Osborne took billions out of it after it was designed.
He said last year he would like to see a four-week wait for the first payment, not five. He added: "I resigned over the fact that the government withdrew money at the time we were trying to roll it out, which was a big mistake.
Support Labour Heartlands
PLEASE HELP US KEEP GOING AD-FREE
This is a "Pay as You Feel" website.
Hey there! Thanks for stopping by. If you've enjoyed reading the articles on Labour Heartlands so far, We would be incredibly grateful if you could consider making a small donation. Labour Heathlands is not your typical news outlet. We are not here to simply regurgitate the daily news cycle, that's for the rest of them. Our focus is on delving deeper, uncovering the untold stories and shedding light on the issues that the mainstream media chooses to ignore.
Our unwavering commitment to journalistic integrity means that we are not influenced by any external forces. We are not beholden to PR companies, advertisers or press barons, and we refuse to let anyone dictate what we report on. Our editorial independence is sacrosanct, and our only allegiance is to the truth.
While we do not align ourselves with any particular political party, we stand firmly against corruption, injustice and the erosion of truth and the rule of law. We believe that accurate information is the lifeblood of a democracy and that facts are not up for debate.
Once again, thank you for your support – We truly couldn't do this without you!
PLEASE HELP US KEEP GOING AD-FREE