NOW…
Sir Keir Starmer says the monarchy is "the one institution for which the faith of the British people has never faltered."
Sir Keir Starmer, leader of the Labour party, said Philip was "much loved" and that during the more than 70 years he was married to the Queen, "the monarchy has been the one institution for which the faith of the British people has never faltered".
Starmer said when he was a child, aged 14, he participated in the Duke of Edinburgh award scheme, beginning by volunteering at a mental health hospital and ending by wandering around Dartmoor with a compass and a map in the pouring rain frantically trying to find his way. "If that doesn't prepare you for coming into politics, nothing will," Starmer said, to chuckles from the benches.
Starmer said Philip was a "funny, engaging, warm and loving man" who lived a life in "strong and vigorous brushstrokes, like his paintings" and added: "We offer up this tribute to the Duke of Edinburgh, for a lifetime of public service: the gold award."
Starmer also made clear he did not want to abolish the monarchy when the issue was raised in the Labour leadership election last year, saying he would instead like to "downsize it".
THEN…
Never one to stand on principle: A Barrister can argue both sides to get the result they want.
But like the many things in politics Sir Keir Starmer has alternative views and finds with a straight face no matter the issue he can support wherever he feels public opinion gravitates.
Flip-flopping from Taxes to Brexit is an example of his willingness to cynically use popular support to pervert the outcome of any given situation. Where once he stood as the 'Great Remainer' he soon changed after that vote losing second referendum policy he introduced into Labour's manifesto as the shadow Brexit minister, the one policy that caused Labour's collapse in 2019 and forced Jeremy Corbyn's resignation. After losing 52 English Labour leave voting seats with his policy Starmer felt no sense of irony with his first diktat as Labour leader to 'Get Brexit done!'
Diane Abbott quite rightly pointed out:
"I think it's noticeable, having been Mr Remain all the way up until he got the leadership of the party". -Diane Abbot
What a difference a Knight makes…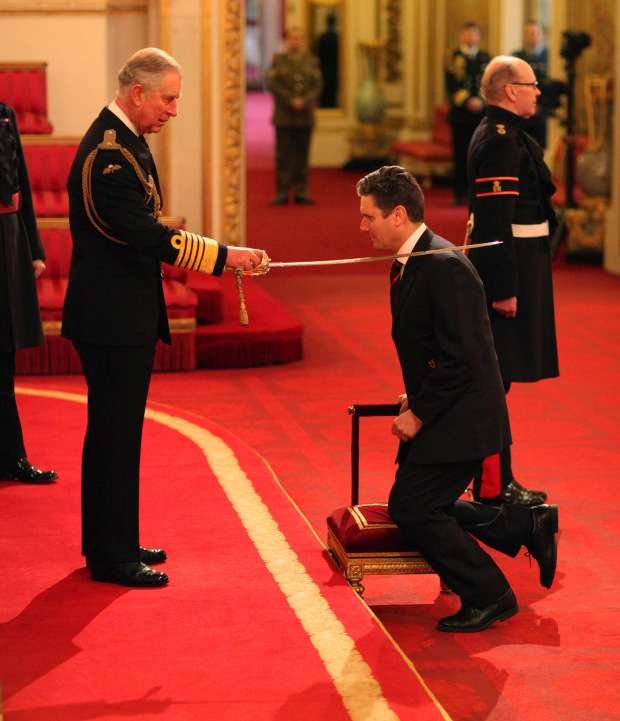 However, Sir Keir Starmer has not always held such high regard for the monarchy, in his own words:
"I got made a Queen's Counsel, which is odd since I often used to propose the abolition of the monarchy."
Mr Starmer's views of the Monarchy appear to have changed since, accepting a knighthood in the New Year Honours list in 2014 after five years as Director of Public Prosecutions.
In the same year, he was invested as a Knight Commander of the Order of the Bath (KCB) – in a ceremony at Buckingham Palace by Prince Charles.
Because hypocrisy stinks in the nostrils one is likely to rate it as a more powerful agent for destruction than it is. – Rebecca West
A report said Keir Starmer must use the Union Flag, as well as veterans and events such as Remembrance Day to win back voters in the party heartlands.
The explosive report, seen by The Guardian, said: "The use of the flag, veterans, dressing smartly at the war memorial etc give voters a sense of authentic values alignment."
It also warned Starmer that voters want him to "stop sitting on the fence" and come up with some policy ideas of his own.
Sir Keir Starmer's spokesman said the Labour leader is a "proud patriot" who "believes in the monarchy".
He said the Queen and her family have been a "beacon of hope" during the pandemic.
Starmer's issue is not that he does or does not support the monarchy or that he has now cynically stopped supporting the remainers that carried him into the leadership position. Starmer's issue is the fact he is a weathercock, he has no principles other than those he feels at the time will advance him.
Sir Keir Starmer is the typical career politician willing to dance a tune for whoever and whatever he feels will advance his position, not that of the people he claims to represent.
Related articles:
Of Monarchy and Hereditary Succession: A Republic, if You Can Get It
Support Labour Heartlands
PLEASE HELP US KEEP GOING AD-FREE
This is a "Pay as You Feel" website.
Hey there! Thanks for stopping by. If you've enjoyed reading the articles on Labour Heartlands so far, We would be incredibly grateful if you could consider making a small donation. Labour Heathlands is not your typical news outlet. We are not here to simply regurgitate the daily news cycle, that's for the rest of them. Our focus is on delving deeper, uncovering the untold stories and shedding light on the issues that the mainstream media chooses to ignore.
Our unwavering commitment to journalistic integrity means that we are not influenced by any external forces. We are not beholden to PR companies, advertisers or press barons, and we refuse to let anyone dictate what we report on. Our editorial independence is sacrosanct, and our only allegiance is to the truth.
While we do not align ourselves with any particular political party, we stand firmly against corruption, injustice and the erosion of truth and the rule of law. We believe that accurate information is the lifeblood of a democracy and that facts are not up for debate.
Once again, thank you for your support – We truly couldn't do this without you!
PLEASE HELP US KEEP GOING AD-FREE